Posted July 12, 2014 at 6:54 p.m.
BOONE, N.C. — The task: design, build and operate a cost effective, energy-efficient and attractive solar-powered house, ship it to France and compete against 20 teams from 17 countries.
Appalachian State University came in 9th place in Solar Decathlon Europe 2014, with its design Maison Reciprocity, created in collaboration with Université d'Angers in France.
The competition, held June 28 – July 14, rated each house in 10 contests by a jury comprising construction professionals, technicians and scientists. The design with the most points won.
The 10 contests as part of the competition were:
Architecture
Innovation
Energy efficiency
Electrical energy balance
Comfort conditions
House functioning
Communication and social awareness
Urban design, transportation and affordability
Engineering and construction
Sustainability
Team Reciprocity placed first in the electrical energy balance contest and fourth in the communication and social awareness contest.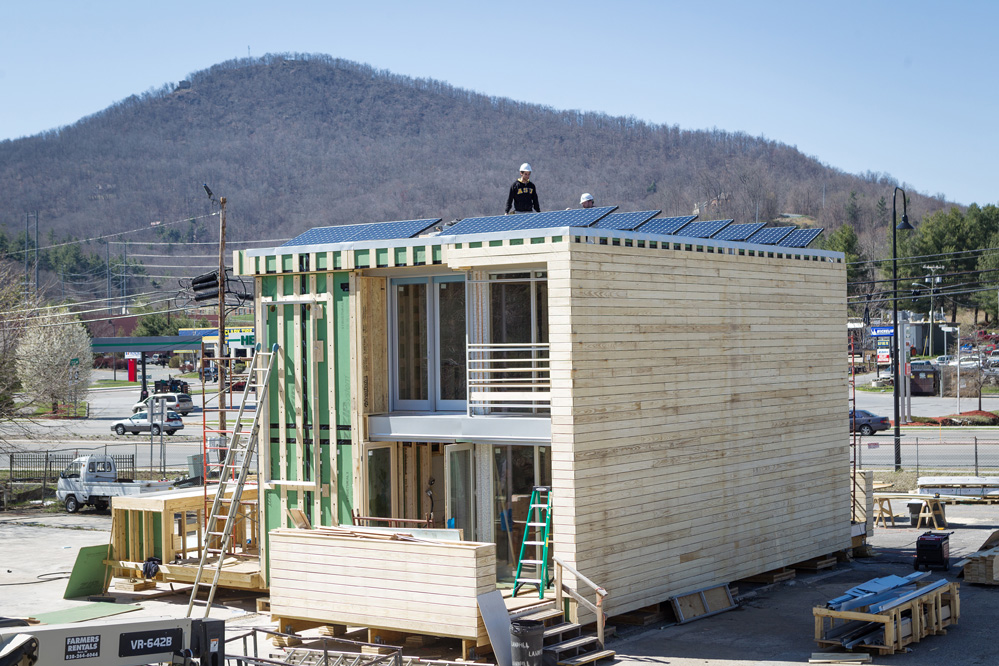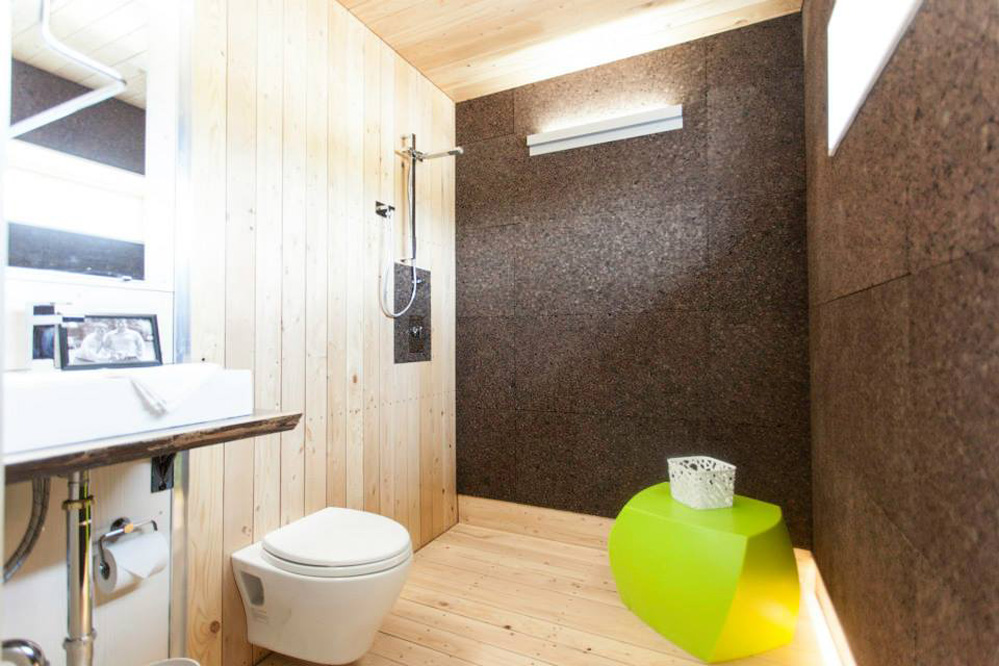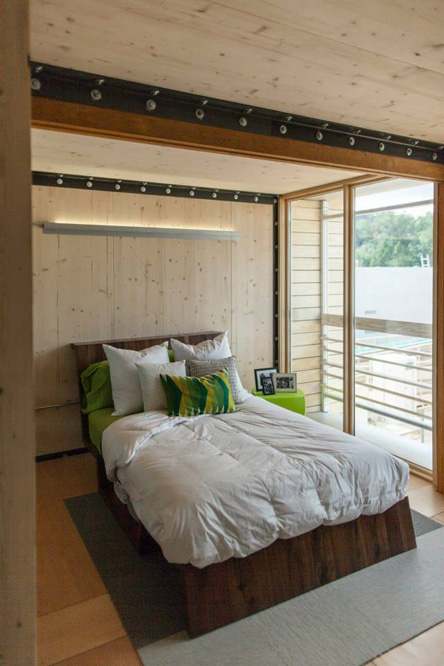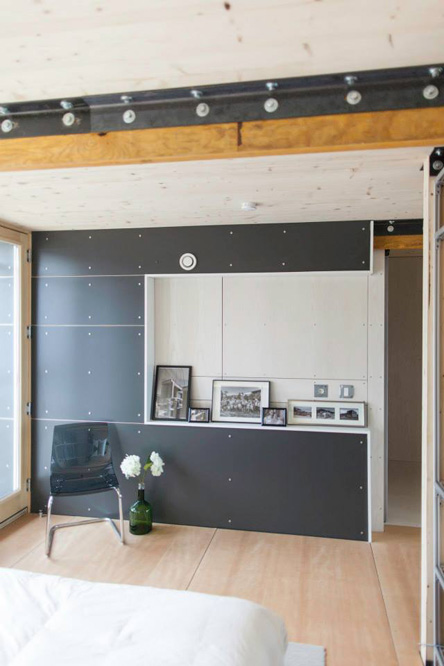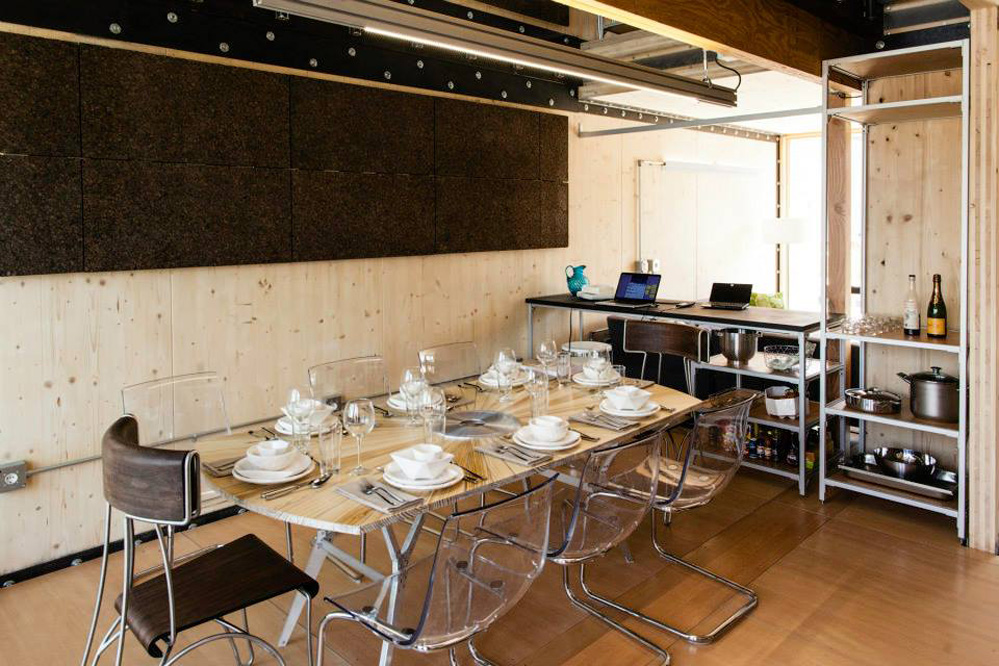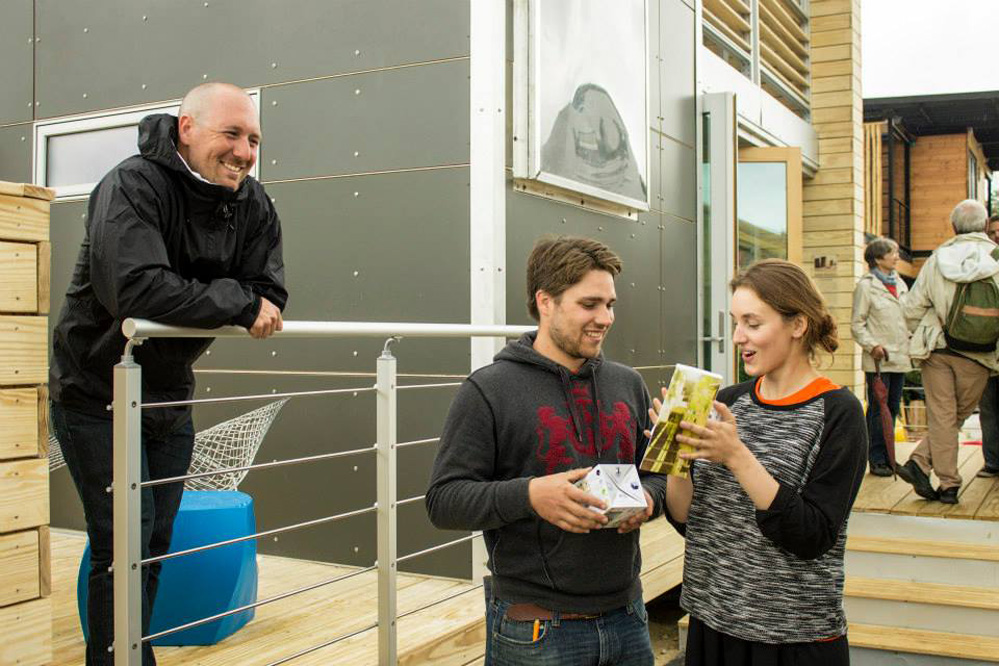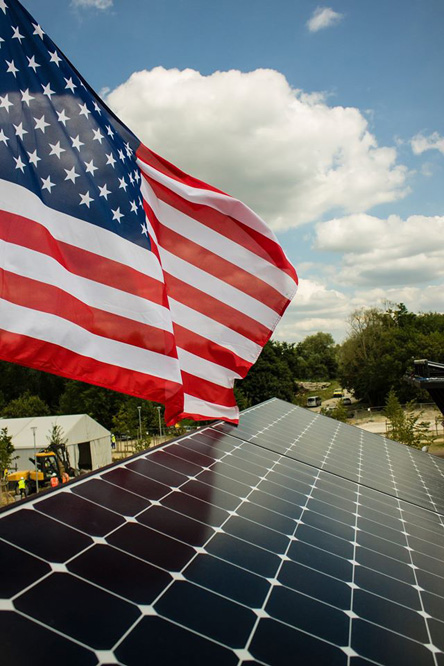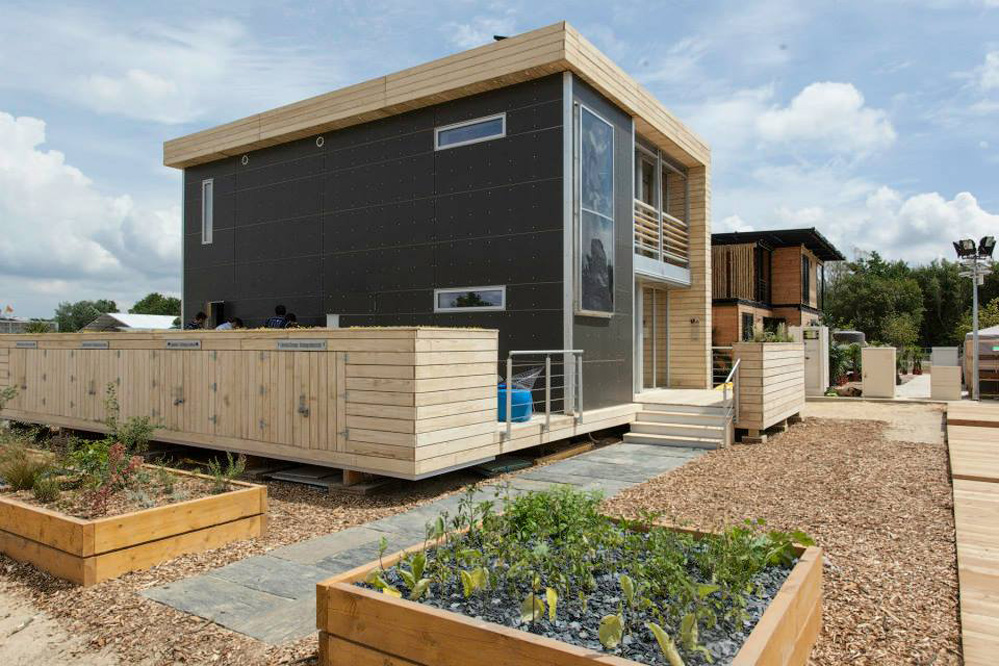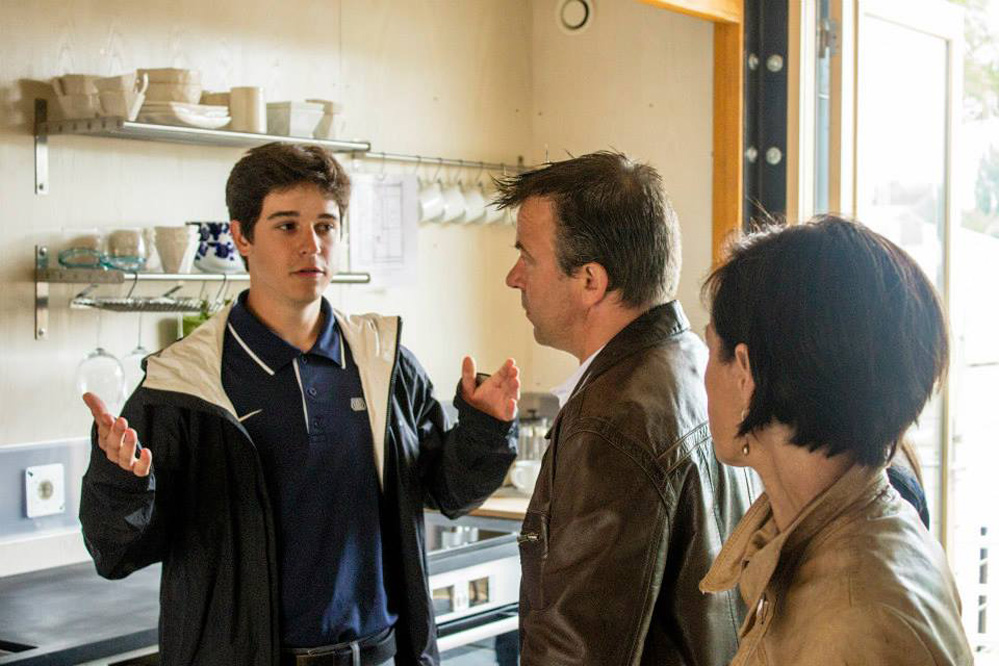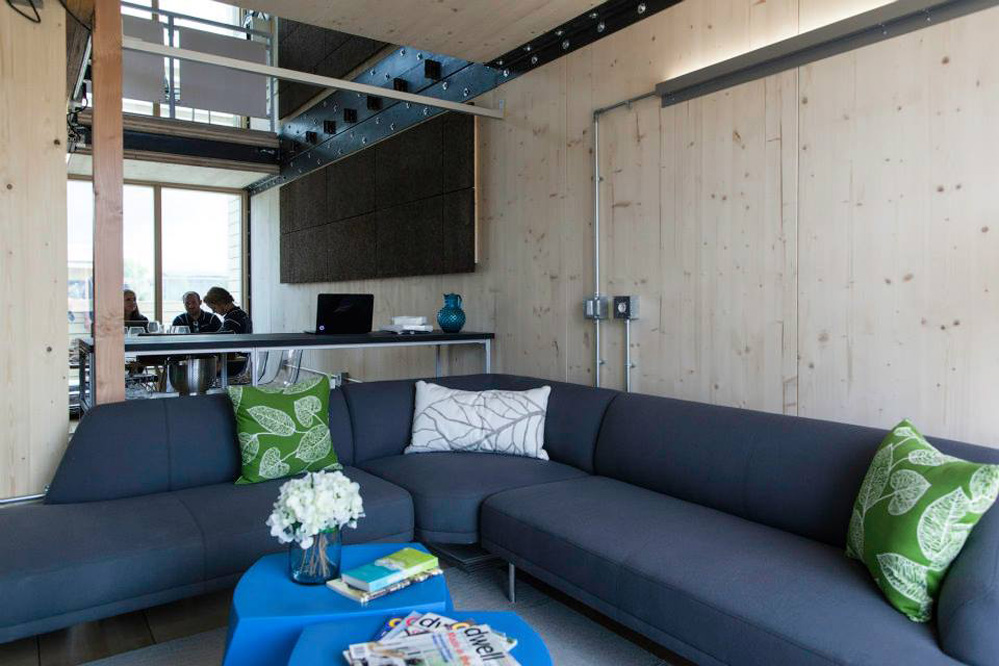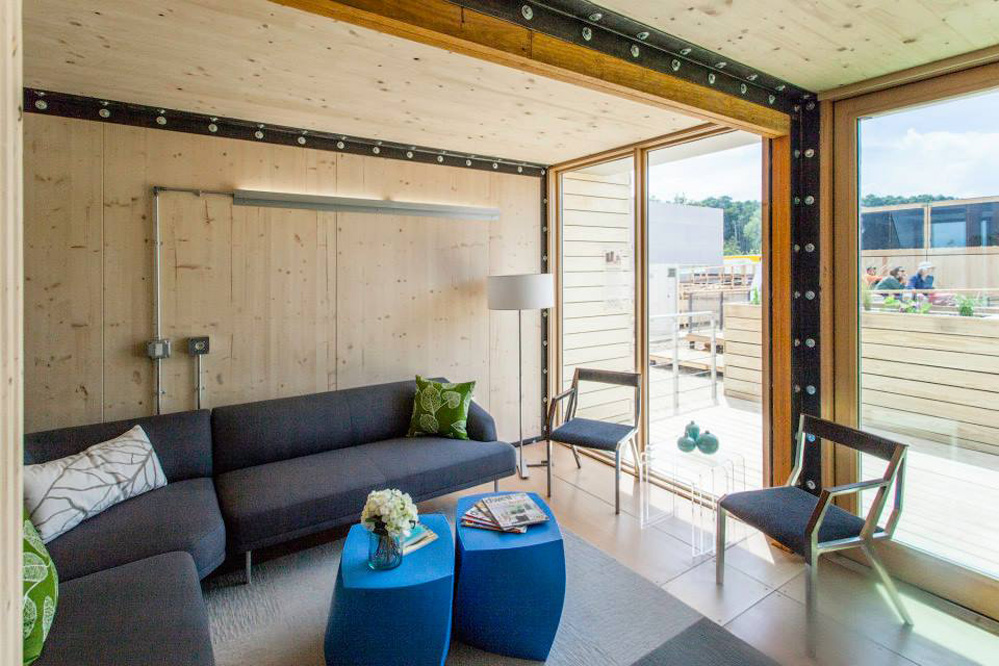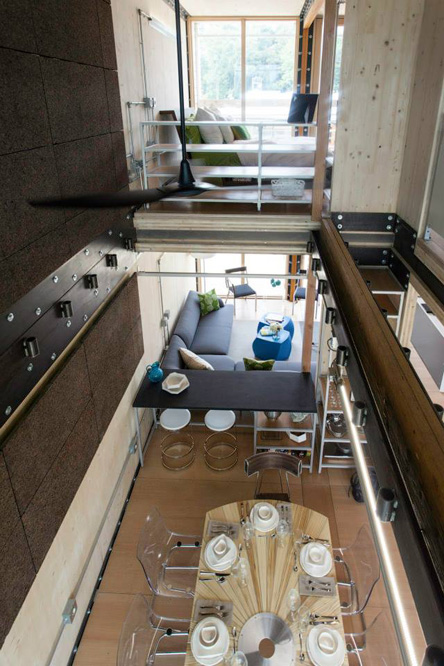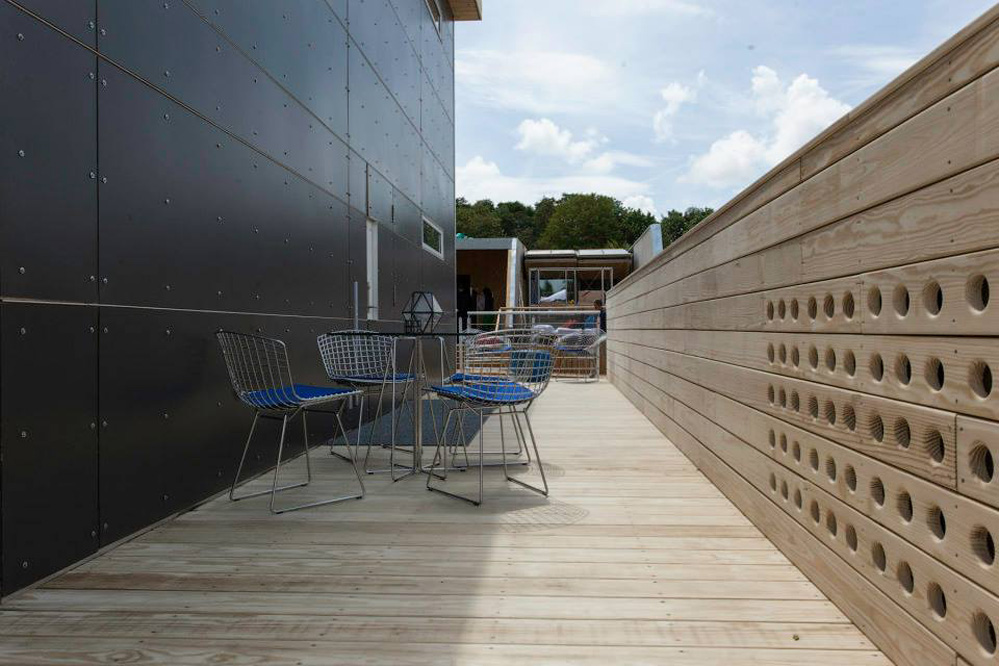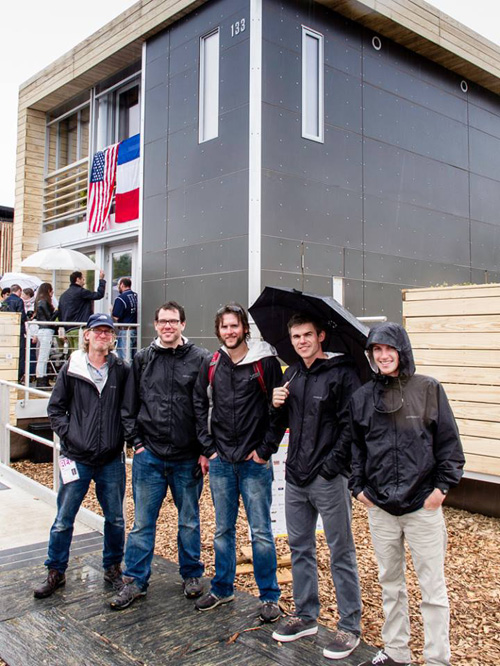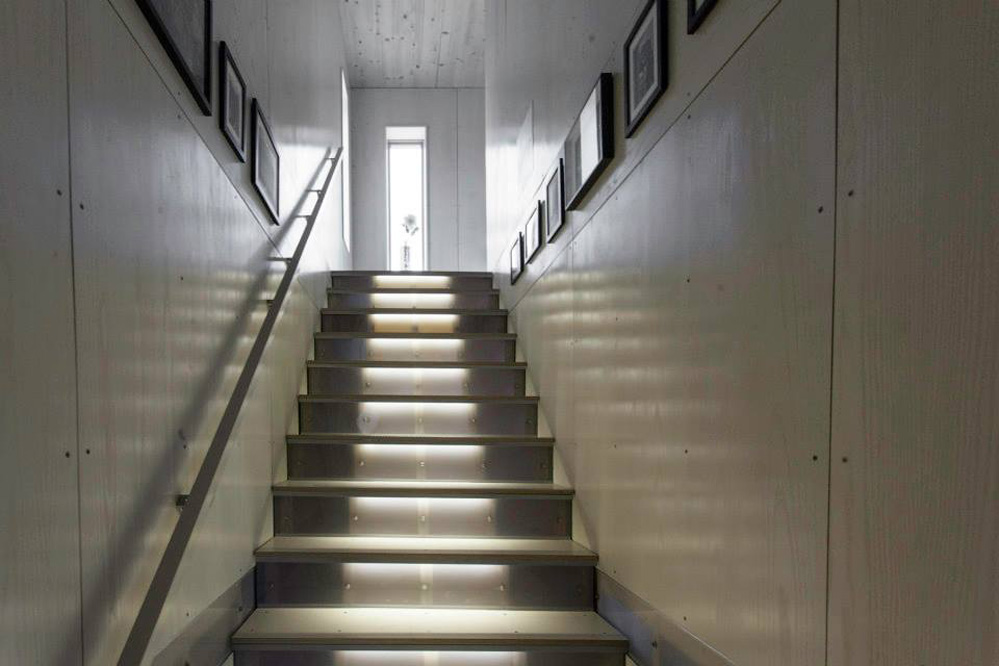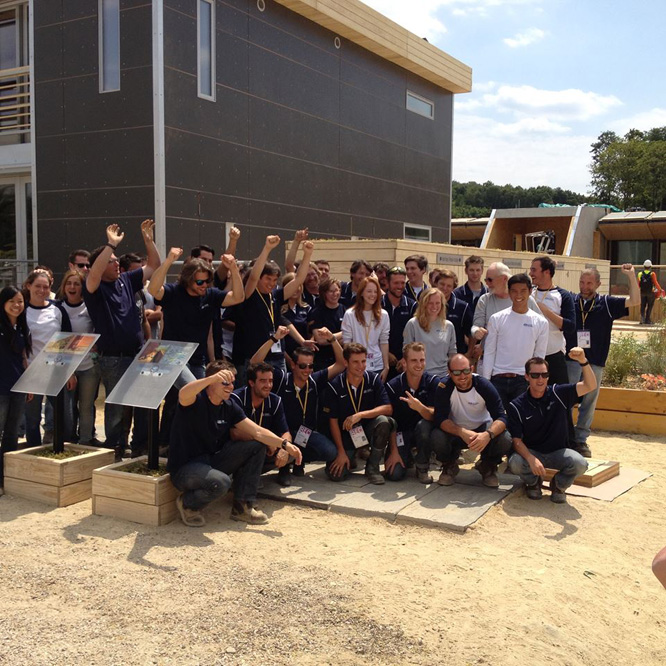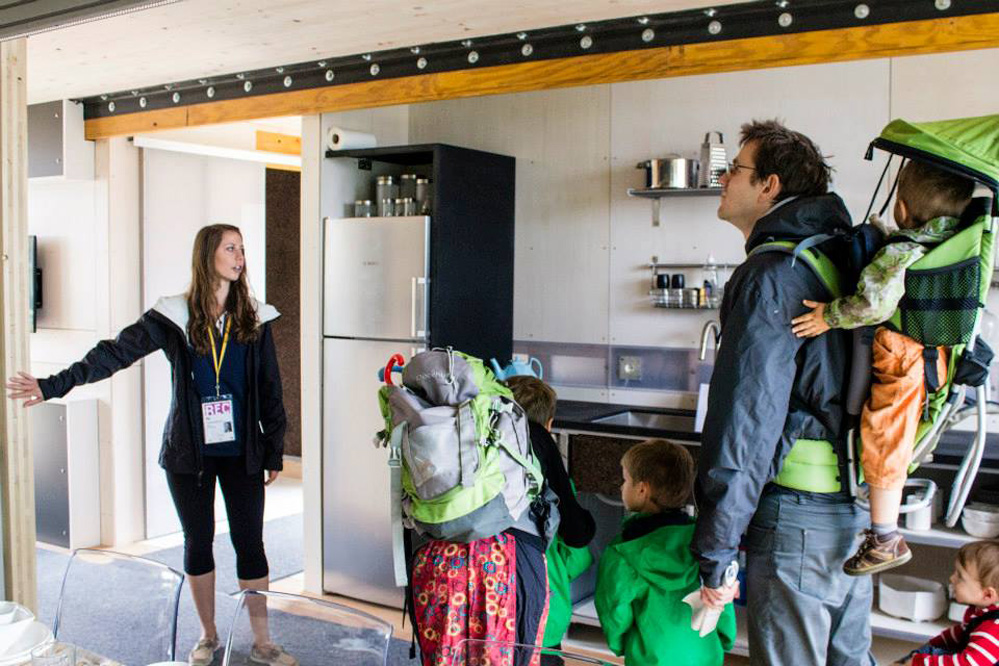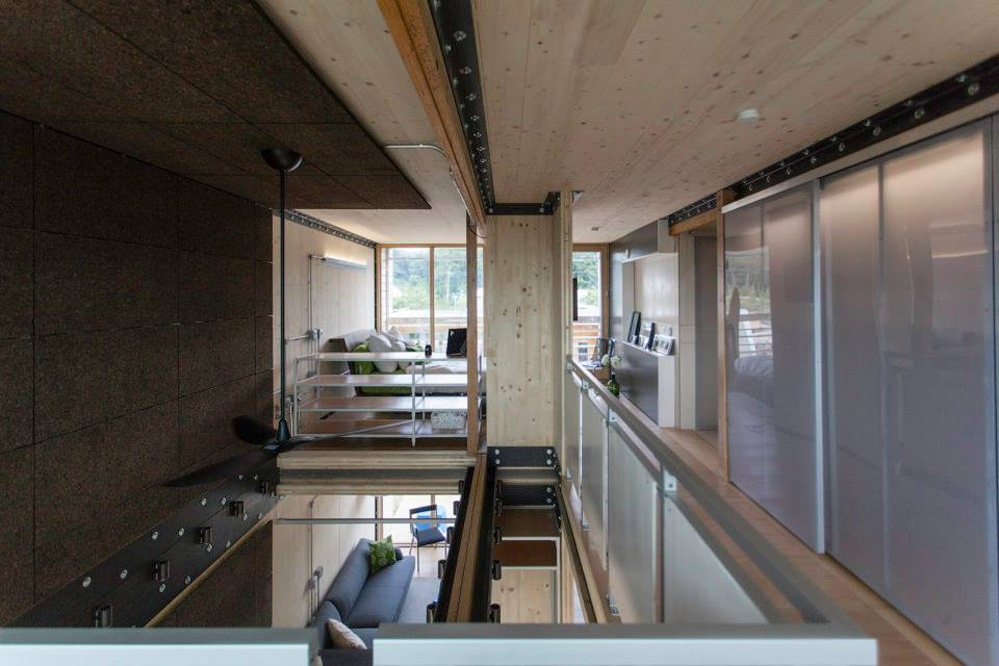 Solar Decathlon Europe 2014
Students from Appalachian State University and Université d'Angers worked together to build Maison Reciprocity, a net-zero energy house that competed in Solar Decathlon Europe 2014. The row house was built in Boone and shipped to France, where students had 10 days to reassemble the structure for the competition June 28 – July 14.
"This team has turned into a family over the past two years. It's been an unbelievable journey to be able to celebrate the successes and the failures together," said graduate student Mark Bridges, the project's communications manager.
"We have also been supported by an incredibly encouraging and enthusiastic community from both sides of the Atlantic that without their help, we would not have made it to where we are today."
Chancellor Sheri N. Everts said, "Competing in the Solar Decathlon is a tremendous academic experience for our students, who have applied their sustainable technology research in innovative, creative ways that will make a positive difference in our world. I am so proud of the many students and faculty who worked on this project, and join our community in celebrating their accomplishments."
The net-zero energy house was constructed in Boone. Six 40-foot modules that comprise the house traveled by cargo ship to the French coast and were then trucked to Versailles, where students had 10 days to reassemble the structure for the two-week competition. The Maison Reciprocity blog quoted Jason Miller, faculty director of design, as saying the packaging and shipping process was "like summiting Mount Everest."
Approximately 50 students from Appalachian participated in the primary design and construction of the home in conjunction with their international partners at the Université d'Angers. They called themselves Team REC.
Only three U.S. universities were selected to participate in Solar Decathlon Europe 2014. In addition to Appalachian, the competition included Rhode Island School of Design and Brown University who partnered with the University of Applied Sciences of Erfurt in Germany.
Maison Reciprocity is the second Appalachian design to compete in a Solar Decathlon event. Appalachian last competed in the U.S. Department of Energy's 2011 Solar Decathlon with its Solar Homestead design. It won the People's Choice Award.
About the concept
Maison Reciprocity's row house design offers an answer to the lack of affordable, healthy, high-quality, durable, sustainable, and adaptable housing. As a low-rise multi-family housing structure with low environmental impact, Maison Reciprocity is constructed of entirely green and sustainable building materials and products.
Maison Reciprocity: Design
Team Reciprocity speaks about how their row house design is market-ready, energy-independent, adaptable, affordable, and a community-centric residential housing solution.
Transcript
Mark Bridges, communications manager: How many people does it take to really make a change? And they say it always starts with one, but when you have those ones coming together to form that one team, to form that one competition, it makes the future happen.
On-screen graphic: Maison Reciprocity. Solar Decathlon Europe. Appalachian State University. Université d'Angers.
Bill Pfleger: Effective density is something that we view to be critical in the development of our home, and we think that the land resource that we have needs to be used more effectively and more sustainably. And, part of that is re-examining how to build dense homes rather than what we traditionally do here in America, which is a stand-alone home. So the reimagined row house emerged is a way to be effectively dense.
Eric Burgoyne: The row house is a very environmentally conscious design and really fits an urban architecture. With its zero lot line clearance and shared walls between units, you're really going to have an effective use of the land and with that effective use of the land you can then get a 24-hour live/work neighborhood, which is something we're not so used to in the United States but throughout the world is a common way of sustainable development.
Bryce Oakley: To me the biggest attribute toward sustainability of the row house design will really lend itself toward social sustainability. You think of bringing in people in such a close area, people get to interact much more than they would traditionally, and that really builds a sense of community which really promotes a positive living experience and promotes health.
Francois Thibault: Maison Reciprocity design was really an affordable solution for French, for socializing company.
Bill Pfleger: Maison Reciprocity is comprised of three main building components. First is the chord, or the container for high-performance operations, recirculation and distribution, and this really contains all the guts of the home. It's the brains and the guts, so all the mechanical, electrical and plumbing systems are housed within the chord. The second component of the building is the urban shell, or the urban wrapper. This is really what separates the interior environment from the outside. It is what insulates the occupants and keeps them comfortable. And the third and final component is the brise-soleil, and this is really an exterior building skin that helps protect the building, shade the building and also acts as a racking system for our sustainable, renewable energy systems.
Ariel Shockley: Within our house we have a lot of interior (not understandable) spaces so we can expose those mechanical systems and see them working so that the end consumer doesn't forget this is a living organism, it is a house. I mean it is your home but at the same time it's functioning like a person would.
Scott Hopkins: Basically six rectangular boxes and they seem like they're really simple to build. When it comes down to actually building that little box, they have a lot of complex parts, a lot of intricacies that you just don't see on paper or in virtual reality, so there is a lot of on-the-spot problem solving that takes place when you're trying to make something perfect.
Michael Germano: The thing that excites me most about this project is the fact that we have the opportunity to change the way people think and view solar power and solar electricity. It can be an elegant and sensible solution to an urban environment.
Shockley: We're finding a solution to a problem that is up and coming, not a solution to a problem that is here and is already happening.
Jesse Pipes: But the unique aspect of it for me is to be involved in a project that is market ready, that is viable in the real world, that there is going to be a time when we walk down the street and we see this house in its real context and know that a group of students came together and actually made this thing happen.
On-screen graphics: Rethink, Relive, Reimagine, Maison Reciprocity.
Maison Reciprocity: Goals and Technologies
Team Réciprocité speaks about their team's goals and technologies for their Solar Decathlon Europe 2014 entry, Maison Reciprocity.
Transcript
On-screen graphic: Solar Decathlon Europe 2014 in France
Narrator: Maison Reciprocity is Team Reciprocity's entry in Solar Decathlon Europe 2014. Appalachian State University and Université d'Angers partnered together to design and build a cost effective, energy efficient and attractive solar-powered house. It's our contribution to making a more sustainable tomorrow.
Jamie Russell, faculty advisor: This is a fairly daunting thing, but it is a great honor to be representing not just only Appalachian State University in Watauga County and North Carolina, but really representing the whole country. The area of excellence for Appalachian State is internationalism, becoming well-versed and aware of what's happening in a global society. The theme, they say, is a world of opportunities for Appalachian students.
Daphne Carriére, Université d'Angers student: For me, it's first representing our country and our future. It's another way to think and another way to work and for me to bring that in France to make them improve and change their mind and organize new way to work with new technology.
Francois Thibault, faculty advisor: I think it's an opportunity to work with a different country to improve their knowledge of different paths. For them, it's certainly the first time they can realize something very (not understandable).
Mark Bridges, communications manager: Team Reciprocity is a continuation and a highlight of a 30-year partnership in international culture between Appalachian and Angers consisting of students across a variety of competencies coming together in the pursuit of a common goal, and that goal being not only to design and build a house to win this competition but a journey and vision that is Maison Reciprocity.
Scott Hopkins, construction manager: We're using construction systems that no one on this team is familiar with. They're not very prominent here in North America, they're European technologies, so we have a steep learning curve to overcome. But aside from that I think we have a good team in place to address those challenges.
Michael Germano, project architect: The reimagined row house is taking the established row-house theme you can see in most urban centers such as New York, Paris, London and it is re-envisioning it, reimaging it so that it can be adaptable not just for more affluent families but to meet the needs of everybody.
Lukas Burgher, project engineer: Traditionally, brise-soleil means shading device and that's what we're using it for predominantly. It can shade the home when needed but also can open up and allow sunlight or passive solar when needed. Basically, the chord is a prefabricated unit and it contains all the mechanical, electrical and plumbing systems. Basically, they can gain structure from each other so the brise-soleil can be supported by the chord structurally and the brise-soleil has the photovoltaics and solar thermal, so those energies are used by the chord to distribute to the house.
Hopkins: CLT is cross-laminated timber, and these are large wooden panels that are assembled by taking layers of wood that are joined together and stacking one layer 90 degrees perpendicular to the first layer in as many layers as you need in that fashion until you have a panel of the desired thickness to carry whatever load it is designed to carry.
I would like for CLTs to at least get a new look at being used here in North America. I think they have potential to enter some construction markets as a very viable solution.
Russell: So, it really, it provides a fun project that get can people interested and excited about doing their best work for something because it's not just a textbook exercise, it's real. And that goes across all disciplines.
Bryce Oakley, project manager: The fact that you get to see all these universities taking these homes and taking this technology to the next level to see what the future can be like is an incredible opportunity, and I just feel lucky to be a part of it.
Maison Reciprocity stemmed from the desire to design a house with perfect balance between reciprocal elements such as privacy versus interaction, aesthetics versus performance, design versus construction and spaces versus systems, according to the team's website.
The concept created an open and adjustable environment which can evolve to fulfill the inhabitants' needs over time. Density, flexibility and mass customization are key elements of the prototype whose main ambition is to achieve regional universality through smarter, adaptable, affordable and energy-efficient social housing solutions.
Appalachian's entry will remain in France at Université d'Angers, where it will be on display for the public.
Related links
What do you think?
Share your feedback on this story.
About the Department of Sustainable Technology and the Built Environment
One of seven departments housed in the College of Fine and Applied Arts, the Department of Sustainable Technology and the Built Environment at Appalachian State University features an integrated array of programs spanning the fields of sustainable design and technology. Its mission is to foster a strong and vibrant culture of inquiry, discovery and innovation that integrates theory with application, problem seeking with problem-solving, local issues with global perspectives and technological progress with environmental stewardship. It offers bachelor's degrees in sustainable technology and building science, and a master's degree in technology. Learn more at https://stbe.appstate.edu.
About Appalachian State University
As the premier public undergraduate institution in the Southeast, Appalachian State University prepares students to lead purposeful lives. App State is one of 17 campuses in the University of North Carolina System, with a national reputation for innovative teaching and opening access to a high-quality, affordable education for all. The university enrolls more than 21,000 students, has a low student-to-faculty ratio and offers more than 150 undergraduate and 80 graduate majors at its Boone and Hickory campuses and through App State Online. Learn more at https://www.appstate.edu.