Posted Sep. 19, 2014 at 4:20 p.m.
BOONE, N.C. — A new scholarship program that rewards and develops community service as much as academic drive welcomes it first recipients to Appalachian State University. The four inaugural Wilson Scholars wasted no time developing their service leadership: a study abroad to France in August gave them new insights on what constitutes justice and the common good, a theme they are continuing in a First Year Seminar course this fall.
The theme of service is an essential component of the Wilson Scholars program. The week in Paris also allowed the students to explore the multiple aspects of French identity – in particular the ways in which France has increasingly become a multicultural society.
"The parallel between our immigration crisis and their immigration crisis is interesting. Both are similar in that there is a large anti-immigration movement, ours stemming from illegals along the border and theirs stemming predominately from Muslims coming from Northern Africa. But each government is handling it differently and that alludes to a different perception of the common good," said Emma Labovitz of Salisbury.
The Wilson Scholars were accompanied by Dr. Laura Ammon, an assistant professor in the Department of Philosophy and Religion, who specializes in the history of Christianity; and Dr. Michael C. Behrent, an associate professor of history, who specializes in modern French history and European intellectual history. Behrent is also the faculty director of the Wilson Scholars Program.
Before departing
In preparation for the trip, the Wilson Scholars participated in an online course in which they read and discussed Joan Scott's book "The Politics of the Veil," which introduced them to French debates about immigration and the role of Islam in contemporary French society.
They also learned about the French ideas of republicanism and laïcité (or secularism), which were crucial to their discussions about the common good. For example, French law bans Muslim headscarves in public schools in order to help retain laïcité and contribute to the traditional national identity.
The book "introduced me to the complex identity within France and the clash between the government's laws and the wishes of its citizens," said Lily Shaw of Chapel Hill. "When I arrived in Paris and saw these issues in person, I could understand how they came to be. The preparation demonstrated Appalachian's commitment to giving students a well-rounded view of what they are learning while also providing me a place to share my opinions."
"We got to learn how to think for ourselves and about the world around us. This is more of a growing process than high school ever was," said Juliet Irving of Batesville-Leesburg, S.C.
Once in Paris
In Paris, the students met with social justice leaders at LICRA, a French non-government organization that fights racism and anti-Semitism, and the French Ministry of Women's Rights, Urban Affairs, Youth, and Sports.
As students learn to become service leaders through the Wilson Scholars program, they need to understand the broader perspective of social justice and common good, their faculty director explained. "Different countries have different definitions of what constitutes service and social justice," said Behrent. "For me, service has to be closely connected to academics – one needs to understand deeply the issues he or she is engaging with to be of service."
The Wilson Scholars also toured sites that reflected the various spiritual identities of modern France and the changing face of Paris:
Notre Dame Cathedral (Catholicism)
the Pantheon (secularism and republicanism)
the Paris Mosque (Islam)
the Marché Dejean, an African market
Sacré Coeur, the Montmartre Basilica and one of the more recent Catholic churches
France's new museum dedicated to the history of immigration, which is located in a building that was originally constructed for the 1931 Paris Colonial Exhibition
"There are few better experiences for discovering yourself and your values and assumptions than visiting a foreign country, even if it's European and not vastly different from the United States. There is a useful culture shock that can be quite powerful for students," Behrent said.
"What impressed me about all four students was their willingness to try new things," said Ammon. "They were hungry for the experience – to see new places, to try new food, to learn new things. That's what a study abroad should do." The experience gave them "a broader perspective for starting college," she said.
"I've definitely grown over the summer because of this trip," said Sarah Aldridge of Concord. "I feel more prepared and academically mature now and more globally aware and focused than I was in high school. My personal growth has been in leaps and bounds, and I think that's great."
Service as a major theme
As part of the scholarship program, the four Wilson Scholars will develop and implement a service project in the local community this academic year. They are considering an area non-profit for which they could raise funds and campus awareness.
Each Wilson Scholar comes to Appalachian with extensive community service experience in high school – from charitable fundraising and political campaigning, to leadership in clubs, organizations, honor societies and athletics.
"A lot of prestigious scholars focus just only on academics, but I don't think that's always the best way to measure someone's growth," Aldridge said. "I did a lot of community service in high school and the other three Wilson Scholars did too, and it's really cool that this scholarship rewards us for doing that as well as being academically driven."
Becoming a Wilson Scholar is "the biggest and most humbling experience," Irving said. "The university is doing this so we can learn about ourselves and help other people."
"To say 'thank you' is an understatement. The Wilsons and the university gave us the opportunity to do something I'd never have done otherwise, to get immersed in a culture. To be part of its inception of the Wilson Scholars program is such an honor," Labovitz said.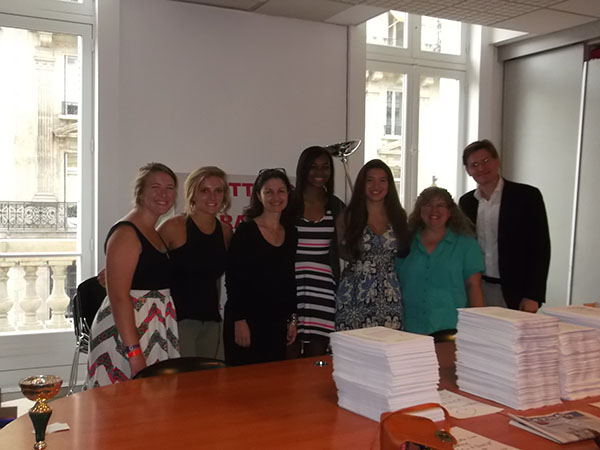 About the Wilson Scholars
The Wilson Scholars is Appalachian's premier scholarship program and embodies the Appalachian spirit: a rich blend of academic excellence, leadership and service. It attracts the best of the best, instills in them a commitment to change the world and provides the resources for students to think creatively, strategically and collaboratively.
Benefits: full institutional costs for eight semesters, an annual experiential scholarship for study abroad, undergraduate research or service-learning, mentorship and advising from the faculty director. Learn more
How it got started: Through a $3 million commitment from Brad and Carole Wilson '75. Brad Wilson is CEO of Blue Cross and Blue Shield of North Carolina and Carole Wilson is a member of Appalachian's Board of Trustees.
Applications: More than 600 received. Four scholars were chosen based on their outstanding academics and demonstrated service.
Meet the Wilson Scholars
The four inaugural Wilson Scholars are:
What do you think?
Share your feedback on this story.
About the Wilson Scholars Program
The Wilson Scholars Program, Appalachian State University's premier scholarship program, embodies the true Appalachian spirit: a rich blend of academic excellence, leadership and service. This scholarship program attracts passionate individuals, instills in them a commitment to change the world, and provides the resources for them to think creatively, strategically and collaboratively. Established in 2013 with a generous gift by 1975 Appalachian alumni Carole and Brad Wilson, the program welcomed its inaugural class in the fall of 2014. Students represent a variety of majors and disciplines — from business and science, to the arts and humanities. Learn more at https://wilsonscholars.appstate.edu.
About Appalachian State University
As the premier public undergraduate institution in the Southeast, Appalachian State University prepares students to lead purposeful lives as global citizens who understand and engage their responsibilities in creating a sustainable future for all. The Appalachian Experience promotes a spirit of inclusion that brings people together in inspiring ways to acquire and create knowledge, to grow holistically, to act with passion and determination, and to embrace diversity and difference. Located in the Blue Ridge Mountains, Appalachian is one of 17 campuses in the University of North Carolina System. Appalachian enrolls nearly 21,000 students, has a low student-to-faculty ratio and offers more than 150 undergraduate and graduate majors.