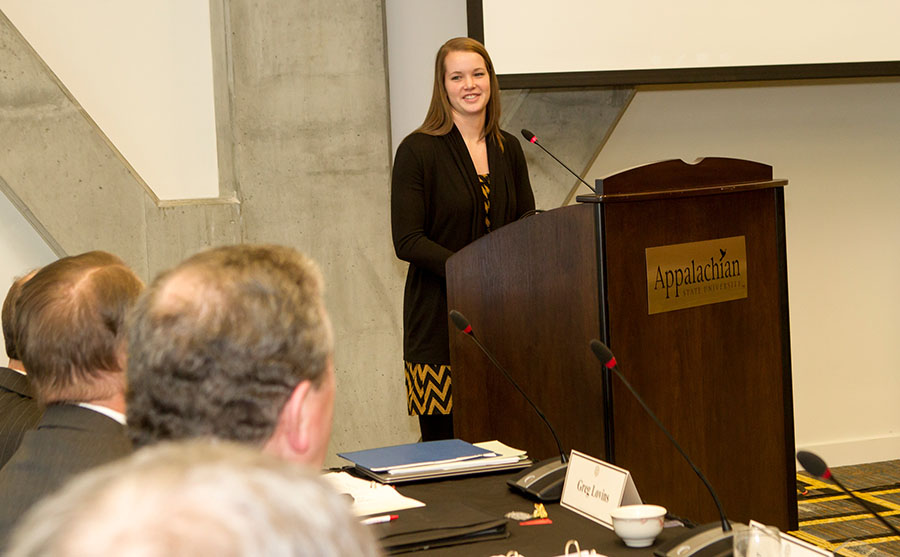 Posted Jan. 27, 2015 at 4:55 p.m.
BOONE—The Campaign for Appalachian raised $203,593,769 in support of academics, the arts and athletics at Appalachian State University, surpassing its $200 million goal.
The Campaign for Appalachian is the university's largest fundraising effort to date. The previous campaign, The Campaign for the Second Century, concluded in December 2002 after exceeding its original $50 million goal by raising $83.2 million.
"It was a group effort," Carole Wilson '75, a member of Appalachian State University's Board of Trustees and co-chair of the campaign steering committee, said of work undertaken by university volunteers, board members and fundraising staff.
According to information from the Office of University Advancement, the fundraising arm of the university, and Vice Chancellor for University Advancement Susan Pettyjohn, $142.9 million was raised to support academics, $17.8 million to support the arts, and $42.8 million to support athletics.
"As we face reductions in state funding and work diligently to keep tuition and fee increases in balance, private funding continues to be more instrumental every day in providing our students, faculty and staff with the resources they need to succeed at the highest level," said Chancellor Sheri N. Everts.
Of the total contributions, $107.6 million was directed to program support across the university, $45.7 million was earmarked by donors for scholarships and $9.8 million for programs and activities that support faculty and staff. Those programs and activities include professional development, academic research, travel and distinguished professorships, the Emergency Loan Program for University Employees, and the Mary Reichel and Rao Aluri University Library Faculty and Staff Enrichment Endowment.
A total of $32.7 million was contributed to support new facilities or the renovation of facilities on campus. Included in this amount is the Schaefer Center for the Performing Arts, George G. Beasley Media Complex, new athletic facilities, renovations to Peacock Hall, and a commitment from Appalachian Regional Healthcare System to provide land for the College of Health Sciences building.
Facts about the Campaign for Appalachian
More than half of the campaign total – $112,484,191 – came from cash and in-kind gifts.
121,612 individual gifts and pledges were made to the Appalachian State University Foundation in support of the university.
18,945 alumni contributed or pledged $72,229,284 to the campaign.
Commitments from 2,554 corporations and foundations totaled $55,580,335.
10,148 parents contributed or pledged $24,617,558.
8,438 friends of the university contributed or pledged $56,264,122.
1,846 current and former faculty and staff contributed $6,321,929.
2,356 students donated $70,147.
A total of $45.7 million was earmarked for scholarship support.
Ten professorships were established during the comprehensive fundraising campaign.
NOTE: Donors were counted in more than one category depending on their university affiliation, i.e. employee and alumnus, parent and alumnus, etc.
Commitments from campaign steering committee members
A major commitment from Bonnie and Jamie Schaefer of Blowing Rock and Florida paved the way for the opening of the renovated Schaefer Center for the Performing Arts, and provides continued resources for An Appalachian Summer Festival.
A major commitment from Brad '75 and Carole '75 Wilson of Raleigh established the Wilson Scholars Program, Appalachian's premier merit scholarship program.
A major commitment from Alice G. Roess of Blowing Rock will benefit international travel experiences for students in the Holland Fellows Program for Business Study in Asia Endowment, the arts and athletics.
A major commitment from Don '78 and Pat Phillips of Ashe County and Florida will support the College of Health Sciences, Belk Library and Information Commons and athletics.
A major gift from George G. Beasley '58 of Florida established the George G. Beasley Media Complex.
A major gift from Walter and Martha Ann Murray of Winston-Salem supports the Appalachian Commitment to a College Education for Student Success (ACCESS) scholarship program.
In addition to campaign co-chairs Brad '75 and Carole '75 Wilson, members of the campaign steering committee were George G. Beasley '58, Avery B. Hall '93, Martha Ann Murray, Walter V. Murray, Don Phillips '72, Pat Phillips, Alice G. Roess, Bonnie Schaefer, Jamie Schaefer, Michael Steinback, Cathy Steinback and J. Douglas Williams '83.
Pettyjohn said the success of the campaign was possible because of a shared focus of campaign volunteers, faculty and staff, alumni and others.
"It has taken the entire Appalachian Family to exceed the $200 million goal. I especially am grateful for the invaluable assistance of the campaign steering committee and campaign co-chairs Brad and Carole Wilson, members of the Board of Trustees, Appalachian State University Foundation, Board of Visitors and Appalachian Alumni Council," she said. "Their guidance helped my team in University Advancement exceed our fundraising goal."
About Appalachian State University
As the premier public undergraduate institution in the Southeast, Appalachian State University prepares students to lead purposeful lives. App State is one of 17 campuses in the University of North Carolina System, with a national reputation for innovative teaching and opening access to a high-quality, affordable education for all. The university enrolls more than 21,000 students, has a low student-to-faculty ratio and offers more than 150 undergraduate and 80 graduate majors at its Boone and Hickory campuses and through App State Online. Learn more at https://www.appstate.edu.
What do you think?
Share your feedback on this story.