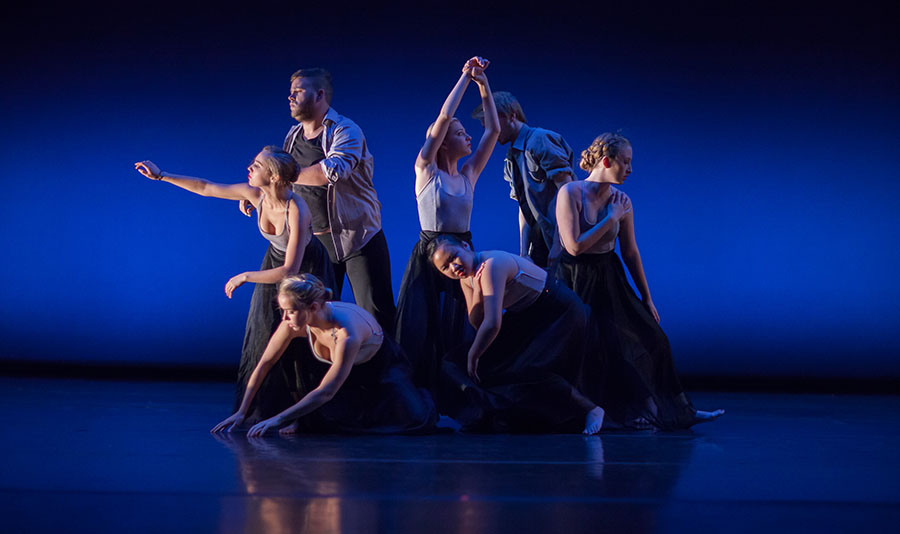 Posted March 18, 2015 at 1:41 p.m.
BOONE—The Appalachian State University Department of Theatre and Dance presents the 2015 Spring Appalachian Dance Ensemble (SADE), the major dance event of this semester. The production runs Wednesday, March 25, through Saturday, March 28, at 7:30 p.m. in Valborg Theatre on the Appalachian campus.
Ticket prices start at just $9 for students/faculty and only $16 for adults. For more information visit http://dance.appstate.edu, contact the box office at the Valborg Theatre or at 828-262-4046, or call the toll-free number 800-841-ARTS (2787). Tickets will also be sold at the door one hour in advance of each performance.
SADE boasts a diverse set of six original works created by faculty and students. Choreographers for the 2015 production are faculty members Cara Hagan, Susan Lutz and Kathryn Ullom and students Andrew Benson, Erin Laverty and Stephen Volkman. The production is the choreographic debut for both Hagan and Ullom and marks the first time they have created work with Appalachian students.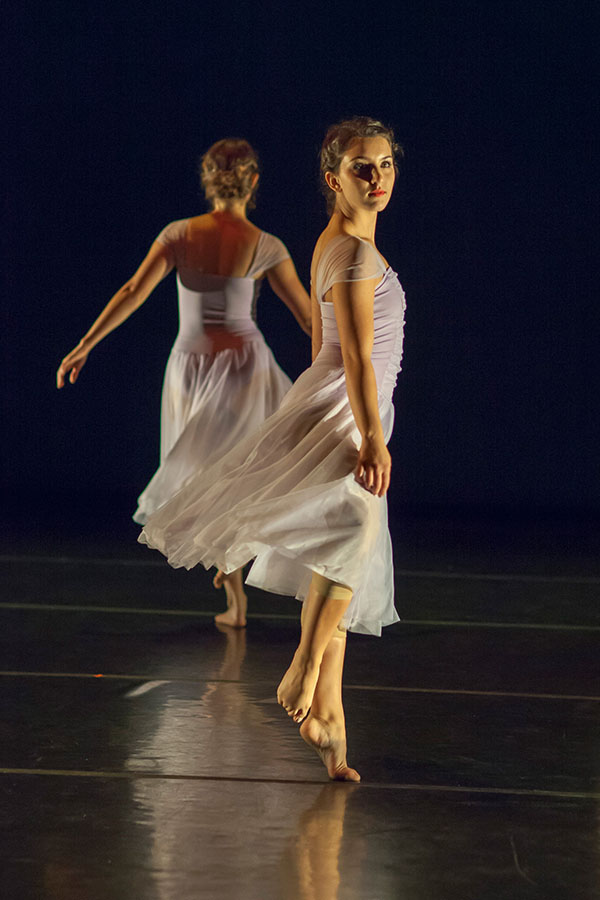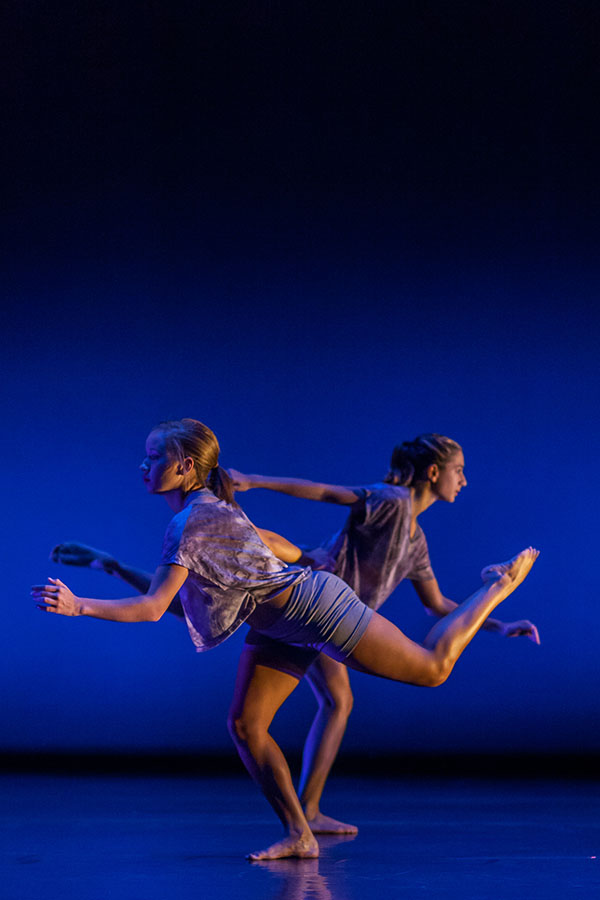 Hagan is a new faculty member in the Department of Theatre and Dance, but has performed many times on the Valborg stage during the annual North Carolina Dance Festival. She is a graduate of the UNC School of the Arts and Goddard College. She is an award-winning artist of many genres including dance, film, storytelling, music and socially engaged arts. Most recently, Hagan's critically acclaimed work, "Words Apart," was chosen as one of only four pieces statewide to be performed at the 2013 American Dance Festival. She is also a 2009 recipient of the North Carolina Dance Alliance Fellowship Award.
Ullom is an adjunct faculty member who received an M.F.A. in dance creative practices from Arizona State University and a B.A. in dance choreography from UNC Greensboro. She has worked with numerous national and international dance artists, a few of which include Eileen Standley (USA/The Netherlands), Thomas Lehmen (Germany), Tim O'Donnell (USA), and Christian Duarte (Brazil). She has performed with X-Factor Dance, Liz Lerman Dance Exchange, Jan Van Dyke Dance Group, John Gamble Dance Theatre, Even Exchange Dance Theatre, as well as presented her own work throughout North Carolina, Washington D.C., New York, Arizona and West Virginia. Her artistic work focuses on sensory awareness through the creation of movement installations and addressing the concept of what makes a space a place.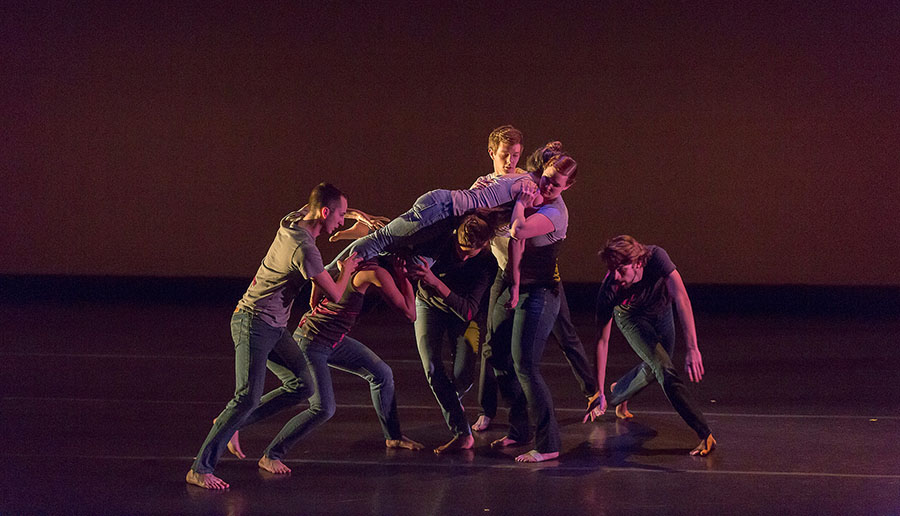 Lutz is an associate professor of dance studies with a distinguished tenure in the Department of Theatre and Dance. Benson is a sophomore from Morganton who appeared in the company of "Horn in the West." He is double majoring in sociology and dance. Apex resident Laverty trained at the Academy for the Performing Arts and has been dancing for 17 years. She is a sophomore majoring in social work major with a minor in dance. Volkman is a senior dance major who has performed in the North Carolina Dance Festival and the Appalachian Dance Ensemble.
The Valborg Theatre is located on the north side of Chapell Wilson Hall on Howard Street. The door faces the back of the Turchin Center for the Visual Arts on King Street. Parking is available after 5 p.m. on campus in faculty/staff lots and after 5:30 p.m. in the College Street parking deck near Belk Library and Information Commons.
About Appalachian State University
As the premier public undergraduate institution in the state of North Carolina, Appalachian State University prepares students to lead purposeful lives as global citizens who understand and engage their responsibilities in creating a sustainable future for all. The Appalachian Experience promotes a spirit of inclusion that brings people together in inspiring ways to acquire and create knowledge, to grow holistically, to act with passion and determination, and to embrace diversity and difference. Located in the Blue Ridge Mountains, Appalachian is one of 17 campuses in the University of North Carolina System. Appalachian enrolls more than 19,000 students, has a low student-to-faculty ratio and offers more than 150 undergraduate and graduate majors.
The Department of Theatre and Dance is housed in the College of Fine and Applied Arts. Its mission is to provide liberal arts educations for the B.S. degree in teaching theatre arts and the B.A. degrees in dance studies or theatre arts. The department also values the opportunity to offer coursework for integrated learning through the arts to the general university student population. Vital to the support of this mission is a dynamic co-curricular production program that provides exemplary theatre and dance experiences to departmental students, the university community and the region. The departmental philosophy is to support the university's liberal arts environment through a balanced and integrated emphasis on teaching, creative activity, scholarship and service.
Spring Appalachian Dance Ensemble Concert 2015 - Program Information
"Reboot and Reset"

Choreographed by Susan Lutz

A modern dance for six women, the movement and design of this work deals with the ideas of stopping and starting, losing and regaining energy. The music is by Bonobo, Colleen and Mux Mool.

"Skipple, Droodle, Phatter, Daint"

Choreographed by Stephen Volkman

This work is about using the body as an artistic tool, and is set to the music of the Kronos Quartet and Penguin Cafe Orchestra.

"A glimmer in time, I remember it well"

Choreographed by Kathryn Ullom in collaboration with the dancers

Ullom's piece explores memory and the transfer of experience from internal to external. Sweeping movements set the foundation for a series of solos and duets as the dancers bring their own memories to the surface for others to engage with. Though the intention is to remain abstract, each interaction is a collaboration between dancer and choreographer, dancer and dancer, and dancer and audience member.

"Bonfire of the Vanities"

Choreographed by Andrew Benson

This work is about conflict theory and the interactions between groups of people who have some grievance against one another. It portrays the effects of the acts committed and the results of conflict on people, and is set to the music of John Williams.

"Burden's Released"

Choreographed by Erin Laverty

Laverty's piece is about everyday struggles. The progression shows how we have the support of other people around us to help us through, which is portrayed by movements and partner work throughout the piece. Music is by Rachel's.

"Avalanche"

Choreography by Cara Hagan in collaboration with the cast

This work spills onto the stage with energy from the very first moment, then rolls, sweeps and swirls until the very last. A cast of 15 dancers brings varied talents and dynamics to the stage for a thoroughly enjoyable journey.
What do you think?
Share your feedback on this story.