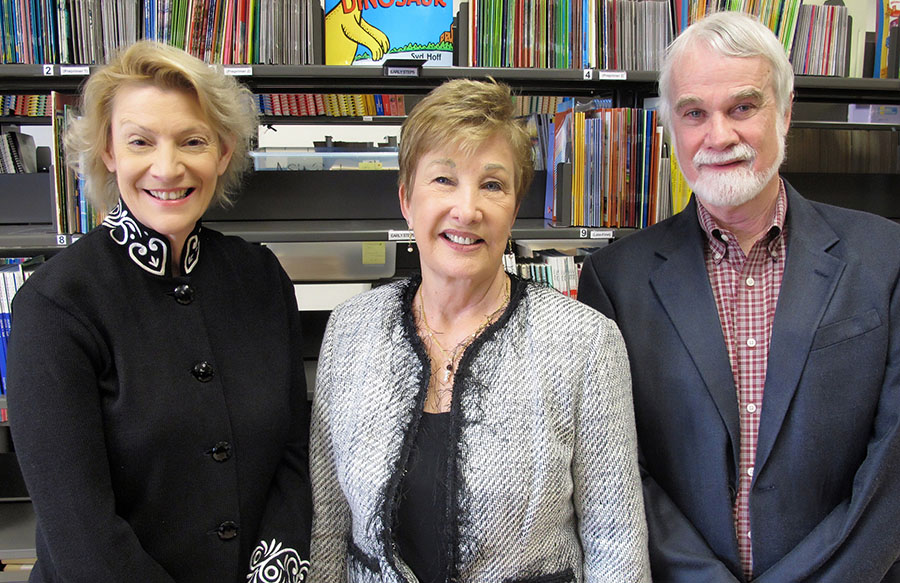 Posted March 24, 2015 at 5:15 p.m.
BOONE—A reading clinic at Appalachian State University that helps children improve their reading skills has been named in honor of university benefactor Pat A. Anderson of Taylorsville.
A major contribution to the clinic was made by Anderson's daughters through the TSH Charitable Foundation to honor their mother.
Anderson is a member of Appalachian's Board of Visitors and a former member of the Reich College of Education Advancement Board.
The clinic is located in the Reich College of Education's Department of Reading Education and Special Education.
Anderson and her family benefited from the clinic many years ago when she sought help for her son who was having trouble learning to read. She believes the clinic provided a transformational experience for him and that reading is the cornerstone of academic success for all children.
"It is critical that we train our students to read, and we have so many out there who cannot read," Anderson said.
Housed in the Reich College of Education, the reading clinic was established in the mid-1950s. It is the oldest and largest clinic in North Carolina, according to clinic director and reading professor Darrell Morris. The clinic serves approximately 100 children a year ranging from kindergarten through middle school. The clinic's reach expands in the summer to satellite locations in Asheville and Hickory and in Alleghany, Yadkin and Davie counties.
"We serve only children who are having trouble in reading. It doesn't mean the children are slow intellectually, just that they are having trouble learning to read," he said.
Cuts in funding had begun to erode the clinic's offerings, Morris said. Anderson's gift, he said, will provide funds to purchase books and support the clinic's supervision of students who are preparing to become reading teachers.
"It's going to help a lot of children learn to read. And by training the teachers that we do here, to understand reading the way that they will, it's going to help thousands of children in the schools in Western North Carolina," he said.
Anderson earned a Bachelor of Science degree in elementary education in 1962 and a Master of Arts degree in elementary education in 1966, both from Appalachian. She had a career as a teacher in public schools in Reidsville and in Mecklenburg County.
Anderson has been a generous advocate for Appalachian in terms of her time and financial contributions. Areas include the Reich College of Education, Walker College of Business, McKinney Alumni Center, Yosef Club, student scholarships and athletics.
Chancellor Sheri N. Everts is a former literacy professor and taught students to teach reading. Holding a copy of the book "Hatchet," an adventure book written for the middle-school reader, Everts said, "These high-interest books make so much difference in the lives of those reluctant readers," she said. "When a student suddenly decides 'Oh, you mean you can read really exciting page turners,' it makes all the difference. I so love this space and what it means not only to the teachers but also to the students whose lives you are impacting. Appalachian indeed is very fortunate to have Pat as our alumna and advocate. Pat supports many critical efforts across our campus and stands ready for service whenever we ask."
About the Pat A. Anderson Reading Clinic
The Pat A. Anderson Reading Clinic is a state-of-the-art facility that includes clinical spaces for groups, one-on-one observation rooms and resources and instructional reading materials for all age groups. The clinic serves more than 100 children a year and combines reading and writing instruction with critical teacher training by reading expert specialists. Each child receives approximately 15 hours of one-to-one reading and writing instruction. Undergraduate and graduate students majoring in education learn to teach reading by teaching children directly while receiving guidance and constructive feedback from clinic supervisory staff.
About Appalachian State University
As the premier public undergraduate institution in the Southeast, Appalachian State University prepares students to lead purposeful lives as global citizens who understand and engage their responsibilities in creating a sustainable future for all. The Appalachian Experience promotes a spirit of inclusion that brings people together in inspiring ways to acquire and create knowledge, to grow holistically, to act with passion and determination, and to embrace diversity and difference. Located in the Blue Ridge Mountains, Appalachian is one of 17 campuses in the University of North Carolina System. Appalachian enrolls nearly 21,000 students, has a low student-to-faculty ratio and offers more than 150 undergraduate and graduate majors.
What do you think?
Share your feedback on this story.