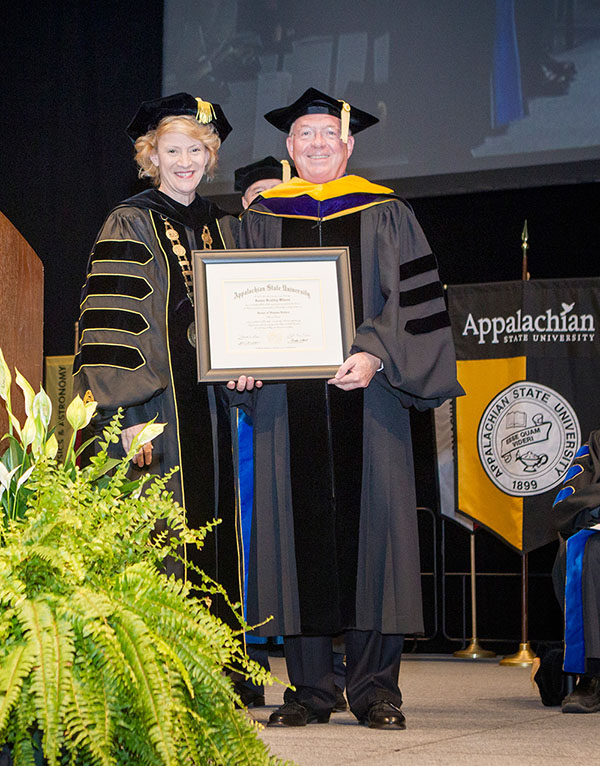 Posted May 11, 2015 at 12:38 p.m.
BOONE—Forty years after earning a bachelor's degree in history from Appalachian State University, J. Bradley Wilson of Raleigh has received a Doctor of Humane Letters, Honoris Causa from his alma mater.
The honorary degree, which recognizes an individual's significant contributions to the state and nation, was presented to Wilson during the graduation ceremony for Appalachian's College of Arts and Sciences held May 9 in the Holmes Convocation Center on campus.
Wilson, who earned his undergraduate degree from Appalachian in 1975, is president and CEO of Blue Cross and Blue Shield of North Carolina. He was nominated for the honor by one of his former professors.
"In recent years, Mr. Wilson has endeavored to serve higher education in North Carolina state-wide and Appalachian State University in particular," wrote retired political science professor Dan German. Wilson served 16 years on the University of North Carolina Board of Governors, including four years as chairman of the board.
His service to Appalachian includes membership on many athletics and academic boards and councils, including the Yosef Club, Alumni Council and the College of Arts and Sciences Advisory Council. He more recently co-chaired, with his wife, Carole, the Campaign for Appalachian that raised more than $200 million for the university.
A major gift from the couple established the Wilson Scholars Program, a prestigious full-ride scholarship based on a student's academics, leadership and service. The university's honors and student leadership and residential hall complex on campus was named the Brad and Carole Wilson Honors and Engagement Community in the couple's honor in March 2013.
Wilson Scholars participate in specially designed seminars, engage in international experiences and design capstone projects. A significant component of the Wilson Scholars experience is the participation in service-learning and civic engagement.
Wilson received an Outstanding Alumnus Award from Appalachian's College of Arts and Sciences in 2005, and the Alumni Association's Outstanding Service Award in 2006 and Distinguished Alumnus Award in 2001. He also was a commencement speaker in 2001. He also was the speaker at a special co-presentation of the inaugural Blue Cross and Blue Shield Lecture and the 52nd Harlan E. Boyles Distinguished CEO Lecture at Appalachian in 2013.
Wilson earned his law degree from the Wake Forest University School of Law before entering private law practice in Lenoir. In 1992, he was named general counsel to Gov. James B. Hunt Jr., a post he held until being named acting secretary of the N.C. Department of Crime Control and Public Safety in 1995. He joined Blue Cross and Blue Shield of North Carolina in 1995.
About Appalachian State University
As the premier public undergraduate institution in the state of North Carolina, Appalachian State University prepares students to lead purposeful lives as global citizens who understand and engage their responsibilities in creating a sustainable future for all. The Appalachian Experience promotes a spirit of inclusion that brings people together in inspiring ways to acquire and create knowledge, to grow holistically, to act with passion and determination, and to embrace diversity and difference. Located in the Blue Ridge Mountains, Appalachian is one of 17 campuses in the University of North Carolina System. Appalachian enrolls more than 19,000 students, has a low student-to-faculty ratio and offers more than 150 undergraduate and graduate majors.
What do you think?
Share your feedback on this story.