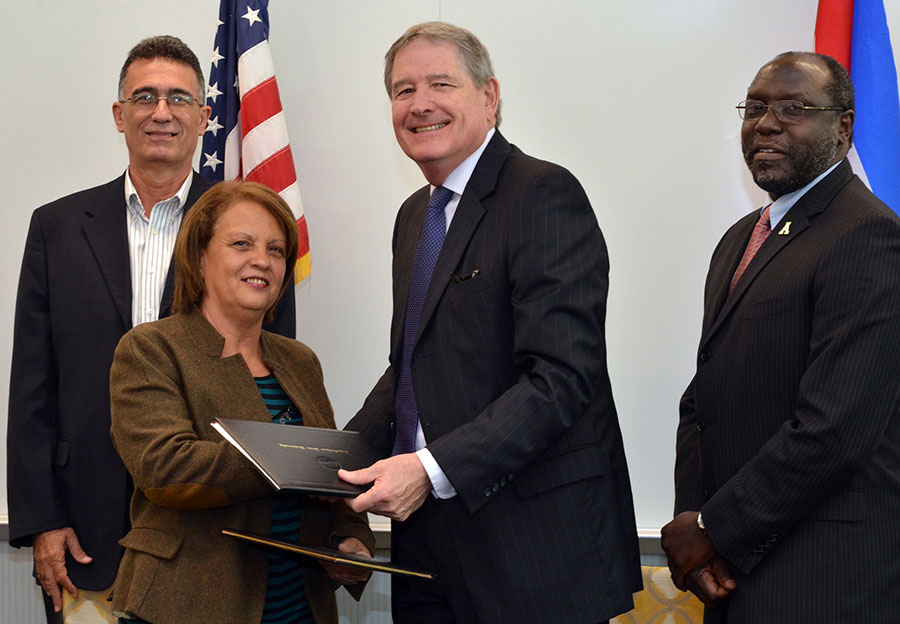 Posted May 22, 2015 at 9:04 a.m.
BOONE—Sixteen years after first exploring an academic partnership in Cuba, representatives from Appalachian State University and the University of Havana have embarked on a formal educational partnership.
Representatives from the two universities recently signed a memorandum of understanding that promotes the exchange of information and materials that are of mutual interest; develop joint short courses, summer courses, and semester study abroad programs; and exchange academic, research, and administrative staff, visiting scholars, and graduate and undergraduate students between the two institutions, according to Dr. Jesse Lutabingwa, vice chancellor for international education and development at Appalachian.
The agreement was the result of patience and understanding on the part of both universities as it took many twists and turns along the way as political relationships between the U.S. and Cuba changed through the years.
Carmen Castillo from the University of Havana's Office of International Relations spoke about the dedication both institutions had to persevere through a long process that led to the joint signing. "This is something that says a lot about this academic community, because it means that you are patient and you are persistent," Castillo said. "These are two of the things an American university has to have to deal with the Cuban academic community."
Castillo said the University of Havana has about 40 exchange agreements with U.S. institutions, some of which are more active than others.
Appalachian's first summer study abroad program to Cuba was in 2001. Other trips followed until 2005 when the U.S. government restricted short-term study abroad programs. An easing of restrictions in 2009 once again opened opportunities for educational exchanges between the two countries.
Since 2010, more than 145 students, faculty and staff have traveled to the country. The university also has hosted Cuban scholars on campus.
"Today represents the culmination of efforts over the past decade and a half to create and sustain a relationship between our two countries and institutions in the face of extraordinary difficult diplomatic constraints," said Interim Provost and Executive Vice Chancellor Stan Aeschleman.
"Despite this challenging political environment, students, faculty, and staff from both countries and across several disciplines managed to forge informal partnerships and exchanges," he said. "Today marks the first formal relationship between Appalachian and a Cuban university and we're so pleased and honored that it is with the University of Havana, the premier institution of higher education in Cuba."
About Appalachian State University
As the premier public undergraduate institution in the state of North Carolina, Appalachian State University prepares students to lead purposeful lives as global citizens who understand and engage their responsibilities in creating a sustainable future for all. The Appalachian Experience promotes a spirit of inclusion that brings people together in inspiring ways to acquire and create knowledge, to grow holistically, to act with passion and determination, and to embrace diversity and difference. Located in the Blue Ridge Mountains, Appalachian is one of 17 campuses in the University of North Carolina System. Appalachian enrolls more than 20,000 students, has a low student-to-faculty ratio and offers more than 150 undergraduate and graduate majors.
What do you think?
Share your feedback on this story.