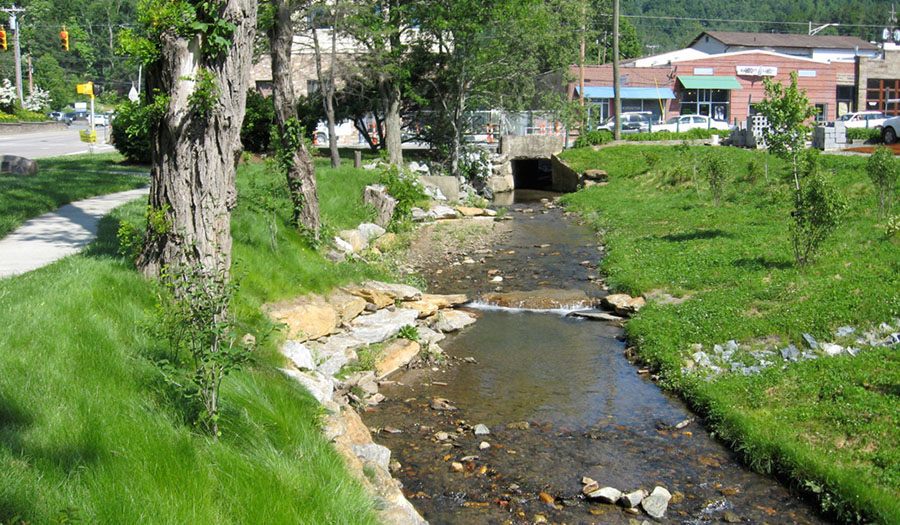 Posted July 6, 2015 at 12:31 p.m.
BOONE—A research paper on urban stream restoration written by Assistant Professor Kristan Cockerill and Professor Bill Anderson from Appalachian State University has received the 2015 Boggess Award for the best paper published in 2014 in the Journal of the American Water Resources Association.
The award is given to the author or authors of the paper, published in the JAWRA during the preceding year, that best describes, delineates, or analyzes a major problem or aspect of water resources from either a theoretical, applied, or philosophical standpoint.
Their paper, "Creating False Images: Stream Restoration in an Urban Setting," was published by the journal in April 2014.
Cockerill and Anderson conducted a case study of a stream restoration project along Boone Creek, which runs through Appalachian's campus and the Town of Boone. They theorized that while stream restoration projects are a multibillion dollar industry, they don't always yield the desired results and can create a false image of stream and landscape protection.
As stream restoration projects occur, they wrote, conditions may actually worsen from water runoff from parking lots and roads and lack of shade-providing vegetation, causing water temperatures to rise and creating problems for aquatic life.
Cockerill, from the Department of Culture, Gender and Global Studies, and Anderson, chairman of the Department of Geology, continue to study urban stream restoration and are writing a second paper on the topic and urban stream syndrome in particular.
"Research on urban stream syndrome shows that urban streams are highly variable, and it is difficult to draw firm conclusions about causes and impacts that apply to all urban streams," Cockerill said. "What the research also shows is that stormwater runoff is often a primary cause for many negative conditions."
Anderson is studying temperature and conductivity, which are two common issues on urban streams.
In the case of Boone Creek, the conductivity is from road salt use in the winter. The results show that the creek continues to have temperature and salt spikes. "Our research is showing that there are chronic and acute violations of EPA water quality standards for streams," he said.
"Previous studies with numerical models showed that spikes in stream temperatures during summer thunderstorms drives heat into the streamside, or riparian, aquifer. New analysis is showing that the same thing is happening with the salt spikes, the main difference being that the salt, unlike the heat, cannot cool off but must return to the stream from the aquifer," Anderson said.
"This is the process that leads to chronic salinity problems in Boone Creek. Our water-quality monitoring efforts and our numerical simulations demonstrate that the saline runoff from streets, sidewalks and parking lots is not only contaminating Boone Creek, but also the riparian aquifer," he said. "Our simulations will show how long the salt resides in this aquifer and also how reducing either the amount of runoff or the amount of salt being supplied from runoff will reduce or eliminate the chronic salt problem."
About Appalachian State University
As the premier public undergraduate institution in the state of North Carolina, Appalachian State University prepares students to lead purposeful lives as global citizens who understand and engage their responsibilities in creating a sustainable future for all. The Appalachian Experience promotes a spirit of inclusion that brings people together in inspiring ways to acquire and create knowledge, to grow holistically, to act with passion and determination, and to embrace diversity and difference. Located in the Blue Ridge Mountains, Appalachian is one of 17 campuses in the University of North Carolina System. Appalachian enrolls more than 20,000 students, has a low student-to-faculty ratio and offers more than 150 undergraduate and graduate majors.
What do you think?
Share your feedback on this story.