Posted July 17, 2015 at 11:47 a.m.
BOONE—David C. Marlett has been a department chair, college professor and insurance industry professional, but it's his recent work in foster care advocacy that he says has been most rewarding.
Marlett and colleague Dr. Jamie Anderson said their motivation to assist with the state's Foster Care Family Act was to push for liability protection for foster parents. Marlett is a professor in Appalachian State University's Department of Finance, Banking and Insurance whose expertise is risk management insurance. Anderson is an assistant professor in the department whose expertise relates to business law.
Thanks to their research and efforts, within a year foster parents in the state will be able to purchase liability insurance to protect their assets should a child in their care get hurt and the child's biological parents sue.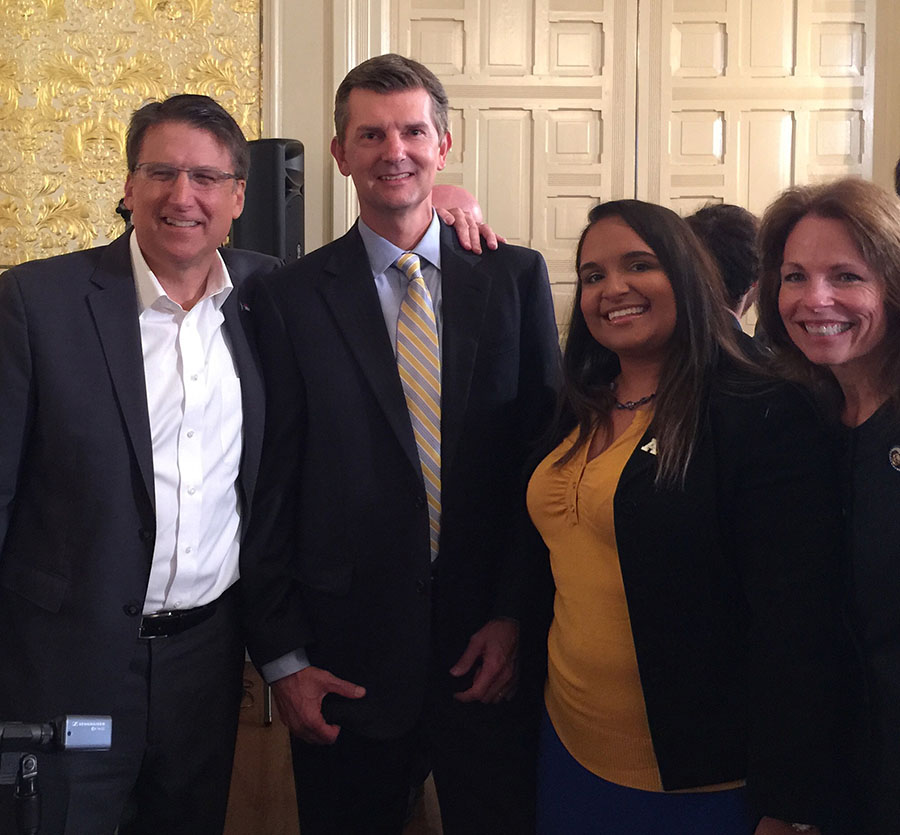 Marlett and his wife have been foster parents in Watauga County for five years. Anderson was a foster parent when she resided in Nebraska, which provided $1 million umbrella coverage for foster parents.
"Five years ago, when my wife and I were taking the courses to become foster parents, I asked about liability protection," Marlett said. He learned from his insurance company and also the N.C. Department of Insurance that foster parents in the state had no protection if a child in their care was hurt and the child's biological parents decided to sue the foster parents.
"It's hard enough to be a foster parent without the thought of potentially losing all your resources," Marlett said.
He and Anderson researched the practices across the U.S. regarding liability insurance for foster parents.
"The assumption was that your homeowner's policy would cover liability issues, but when we started investigating state by state, we found that wasn't the case," Anderson said. "Some states had immunity provisions, some had insurance protection, some didn't have anything," she said. North Carolina was one of 13 states that didn't offer any kind of liability protection. "For me, even before considering basic respite care for foster parents, I wanted to make sure there was solid coverage available."
Their findings, which were published in Journal of Insurance Regulations, provided the data that one of the bill's sponsors, Sen. Tamara Barringer, needed to include a liability insurance provision. The Foster Care Family Act was signed into law July 2 by Gov. Pat McCrory. Barringer has also been a foster parent.
"That was a pretty compelling case to make," Marlett said of the insurance provision. He feared without such an option many qualified people might choose not to become foster parents. "On top of the emotional rollercoaster foster parents are part of, they could have been left out to dry if they were sued –- a factor that could deter many from becoming foster parents."
The bill directs the state's rate bureau to develop the applicable insurance endorsement to provide liability insurance and submit it to the state's insurance commissioner by next spring. The insurance commissioner will be responsible for setting rates for the liability coverage.
"Having the rate bureau establish endorsement will free up the gap in homeowner's policies," Anderson said. "Now when I talk to those who night be interested in becoming a foster parent, I can tell them about this protection that wasn't there before. I think it will open doors to new foster parents."
Roberta Yates, an Appalachian graduate and the foster parent licensing and training coordinator at Watauga County Department of Social Services, hopes that's the case. "We have seen an influx of children coming to foster care over the last several years, either because of the economy, families under duress or the transitory population in the county," she said. "While we are seeing more children coming into care, we want the placement to be a good match. Success is greater when we match family's strengths to the child's needs."
She estimates there are 25 licensed foster parents in the county.
Passage of the Foster Care Act also allows foster children to have a more normal life, by allowing them to participate in extracurricular, enrichment and social activities and overnight activities for up to 72 hours outside the caregiver's direct supervision. It also reduces previous barriers to a foster child obtaining a driver's license and with their own insurance to operate a vehicle owned by the foster parent.
"Children in foster care already feel different and sometimes feel shamed," Yates said. "There is the misconception that a child is in foster care because he or she did something wrong. That is rarely the case. This is a step in the right direction to help normalize their experiences and give them the opportunity to heal and grow."
Individuals interested in becoming foster parents can visit http://www.ncswlearn.org and click on Foster Parent Orientation link, or contact Yates at Roberta.yates@watgov.org.
About Appalachian State University
As the premier public undergraduate institution in the Southeast, Appalachian State University prepares students to lead purposeful lives as global citizens who understand and engage their responsibilities in creating a sustainable future for all. The Appalachian Experience promotes a spirit of inclusion that brings people together in inspiring ways to acquire and create knowledge, to grow holistically, to act with passion and determination, and to embrace diversity and difference. Located in the Blue Ridge Mountains, Appalachian is one of 17 campuses in the University of North Carolina System. Appalachian enrolls nearly 21,000 students, has a low student-to-faculty ratio and offers more than 150 undergraduate and graduate majors.
What do you think?
Share your feedback on this story.