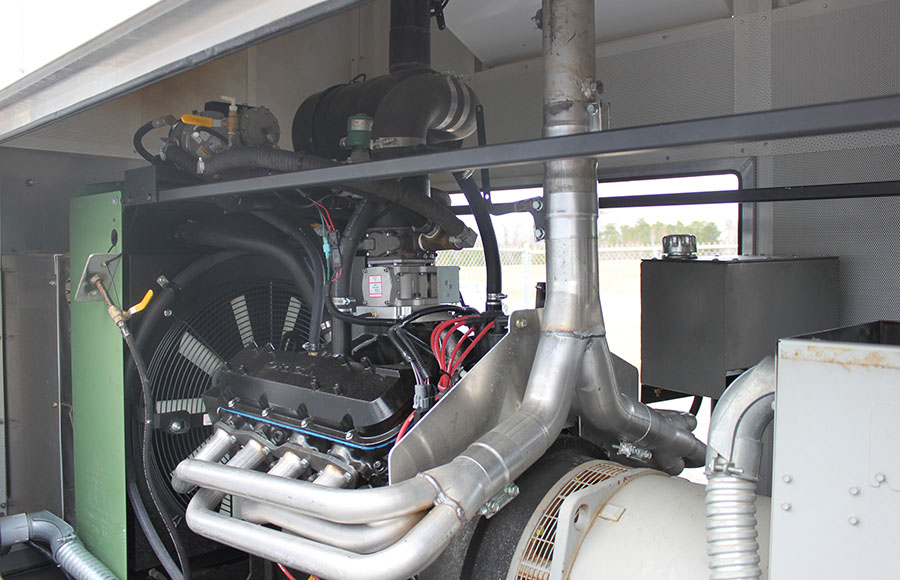 Posted Aug. 25, 2015 at 4:44 p.m.
BOONE — The Appalachian Energy Center at Appalachian State University recently completed a project that began in 2005 to help eight North Carolina counties produce renewable energy while reducing greenhouse gas emissions and improve their economy.
The project was funded by a grant from the Z. Smith Reynolds Foundation of Winston-Salem. The ZSR Foundation and the Appalachian Energy Center share the goals of protecting the environment while spurring community development throughout North Carolina.
Because of this recent grant, and previous funding from Z. Smith Reynolds Foundation, Golden LEAF Foundation, the American Recovery and Reinvestment Act (ARRA), and the work of the Appalachian Energy Center, there are eight new landfill gas projects in North Carolina producing an average of over 1,700 kilowatt watt hours of electricity per month.
The first landfill gas to energy conversion project began in 2005 in Watauga County and was completed in 2012. The most recent projects began in 2013 in Rockingham and Edgecombe counties and were completed in 2014.
According to Dr. Jeff Ramsdell, director of the Appalachian Energy Center, "We are so pleased to have been able to contribute to the development of a number of small to medium-sized landfill gas projects in North Carolina. These projects eliminate massive amounts of greenhouse gases while creating new income streams the counties who operated these landfills. Since these projects began, over 90 million kilowatt hours of renewable energy have been produced for the North Carolina grid."
With all of the concern about climate change, methane emissions have often been a subject of conversation. Methane is a serious greenhouse gas, 23 times more potent than carbon dioxide at storing heat in the atmosphere. Landfills are a major source of methane emissions. The methane gas is created as buried organic waste decomposes underground. These landfill gas projects capture methane before it is emitted into the atmosphere and pipe it to engines which burn the methane as fuel to gnerate electricity. To date over 600,000 tons of carbon dioxide equivalent have been reduced.
The Appalachian Energy Center has worked primarily with limited resource counties with smaller landfills to develop community-based landfill gas projects through a program called Community TIES. According to Jason Hoyle, business analyst at the Energy Center, "Commercial landfill gas developers have made money at larger landfills for decades, but smaller landfills were ignored. We feel we have proven that landfill gas projects, even at smaller landfills, can make sense to the counties that own them as self-developed community-based projects."
This work has directly resulted in landfill gas utilization projects in Columbus, Watauga, Wilkes, Haywood, Rockingham, and Edgecombe counties. The Energy Center has also provided assistance to projects in Gaston, Robeson and several other North Carolina counties. These eight projects have an estimated production capacity of over seven megawatts of electricity or enough to power about 5,000 average North Carolina homes.
According to Stan Steury, research scientist at the Energy Center, the path to sustainability for these projects has not been easy, but there are now sustainable landfill gas to energy projects in several North Carolina counties thanks to the Z Smith Reynolds Foundation, the Energy Center and other partners.
"There have been many bumps in the road," Steury said, "but our staff has worked with county employees, equipment and service companies, utility companies, regulatory agencies and others to solve these problems. Most of these projects would not have happened had it not been for the federal stimulus funds, but the Z. Smith Reynolds Foundation has also been instrumental in providing the Energy Center with grant funding to locate and plan potential projects, and with the recent grant, to help make them sustainable."
According to Steury, electricity generation is not the first choice of the Energy Center in landfill gas development, because generators are so inefficient at converting energy in landfill gas to electricity, usually about 30 percent efficient, while boilers or furnaces burning landfill gas may have energy conversion efficiency that is over 90 percent. Using gas directly in this way is not always possible, however. But due to the tight timelines of ARRA, the projects had to be developed quickly and in most cases electricity generation is just the fastest way to develop.
The Energy Center has used an old technology in a new way on several of these projects – automotive (V-8) engines fueled by landfill gas running generators rated at about 70 kilowatts each. This is one of the first successful uses of this type of generator in the nation. It offers easy maintenance, since the engines are the same as those worked on by nearly any auto mechanic, and parts are available at the local auto part store.
For more information, contact Steury at steurysw@appstate.edu, 828-262-7515 or 828-773-9752, or Ramsdell at 828-262-7514 or ramsdellje@appstate.edu.
About the Appalachian Energy Center
The Appalachian Energy Center (AEC) at Appalachian State University conducts energy research and applied program activities in the areas of energy efficiency, renewable energy technologies, forecasting and modeling, economic development and policy analysis in a multidisciplinary environment that leverages the expertise of faculty, staff and students from across the university as a resource for private industry, local, state and federal governments, as well as nonprofits. Through its outreach programs and research, the Appalachian Energy Center benefits communities and citizens across the state by helping create new jobs, businesses and increased investment and income. Learn more at https://energy.appstate.edu.
About Sustainability at Appalachian
Appalachian State University's leadership in sustainability is known nationally. The university's holistic, three-branched approach considers sustainability economically, environmentally and equitably in relationship to the planet's co-inhabitants. The university is an active steward of the state's interconnected financial, cultural and natural resources and challenges students and others think critically and creatively about sustainability and what it means from the smallest individual action to the most broad-based applications. The university offers both undergraduate and graduate academic degree programs that focus on sustainability. In addition, 100 percent of Appalachian's academic departments offer at least one sustainability course or course that includes sustainability, and all students graduate from programs that have adopted at least one sustainability learning outcome. Learn more at https://appstate.edu/sustainability.
About Appalachian State University
As the premier public undergraduate institution in the state of North Carolina, Appalachian State University prepares students to lead purposeful lives as global citizens who understand and engage their responsibilities in creating a sustainable future for all. The Appalachian Experience promotes a spirit of inclusion that brings people together in inspiring ways to acquire and create knowledge, to grow holistically, to act with passion and determination, and to embrace diversity and difference. Located in the Blue Ridge Mountains, Appalachian is one of 17 campuses in the University of North Carolina System. Appalachian enrolls more than 20,000 students, has a low student-to-faculty ratio and offers more than 150 undergraduate and graduate majors.
What do you think?
Share your feedback on this story.