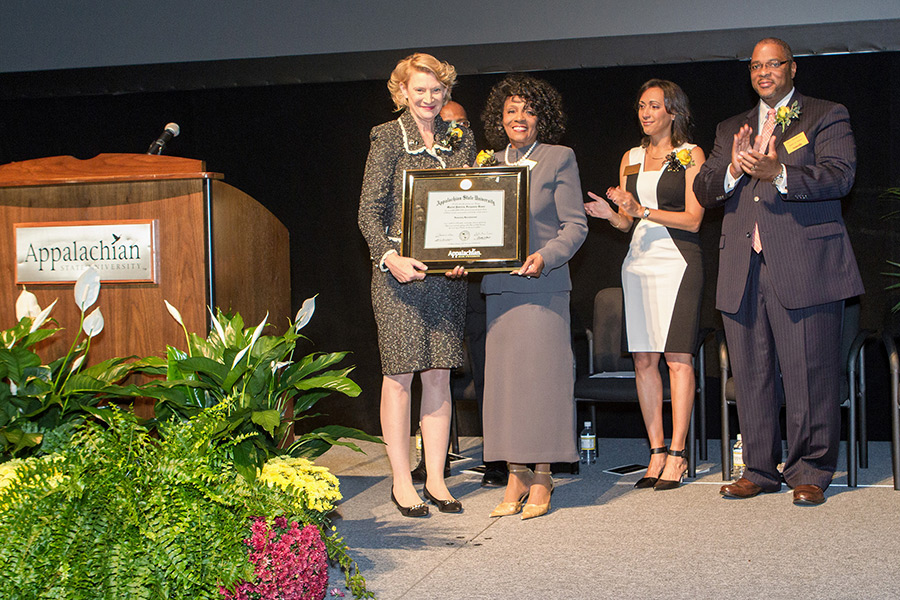 Posted Oct. 2, 2015 at 6:22 p.m.
BOONE—More than 50 years after enrolling in college, Lenoir resident Patricia Ferguson Beane now has a diploma. Beane received an honorary bachelor's degree during Appalachian State University's Celebration of Integration held Oct. 2 on campus.
The event recognized Appalachian alumni who were part of the university's early diversity efforts. Beane also received Appalachian Alumni Association's Black and Gold Medallion in recognition of her "historic contribution to the institution," said Chancellor Sheri N. Everts in presenting the honor.
Beane enrolled at Appalachian in 1963. Her goal at the time was to teach music in the public schools. She was a member of the Marching Mountaineers – the only African-American member of the band at the time.
Musicians are a tight-knit group, and the Marching Mountaineers during the 1960s were no exception. During a road trip to an away football game, the band stopped for supper before returning to Boone, but Beane was denied service because of her color.
"The entire band stood up, placed their menus on their tables and walked out of the restaurant," Everts said recounting the incident. "Pat said that this experience was life-changing for her. I daresay it was life-changing for all of the white students as well. For those who took the time to really get to know Pat and understand the challenges she faced as a trail-blazing African-American during this time in the history of our country and our university, I venture to say they learned much from her."
Because Beane had to leave the university in 1966 and return home and help her parents care for her siblings, she never completed her degree. She retired as a customer service representative with the Broyhill Corp in 1987.
"Pat Ferguson Beane's story reminds us that our history at Appalachian is one of inclusivity. I know many of us have felt this over the years; however, we understand that as we grow as an institution, we will continue to face challenges," Everts said.
Beane said that if all African-Americans in the state had been treated as well as she was while attending Appalachian she believed there would have been fewer problems related to race relations.
"Appalachian, even while working through challenges related to increasing diversity, has a history of being a welcoming place," Everts said. "This knowledge will bolster us as we continue the important work of increasing the diversity of our student, faculty and staff populations."
About Appalachian State University
As the premier public undergraduate institution in the state of North Carolina, Appalachian State University prepares students to lead purposeful lives as global citizens who understand and engage their responsibilities in creating a sustainable future for all. The Appalachian Experience promotes a spirit of inclusion that brings people together in inspiring ways to acquire and create knowledge, to grow holistically, to act with passion and determination, and to embrace diversity and difference. Located in the Blue Ridge Mountains, Appalachian is one of 17 campuses in the University of North Carolina System. Appalachian enrolls more than 20,000 students, has a low student-to-faculty ratio and offers more than 150 undergraduate and graduate majors.
What do you think?
Share your feedback on this story.