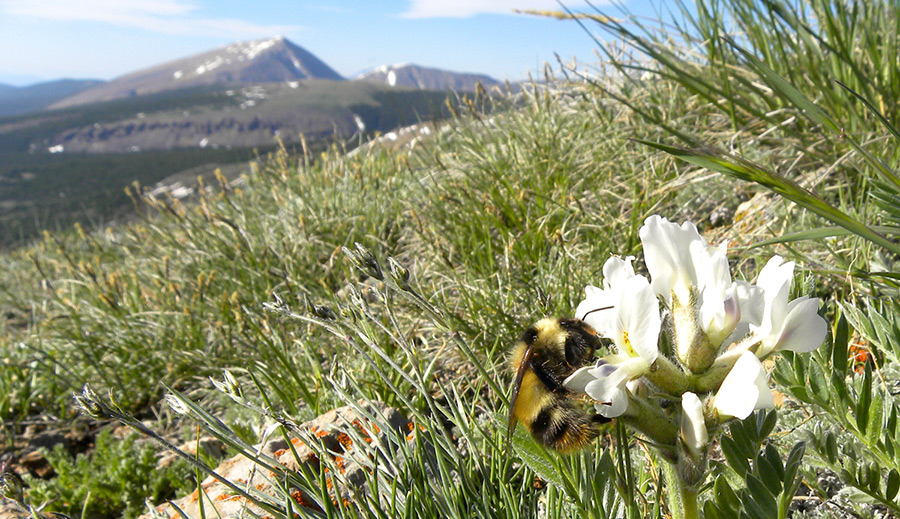 Posted Oct. 13, 2015 at 3:32 p.m.
BOONE—Worker bumble bees only live a couple of weeks, but it's that short life span that has enabled researchers to identify changes that are occurring to the species because of climate change in Colorado's Pennsylvania Mountain Natural Area's flower diversity.
Interactions between plants and pollinators have been Jennifer Geib's research focus since 2003.
Now an assistant professor in Appalachian State University's Department of Biology, Geib conducted the first modern-day bumble bee study in areas where historical data existed while she was a Ph.D. student at the University of Missouri. "We saw that the species distributions had changed. That led us to look at what was occurring in the broader plant-pollinator interaction network in the region," Geib said of the work she has been doing with her former faculty mentor, now collaborator, Dr. Candace Galen from the University of Missouri.
Recently, Geib was one of the lead authors of an article published in Science that documents changes that have occurred during the past 40 years as the bumble bees have adapted to changes in their mountain habitat.
The researchers found that the tongues of the long-tongued bumblebees have shrunk over a 40-year period – 0.61 percent each year – as the number of flowers in the area has decreased, including the already more rare long-tube flowers on which the bees prefer to feed. Those changes are a result of the drought and warmer climate occurring in Colorado.
"We have no evidence that the plants have died or been lost. What we have is evidence of loss of flowering – of fewer flowers. That's a critical point," Geib said.
For the recent study, begun in 2012, Geib and colleagues from other universities focused on a number of different plant species – alpine sky pilots, alpine clovers, sunflowers, daisy-like flowers, members of the aster family, alpine bluebells and Indian paint brush. "We did not see any evidence that the tubes of these short- or long-tubed flowers have shrunk," she said. "As warming occurs and since snow-pack has been decreasing, soil drought has been increasing in Colorado. For plants, that means they could be dying, or they could be going dormant and not flowering."
Fewer flowers to provide nectar for the bees have resulted in the bees' physiological changes. They have adapted to foraging on the shorter-tubed flowers that are more broadly available.
Geib, often aided by undergraduate and graduate assistants, collects worker bumble bees from elevations ranging from 11,000 to 13,000 feet on Pennsylvania Mountain, located about half an hour south of Breckenridge. The bees are either caught in a net, or by hand while they are busy feeding from flowers.
"The study focused on worker bees. You don't want to remove queens from the population," she said. "Workers only have a two-week life span anyway. Other studies have shown that removing worker bees doesn't impact the broader breeding population, and genetics work shows that we never take more than one or two from each colony."
It's the early work of scientists from the 1970s that made the longitudinal study possible, Geib said.
"Thank goodness it was standard practice for the bee ecologists of that day to archive their specimens. This really speaks to preserving those practices, especially as we get into this modern age," she said. "Without that, there would be no paper; there would be no hint at what has been going on."
Bee populations turn over every year, Geib explained. "Every generation is a one-year generation. That's why they can evolve so quickly over 40 years."
The questions now are what will further climate warming do to the plant population and will a change in the bee population affect plant pollination for the remaining long-tubed flowers.
"Plants in the alpine are almost all long-lived, having life spans of up to 20-80 years, and in some cases 100 years or more, so the question is how long will warming continue? The plant populations can probably tolerate loss of pollination for some time before their population drops off. But if trends continue, plants could be impacted long term," Geib said.
Climate change is also changing the tree line in Colorado's alpine mountains.
"This is the other issue beside the pollinator plant interaction. We have issues with increased competition as warming occurs. As the tree line shifts upward into the alpine habitat, other lowland plant species will also shift," she said. Alpine plants are not usually good competitors.
"If warming continues, all these synergistic pressures are likely to cause problems," she said.
About Appalachian State University
As the premier public undergraduate institution in the Southeast, Appalachian State University prepares students to lead purposeful lives as global citizens who understand and engage their responsibilities in creating a sustainable future for all. The Appalachian Experience promotes a spirit of inclusion that brings people together in inspiring ways to acquire and create knowledge, to grow holistically, to act with passion and determination, and to embrace diversity and difference. Located in the Blue Ridge Mountains, Appalachian is one of 17 campuses in the University of North Carolina System. Appalachian enrolls nearly 21,000 students, has a low student-to-faculty ratio and offers more than 150 undergraduate and graduate majors.
What do you think?
Share your feedback on this story.