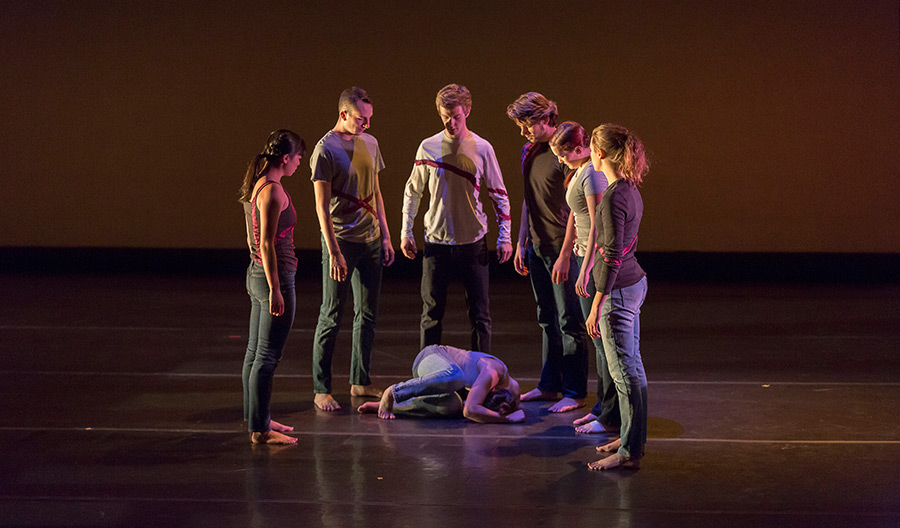 Posted Nov. 9, 2015 at 3:46 p.m.
BOONE—The Appalachian State University Department of Theatre and Dance presents FADE, the 2015 Fall Appalachian Dance Ensemble, in Valborg Theatre Nov.18-21 at 7:30 p.m. This is the final dance production of the semester.
Ticket prices start at just $10 for Appalachian students and $17 for adults. For more information visit www.theatreanddance.appstate.edu, or call the box office at 828-262-4046, or the toll-free number 800-841-ARTS (2787).
FADE is an original production of seven dance pieces newly choreographed by students and faculty, and performed by university students. A staple in programming for the past five years, this event began over 30 years ago as the Appalachian Dance Ensemble and was produced only once a year in the spring before expanding to include a fall program in 2011. Each dance piece varies in both style and content, ranging from themes about nature to zodiac signs, from memories of the past to the impression of ink in water.
According to FADE coordinator Laurie Atkins, over 70 students auditioned to be choreographers or dancers with 50 of them chosen to be a part of the showcase.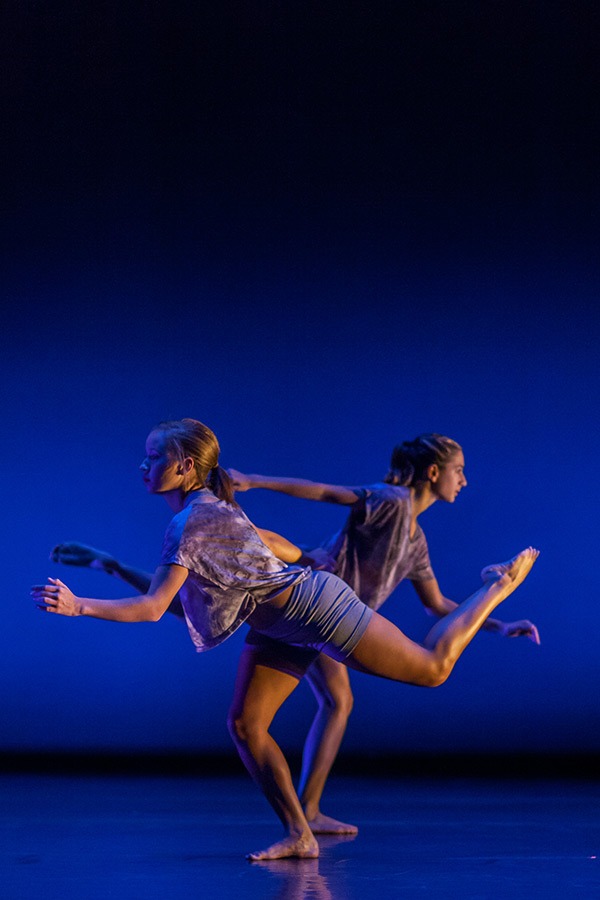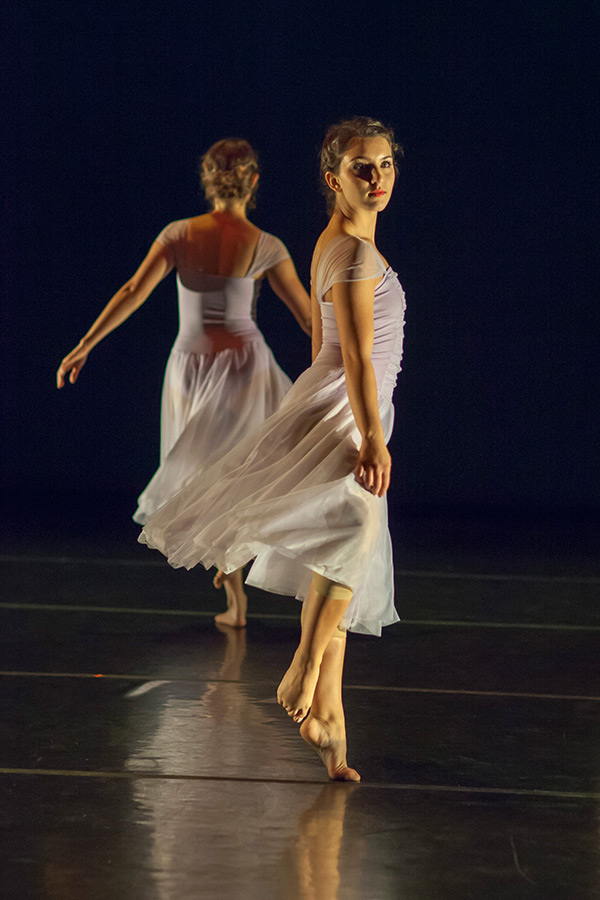 Of the seven pieces, four are choreographed by students and three by dance faculty. The student works include Erin Myers' "Sacred Shapes," about ritualistic forms in nature and how the expression of dance connects us to each other and the divine. "Pendulum," choreographed by student Nisha Jackson, is a display of the emotional stages that are involved with the zodiac sign Pisces. Senior Raquelle Pollock has choreographed "Rememory," about the people who we carry along with us in our memories, as well as the conversations we have had with them. A work titled "Effervescence" is choreographed by Miika Greenwood and inspired by ink in the water, the seamless yet unexpected flow and image that ink creates.
Faculty choreographed pieces include an original work by Laurie Atkins that experiments with the juxtaposition of popular music and competition amongst dancers. "Talkatif," created by Sherone Price, is set to Afropop music from the Broadway musical "Fela," exploring conflict and resolution with energetic, full-bodied choreography. Adjunct faculty member Kathryn Ullom has a cast of eight student dancers in her piece, which is inspired by various concepts from physics, including momentum, friction, acceleration and force.
About Valborg Theatre
Valborg Theatre is located on the north side of Chapell Wilson Hall on Howard Street. The door faces the back of the Turchin Center for the Visual Arts on King Street. Parking is available after 5 p.m. on campus in faculty/staff lots and after 5:30 p.m. in the College Street parking deck near Belk Library and Information Commons.
About the Department of Theatre and Dance
The Department of Theatre and Dance is housed in the College of Fine and Applied Arts. Its mission is to provide liberal arts educational opportunities including B.A. degrees in dance studies and theatre arts. The department also values the opportunity to offer coursework for integrated learning through the arts to the general university student population. Vital to the support of this mission is a dynamic co-curricular production program that provides exemplary theatre and dance experiences to departmental students, the university community and the region. The departmental philosophy is to support the university's liberal arts environment through a balanced and integrated emphasis on teaching, creative activity, scholarship and service.
About Appalachian State University
As the premier public undergraduate institution in the state of North Carolina, Appalachian State University prepares students to lead purposeful lives as global citizens who understand and engage their responsibilities in creating a sustainable future for all. The Appalachian Experience promotes a spirit of inclusion that brings people together in inspiring ways to acquire and create knowledge, to grow holistically, to act with passion and determination, and to embrace diversity and difference. Located in the Blue Ridge Mountains, Appalachian is one of 17 campuses in the University of North Carolina System. Appalachian enrolls more than 19,000 students, has a low student-to-faculty ratio and offers more than 150 undergraduate and graduate majors.
Media Contact
Keith Martin
828-262-8179
MartinKT1@appstate.edu
Additional FADE 2015 program information
"Pendulum"

Choreography by Nisha Jackson
Music originally composed by Ben Howard from "End of the Affair" Music arranged and performed by AJ Libunao
Lighting design by Emily Siegel
Costumes design by Costumes by ADE
Danced by: Jordan Ballard, Andrew Benson, Montana Bright, Alaina Brown, Brielle Cornacchio, Jason Dawkins, Ashley Fetherbay and Makayleigh Smith

"Rememory"

Choreography by Raquelle Pollock
Music by The Piano Guys "Moonlight"
Lighting design by Matt Hudak
Costumes by ADE
Danced by Erin Brathwaite, Samantha Hunter, Zoë Reddig, McRae Whitley, Natalie Willmschen, Lakin Wingfield and Katelyn Woodruff

"Effervescence"

Choreography by Miika Greenwood
Music by Kaki King from "Bari Improv" and "Ritual Dance" and Doug Smith and Heitor Pereira from "Dueling Guitars"
Lighting design by John Marty
Costumes by ADE
Danced by Jennie Flowers, Ashley Holliday, Danielle Neibaur, Sarah Patrick, Marissa Stockstad and Lucy Winesett

"Playful Musings"

Choreography by Laurie Atkins in collaboration with the dancers
Music by Michael Jackson from "Wanna Be Startin' Somethin'," Tom Waits from "Midtown," James Brown from "It's a Man's Man's World" and Elton John from "Your Song"
Lighting design by Emily Siegel
Costumes by Sue Williams
Danced by Cedric Bowie, Colleen Choate, Beth DeLeon, EC Fajardo, Susanna Kornegay, Nile Latowsky and Ulises Luviano

"Centripetal"

Choreography by Kathryn Ullom with movement contributions by the dancers
Music: "Alight Spiral Snip" by Phillip Glass and Dan Deacon and "Knee I" by Phillip Glass and Nosaj Thing
Lighting design: John Marty
Costume design: Sue Williams
Cast: Andrew Benson, Noelle Chung, Miika Greenwood, Kathleen Hatfield, Juliet Irving, Samantha Morgan, Raquelle Pollock and Lea Vosberg

"Sacred Shapes"

Choreography by Erin Nicole Myers
Music by Frederic Chopin from "Nocturne in B Flat Minor," played and recorded by Luke Shaver, Sept. 10, 2015
Lighting design by John Marty
Costumes by ADE
Danced by Jordan Ballard, Rebecca Coleman, Beth DeLeon, Jessica Hollifield, Sherri Parks, Madi Pratapas and Eliana Rodriguez

"TALK TALK TALK"

Choreographer by Sherone Price
Lighting design by John Marty
Costumes by ADE
Music by Antibalas Talkatif
Danced by Alison Bird, Cedric Bowie, Erin Brathwaite, Jason Dawkins, Ashley Holliday, Alex Hughes, Phillip McRorie, Danielle Neibaur, Makayleigh Smith, Micaela Spinelli, McRae Whitley and Lucy Winesett
What do you think?
Share your feedback on this story.