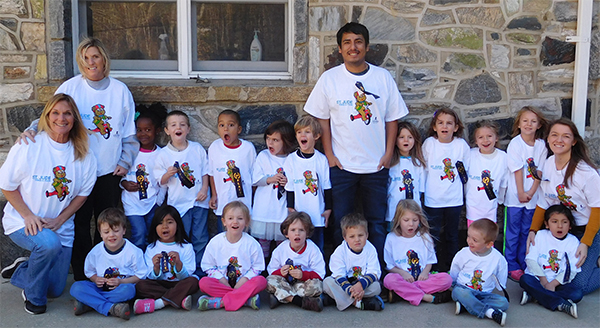 Posted Dec. 17, 2015 at 2:21 p.m.
BOONE—Appalachian State University's Child Development Center (CDC) raised more than $2,000 for St. Jude Children's Research Hospital during the annual St. Jude Trike-A-Thon. Funds raised will support the research and treatment of childhood cancer and other life-threatening diseases.
The fundraiser is part of a weeklong program where kids learn safety skills for riding toys.
The children are students in the CDC's preschool class.
Many of the 20 students brought tricycles and bicycles from home, while some borrowed riding equipment from the CDC. All children participated in the Trike-A-Thon on the CDC grounds.
"This is the eighth year that Appalachian Child Development Center has participated in the St. Jude Trike-A-Thon," said CDC Director Peggy Eller. "We are excited to host the program every year because it's a fun activity we can easily incorporate into our existing enrichment programs. Not only did we teach our children valuable safety lessons, we taught them how they could help kids like them who are fighting to have a sense of normalcy in their lives after battling cancer and other life-threatening diseases."
"Our preschoolers and our student teachers value the experience," said Brenda Bodenhamer, CDC preschool teacher and CDC Trike-A-Thon coordinator. "It's a very rewarding experience to teach empathy and philanthropy to young children."
Bodenheimer had set the class goal at $1,200, but the students, and generous family members and friends, raised more than $2,000.
The 2015 amount was the most money raised by the CDC for St. Jude since the school began participating in the Trike-A-Thon event.
Students were also awarded prizes including St. Jude Trike-A-Thon T-shirts based on fundraising levels achieved.
About Appalachian Child Development Center
The Appalachian State University Child Development Center aims to provide quality childcare especially for the children of Appalachian students, faculty and staff while providing university students the opportunity to work individually and in groups with preschool-aged children. The center is a five-star licensed facility sponsored by Appalachian State University's Division of Student Development that serves approximately 60 families from the university community.
About St. Jude Children's Research Hospital
St. Jude Children's Research Hospital is leading the way the world understands, treats and defeats childhood cancer and other life-threatening diseases. St. Jude has the world's best survival rates for some of the most aggressive childhood cancers, and treatments invented at St. Jude have helped push the overall childhood cancer survival rate from 20 percent to 80 percent since it opened more than 50 years ago. St. Jude is working to drive the overall survival rate for childhood cancer to 90 percent in the next decade. St. Jude freely shares the breakthroughs it makes, and every child saved at St. Jude means doctors and scientists worldwide can use that knowledge to save thousands more children. Families never receive a bill from St. Jude for treatment, travel, housing or food – because the hospital believes that all a family should worry about is helping their child live. For more information, visit http://www.stjude.org/trike or call 1-800-626-BIKE (2453).
About Appalachian State University
As the premier public undergraduate institution in the state of North Carolina, Appalachian State University prepares students to lead purposeful lives as global citizens who understand and engage their responsibilities in creating a sustainable future for all. The Appalachian Experience promotes a spirit of inclusion that brings people together in inspiring ways to acquire and create knowledge, to grow holistically, to act with passion and determination, and to embrace diversity and difference. Located in the Blue Ridge Mountains, Appalachian is one of 17 campuses in the University of North Carolina System. Appalachian enrolls more than 19,000 students, has a low student-to-faculty ratio and offers more than 150 undergraduate and graduate majors.
What do you think?
Share your feedback on this story.