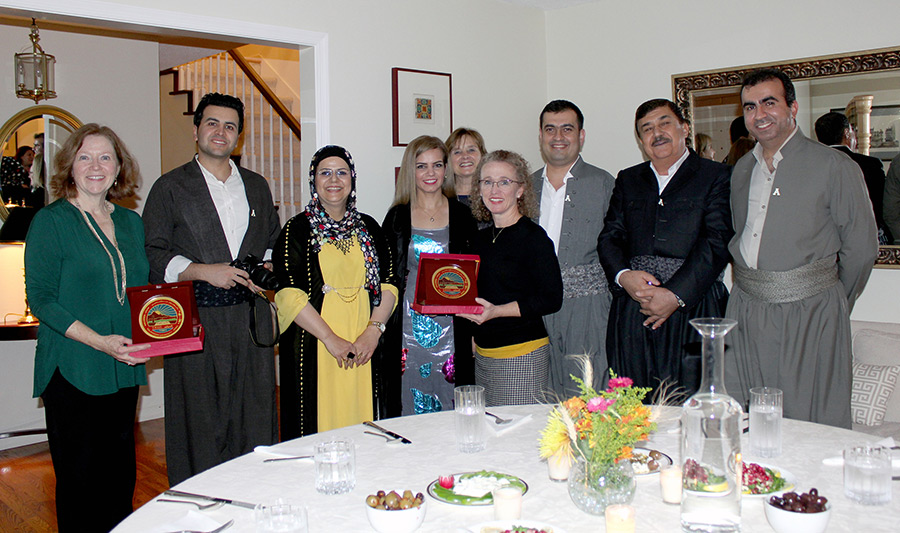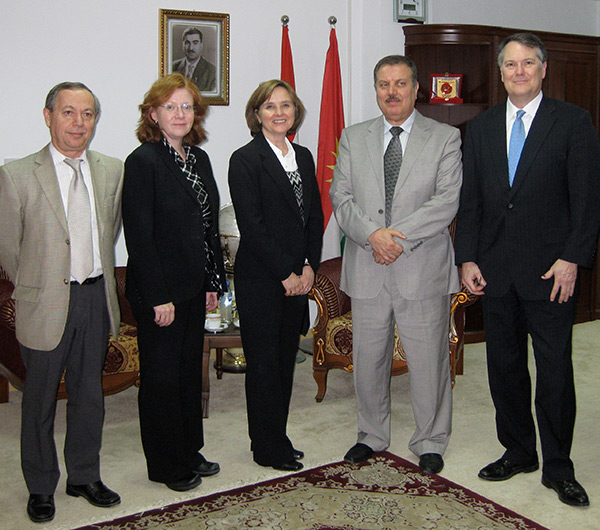 Posted Jan. 7, 2016 at 10:36 a.m.
BOONE—Transforming higher education can be a slow, laborious process – even more so if the institution is located in a country surrounded by armed conflict and regional unrest.
But despite the ongoing crisis in Northern Iraq, violence in Kurdistan has remained low, enabling professors and administrators at Salahaddin University to focus on a future that provides the best possible education for their students.
Located in the Kurdistan capital of Erbil, Salahaddin University has enlisted experts at Appalachian State University to provide input related to curricula reform and faculty development.
Reforming the curricula and teaching methods is part of educational reform begun in 2008 by the Ministry of Higher Education and Scientific Research in Kurdistan. Goals for students include developing second language (English) skills, independent learning, academic debate and critical thinking.
Appalachian's work with Kurdistan universities first began in 2009 through a $231,427 grant from the Ministry of Higher Education and Scientific Research in Kurdistan and the U.S. Department of State. The goal was to help the universities as they update their teaching practices.
Professors Sara Zimmerman and Melanie Greene from the Department of Curriculum and Instruction in the Reich College of Education were the first Appalachian faculty to travel to Kurdistan in 2009. Others from the department and faculty from the College of Arts and Sciences soon followed.
"It was enlightening, because we learned so much about how they run their (educational) system," said Zimmerman. "We helped them with needs assessment, instructional strategies and content."
Since that time, a partnership with Salahaddin University has developed with support from the International Research & Exchanges (IREX) Board's University Linkages Program and the Kurdistan Ministry of Higher Education.
One of the SU professors, Fatimah Hasan who is a professor in the Department of English in the College of Languages and director of curricula development, received funding from IREX that enabled faculty from her university to participate in a weeklong series of workshops held at Appalachian in late October that focused on curriculum development, faculty instruction and professional development, and to implement academic debate and critical thinking consistently throughout her university.
Hasan explained the need for curricula reform in her IREX grant application. "One of the aims of curricula development at Salahaddin University is to prepare and train graduates to have skills of critical thinking, debating, public speaking and to respect different points of view," she wrote.
"This grant helps all first-year students to acquire these skills to use them inside and outside university. Students can improve these skills in the coming years of study since they are taught according to a learner-centered approach (LCA) that helps them be independent learners," she added. "It also helps other teachers implement the LCA when they see the effect of this approach on students' motivation and how it makes them be responsible for their learning."
During the workshops, "We looked at aligning goals and objectives in the curriculum being taught, instructional strategies, academic debate and content," Zimmerman said of the time Hasan and her fellow faculty were at Appalachian. Salahaddin University faculty have also shadowed faculty at Appalachian to learn strategies for teaching large classes of students other than the once traditional lecture method.
IREX liaison Lori Mason, who earned her Ed.D. from Appalachian, facilitated a session in which Salahaddin University faculty focused long term about how curriculum reform would progress their country.
Because of current State Department travel warnings and related university policies, travel to Iraq is something Appalachian faculty won't undertake at this time; however, they continue to work with faculty from Salahaddin University via Skype and other means to assist them with implementing the ideas for change they developed while at Appalachian, as well as assist with developing new goals for courses and curriculum revisions, Zimmerman said. Future opportunities may bring more Kurdish faculty to Appalachian.
"Interest in the outreach with our faculty is high," Zimmerman said. "Nearly 30 faculty members from Salahaddin University applied for the most recent faculty development project here."
Appalachian faculty have supplied their Kurdish counterparts with a small library of books and other support materials related to methods of instruction, how to write a syllabus, assessing college teaching, and course and student assessment.
One reform to come out of the partnership is implementing student assessment of faculty. While common in the U.S., student assessment wasn't permitted in Iraq. Now it is at Salahaddin University. "We know students give us incredible feedback on how to improve our teaching," Zimmerman said. "One of Fatimah's goals the last time she was here was to implement that practice in her university. I think she has made great progress on that."
Zimmerman added, "The collaboration has encouraged social and political interrelationships that promote responsible citizenship through higher education."
About Appalachian State University
As the premier public undergraduate institution in the Southeast, Appalachian State University prepares students to lead purposeful lives as global citizens who understand and engage their responsibilities in creating a sustainable future for all. The Appalachian Experience promotes a spirit of inclusion that brings people together in inspiring ways to acquire and create knowledge, to grow holistically, to act with passion and determination, and to embrace diversity and difference. Located in the Blue Ridge Mountains, Appalachian is one of 17 campuses in the University of North Carolina System. Appalachian enrolls nearly 21,000 students, has a low student-to-faculty ratio and offers more than 150 undergraduate and graduate majors.
What do you think?
Share your feedback on this story.