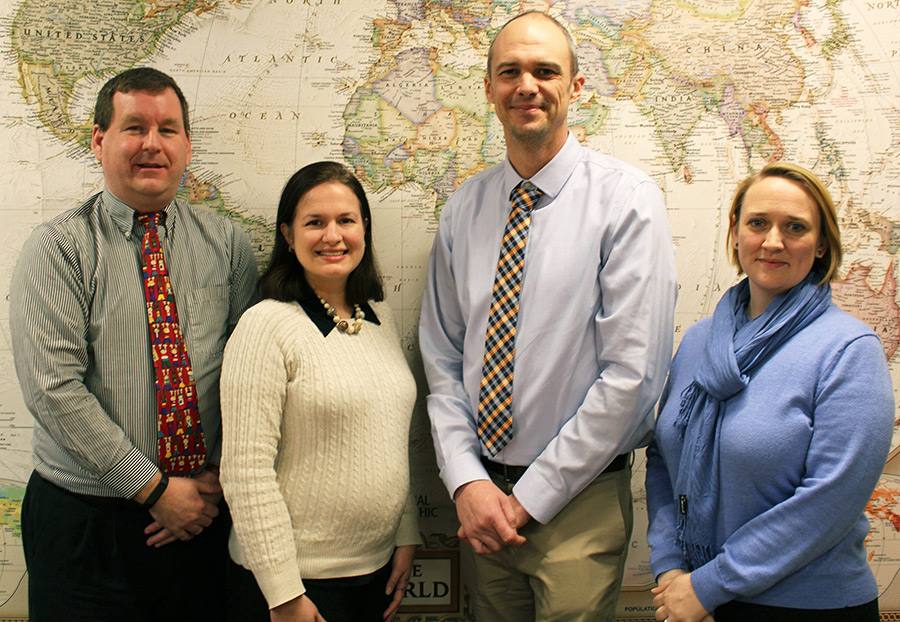 Posted Feb. 16, 2016 at 11:50 a.m.
BOONE—Four individuals have joined the Office of International Education and Development (OIED) at Appalachian State University. They are Christopher Lytle, director of education abroad within OIED; Mark Hagen, assistant director of education abroad; Karen Marshall, assistant director of international student and scholar services and outreach; and Amanda Harvey, office manager.
Christopher Lytle
Previously, Lytle was assistant director of the Center for Global Education at Rutgers University in New Brunswick, N.J., where he was responsible for managing an extensive portfolio of international education programs on campus. Lytle has been involved in international education programs for more than 10 years, including his time at the Center for Global Education at Rutgers, Lesley University Study Abroad Office, and the Massachusetts Institute of Technology (MIT) Spouses and Partners Program.
Prior to joining academia, Lytle spent several years working in the investment and financial planning field as operations manager for Bingham Osborn & Scarborough LLP in San Francisco and investment associate for Vanguard Group in Valley Forge, Pennsylvania.
Lytle's initial exposure to the field of international education was as an instructor of English with the Japan Exchange and Teaching Program (JET) in Aomori, Japan.
Lytle has a Master of Arts degree in intercultural relations from Lesley University and a Bachelor of Arts degree in psychology and business from the University of Pittsburgh.
"I am excited to be a part of the OIED and Appalachian family. My wife and have I felt welcomed by everyone we have met and we are quickly settling into life in Boone," said Lytle. "It is great to be a part of a university that is committed to international initiatives and I hope to build upon this momentum. Over the course of this semester the Education Abroad team will work to shape our short- and long-term priorities. High on our list will be to expand study abroad opportunities to more students across campus and to work with academic departments on curriculum integration. During the coming weeks and months we will be reaching out to departments, centers and units across the Appalachian campus to explore new ways to partner together in these efforts."
Mark Hagen
Prior to his employment at Appalachian, Hagen was coordinator of international education and grant program manager at Alamo Colleges in San Antonio, Texas. While at the Alamo Colleges, Hagen worked closely with faculty members to design short-term study abroad programs. Hagen planned, organized and marketed study-abroad programs to Mexico, China, Japan, Italy, Spain, Germany, Ireland, the United Kingdom and Vietnam. He also co-wrote and led a successful Fulbright-Hays Group Project Abroad for a one-month program in Mexico involving 14 faculty members. Additionally, he wrote a successful project proposal to the U.S. Agency for International Development (USAID) to participate in the U.S.-Brazil Exchange of Leaders in Technical and Vocational Education. While at Alamo Colleges, Hagen also successfully managed the Training, Internships, Exchange and Scholarships (TIES) program funded by USAID for students from Mexico.
Hagen came to the academic field after spending a decade in the banking industry, where he had worked for Wells Fargo as trade services relationship manager and West Allis Savings Bank as assistant vice president for mortgage lending.
Hagen has a Master of International Management degree from the Thunderbird School of Global Management in Glendale, Arizona and a Bachelor of Arts degree in economics and Spanish from the University of Wisconsin–Milwaukee.
Karen Marshall
Prior to her appointment in OIED, Marshall was employed with Appalachian's Office of Admissions where she served as assistant director of admissions from 2008. Her responsibilities included implementing various efforts aimed at attracting international students to Appalachian. She was also responsible for international student admissions. Prior to coming to Appalachian, Marshall was an assistant director of admissions at the University of Massachusetts at Amherst and admissions coordinator in the Center for International Education in Amherst.
Previously, Marshall was an English teacher in Lima, Peru; Djakovice, Kosovo; and Prague, Czech Republic. She also lived in Argentina and Pakistan as a young student.
Marshall has a Master of Education degree in international education from the University of Massachusetts at Amherst and a Bachelor of Arts degree in political science and Spanish from the University of Pennsylvania. She also has a certificate in teaching English as a foreign language from the International Training Center in Prague.
Amanda Harvey
Prior to her employment at Appalachian, Harvey served in various capacities with the U.S. Department of State embassies in Singapore, Vienna and Mumbai. At the last two embassies in Singapore and Vienna, she was responsible for the financial administration of very large multiple government budgets, including administering a $10 million contract with PAE-REACT in Vienna, liaising with contractors regarding the recruitment, hiring and deployment of 45 temporary employees and hundreds of election observers annually. She also administered U.S. grant funding for various extra-budgetary projects in the Organization of Security Cooperation in Europe (OSCE) field missions, overseeing funding of over $500,000 in new monies annually.
Harvey has a Bachelor of Arts degree from UNC Wilmington with majors in anthropology and philosophy and religion and an archeology minor. She is working on her Master of Arts degree in cultural sustainability from Goucher College in Towson, Maryland, which she plans to complete in December.
"I am very excited about the four new hires of Christopher, Mark, Karen and Amanda. For the first time in many years, all positions in OIED are fully staffed," said Dr. Jesse Lutabingwa, associate vice chancellor for international education and development. "The new staff members bring a wealth of experience, expertise and knowledge in the operations of international education. They have new ideas and a bundle of energy. They are already helping us to change the organizational culture within OIED. All of us in OIED look forward to their contribution in many different areas of our work."
About Appalachian State University
As the premier public undergraduate institution in the state of North Carolina, Appalachian State University prepares students to lead purposeful lives as global citizens who understand and engage their responsibilities in creating a sustainable future for all. The Appalachian Experience promotes a spirit of inclusion that brings people together in inspiring ways to acquire and create knowledge, to grow holistically, to act with passion and determination, and to embrace diversity and difference. Located in the Blue Ridge Mountains, Appalachian is one of 17 campuses in the University of North Carolina System. Appalachian enrolls more than 19,000 students, has a low student-to-faculty ratio and offers more than 150 undergraduate and graduate majors.
What do you think?
Share your feedback on this story.