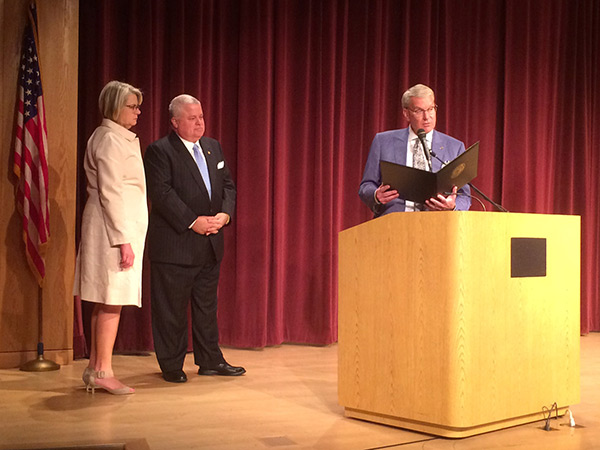 Posted June 16, 2016 at 4:47 p.m.
BOONE—Appalachian State University Chancellor Sheri N. Everts and other university representatives spent June 14 in Raleigh participating in University Day, an opportunity to share University of North Carolina system budget priorities with legislators and celebrate Appalachian's accomplishments.
"The legislature wants to hear from us. The purpose of University Day is to let legislators know their work is appreciated and make sure they understand the tools we need in the UNC system to manage our institutions effectively," said Matthew Dockham, Appalachian's director of external affairs and community relations.
The day began with a gathering of representatives from all UNC campuses at the N.C. Museum of History, during which UNC President Margaret Spellings, House Education Committee on Universities Co-Chairman Rep. John Fraley and Senate Education Co-Chairman Sen. Jerry Tillman each spoke. University delegations also met with various other members of the General Assembly to discuss budget priorities.
A lunch hosted by Appalachian, Western Carolina University and UNC Asheville brought together legislators serving Western North Carolina to further discuss budget matters with university leaders.
In the afternoon, Appalachian's football team was recognized in the N.C. Senate and the N.C. House for its historic 2015 season and its accomplishments in the classroom. Sen. Deanna Ballard and Rep. Jonathan Jordan each read a statement congratulating the team, which became the first team to win a bowl game in its first season as a bowl-eligible FBS member, defeating Ohio University in the Raycom Media Camellia Bowl. Chancellor Everts, Director of Athletics Doug Gillin and members of the Board of Visitors were present and were extended "the courtesy of the gallery" by Lt. Gov. Dan Forest in the Senate and Speaker Tim Moore in the House of Representatives after the honoring statement was read. Read more at http://www.appstatesports.com
Appalachian also convened a meeting of its Board of Visitors to hear from Chancellor Everts on how legislative issues affect Appalachian. The board consists of 24 alumni and friends who advise and assist the chancellor and the Board of Trustees on public policy matters that affect the university, and also with the university's fund raising and communication.
As the day concluded, Appalachian hosted a legislative reception held at the N.C. Executive Mansion. Joined by President Spellings, members of Appalachian's Board of Visitors and Chancellor Everts had an opportunity to speak with legislators and thank them for their work on behalf of Appalachian and the entire UNC system.
"It was a great effort by every campus," Dockham said about University Day. "The timing of our interactions was crucial given that the House and Senate are currently involved in state budget negotiations that will greatly impact our universities."
Budget priorities for universities with the UNC system include:
Eliminate the Private Fundraising Cap

The enacted 2015 Budget Bill capped campuses' state spending on fundraising activities to $1 million and cut an associated $16.4 million from the UNC system budget. "The cap negatively impacts a strong and proven return-on-investment," Dockham said. "Furthermore, private fundraising supports financial aid to students. Nearly 49,400 of the UNC system's 225,000 students depend on this support. Limiting the ability to fundraise at universities means that many of these students will have to add more debt as they earn their degrees."

Extend 5 percent Carry Forward authority for the next biennium

"Increasing the carry forward authority creates an additional incentive for chancellors to find savings to redirect and address critical repair and renovation (R&R) backlogs on their campuses. This is particularly important as R&R appropriations from the state have become somewhat unpredictable. The temporary nature of the additional carry forward authority creates uncertainty about availability of this source of funds in the future. Our hope is that this additional authority can be extended through the next biennium to allow the campuses to plan on a minimum level of R&R funding each year and demonstrate a reduction in the backlog of Repairs and Renovations," Dockham said.

Provide the UNC system with sufficient financial tools to recruit new talent and retain the best educators

"Our faculty continues to be recognized on a national level. As a system, it is imperative that we're able to reward educators who have helped us earn that reputation and recruit talent that will no doubt enhance it," Dockham said.
Jordan, who represents Ashe and Watauga counties, said, "University Day allowed legislators and university leaders to spend important time together getting to know each other better. These types of events help build the foundation for future working relationships to benefit App State, but also the entire High Country."
Regarding the athletic portion of the day, he added, "I enjoyed and was most honored to have the privilege of presenting to the N.C. House an account of the mighty Appalachian State University football program and its historic record of victories. My colleagues in the House were highly impressed with our team's hard-fought wins."
Ballard said, "University Day was a great opportunity for me to meet ASU leaders, some for the first time. This official day also provided a forum for developing and building a solid, productive relationship between the university and the state legislature. Their presence in Raleigh, just like my presence in Boone, demonstrates a continuous effort and shared commitment of working together toward practices that best invest in our students. It also served as a wonderful opportunity for me and Representative Jordan to recognize and honor the achievements of the ASU football program on the Senate and House floors."
About Appalachian State University
As the premier public undergraduate institution in the state of North Carolina, Appalachian State University prepares students to lead purposeful lives as global citizens who understand and engage their responsibilities in creating a sustainable future for all. The Appalachian Experience promotes a spirit of inclusion that brings people together in inspiring ways to acquire and create knowledge, to grow holistically, to act with passion and determination, and to embrace diversity and difference. Located in the Blue Ridge Mountains, Appalachian is one of 17 campuses in the University of North Carolina System. Appalachian enrolls more than 19,000 students, has a low student-to-faculty ratio and offers more than 150 undergraduate and graduate majors.
What do you think?
Share your feedback on this story.