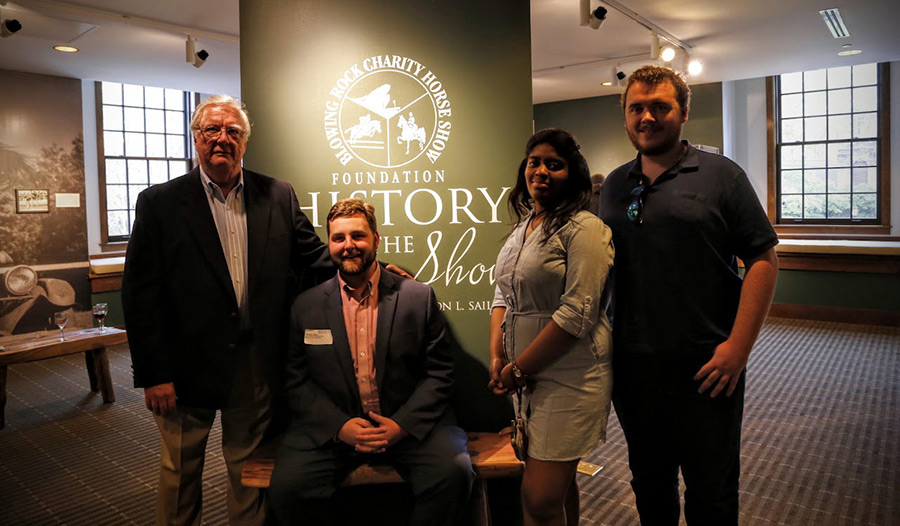 Posted June 20, 2016 at 12:47 p.m.
BOONE—The Blowing Rock Art and History Museum (BRAHM) features an exhibit on the Blowing Rock Horse Show this summer thanks to the work of Appalachian State University students.
Titled "History of the Horse Show," the exhibit is on display through July 24 in the museum's Stevens Gallery. The museum is located at 159 Chestnut St. in Blowing Rock.
The Blowing Rock Horse Show was founded by Lloyd M. Tate in 1923. It is now a nationally recognized event and one of the oldest in the business. Today, the show brings thousands of visitors to Blowing Rock and raises funds for a variety of nonprofit organizations in the region.
Carson Sailor, a graduate student in Appalachian's public history program, interned at BRAHM during spring semester and is the exhibit's curator. He helped with several exhibits before taking the lead on the horse show exhibit, which includes artifacts such as saddles, ribbons, riding coats and a jumping gate, according to Dianna Cameron, BRAHM's exhibitions and collections director. The exhibit also includes a seven-minute documentary produced by undergraduates Josae Neptune and Josh Vaughan for an interdisciplinary course titled Exploring the Documentary Form.
"Carson presented a lot of talent and enthusiasm for the museum. He did a lot of preliminary research for the exhibit, contacted lenders about pieces and worked with the Blowing Rock Horse Show. Josae and Josh's video is a brief history that plays in a loop and offers even more content," Cameron said.
"BRAHM has been wanting to create more opportunities for Appalachian students, either through exhibits, volunteering or internships," Cameron added. This spring, a four-student team conducted a fund-raising campaign for BRAHM as part of a Principles of Fund Raising class.
Interested in seeing the exhibit?
During the July 1 First Friday Art Crawl, van shuttle service will be offered between Appalachian's Turchin Center for the Visual Arts and BRAHM every 30 minutes. BRAHM's exhibits will be free that night. The van at the Turchin Center runs from 6:30 to 8:30 p.m.
For more information about the exhibit, visit http://blowingrockmuseum.org/history-of-the-horse-show.
About Appalachian State University
As the premier public undergraduate institution in the state of North Carolina, Appalachian State University prepares students to lead purposeful lives as global citizens who understand and engage their responsibilities in creating a sustainable future for all. The Appalachian Experience promotes a spirit of inclusion that brings people together in inspiring ways to acquire and create knowledge, to grow holistically, to act with passion and determination, and to embrace diversity and difference. Located in the Blue Ridge Mountains, Appalachian is one of 17 campuses in the University of North Carolina System. Appalachian enrolls more than 19,000 students, has a low student-to-faculty ratio and offers more than 150 undergraduate and graduate majors.
What do you think?
Share your feedback on this story.