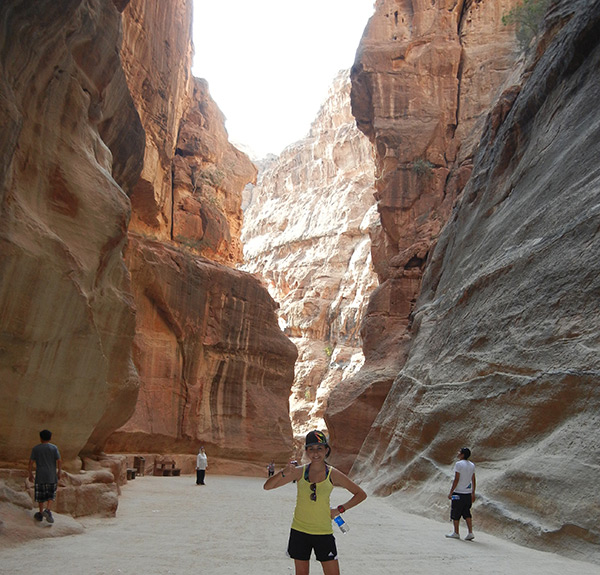 Posted July 5, 2016 at 3:51 p.m.
BOONE—Three Appalachian State University students are among the recipients of the prestigious Benjamin A. Gilman International Scholarship, sponsored by the U.S. Department of State's Bureau of Educational and Cultural Affairs and administered by the Institute of International Education (IIE).
The students include senior Conner Gleason-Wallace, a nutrition and foods major from Concord, and junior Jack Terrell, an international business major from High Point. Initially named an alternate, sophomore Banna Bazzarie also has received the scholarship. She is a recreation management major from Raleigh. The three Appalachian students are among 960 American undergraduate students from more than 350 colleges and universities across the U.S. selected to receive the scholarship.
Gilman scholars receive up to $5,000 to apply towards their study abroad or internship program costs. This summer, Gleason-Wallace will participate in an Honors College international experience in India, Terrell will participate in a faculty-led education abroad program in China and Bazzarie will complete an internship in Jordan.
The Gilman Scholarship Program received over 3,400 applications for the 2016 summer term.
"We are very happy for Conner, Jack and Banna and we wish them highly transformative education abroad experiences this summer," said Dr. Maria Anastasiou, executive director of the Office of International Education and Development (OIED).
"We are also very pleased that our efforts to help students to successfully apply for the prestigious Gilman scholarships are fruitful," she continued. "This semester, the Office of International Education and Development started offering on-going workshops and one-on-one help to students interested in applying for the Gilman Scholarship and it is good to know that our efforts are bringing results for students. We are also working closely with the Office of Prestigious Scholarships to encourage and help Appalachian students apply for Fulbright fellowships. The education that Appalachian offers is of such a high caliber that more of our students deserve to receive prestigious scholarships."
The Gilman International Scholarship program aims to diversify the population of students who study and intern abroad and the countries and regions they visit. Students receiving a Federal Pell Grant from two- and four-year institutions who plan to study abroad or participate in a career-oriented international internship abroad for academic credit are eligible to apply. Scholarship recipients have the opportunity to gain a better understanding of other cultures, countries, languages and economies, better preparing them to assume leadership roles within government and the private sector.
U.S. Rep. Gilman, who retired in 2002 after serving for 30 years in the House of Representatives and who chaired the House Foreign Relations Committee, said, "Study abroad is a special experience for every student who participates. Living and learning in a vastly different environment of another nation not only exposes our students to alternate views, but also adds an enriching social and cultural experience. It also provides our students with the opportunity to return home with a deeper understanding of their place in the world, encouraging them to be a contributor rather than a spectator in the international community."
The OIED assists Appalachian students with the Gilman Scholarship application process by offering workshops specific to this scholarship every semester and one-on-one assistance closer to the applications deadlines in November and March. For more information, visit https://international.appstate.edu
About Appalachian State University
As the premier public undergraduate institution in the Southeast, Appalachian State University prepares students to lead purposeful lives. App State is one of 17 campuses in the University of North Carolina System, with a national reputation for innovative teaching and opening access to a high-quality, affordable education for all. The university enrolls more than 21,000 students, has a low student-to-faculty ratio and offers more than 150 undergraduate and 80 graduate majors at its Boone and Hickory campuses and through App State Online. Learn more at https://www.appstate.edu.
What do you think?
Share your feedback on this story.