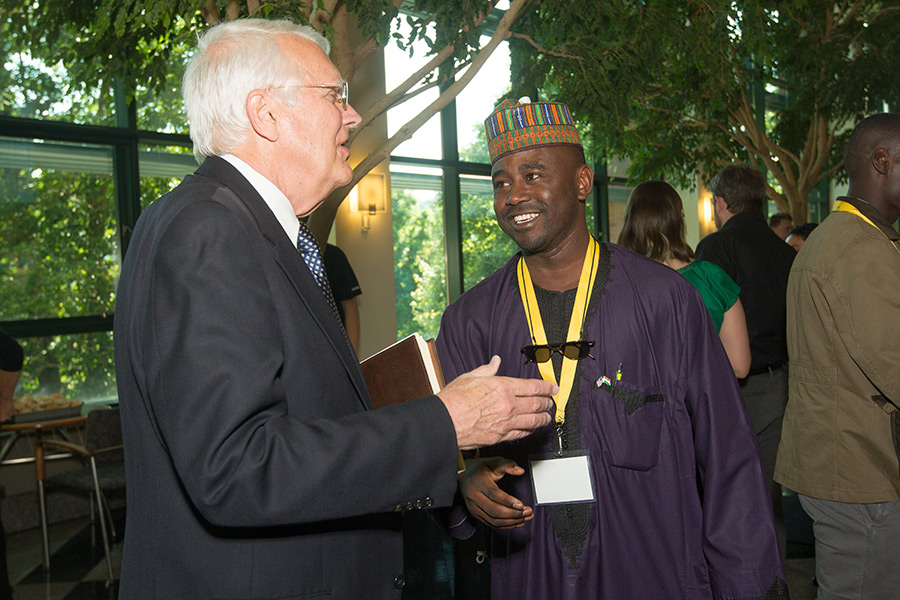 Posted July 12, 2016 at 6:09 p.m.
BOONE—Between June 17 and July 31, Appalachian State University is hosting 25 young leaders from 19 African countries for a series of workshops and networking sessions as part of the 2016 Mandela Washington Fellowship Institute.
This university is one of 40 public and private institutions across the nation to host the six-week institute focused on civic leadership. Participants are studying how individual citizens and local groups have worked to influence the nation's history, government and society. The participants also are paired with young local leaders from Boone and Watauga County to observe how the leaders are using their skills to advance the organizations with which they work. In addition, they will spend two weekends with local families to observe American family life.
The Mandela Washington Fellowship for Young African Leaders, begun in 2014, is the flagship program of President Obama's Young African Leaders Initiative (YALI), which empowers young people through academic coursework, leadership training and networking. This year, the fellowship is providing 1,000 outstanding young leaders from sub-Saharan Africa with the opportunity to hone their skills at a U.S. higher education institution with support for professional development after they return home.
When Appalachian's fellows arrived for a June 20 reception at Plemmons Student Union, Dr. Darrell Kruger, provost and executive vice chancellor, said the institute is near and dear to his heart as he is a native of South Africa.
"I hope you will go on to great things as (Nelson) Mandela did in his life. This is a very representative group of Africa. You bring unique perspectives from your background and the people of Boone will enrich you," Kruger said.
Dr. Jesse Lutabingwa, associate vice chancellor for international education and development, said he was pleased to welcome "the fellows, leaders in their own right," to Appalachian.
"I am grateful to my team who are working with me. We have been working several months on this complex program. We are happy to be participating in this program," he said. Lutabingwa noted that the program had more than 40,000 applicants, individuals he called "Africa's top, their brightest."
The fellows' schedule includes these workshops, among others: " Citizenship, Civic Engagement and Civic Leadership," "Volunteerism in the U.S.," "Social Entrepreneurship—Seeing the Opportunity: The Unity between Needs and Solutions" and "Communication and Marketing for Non-Profit Organizations." Local tourist sites on their agenda include Grandfather Mountain, Linville Caverns and Linville Falls. Field visits include a tour of the state capitol building, the North Carolina Justice Center and a session with the Junaluska Community and Junaluska Heritage Association.
The fellows, who range between the ages of 25 and 35, have established records of accomplishment in promoting innovation and positive change in their organizations, institutions, communities and countries. In 2015, the fellows represented all 49 countries in sub-Saharan Africa. Fifty percent of the fellows were women. For 76 percent of the fellows, it was their first time spending a substantial amount of time in the United States.
Following the academic component of the fellowship, all participating fellows will visit Washington, D.C., for a Presidential Summit featuring a town hall with President Obama. During the three-day event, fellows take part in networking and panel discussions with U.S. leaders from the public, private and non-profit sectors.
Upon returning to their home countries, the fellows continue to build the skills they developed during their time in the United States through support from U.S. embassies, four regional leadership centers, the YALI Network, and customized programming from USAID and affiliated partners. Through these experiences, Mandela Washington Fellows have access to ongoing professional development opportunities, mentoring, networking and training and seed funding to support their ideas, businesses and organizations.
About Appalachian State University
As the premier public undergraduate institution in the state of North Carolina, Appalachian State University prepares students to lead purposeful lives as global citizens who understand and engage their responsibilities in creating a sustainable future for all. The Appalachian Experience promotes a spirit of inclusion that brings people together in inspiring ways to acquire and create knowledge, to grow holistically, to act with passion and determination, and to embrace diversity and difference. Located in the Blue Ridge Mountains, Appalachian is one of 17 campuses in the University of North Carolina System. Appalachian enrolls more than 20,000 students, has a low student-to-faculty ratio and offers more than 150 undergraduate and graduate majors.
What do you think?
Share your feedback on this story.