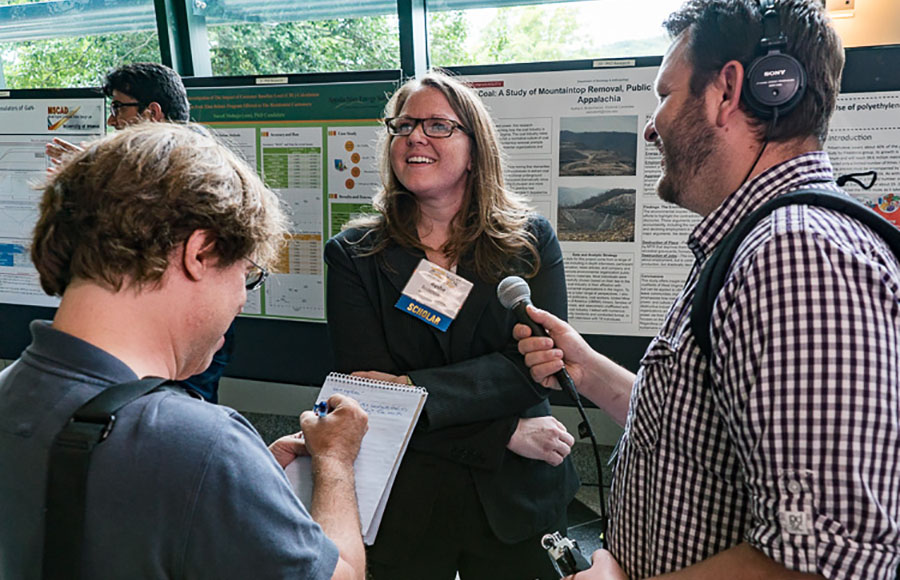 Posted July 25, 2016 at 6:09 p.m.
The Student Summit, an important element of the Appalachian Energy Summit at Appalachian State University, provides the opportunity for students from campuses across the state and beyond to drive change and encourage the implementation of clean energy initiatives on their respective campuses.
At the 2016 event, 92 college students – more than at any previous summit – were vetted by professors and peers and invited to attend. During the summit they had the opportunity to meet with and engage key energy executives and innovators. Many of the students presented posters. Hear the stories, read the profiles of four of the students below.
Of academic and career interest to students were industry partners who brought real-world perspectives to the summit and shared corporate utility-centered advances and innovation. These speakers included Joel Olsen, O2 Energies, and Ivan Urlaub, NCSEA. The career panel included opportunities awaiting students in the energy and efficiency sectors. Panelists included Eric Burgoyne, DPR Construction; Wayne Rosa, Delhaize; Ryan Miller, Building Performance Association; and Allie Garrett, Z. Smith Reynolds fellow.
In addition, students participated in a young professionals panel to discuss how to get a "foot in the door" of the energy industry. Panelists at this session were David Lee, Lowe's; Caroline Hansley, Greenpeace; Walter Putnam, Shift Equity; and Lauren Dykstra of Sunlight Financial.
Special Assistant to the Chancellor for Sustainability Ged Moody said, "Ninety students from North Carolina and around the country got an education from the leading minds in energy while also having their resumes placed in front of potentially hundreds of clean energy companies in the Southeast."
Meet student researchers presenting at the 5th Annual Appalachian Energy Summit
What do you think?
Share your feedback on this story.
About Sustainability at Appalachian
Appalachian State University's leadership in sustainability is known nationally. The university's holistic, three-branched approach considers sustainability economically, environmentally and equitably in relationship to the planet's co-inhabitants. The university is an active steward of the state's interconnected financial, cultural and natural resources and challenges students and others think critically and creatively about sustainability and what it means from the smallest individual action to the most broad-based applications. The university offers both undergraduate and graduate academic degree programs that focus on sustainability. In addition, 100 percent of Appalachian's academic departments offer at least one sustainability course or course that includes sustainability, and all students graduate from programs that have adopted at least one sustainability learning outcome. Learn more at https://appstate.edu/sustainability.
About Appalachian State University
As the premier public undergraduate institution in the Southeast, Appalachian State University prepares students to lead purposeful lives as global citizens who understand and engage their responsibilities in creating a sustainable future for all. The Appalachian Experience promotes a spirit of inclusion that brings people together in inspiring ways to acquire and create knowledge, to grow holistically, to act with passion and determination, and to embrace diversity and difference. Located in the Blue Ridge Mountains, Appalachian is one of 17 campuses in the University of North Carolina System. Appalachian enrolls nearly 21,000 students, has a low student-to-faculty ratio and offers more than 150 undergraduate and graduate majors.