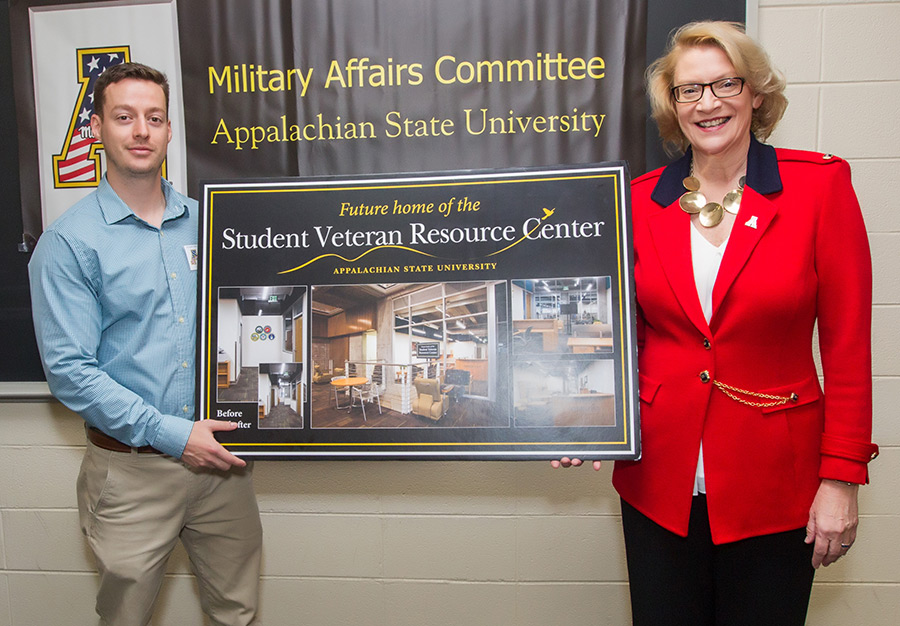 Posted Sep. 20, 2016 at 4:38 p.m.
BOONE—A new Student Veteran Resource Center, slated to open later this year on the campus of Appalachian State University, will serve the needs of Appalachian students who are active duty military personnel and veterans. The center will be located on the second floor of the Plemmons Student Union (PSU), and will open with a public ribbon-cutting ceremony and reception in PSU Room 226 (Linville Falls) on Veterans Day: Friday, Nov. 11, at 3 p.m.
Appalachian's Chancellor Sheri N. Everts announced the new center in August before a gathering of incoming student veterans, saying, "At Appalachian, we put students first, always, and together we are building a bright future."
In announcing the new center, Everts said, "This is a clear example of Appalachian's commitment to strengthening support for student veterans. As we build on our university's strong history of working with veterans and their families, new initiatives like early registration and supporting our faculty in their research and grant work are critical to providing support to benefit our student veterans."
Student Veteran Services Coordinator Eric Gormly, a six-year veteran of the U.S Marine Corps, was hired in June to lead the center and its efforts. His position resulted from a three-year grant to the university from the U.S. Department of Education to support veterans on campus.
"It is important to note that successful grant work by our faculty, and some terrific advocacy work by Student Veteran Association President Dan Pegram, resulted in our being able to hire Eric and develop this orientation program," Everts said.
Gormly noted the arrival of the Student Veteran Resource Center at Appalachian is indicative of progress at universities across the nation to better meet the needs of military personnel.
In describing how the center would benefit students, Gormly said, "Whether you need help with forms or using your military benefits, it will be a one-stop center for military students and veterans."
Pegram, a senior from Winston-Salem majoring in nutrition and foods, served four years in the U.S. Air Force as a firefighter. He spent the summer of 2016 as Gormly's assistant.
"I have never been prouder to be a Mountaineer," said Pegram. "This center will go a long way for the recruitment and retention of student veterans on the campus. [The services it will provide] are critical to the academic success of veterans."
Since 2010, Victory Media, the premier media entity for military personnel transitioning into civilian life, has awarded Appalachian the designation of Military Friendly School®. The designation places Appalachian in the top 15 percent of colleges, universities and trade schools in the country that are doing the most to embrace military students, and to dedicate resources to ensure their success in the classroom and after graduation.
Appalachian maintains a website for veterans and military service members considering enrolling at the university. In addition to its chapter of the Student Veterans Association, the university also has veteran counselors or advisors on staff, a veteran-specific page on the university's financial aid website, and assists veterans with career placement. The university also offers in-state tuition without residency requirements for military students who are in the N.C. National Guard or on active duty at a military base within North Carolina.
For more information about resources for military students at Appalachian, visit http://militarystudents.appstate.edu.
About Appalachian State University
As the premier public undergraduate institution in the state of North Carolina, Appalachian State University prepares students to lead purposeful lives as global citizens who understand and engage their responsibilities in creating a sustainable future for all. The Appalachian Experience promotes a spirit of inclusion that brings people together in inspiring ways to acquire and create knowledge, to grow holistically, to act with passion and determination, and to embrace diversity and difference. Located in the Blue Ridge Mountains, Appalachian is one of 17 campuses in the University of North Carolina System. Appalachian enrolls more than 19,000 students, has a low student-to-faculty ratio and offers more than 150 undergraduate and graduate majors.
What do you think?
Share your feedback on this story.