Posted Nov. 11, 2016 at 4:21 p.m.
Dr. Doug May, a former commissioned officer in the U.S. Marine Corps, was a professor in the Department of Computer Information Systems in Appalachian State University's Walker College of Business from 1982 until 2012, when he retired.
This morning, he returned to the campus to "teach" again. As the keynote speaker during Appalachian's annual Veterans Day ceremony, he illuminated the great sacrifices veterans make in service to their country. He also read a popular poem designed to enhance appreciation of veterans' contributions.
"Sometimes, it is necessary to go to war to preserve our basic liberties and to make the world a better place," May told the gathering of about 200 people after being introduced by Appalachian's chancellor, Dr. Sheri N. Everts.
"The veteran was willing to make the necessary sacrifices. Some are killed in action and some are badly injured. Those who get out unscathed have still endured separations from their families and placed their personal lives and civilian careers on hold.
"Some veterans have had profound and lasting effects of their service time. Many have difficulties in readjusting to civilian life."
The veteran, he said, asks little in return.
"All many vets want is your thanks that they were willing to endure those sacrifices for you," said May.
Veterans Day 2016: Remarks by Dr. Doug May
A Veterans Day ceremony was held at Appalachian's Veterans Memorial with remarks from Chancellor Sheri N. Everts as well as former Appalachian professor and retired Marine, Dr. Doug May.
Transcript
Voice 1: Battalion, attention.
Dr. Doug May: It's important to understand what Veterans Day is and why we're celebrating. Today we are celebrating the service of all of US military personnel. While we do have a day to celebrate the military veteran, do we understand who they are? it is the veteran not the preacher who has given us freedom of religion. It's the veteran not the reporter who gave us freedom of the press. It is the veteran not the poet who has given us freedom of speech. It is the veteran not the campus organizer who has given us freedom to assemble. It is the veteran not the lawyer who has given us the right to a fair trial. It is the veteran not a politician who has given us the right to vote. Please join me in thanking and appreciating those among us who are willing to serve in this capacity.
Voice 1: Order arms. Parade rest. At ease.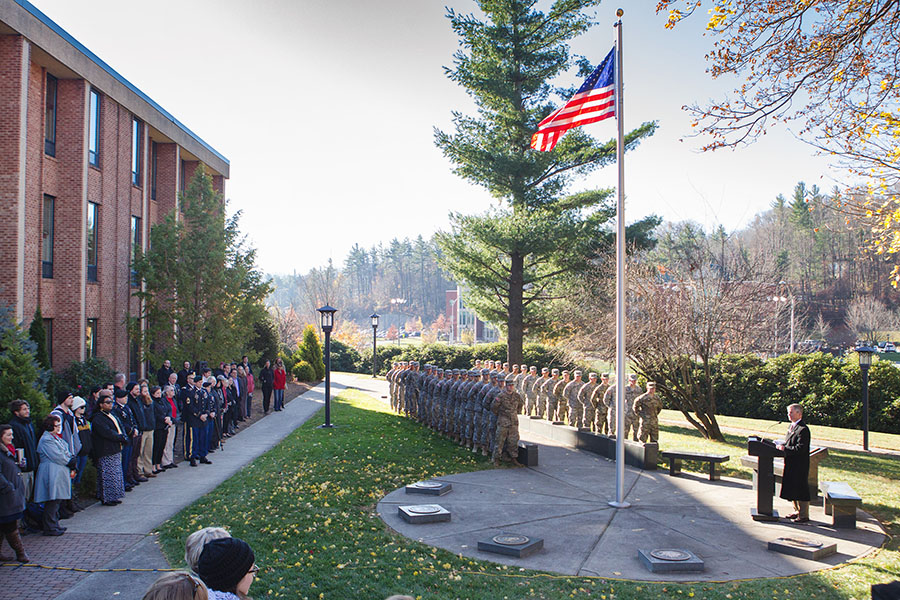 The contributions of veterans may not be as apparent to the general public as they once were because, as May pointed out, less than a half percent of the U.S. population currently serves in the military. During World War II, 9 percent of the population was in uniform. So, May read a portion of "It is the Veteran," adapted from a poem attributed to Charles M. Province:
It is the Veteran, not the preacher, who has given us freedom of religion/
It is the Veteran, not the reporter, who has given us freedom of the press/
It is the Veteran, not the poet, who has given us freedom of speech/
It is the Veteran, not the campus organizer, who has given us freedom to assemble/
It is the Veteran, not the lawyer, who has given us the right to a fair trial/
It is the Veteran, not the politician, who has given us the right to vote.
The ceremony took place at the Veterans Memorial on Appalachian's campus, which is located on the west side of B.B. Dougherty Administration Building. The memorial includes a flag pole, seals commemorating each branch of the U.S. military as well a plaque with the names of Appalachian students, faculty and staff who have fallen in battle.
The Veterans Day ceremony began at its scheduled 9 a.m. time with military precision. As bells from a nearby steam tower rang out nine times, ROTC cadets stood at attention, having formed rows on each side of a stone path that leads to the memorial's flagpole.
Three ROTC students in Army service uniforms, one carrying a folded U.S. flag, marched to the flag pole area and raised the flag. As everyone in attendance saluted or put hand on heart, Tim Hamilton of West Union, Ohio, played "The Star-Spangled Banner" on the trumpet.
Hamilton, whose black clothes and gold tie honored his ties to Appalachian, was a member of a Marine Corps band from 2008-12. He is now pursuing a master's degree in trumpet performance in Appalachian's Hayes School of Music and expects to graduate in 2018.
Everts briefly reiterated the university's "powerful and long-standing" commitment to its student veterans. This commitment will be strengthened by the Major General Edward M. Reeder Jr. Student Veteran Resource Center, which opened today in the Plemmons Student Union.
The commitment has also resulted in Appalachian's designation as a 2017 Military Friendly® School by Victory Media, the premier media entity for military personnel transitioning into civilian life. The university has been awarded the Military Friendly® honor every year since 2010.
The Military Friendly® designation "means that Appalachian is among those colleges, universities and trade schools in the country that are doing the most to embrace America's military service members, veterans and spouses as students and ensure their success on campus."
About Appalachian State University
As the premier public undergraduate institution in the Southeast, Appalachian State University prepares students to lead purposeful lives. App State is one of 17 campuses in the University of North Carolina System, with a national reputation for innovative teaching and opening access to a high-quality, affordable education for all. The university enrolls more than 21,000 students, has a low student-to-faculty ratio and offers more than 150 undergraduate and 80 graduate majors at its Boone and Hickory campuses and through App State Online. Learn more at https://www.appstate.edu.
What do you think?
Share your feedback on this story.