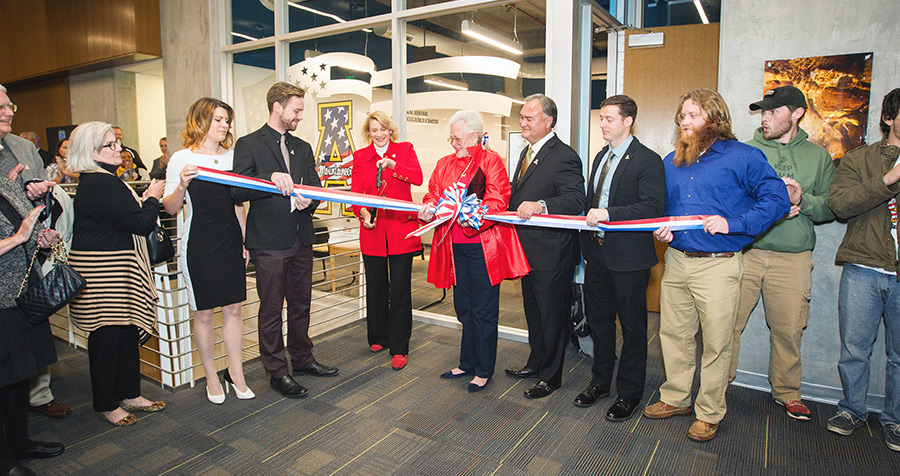 Posted Nov. 11, 2016 at 7:42 a.m.
BOONE—Appalachian State University, bolstering efforts to help veterans succeed in its classrooms and beyond, marked Veterans Day with the grand opening of the Major General Edward M. Reeder Jr. Student Veteran Resource Center.
The center, on the second floor of the Plemmons Student Union, is open from 8 a.m. to 6 p.m. Mondays through Fridays. It builds on Appalachian's "long and proud tradition of working with veterans and their families to help navigate their journey through higher education," said Chancellor Sheri N. Everts. "I am extremely proud of the increased support that the Major General Edward M. Reeder Jr. Student Veteran Resource Center will provide."
Reeder '81, a retired two-star major general with the U.S. Army, was also awarded Appalachian's Distinguished Alumni Award in 2013. He was a student veteran at Appalachian. He spent 34 years in the military, deploying to more than 30 countries.
At the close of his deployment as commanding general of NATO special operations component command, Afghanistan, and special operations joint task force Afghanistan, Afghanistan's president, Ashraf Ghani, honored Reeder at the presidential palace. Ghani bestowed Reeder with the First Degree Baryal Medal, Afghanistan's highest award for public service, for his work in counter-terrorism and training of Afghan forces.
Reeder said he was "truly honored and deeply honored to receive this recognition." He urged Appalachian's student veterans to take advantage of the center.
"Use it," he said. "You deserve it. You've earned it…This a great center for some great Americans."
A student veteran resource center can increase the chances that student veterans will remain in school, research shows. The one at Appalachian aspires to be a one-stop shop. It will offer such services as peer-to-peer mentoring, tutoring, sessions on time-management and study skills, work-study opportunities as well as help with obtaining GI Bill benefits and getting the most out of them.
The center is also offering "Veterans in the Classroom" training sessions that are designed to educate faculty and staff on what it means to have student veterans on campus. The idea is to illuminate not only the challenges student veterans may be facing but also some of the strengths they can bring to Appalachian as well.
Most crucially, Student Veteran Services Coordinator Eric Gormly, a six-year veteran of the U.S Marine Corps, will run the center. He will play a pivotal role in ensuring that the center's work is carried out in the most effective ways possible, and will work with the appropriate entities across the university to do so. His initiatives will reflect research of several Appalachian faculty members on the needs of student veterans.
Gormly said the typical profile of a student veteran is markedly different than that of a more traditional student coming straight out of high school. For starters, many student veterans, particularly recent arrivals on campus, are dealing with something of a culture shock at Appalachian: They have gone, often suddenly, from a highly structured life in the military to being 100 percent on their own and making all of their own decisions.
Student veterans are also a good bit older than their more traditional counterparts. The age range of a student veteran is 24 to 32, as opposed to the more conventional undergraduate student, who is 21 or 22 years old when they graduate. Student veterans are often married, caring for families and working.
The result: it can be difficult for student veterans to develop a sense of belonging at Appalachian. The center aims to counteract that, providing "a place that, as soon as they walk in the door, they know people inside are in the same boat as them," Gormly said. "Not only are those people in the same boat, but they likely have some kind of related experience, even if in different branches."
Gormly added that the center reflects recent efforts across the country to get veterans more involved in life after classes on college campuses. Student veterans tend to come to class and go home, not spending more time on campus than they have to, he said.
"The center is that place they can go in between classes or to study after classes are over, if time permits, and see other student veterans," Gormly said. "Through building relationships inside the center, which hopefully carry over to outside the center, the student veterans can become more involved. They can also learn of the events organized by Appalachian's chapter of the Student Veterans Association."
Peer-to-peer mentoring, which the center is arranging, will also help build relationships among student veterans. The idea, long advocated by Appalachian's chapter of the Student Veterans Association, is to link small groups of incoming student veterans with a single student veteran who has been at Appalachian for some time; that way, the latter can help the former navigate what is often unfamiliar territory.
The unfamiliar territory can become that much more daunting for student veterans if they don't know what their Veterans Administration benefits fully entail.
This fall, Appalachian enrolled 208 student veterans on benefits, and at the end of the 2015-16 academic year, Appalachian had 241 student veterans on benefits. Some student veterans at Appalachian do not have benefits, and Appalachian's Office of Enrollment Management is developing a system to track them as well.
In order for the students to get the most out of their benefits, they should take advantage of "priority registration," which the center arranges. This ensures that student veterans can get the classes they need to stay within those GI Bill guidelines that will enable them to graduate within four years.
The GI Bill pays for just 36 academic months of school. So to finish school in four years, Gormly emphasized that a student veteran needs to stick to a pretty strict plan of action. "For instance, if you change your major in year three, you will likely be paying for some of your classes near the end," he said.
The GI Bill also pays out a housing allowance to students, which is often how they can get through school with minimal work hours, if any. "But if a student takes less than 12 credit hours in a semester, they will not get their full housing allowance. So a student needs to ensure they have a full schedule, and priority registration helps them to get classes before they fill up."
When viewed in a larger context, the Major General Edward M. Reeder Jr. Student Veteran Resource Center affirms Appalachian's recent designation as a 2017 Military Friendly® School by Victory Media, the premier media entity for military personnel transitioning into civilian life. The university has been awarded the Military Friendly® honor every year since 2010.
"Appalachian has a long history of supporting student veterans," said Alice Roess, chair of Appalachian's Board of Trustees. "I am so pleased and proud we are able to take this next step, and honor General Reeder's service to our country at the same time."
The Military Friendly® designation places Appalachian in the top 15 percent of colleges, universities and trade schools in the country that are doing the most to embrace military students, and to dedicate resources to ensure their success in the classroom and after graduation.
Appalachian maintains a website for veterans and military service members considering enrolling at the university. In addition to its chapter of the Student Veterans Association, the university also has veteran counselors or advisors on staff, a veteran-specific page on the university's financial aid website, and assists veterans with career placement. The university also offers in-state tuition without residency requirements for military students who are in the N.C. National Guard or on active duty at a military base within North Carolina.
To Dan Pegram of Winston-Salem, all this adds up to a pretty optimistic future for Appalachian's student veterans. Pegram, the president of the Appalachian chapter of Student Veterans Association, served in the U.S. Air Force from 2009 to 2013, achieving the rank of Senior Airman (E-4). He is now set to graduate in May with a bachelor's degree in nutrition and foods with a concentration in dietetics.
"Yesterday's warriors can be tomorrow's leaders," he said. "Appalachian State University has embraced that notion."
About Appalachian State University
As the premier public undergraduate institution in the Southeast, Appalachian State University prepares students to lead purposeful lives. App State is one of 17 campuses in the University of North Carolina System, with a national reputation for innovative teaching and opening access to a high-quality, affordable education for all. The university enrolls more than 21,000 students, has a low student-to-faculty ratio and offers more than 150 undergraduate and 80 graduate majors at its Boone and Hickory campuses and through App State Online. Learn more at https://www.appstate.edu.
What do you think?
Share your feedback on this story.