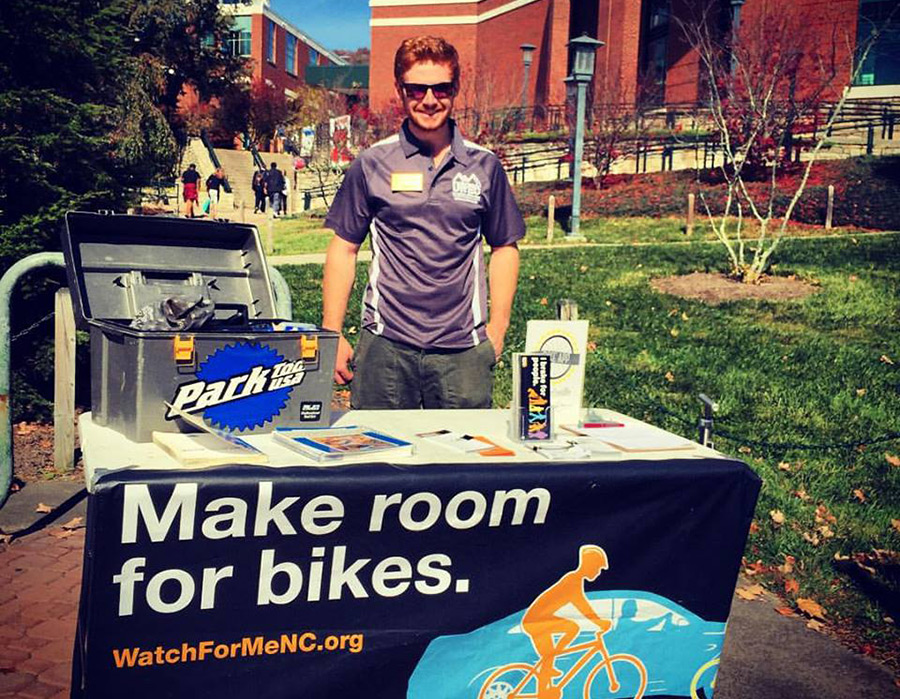 Posted Feb. 8, 2017 at 5:08 p.m.
BOONE, N.C.—Appalachian State University Outdoor Programs graduate assistant Chris Bartram was given his first bike, a spray-painted hand-me-down, when he was 5 years old.
His lifelong love and advocacy for cycling played a large part in Appalachian earning a bronze Bike Friendly University (BFU℠) award from the League of American Bicyclists in November 2016. There are only 164 BFU℠ institutions nationwide.
Director of University Recreation (UREC) Joe Carter said Bartram "has been diligent in getting the information for the application together and was instrumental in getting us this recognition."
The award is renewable every four years and includes rankings of honorable mention, bronze, silver, gold and platinum. It is rare for an institution to earn a bronze on the first application, as Appalachian did. Only five universities have achieved platinum ranking.
Because of this award, Appalachian will have access to a variety of free tools and technical assistance from the League of American Bicyclists to become even more bicycle friendly.
The true value of the BFU ranking comes from the process of compiling the extensive documentation, Bartram said. "And, the feedback from BFU gives us tangible items to bring to a master plan and sets a baseline to earn a higher award," he said.
The Town of Boone received an honorable mention four years ago and a bronze in 2016. The Town of Boone has engaged in "an intentional partnership" with UREC to make biking in and around the community safer and more convenient, Bartram said.
According to Bartram, a strong cycling program is important to the university for sustainability purposes and for the health and wellness of the community. He said an increase in cycling would have a positive impact on traffic congestion and parking, especially once the Beaver College of Health Sciences, located on the corner of State Farm and Deerfield roads adjacent to Watauga Medical Center, opens in August 2018. "That's a couple of miles from the main campus and will generate a lot of cross-campus commuting," he said.
UREC's immediate goal for its biking initiative is to secure a permanent gathering space for tune-ups, cycling education and resources. The campus needs a space where people can connect more intentionally, Bartram said. Working with the Office of Sustainability, he and UREC hope to secure a high traffic area, somewhere along Sanford Mall, where students, faculty and staff can be around others with a shared interest in biking. "Having a space will help cultivate a cycling culture," he said. In the short term, the plan is to place a trailer along Rivers Street that will fill that need temporarily.
Carter said Bartram is effective as an ambassador for cycling in the High Country. "He is a good addition to the program, with his knowledge of cycling. He is a well-spoken young man who can work with the city, the police, the university and student development to promote cycling and help move this initiative along."
Bartram said there were 12 workshops scheduled this semester providing instruction on riding safety, mountain biking basics, bicycle tuning, as well as how to plan a road trip and respond to a biking accident.
Long range, Bartram said he hopes there can be covered bike parking and a facility where riders could shower and dress for the workday at the end of their cycling commute.
Bartram is earning a Master of Arts degree in student development with a focus in college outdoor program administration. He also teaches leadership and group dynamics as an adjunct professor in the Department of Recreation Management and Physical Education. He aspires to work as coordinator of outdoor programs at a university after graduating in May.
The Stamford, Connecticut, native said he came to Appalachian because it is "one of the most recognized programs in the country and the only one with a formal program in outdoor administration. He earned his Bachelor of Science degree in adventure education at Plymouth State University in Plymouth, New Hampshire.
Bartram said he loves living in the Southeast and spends "a lot of time outside, climbing, cycling, skiing." He will take 12 students on a UREC spring break program to Banff, Canada, for a 10-day skiing course that includes hiking into and skiing down the back country and sleeping in huts along the way. "The experience will develop avalanche knowledge, leadership skills and provide the opportunity to experience the northwest ski country in a really safe way," Bartram said.
About the Bicycle Friendly America℠ Program
The League of American Bicyclists is a leader in the movement to create a Bicycle Friendly America. The league's commitment is to listen and learn, define standards and share best practices to engage diverse communities and build a powerful, unified voice for change. The Bicycle Friendly University program is generously supported by Planet Bike and league members. To learn more, visit http://www.bikeleague.org/BFA
About UREC
A department in the Division of Student Development, University Recreation provides structured and unstructured leisure time activities for students. Through these activities, students learn lifelong skills that contribute to their social, physical, emotional and intellectual growth and development. University Recreation serves as a laboratory for training in recreation management and related fields. Additionally, University Recreation is responsible for scheduling various athletic and recreational facilities.
About Appalachian State University
As the premier public undergraduate institution in the Southeast, Appalachian State University prepares students to lead purposeful lives as global citizens who understand and engage their responsibilities in creating a sustainable future for all. The Appalachian Experience promotes a spirit of inclusion that brings people together in inspiring ways to acquire and create knowledge, to grow holistically, to act with passion and determination, and to embrace diversity and difference. Located in the Blue Ridge Mountains, Appalachian is one of 17 campuses in the University of North Carolina System. Appalachian enrolls nearly 21,000 students, has a low student-to-faculty ratio and offers more than 150 undergraduate and graduate majors.
What do you think?
Share your feedback on this story.