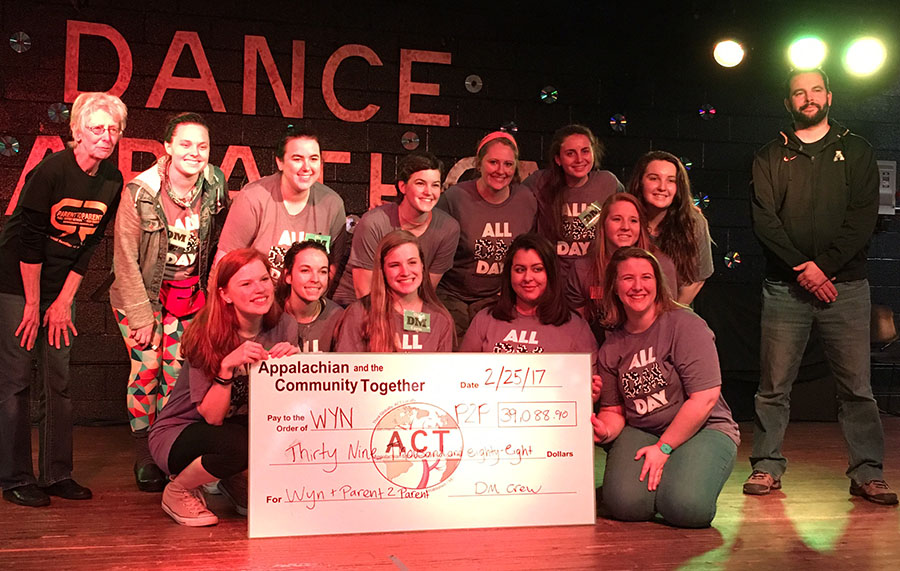 Posted April 12, 2017 at 10:41 a.m.
BOONE, N.C.—Dancing the night away certainly paid off for children's charities as the annual Dance Marathon at Appalachian State University raised $39,088.90 for two local nonprofits: Parent to Parent Family Support Network and Western Youth Network. Close to 200 students participated in the annual 15-hour event that took place Feb. 25 at Legends.
Dance Marathon is coordinated by Appalachian's ACT program. ACT stands for Appalachian and the Community Together, and its mission is to cultivate responsible citizenship through education and action.
According to Emily Wolschlag, coordinator of Appalachian's ACT program, there were three theme hours during the dance this year: Animal Kingdom, Wacky Tacky and I Love the 2000s. Describing the event, Wolschlag said, "Dance Marathon is a fun and unforgettable experience packed with fun activities, loads of food, great entertainment and a lot of awesome dancing. Throughout the event students have the opportunity to learn about the experiences of the families and children impacted by the two organizations we support. Both of these organizations provide essential services to children and their families in Watauga County and the High Country of Western North Carolina."
Regarding how funds are raised, Wolschlag pointed out, "Family, friends and sponsors donate all the money to the dancers individually, with the top fundraiser typically receiving an award in the form of gift cards or donated items from local businesses."
Finally, Wolschlag described the impact of this event in the lives of the families and children supported by the Dance Marathon and its meaning for Appalachian students. "Dance Marathon is one of those experiences that will impact you for a long time after the music stops. It is a fun and challenging event, but the best part is seeing the relationships form between the dancers and the kids and families. We see students year after year invest so much time into this event because they genuinely care about raising money for these families and kids whose stories they have heard. And, we see kids come back year after year having grown so much through the support these organizations are able to provide."
About ACT
Appalachian and the Community Together (ACT) provides service experiences as opportunities to connect and engage with others to build authentic relationships, stimulate critical thinking and skill building, and recognize individual impact and responsibility to the local and global community. Since 2004, Appalachian State University students have contributed over $22.3 million of value to the community via the ACT program (just over 1 million hours of service plus $567,000 funds raised) using the $23.07 per hour national standard for volunteer time. ACT partners with over 160 local non-profits. Initiatives include blood drives, hunger and homeless awareness events, fundraising for local charities and alternative service experiences.
About Appalachian State University
As the premier public undergraduate institution in the state of North Carolina, Appalachian State University prepares students to lead purposeful lives as global citizens who understand and engage their responsibilities in creating a sustainable future for all. The Appalachian Experience promotes a spirit of inclusion that brings people together in inspiring ways to acquire and create knowledge, to grow holistically, to act with passion and determination, and to embrace diversity and difference. Located in the Blue Ridge Mountains, Appalachian is one of 17 campuses in the University of North Carolina System. Appalachian enrolls more than 19,000 students, has a low student-to-faculty ratio and offers more than 150 undergraduate and graduate majors.
What do you think?
Share your feedback on this story.