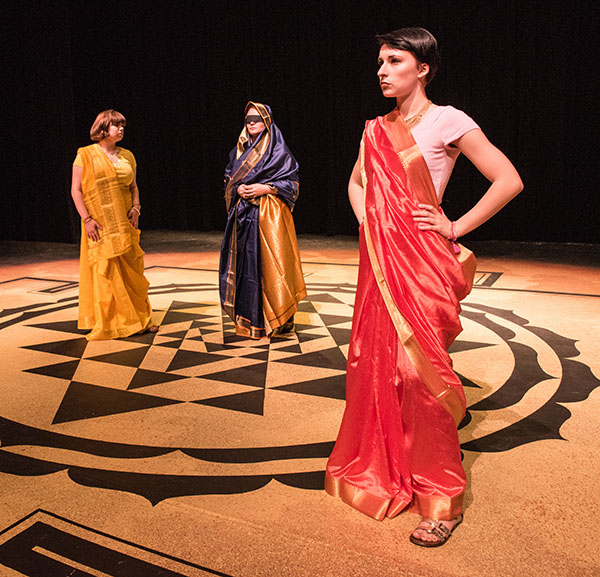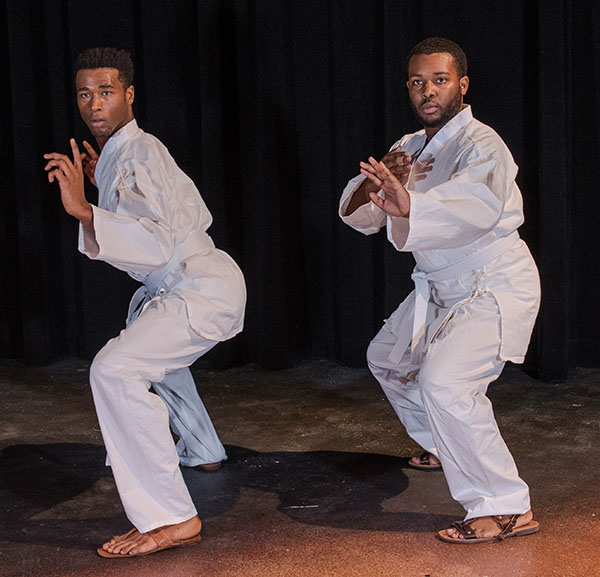 Posted April 21, 2017 at 9 a.m.
BOONE, N.C.—Beginning April 26, the Department of Theatre and Dance at Appalachian State University will present the world premiere of "Flight from the Mahabharath" by Muthal Naidoo, a noted South African author of Indian descent.
Performances will be at 7 p.m. April 26 – 29 and at 2 p.m. April 30 in the Valborg Theater on the university campus, concluding an entire main stage season at Appalachian of plays written by women. Naidoo, who will be in residence at Appalachian for five days, will participate in a talkback with audience members after the opening performance April 26.
Naidoo often focuses her work on power dynamics in racially divided societies. She wrote "Flight from the Mahabharath" in 1992, inspired by B.R. Chopra's "Mahabharat" serial in the early 1990s.
"Flight from the Mahabharath" examines the "Mahābhārata," one of the two major Sanskrit epics of ancient India, from the perspective of the women characters. The "Mahābhārata," often referred to as "The Epic," serves as a metaphor for a patriarchal society where women function mainly as adjuncts. In the play, the women escape the epic into a different genre, drama. Joined by two men, the cast creates a new reality where they are free to explore their identities. The stage provides a home for action where the characters are free to express and redefine themselves.
"It is a story mainly about women asserting their independence," Naidoo said. "They are examining the social conditioning that has kept them imprisoned in subservient roles and they arrive at understandings that give them the freedom to discover and create their own destinies."
Lydia Congdon, the dramaturg for Appalachian's productions of "Flight from the Mahabharath," is a senior psychology and general theatre double major from Henderson. She conducted extensive research to establish connections among the play's text, its actors and the audience.
"Theatre is a platform that allows space for people to learn, to think critically and to see something new," she said. "The show provides an opportunity for audience members to make connections between cultures because a lot of what the female characters experience and suggest is experienced cross-culturally."
Theatre Arts Professor Martha Marking designed costumes for "Flight from the Mahabharath." Associate Professor of Theatre Arts John Marty designed the set and lighting, and Matt Tyson acted as technical director.
Dr. Ray Miller, professor of dance studies and theatre arts at Appalachian, is directing and choreographing the dance sequences in "Flight from the Mahabharath." He suggested that the advantages of presenting "Flight from the Mahabharath" far outweighed the challenges.
"As a faculty, we try to produce at least one play every two years that comes from a non-western perspective," he said. "We feel this is important not only for our students but also for our audience, so they can become aware of various theatre traditions from around the world."
Event details and ticket information
Tickets for each performance of "Flight from the Mahabharath" are $10 for students and $17 for adults. To purchase tickets, contact the Valborg Theatre box office at 828-262-3063, the Schaefer Center for the Performing Arts box office toll-free at 800-841-ARTS (2787), or visit http://theatreanddance.appstate.edu. The Valborg Theatre is located on campus at the north side of Chapell Wilson Hall on Howard Street. The theatre entrance faces the back of the Turchin Center for the Visual Arts on King Street. Parking is available after 5 p.m. on campus in faculty/staff lots and after 5:30 p.m. in the College Street parking deck near Belk Library and Information Commons. Media contact is Keith Martin: Martinkt1@appstate.edu
About the Department of Theatre and Dance
The Department of Theatre and Dance is one of seven departments housed in Appalachian's College of Fine and Applied Arts. Its mission is to facilitate transformative experiences for students and the public, which cultivate compassionate, creative and collaborative communities through theatre and dance. The department also offers coursework for integrated learning through the arts to the general university student population. Its dynamic co-curricular production program provides exemplary theatre and dance experiences to departmental students, the university community and the region.
About Appalachian State University
Appalachian State University, in North Carolina's Blue Ridge Mountains, prepares students to lead purposeful lives as global citizens who understand and engage their responsibilities in creating a sustainable future for all. The transformational Appalachian experience promotes a spirit of inclusion that brings people together in inspiring ways to acquire and create knowledge, to grow holistically, to act with passion and determination, and embrace diversity and difference. As one of 17 campuses in the University of North Carolina System, Appalachian enrolls about 19,000 students, has a low student-to-faculty ratio and offers more than 150 undergraduate and graduate majors.