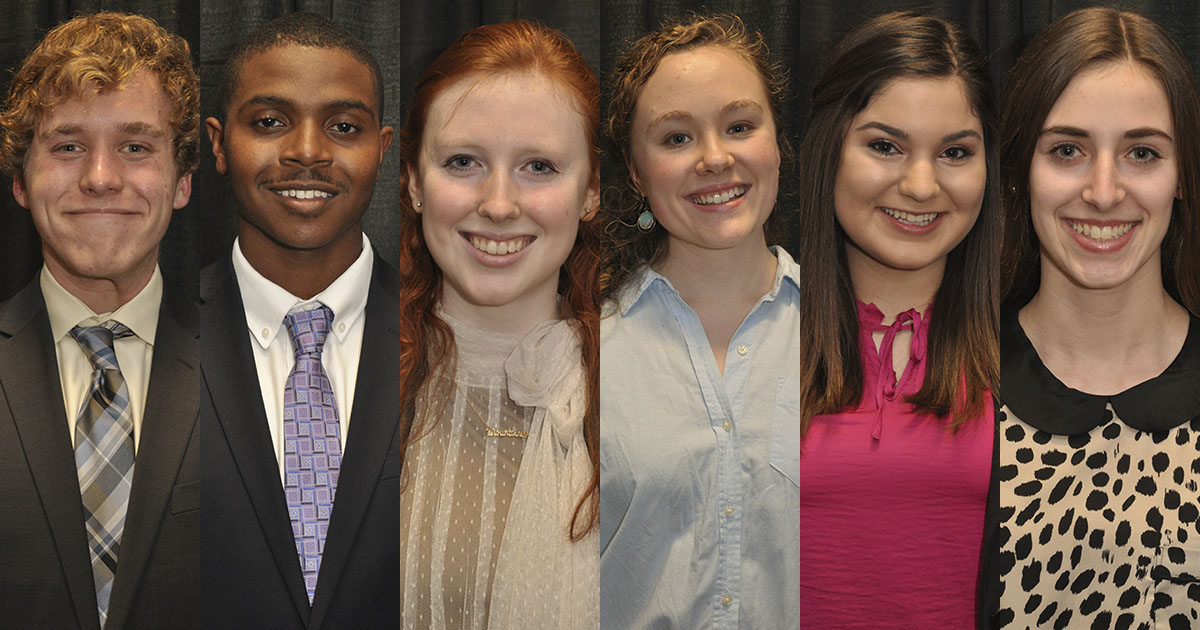 Posted April 24, 2017 at 2:58 p.m.
BOONE, N.C.—Six outstanding students have been named Wilson Scholars at Appalachian State University. The Wilson Scholars Program is the university's most prestigious, merit-based scholarship program, which covers full institutional costs as well as an additional $10,000 experiential learning stipend.
The Wilson Scholars Program embodies the Appalachian spirit: a rich blend of academic excellence, leadership and service. This scholarship program attracts outstanding students, instills in them a commitment to change the world, and provides the resources for students to think creatively, strategically and collaboratively.
The 2017 recipients of the Wilson Scholars Program are Chapel Hill High School senior Evan Malinchock of Chapel Hill, North Carolina, son of Laura and Michael Malinchock; Independence High School senior Everett "Jabari" Moore of Mint Hill, North Carolina, son of Darryl and Nina Moore; Blue Sky Academy of Excellence senior Jama Brookes of Connelly Springs, North Carolina, daughter of James and Tina Brookes; Charles D. Owen High School senior Joy Siler of Asheville, North Carolina, daughter of Mark Siler and Kiran Sigmon; Lake Zurich Senior High School senior Sydney Shadrick of Lake Zurich, Illinois, daughter of Steven and Jeri Shadrick; and Voorhees High School senior Sydney Stoter of Califon, New Jersey, daughter of Kenneth and Cynthia Stoter.
The Wilson Scholarship was established as Appalachian's premier scholarship program in 2013 with a generous donation from Brad and Carole Wilson, Appalachian alumni of the Class of 1975. Brad Wilson is CEO of Blue Cross and Blue Shield of North Carolina, and Carole Wilson is a member of the Appalachian State University Board of Trustees.
Dr. David Marlett, faculty director of the Wilson Scholars Program, said, "The selection committee reviewed over 3,100 freshmen applications, and the final candidates were interviewed by committee members during Scholars Day earlier this spring. All the candidates were outstanding, and we feel the six selected best exemplify the right combination of academic success and commitment to servant leadership."
About the scholars:
Evan Malinchock

Malinchock is a student-athlete, holding positions in many clubs and organizations including the Chapel Hill High School Ski Team and the CHHS Stock Exchange Club. Over his 12 years of involvement with his local chapter of Boy Scouts of America, Malinchock has received the Eagle Scout award and served as trip planner and leader of a successful 100-mile trek of the most remote section of the Appalachian Trail. An avid outdoorsman with a passion for service, Malinchock has worked extensively with PORCH, an organization dedicated to hunger relief in his local community. His intended major is sustainable technology with the goal of giving back to the environment and the communities that have given so much to him.

Jabari Moore

Moore serves as an ambassador for the Young Black Male Leadership Alliance and has organized several charity events for the organization in addition to participating in a mission trip to Haiti. He is first chair and section leader for the Independence High School Concert, Jazz and Wind Ensemble Bands as well as a dedicated football and baseball player. Co-captain of the Independence High Dream Team, a group of student-athletes who work to promote community involvement and a drug and alcohol-free school, Moore has demonstrated a commitment to service and scholarship through his involvement with several organizations including Interact Club, National Honor Society and Science Olympiad. His intended major is biology.
Jama Brookes

Brookes is a published author and public speaker on topics of resiliency and compassionate care in the medical field. Having spent over 200 days as a hospital inpatient over the past four years, she has found her place working to inspire, support and encourage other patients and serving as an advocate for those whose voices are not heard. Due to her challenging and life-shaping experiences, Brookes is an aspiring physician with dreams of transforming the medical system into one accessible and available to all by implementing compassionate care and encouraging resiliency. She is a passionate community servant trained in classical ballet and committed to making purpose out of pain. Her intended major is exercise science.

Joy Siler

Siler has been a lover of stories since her childhood, growing up on a 14-acre farm in rural North Carolina with her imagination as a constant companion. Since then, she has dedicated herself to her communities, becoming heavily involved with Owen High School Drama Productions and Student Government as well as studying and practicing restorative bodywork therapy for the elderly. Siler has received several awards for both theatrical and choral achievement including the NC Theater Conference Outstanding Achievement in Acting. A passionate environmental advocate, she aims to use powerful stories to encourage understanding and respect among the global community. Her intended major is theater.
Sydney Shadrick

Shadrick is the founder of the non-profit charity Kids' Kets, an initiative to provide stuffed animals and blankets to hospitalized children during the holiday season. She hopes to follow in the footsteps of her grandmother, a former special education teacher, and aspires to continue her grandmother's legacy of patience, compassion and kindness that serves as her inspiration. As the editor-in-chief of the Lake Zurich High School yearbook, Shadrick successfully initiated several major changes to the club, effectively motivating, organizing and reenergizing her peers. Shadrick is also highly involved with Student Government and the National Honors Society in addition to serving as president of the Buddy Project, a club dedicated to serving students with disabilities, and as a mentor to rising high school freshmen. Her intended major is special education.

Sydney Stoter

Stoter is an active member of Key Club, Spanish Club, the National Honor Society, the World Language Honor Society and the Varsity Cheerleading Squad. She is an Xcel Platinum level gymnast having competed at local, state and national competitions. Stoter's Jewish education and background have been foundational for her personal growth and has led her to serve as an impactful Hebrew tutor for others in her community. In 2015, Stoter was invited to participate in the highly-selective Girls' Leadership Worldwide program in New York aiming to empower young women to uphold Eleanor Roosevelt's legacy of equality and respect for others, courageousness and positive change, powerful ideals that Stoter now recognizes as her own. Stoter aspires to be a speech language pathologist. Her intended major is communication sciences and disorders.
About the Wilson Scholarship
The Wilson Scholarship covers tuition, fees, book rental, and room and board. In addition, scholars receive $2,500 annually for four years to pursue academic and service projects of their own conception. The incoming class will also take a week-long academic trip to Costa Rica during winter break.
High school seniors can apply for the Wilson Scholarship by completing the freshman Merit-Based Scholarship Application after submitting their application for admission. Final selection is based on the students' academic achievements, as well as their service and leadership in their communities and schools. Learn more at http://wilsonscholars.appstate.edu.
Wilson Scholars receive a personalized educational experience in and outside the classroom designed in partnership with their faculty director. Wilson Scholars also learn to incorporate their passions into their life and career goals as they participate in specially designed seminars, engage in international experiences and design capstone projects. Each year, Wilson Scholars focus on an area of community and self-discovery as part of their education at Appalachian. Internships, research and study abroad are also part of the Wilson Scholars experience.
With the Fall 2017 incoming class, the Wilson Scholars now total 20 students, including four rising seniors: Sarah Aldridge from Concord, Juliet Irving from Batesburg, South Carolina, Emma Labovitz from Salisbury and Lily Shaw from Chapel Hill; four rising juniors: Sam Hines from Sanford, Sope Kahn from Chapel Hill, Madeline Hamiter from Statesville, and Alia Dahlan from Swannanoa; and six rising sophomores: Vicky Anderson from Rutherfordton, Grace Bowling from Boone, Fahiima Mohamed from Raleigh, Javon Nathaniel from Charlotte, Jake Powell from Cary, and Anisha Sharma from Summerfield.
About Appalachian State University
As the premier public undergraduate institution in the state of North Carolina, Appalachian State University prepares students to lead purposeful lives as global citizens who understand and engage their responsibilities in creating a sustainable future for all. The Appalachian Experience promotes a spirit of inclusion that brings people together in inspiring ways to acquire and create knowledge, to grow holistically, to act with passion and determination, and to embrace diversity and difference. Located in the Blue Ridge Mountains, Appalachian is one of 17 campuses in the University of North Carolina System. Appalachian enrolls more than 20,000 students, has a low student-to-faculty ratio and offers more than 150 undergraduate and graduate majors.
What do you think?
Share your feedback on this story.