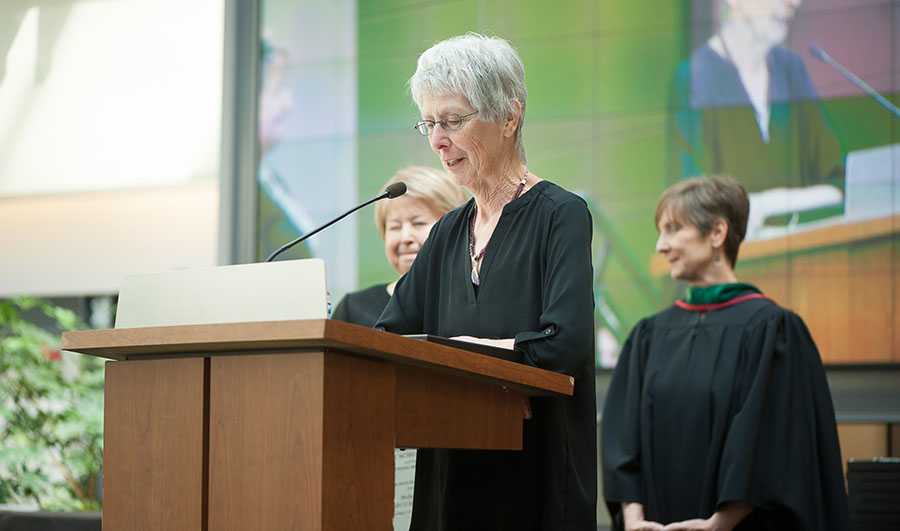 Posted June 6, 2017 at 2:23 p.m.
BOONE, N.C.—On a recent Friday evening, Katherine Moss, a master's student at Wake Forest School of Medicine's physician assistant (PA) studies program at Appalachian State University in Boone, took an unconventional "class." She attended a meeting of the Parent to Parent Family Support Network-High Country.
Her participation – which fulfilled a requirement of a course called Being a PA – helped her gain insights from parents and other caregivers of children with disabilities, developmental delays, disorders and other challenges. It will further two aims of her PA training: enhancing the care she provides to children with special needs and promoting empathy with their caregivers, whom health care providers can easily overlook in the small window of time they get with patients.
"I think it was one of the most important things we had to do," said Moss, who is from Ocean Park, Florida.
Parent to Parent, sponsored by Appalachian and its Reich College of Education, is best known for providing support services to families who have children with special needs and/or families grieving the loss of a child. It serves Alleghany, Ashe, Avery, Mitchell, Watauga, Wilkes and Yancey counties.
Over the last three years, though, the organization has been doing something more – and it recently received a Community Partnership Award from Wake Forest because of it. This has entailed connecting PA students with caregivers of children with special needs at network dinners, picnics and other activities organized by Kaaren Hayes, the network's director and outreach coordinator for Avery and Watauga counties.
Jonathan McGuirt, a PA student from Rock Hill, South Carolina, strongly favors the concept of attending network meetings because they put future PAs in the shoes of caregivers.
In addition to the patient, "there are always other people in the room," he said. "A good health care provider should keep that in mind."
Hayes said that Parent to Parent would continue to invite the PA students to its meetings.
"The families have truly enjoyed meeting and talking with the students," she said. "And hopefully, the PA students have come away with a deeper understanding of the joys and challenges of families who are caring for children with unique needs and diverse abilities. It has been a wonderful collaboration."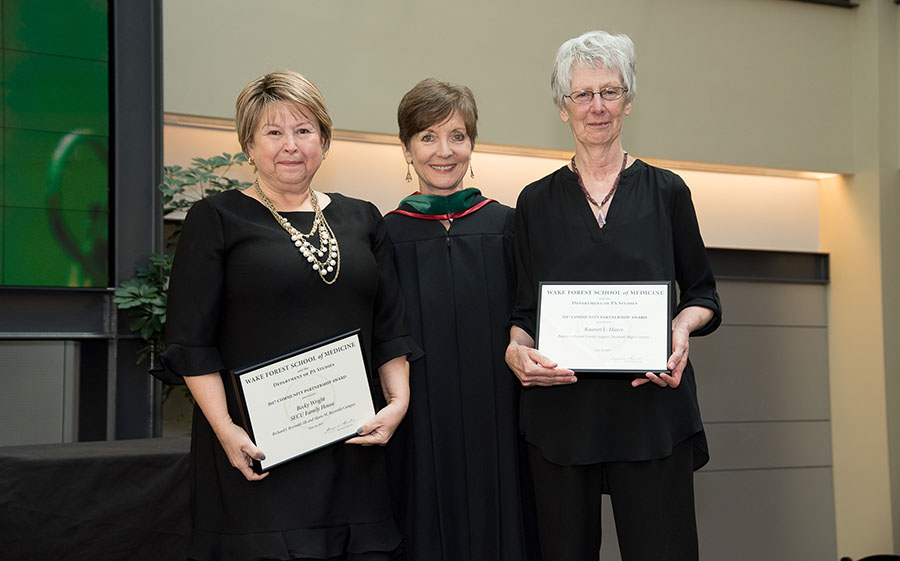 Being a PA is at the heart of that collaboration. It covers such topics as ethics, communications skills and the role that faith and the arts and humanities can play in care. "Caring for Caregivers," a Being a PA project, brings PA students together with the caregivers of Parent to Parent.
In network meetings, PA students hear story after story illustrating not only the often-enormous challenges faced by parents caring for children with special needs but also all that these children can do and have accomplished. Gail Pinkham, a network member whose son has Asperger's syndrome, welcomes the opportunity to open up with the PA students. "The students care enough to listen," she said, adding that this is important because, after all, parents really do know their children well.
After attending network meetings, the PA students reflect on what they learned through a writing assignment. Suzanne Reich, an associate professor in the Department of PA Studies and the PA program director at Wake Forest School of Medicine, served as the class's coordinator through May. She said the reflections in the papers "focus on how this experience influences the ways that they will interact with their patients and empathize with the families and caregivers. It is so valuable when the students openly share their reactions and insights – quite frequently they propose specific plans for how to help their future patients."
Recent papers of PA students would appear to be in line with Reich's sentiments.
McGuirt wrote of gaining a greater appreciation of the effects that caring for a child with special needs can have on a "neurotypical" sibling, or one without special needs.
Parents "spend such a large amount of time helping their special needs child that the other child, even if they are younger, may not receive all the attention that they need or want," he wrote. "This is compounded by the fact that most of their special needs children receive supplemental services from the schools or therapists, which is often perceived as preferential treatment by the other sibling/s. Naturally, this leads to family discord and feelings of animosity from the neurotypical child toward their special needs sibling and their parents."
Anshuma Pal, a PA student from Leesburg, Virginia, who attended a network meeting, wrote of speaking to a mother about the effects of fetal alcohol syndrome (FAS), a condition that two of her adopted children have. One of the children, Pal learned, fell off a trampoline when he was young child – he is 22 now – and the mother had to make sure he had not broken any bones.
Many children with FAS "have a higher pain tolerance and even heat tolerance," Pal wrote, adding that sensory integration therapy can help such children develop and process sensory information, a key part of becoming an independent individual.
"I realized how important it is to help disabled children grow and expand their senses, skills and learning as much as possible, especially during their childhood years, as that is the moldable age where they can develop and thrive the most," Pal wrote.
The mother, Vickie Horodyski, agreed. She said it is important for children with FAS to undergo sensory integration therapy as early in their lives as possible, something she feels the medical community knows too little about. Her children did undergo the therapy.
"The younger they are when they have the therapy, the more benefits they get from it," she said. "My husband Richard and I could see a huge difference in our children before we knew about sensory integration therapy and after they had an assessment and started learning therapy techniques."
One of the most important things that PA students have learned from the caregivers is that their health and well-being is just as important as that of the child with special needs.
A parent "made me realize that being a caregiver is not only taking care of someone, but also finding an ideal balance of social and personal independence with the person you are caring for," Moss wrote. "I would reassure (caregivers) that while it is important to do what they are doing, they cannot care for others if they do not care for themselves mentally and physically first."
About Parent to Parent Family Support Network™ – High Country
Parent to Parent Family Support Network™ – High Country provides free support, caring connections, information and hope to families who have a premature baby, a child with a disability, an emotional or behavioral challenge, a mental illness, a chronic health condition or to families who are grieving the death of a child. The network provides information to help families see the possibilities for their children, and tools so that they can turn that potential into reality. Parent to Parent is an affiliate of the Family Support Network™ of North Carolina and is sponsored locally by Appalachian State University. It has been in operation for nearly 30 years.
About the Beaver College of Health Sciences
Appalachian's College of Health Sciences opened in 2010 as the result of a strategic university commitment to significantly enhance the health and quality of life for individuals, families and communities in North Carolina and beyond. In 2015, the college was named for an Appalachian alumnus and pioneer in the healthcare industry – Donald C. Beaver '62 '64 of Conover. The college offers 10 undergraduate degree programs and six graduate degree programs, which are organized into six departments: Nursing, Social Work, Communication Sciences and Disorders, Nutrition and Health Care Management, Health and Exercise Science, and Recreation Management and Physical Education.
About the PA program with Wake Forest School of Medicine
Wake Forest Baptist Medical Center announced in August 2013 their plans to expand the physician assistant (PA) program at the Wake Forest School of Medicine to Appalachian's campus. The program aims to help address a shortage of primary care physician assistants in the rural areas of the state. Students admitted to the program take the same curriculum regardless of location in Boone or Winston-Salem. They all begin with a one-month basic science immersion at the Winston-Salem campus. Then, for the remainder of their pre-clinical training, students attend classes at either the Winston-Salem-based School of Medicine location or in the Wake Forest PA program location within Appalachian's Beaver College of Health Sciences. Supervised clinical experiences, or rotations, are administered by the program and take place at participating medical facilities across the country, with an ongoing emphasis on building a PA workforce that provides needed healthcare services in Western North Carolina.
About Appalachian State University
As the premier public undergraduate institution in the Southeast, Appalachian State University prepares students to lead purposeful lives. App State is one of 17 campuses in the University of North Carolina System, with a national reputation for innovative teaching and opening access to a high-quality, affordable education for all. The university enrolls more than 21,000 students, has a low student-to-faculty ratio and offers more than 150 undergraduate and 80 graduate majors at its Boone and Hickory campuses and through App State Online. Learn more at https://www.appstate.edu.
What do you think?
Share your feedback on this story.