Posted June 30, 2017 at 10:09 a.m.
Solar-powered Appalachian State University's Team Sunergy took second place at the 2017 Formula Sun Grand Prix after thousands of hours of preparation and three days of intense strategy and track racing. The annual race, which took place this year on the Circuit of The Americas track in Austin, is an international collegiate endurance competition that sets the standards for and tests the limits of solar vehicle technology.
In addition to taking second place overall, Team Sunergy also won the event's Safety Award, Fastest Egress Award, Array Award and the ISF Achievement Award, which, according to the ISF, is presented to the team "that best exemplifies the mission of ISF by raising awareness of the imperatives of sustainable transport through innovation, and promoting the concept of 'Brain Sport.'"
The following content captures the spirited energy of the competition:
Day 3 update
After an exciting comeback on Day 2, Team Sunergy left the track in high spirits. During evening charging, Apperion suffered an electrical component failure that reduced its charging capacity by 25 percent. Within minutes of this setback, a late-day storm blew up, preventing the team from fully charging their array. While the end of Day 2 had the team solidly in second place, they faced a tough evening that left them with only 75 percent charging capacity. Team leader Dan Blakeley, faculty advisor Chris Tolbert and members of the electrical and mechanical teams worked late into the night to program replacement parts provided by the UC Berkeley and Principia teams. By the time Team Sunergy set up for the morning charge, they were fully functional, but still suffering from missing an hour of charge time the night before. Nevertheless, driver Lindsay Rudisill quickly took the team into first place for daily laps. At the noondriver change pit stop, Apperion had slipped to third, five laps behind UC Berkeley which held steady in first, and only two laps behind Polytechnique Montreal. Driver Sam Biagioli weathered a tire blowout and on the furthest corner of the track, Team Sunergy performed one of the quick and efficient pit stops for which they are becoming known. This kept the team in second place, and Biagioli ended the race only six laps behind UC Berkeley, with Polytechnique Montreal in third, 17 laps behind the first position.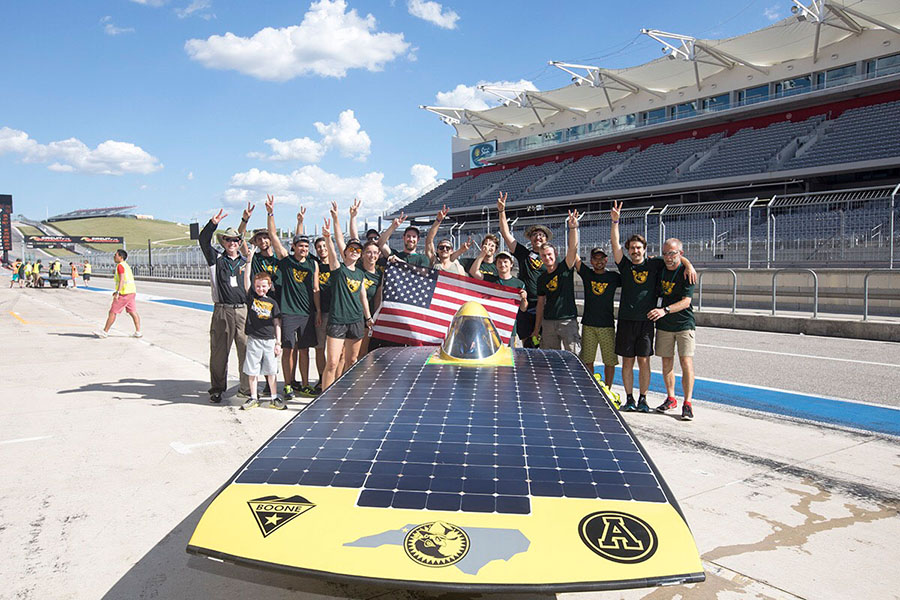 Audio: Chancellor Everts calls App's Solar Vehicle Team
At the end of Day 2, Chancellor Sheri N. Everts called Team Sunergy to congratulate them on their hard work, their success to date, and their dedication to Appalachian. The team took a break from their frenetic evening of evading a pop-up thunderstorm and suffering an electrical component failure to soak in the praise from a proud Chancellor, who complimented them on their strong work ethic and thanked them for the work they are doing for the university and the future of transportation.
Transcript
Sound of crowd. Unidentified man talking: I'm going to put some students on here. Oh, here's Dan [Blakeley - team leader].
Dan: Hey, Chancellor. How are you? [Laughing in background.]
We've had a wonderful, very busy, tiring, but very successful few days. [Chancellor speaks off line] Thank you, thank you. Thank you very much. (Shouts to crowd) Chancellor says 'Congratulations!"
Day 2 update
Apperion started the day in third and quickly jumped to first place for daily laps, running some of the fastest laps on the track. The power pedal issue persisted, however, forcing a repair early in the day, and Team Sunergy dropped to fifth. Driver Lindsay Rudisill drove an aggressive run, bringing the team into a three-way tie for second place, within five laps of UC Berkeley's first place by the time the team changed drivers. Cristian Gulisano took the driver position for the afternoon, ending the day with Apperion in second place overall – four laps behind UC Berkeley – and setting the second-fastest race lap, with a time of 5 minutes and 24 seconds.
Solar Vehicle Team: Apperion Pit Stop Timelapse
Team Sunergy's pit stops were the talk of the track, with a smoothness and efficiency they honed with rigorous practice at home. In Austin, after passing scrutineering, the team had the option of a rest day, but instead spent it at the track, running pit drills over and over. This dedication paid off when they faced unexpected mechanical failures – short pit stops helped them make up laps lost for repairs, and kept them at the top of the leaderboard. Timelapse by Marie Freeman and Garrett Ford
Audio: "It was a dream"
Racers in the Formula Sun Grand Prix often log more miles on the Circuit of The Americas track than the Formula One racers who typically race the track. Racing enthusiast and driver Lindsay Rudisill shares what it's like to drive a car she helped build on a legendary track. Sound clip by Dave Blanks
Transcript
Apperion driver Lindsey Rudisell speaks:
Racing our solar car on the Circuit of The Americas track was a dream. I've volunteered here before but to actually drive a car that I helped build on this track was an amazing experience and I'm really honored to be one of the drivers here for this race.
It's kinda nerve racking 'cause it's such a huge track. I've never been on a track this long before and with such massive inclines and turning radiuses. We started in 3rd place today. Um, we actually had a mechanical malfunction, so we ended up in 5th place after that but I got us back into second place.Going into day 3, we are confident going to the race as a whole. After, you know, having to get towed in on the first day and having this mechanical issue and having to pit out on the track the second day,but improving with our race strategy, we're pretty confident.
Day 1 update
After a solid first place start, Apperion suffered a setback in lap 18, when a tension cable detached from the power pedal. A tow back to the pit and a repair cost the team, but even with a 45-minute delay, when they got back on the track, they had slipped from first to only fourth place. Drivers Sam Biagioli and Duvey Rudow made solid gains on the course throughout the day with only one pit stop, and Team Sunergy ended the day in third place, only three laps behind UC Berkeley and École de Technologie Supérieure, who were tied for first.
Audio: And they're off!
A solar vehicle race is a certainly less noisy than the Formula One races that are more typical of the Circuit of The Americas track, but a sunny July morning greeted an enthusiastic group of racing teams ready to get the track race started. Listen to the audio of the start of the race. Sound clip by Dave Blanks
Transcript
[Crowd noise, driver heard in background] "Shut me in, boss." [Someone shouts] Let's go.
Announcer: Quiet on the radio for the start of the race.
More crowd noise. Announcer counts down: Ten, nine, eight, seven, six, five, four, three. [pause] Go!
[Cheering.]
---
Many Americans celebrate the Fourth of July holiday with fireworks and fun in the sun. At Appalachian State University, a team of students are putting the sun to work over the holiday – to power a race car. July 3-9, at the Circuit of The Americas racetrack in Austin, Texas, 15 Appalachian students will return for the second year to the Formula Sun Grand Prix to race their solar vehicle, Apperion, in an international race and endurance test of the technology that will power cars of the future.
Appalachian's Team Sunergy is the only North Carolina team in the competition, and the only one from a college without an engineering program. Appalachian's approach to developing a solar vehicle is interdisciplinary, informed and driven by a sustainability mission. Ask the students why they are in the competition, and they will tell you, "Sustainability is what drives us."
The new look of Apperion – Appalachian's 2017 Solar Vehicle
Team Sunergy's new "cruiser class" car for 2018 is in the design concept phase. Its development is informed by data and feedback the team has gathered and compiled from the three competitions in which Apperion has raced.
How did we get here?
The journey to Austin began in 2014 when then-undergraduate student and veteran Dan Blakeley approached his professors to help him build a solar-powered race car, imagining he could convert a gas-powered golf cart into a solar-fueled vehicle.
Two years later, Blakeley had assembled a team; partnered with faculty advisors who understood transportation, physics, automation and sustainability; transported a hand-me-down shell donated by Iowa State; and led a team to take third place overall in the Formula Sun Grand Prix at the Pittsburgh International Race Complex in Wampum, Pennsylvania.
Now Team Sunergy is back at the Formula Sun Grand Prix, with an improved Apperion, ready to defend their podium spot.
How the "rayce" works
Eighteen teams from the United States, Puerto Rico and Canada will compete in the 2017 Formula Sun Grand Prix.
The event, which is presented by the Innovators Educational Foundation,
begins with a series of grueling inspections and vehicle and driver qualifying assessments called "scrutineering" that includes solar array inspection, battery testing, structural and mechanical vehicle components, and driving tests to verify vehicle stability and braking capability.
Vehicles and drivers that pass all scrutineering inspections then advance to the Formula Sun track event for three days of "raycing" – a term coined by the race organizers – on the closed-course, Circuit of The Americas track. The event will use the full 3.426-mile track configuration. Drivers will race to complete the most laps possible driving counter clockwise along the course, which includes a hill, several S-curves and hairpin turns.
The total number of laps completed will be totaled by the judges each day. Overall placing will be based on the highest total lap count. In the event of a tie, the team with the lowest lap time will win.
Those who followed Team Sunergy last year will recall the cross-country stage, the American Solar Challenge. This portion of the race is bi-annual, and will not be a part of the 2017 event.
Want to know every detail the teams have been sweating for this competition? View the 2017 regulations here.
View the competing teams and team status
Team Sunergy's new "cruiser class" car for 2018 is in the design concept phase. Its development is informed by data and feedback the team has gathered and compiled from the three competitions in which Apperion has raced.
Their goal is to race the new cruiser class vehicle in the Bridgestone World Solar Challenge in Australia in 2018.
An Appalachian team seeks to change the future of transportation with a solar race car
Aug. 17, 2016
About Team Sunergy
Team Sunergy is Appalachian State University's interdisciplinary team of undergraduate and graduate students transforming solar-powered transportation. Its solar car Apperion gained national attention with top-three finishes in the 2016 and 2017 Formula Sun Grand Prix, an international collegiate endurance competition that sets the standards for and tests the limits of solar vehicle technology. Team Sunergy brings together students from a variety of majors who have a passion for sustainable transportation and the ingenuity, innovation and drive to create it. Learn more at http://sunergy.appstate.edu.
About Appalachian State University
Appalachian State University, in North Carolina's Blue Ridge Mountains, prepares students to lead purposeful lives as global citizens who understand and engage their responsibilities in creating a sustainable future for all. The transformational Appalachian experience promotes a spirit of inclusion that brings people together in inspiring ways to acquire and create knowledge, to grow holistically, to act with passion and determination, and embrace diversity and difference. As one of 17 campuses in the University of North Carolina System, Appalachian enrolls about 19,000 students, has a low student-to-faculty ratio and offers more than 150 undergraduate and graduate majors.