Posted June 30, 2017 at 10:09 a.m.
Solar-powered Appalachian State University's Team Sunergy took second place at the 2017 Formula Sun Grand Prix after thousands of hours of preparation and three days of intense strategy and track racing. The annual race, which took place this year on the Circuit of The Americas track in Austin, is an international collegiate endurance competition that sets the standards for and tests the limits of solar vehicle technology.
In addition to taking second place overall, Team Sunergy also won the event's Safety Award, Fastest Egress Award, Array Award and the ISF Achievement Award, which, according to the ISF, is presented to the team "that best exemplifies the mission of ISF by raising awareness of the imperatives of sustainable transport through innovation, and promoting the concept of 'Brain Sport.'"
The following content captures the spirited energy of the competition:
Day 3 update
After an exciting comeback on Day 2, Team Sunergy left the track in high spirits. During evening charging, Apperion suffered an electrical component failure that reduced its charging capacity by 25 percent. Within minutes of this setback, a late-day storm blew up, preventing the team from fully charging their array. While the end of Day 2 had the team solidly in second place, they faced a tough evening that left them with only 75 percent charging capacity. Team leader Dan Blakeley, faculty advisor Chris Tolbert and members of the electrical and mechanical teams worked late into the night to program replacement parts provided by the UC Berkeley and Principia teams. By the time Team Sunergy set up for the morning charge, they were fully functional, but still suffering from missing an hour of charge time the night before. Nevertheless, driver Lindsay Rudisill quickly took the team into first place for daily laps. At the noondriver change pit stop, Apperion had slipped to third, five laps behind UC Berkeley which held steady in first, and only two laps behind Polytechnique Montreal. Driver Sam Biagioli weathered a tire blowout and on the furthest corner of the track, Team Sunergy performed one of the quick and efficient pit stops for which they are becoming known. This kept the team in second place, and Biagioli ended the race only six laps behind UC Berkeley, with Polytechnique Montreal in third, 17 laps behind the first position.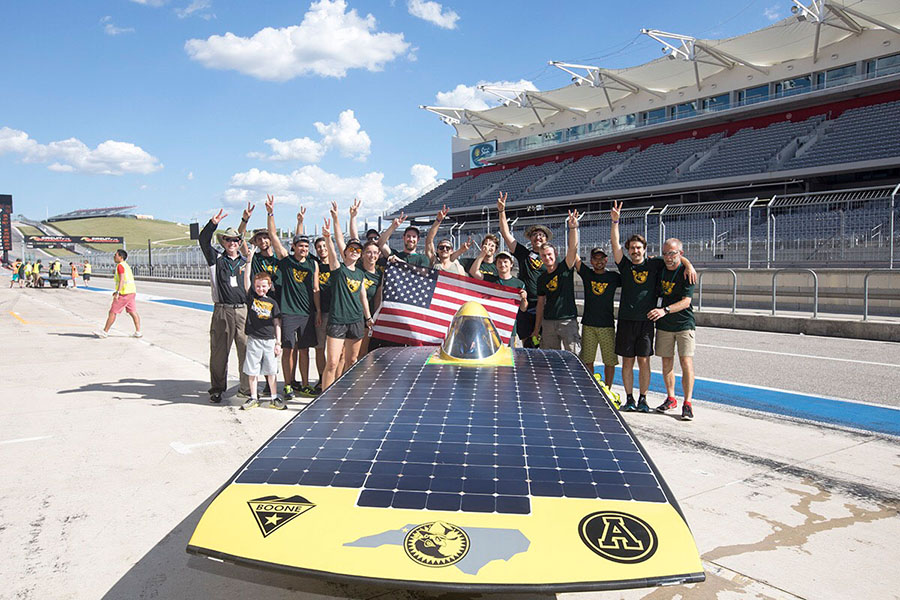 Audio: Chancellor Everts calls App's Solar Vehicle Team
At the end of Day 2, Chancellor Sheri N. Everts called Team Sunergy to congratulate them on their hard work, their success to date, and their dedication to Appalachian. The team took a break from their frenetic evening of evading a pop-up thunderstorm and suffering an electrical component failure to soak in the praise from a proud Chancellor, who complimented them on their strong work ethic and thanked them for the work they are doing for the university and the future of transportation.
Transcript
Sound of crowd. Unidentified man talking: I'm going to put some students on here. Oh, here's Dan [Blakeley - team leader].
Dan: Hey, Chancellor. How are you? [Laughing in background.]
We've had a wonderful, very busy, tiring, but very successful few days. [Chancellor speaks off line] Thank you, thank you. Thank you very much. (Shouts to crowd) Chancellor says 'Congratulations!"
Day 2 update
Apperion started the day in third and quickly jumped to first place for daily laps, running some of the fastest laps on the track. The power pedal issue persisted, however, forcing a repair early in the day, and Team Sunergy dropped to fifth. Driver Lindsay Rudisill drove an aggressive run, bringing the team into a three-way tie for second place, within five laps of UC Berkeley's first place by the time the team changed drivers. Cristian Gulisano took the driver position for the afternoon, ending the day with Apperion in second place overall – four laps behind UC Berkeley – and setting the second-fastest race lap, with a time of 5 minutes and 24 seconds.
Solar Vehicle Team: Apperion Pit Stop Timelapse
Team Sunergy's pit stops were the talk of the track, with a smoothness and efficiency they honed with rigorous practice at home. In Austin, after passing scrutineering, the team had the option of a rest day, but instead spent it at the track, running pit drills over and over. This dedication paid off when they faced unexpected mechanical failures – short pit stops helped them make up laps lost for repairs, and kept them at the top of the leaderboard. Timelapse by Marie Freeman and Garrett Ford
Audio: "It was a dream"
Racers in the Formula Sun Grand Prix often log more miles on the Circuit of The Americas track than the Formula One racers who typically race the track. Racing enthusiast and driver Lindsay Rudisill shares what it's like to drive a car she helped build on a legendary track. Sound clip by Dave Blanks
Transcript
Apperion driver Lindsey Rudisell speaks:
Racing our solar car on the Circuit of The Americas track was a dream. I've volunteered here before but to actually drive a car that I helped build on this track was an amazing experience and I'm really honored to be one of the drivers here for this race.
It's kinda nerve racking 'cause it's such a huge track. I've never been on a track this long before and with such massive inclines and turning radiuses. We started in 3rd place today. Um, we actually had a mechanical malfunction, so we ended up in 5th place after that but I got us back into second place.Going into day 3, we are confident going to the race as a whole. After, you know, having to get towed in on the first day and having this mechanical issue and having to pit out on the track the second day,but improving with our race strategy, we're pretty confident.
Day 1 update
After a solid first place start, Apperion suffered a setback in lap 18, when a tension cable detached from the power pedal. A tow back to the pit and a repair cost the team, but even with a 45-minute delay, when they got back on the track, they had slipped from first to only fourth place. Drivers Sam Biagioli and Duvey Rudow made solid gains on the course throughout the day with only one pit stop, and Team Sunergy ended the day in third place, only three laps behind UC Berkeley and École de Technologie Supérieure, who were tied for first.
Audio: And they're off!
A solar vehicle race is a certainly less noisy than the Formula One races that are more typical of the Circuit of The Americas track, but a sunny July morning greeted an enthusiastic group of racing teams ready to get the track race started. Listen to the audio of the start of the race. Sound clip by Dave Blanks
Transcript
[Crowd noise, driver heard in background] "Shut me in, boss." [Someone shouts] Let's go.
Announcer: Quiet on the radio for the start of the race.
More crowd noise. Announcer counts down: Ten, nine, eight, seven, six, five, four, three. [pause] Go!
[Cheering.]
---
Many Americans celebrate the Fourth of July holiday with fireworks and fun in the sun. At Appalachian State University, a team of students are putting the sun to work over the holiday – to power a race car. July 3-9, at the Circuit of The Americas racetrack in Austin, Texas, 15 Appalachian students will return for the second year to the Formula Sun Grand Prix to race their solar vehicle, Apperion, in an international race and endurance test of the technology that will power cars of the future.
Appalachian's Team Sunergy is the only North Carolina team in the competition, and the only one from a college without an engineering program. Appalachian's approach to developing a solar vehicle is interdisciplinary, informed and driven by a sustainability mission. Ask the students why they are in the competition, and they will tell you, "Sustainability is what drives us."
The new look of Apperion – Appalachian's 2017 Solar Vehicle
Team Sunergy's new "cruiser class" car for 2018 is in the design concept phase. Its development is informed by data and feedback the team has gathered and compiled from the three competitions in which Apperion has raced.
How did we get here?
The journey to Austin began in 2014 when then-undergraduate student and veteran Dan Blakeley approached his professors to help him build a solar-powered race car, imagining he could convert a gas-powered golf cart into a solar-fueled vehicle.
Two years later, Blakeley had assembled a team; partnered with faculty advisors who understood transportation, physics, automation and sustainability; transported a hand-me-down shell donated by Iowa State; and led a team to take third place overall in the Formula Sun Grand Prix at the Pittsburgh International Race Complex in Wampum, Pennsylvania.
Now Team Sunergy is back at the Formula Sun Grand Prix, with an improved Apperion, ready to defend their podium spot.
How the "rayce" works
Eighteen teams from the United States, Puerto Rico and Canada will compete in the 2017 Formula Sun Grand Prix.
The event, which is presented by the Innovators Educational Foundation,
begins with a series of grueling inspections and vehicle and driver qualifying assessments called "scrutineering" that includes solar array inspection, battery testing, structural and mechanical vehicle components, and driving tests to verify vehicle stability and braking capability.
Vehicles and drivers that pass all scrutineering inspections then advance to the Formula Sun track event for three days of "raycing" – a term coined by the race organizers – on the closed-course, Circuit of The Americas track. The event will use the full 3.426-mile track configuration. Drivers will race to complete the most laps possible driving counter clockwise along the course, which includes a hill, several S-curves and hairpin turns.
The total number of laps completed will be totaled by the judges each day. Overall placing will be based on the highest total lap count. In the event of a tie, the team with the lowest lap time will win.
Those who followed Team Sunergy last year will recall the cross-country stage, the American Solar Challenge. This portion of the race is bi-annual, and will not be a part of the 2017 event.
Want to know every detail the teams have been sweating for this competition? View the 2017 regulations here.
View the competing teams and team status
Team Sunergy's new "cruiser class" car for 2018 is in the design concept phase. Its development is informed by data and feedback the team has gathered and compiled from the three competitions in which Apperion has raced.
Their goal is to race the new cruiser class vehicle in the Bridgestone World Solar Challenge in Australia in 2018.
Runnin' on Shine
The story of Appalachian State University's Team Sunergy
An informative documentary that follows Appalachian State University's Team Sunergy as they compete in the 2017 Formula Sun Grand Prix. Team Sunergy travels from Boone, North Carolina, to Austin, Texas, for three days of solar racing at the United States' premier Formula 1 track, Circuit of the Americas.
Transcript
Narrator: In the fall of 2013 a small group of faculty and students at Appalachian State University initiated a project unlike any other in the university's history. Build a vehicle completely powered by solar energy and use that vehicle to compete in competitions with universities from around the world. With no engineering program at the university, Appalachian State's Department of Sustainable Technology and the Built Environment provided a home for the team and their vehicle, a slightly used, fiberglass body donated from Iowa State University's solar car team. Over the months to come, many student and faculty hours were poured into a myriad of tasks involving electronics, solar arrays, and mechanical work, as well as fundraising, self-promotion, and countless other business-related necessities, until Team Sunergy and their car Apperion were born.
The team found its first official challenge at the Pittsburgh International Race Complex for the 2016 Formula Sun Grand Prix. 20 teams from around the world racing their vehicles for three days, completing as many laps as possible using only solar energy to power them. In their debut, Team Sunergy surprised everyone except themselves, placing third overall in the competition. A podium finish for this young team not only marked their place on the map of collegiate solar sports, but also marked the beginning of what was yet to come.
[Team Sunergy Garage, Boone, NC]
[April 2017]
Dan Blakeley, Project Director: All the team members, when we're setting up for it, so as soon as the chancellor gets here, pretty much, just hop behind the car. So you guys just line up behind the car, John be on the end so that you can go back and grab that.
So today we're out at the new Team Sunergy space. We invited everybody from around campus that have been huge supporters of the solar vehicle team to come and share in this moment of unveiling the new and improved look of Apperion. We wanted to show everybody that it was something new, something more to get excited about and make sure that excitement stays with the Appalachian community.
To me, the one word that describes this car is stunning.
The team is getting ready. They're preparing, they're getting ready for the race this summer. We're racing again at the Formula Sun Grand Prix, but what's great about this time is we're racing at the Circuit of the Americas, it's in Austin, Texas, and it's the United States' premier Formula One Track. We know exactly what needs to be done as far as preparations are concerned. We have a better race strategy. We have improved technology throughout the car. We're hoping this year we can be on top and really prove everybody proud.
Duvey Rudow, Assistant Project Director: You know what I mean? Just like the soldering in general.
Voice: Oh no, you're [crosstalk]
Duvey Rudow: Yeah, we're just waiting for the weekend to actually ...
The team is very ready for the race. We really have an amazing group of people going this year. We have some people from last year, but we also have a lot of new people that are gonna be around for a while. So this summer, we kind of have opened up the warehouse, so anybody on the team can come in and do work whenever they need to. We normally spend about 20 hours as a team in the warehouse. We work every weekend 10 to 5, and then we have some work days during the week as well. But really it's just fine tuning the car, installing new systems, testing systems, and making sure that the car is race ready for the summer.
Voice: I just spent like two hours of my life on it. It better work.
Duvey Rudow: This is actually the last year that the car that we have will be eligible for competitions at all, so we're really trying to push what we've done last year and make it a little bit better, so we've updated our telemetry system. We're hoping that we can have all of the data this summer, we can save it and then analyze it after the race. The new thing that we're doing this year is we're offsetting all of our carbon emissions from everything. So we're working with an offsetting company and we've been tracking our own emissions from this semester and then we'll actually offset all of those emissions. So we'll be one of the first carbon neutral solar vehicle teams. And then at the race, we'll actually be giving a short presentation to other teams and encouraging them to go carbon neutral as well.
The main difference between this year and last year is the fact that we have racing experience. We're not going into this new and green and we're really excited to go to the track and really show all of the other teams that we are a team to contend with. That last year wasn't a fluke, that we are a team that all of the other teams have to watch out for.
Voice: Alright, loud noise! And there it is.
[State Farm Lot, Boone, NC]
[7 days before the race]
Chris Tolbert, Team Sunergy Advisor: The team going out this year has a lot more confidence than we've ever had. Confidence in respect of that we've been able to test the car, we've been able to tune the car, we've actually worked a year on the car with it rolling as opposed to not rolling. And that makes a huge difference going into a competition because we kind of know what to expect out of the vehicle. We know, for instance they were testing braking, and we made a lot of changes and all those changes have made a huge difference in our performance. Also we've improved our suspension system, our braking system, and our tires. Tires make a huge difference, and we've found what tires will last longer on the track, much like in NASCAR when you're having to pit, if you have to pit two more times than everybody else, you're probably not going to do well in the race, and so the same thing is true with this car. We've gotten a system where we think we can stay out longer on the track without having to pit.
A day at the track is gonna be relentless heat. Track temperatures at the asphalt level will probably about 135 degrees. So we will be facing a challenging environment. I hope the transition is smooth that when we get to Texas we'll unpack, we'll be ready to hit the track running. And if we don't forget anything would be good.
[Team Sunergy Garage, Boone, NC]
[3 days before the race]
Voice: Oh so just [crosstalk] ...
Dan Blakeley: A lot of preparation and a lot of meetings are going into these last few days. I think a lot of the team is mentally preparing. A lot of drills, a lot of making sure that the team members know exactly what they're supposed to be doing day in and day out. The vehicle that we're bringing to the competition is the best that it can be, just like we're making sure that we're the best we can be. I think the biggest challenge for any team going into any solar car race is just making sure that they're prepared and overly prepared because in solar car racing you're dealing with a lot of electronics and anything can go wrong and so if you're prepared for that one mistake to happen or that one component to die on you, if you're ready to swap it out and get right back on the track and make that fix, then that's the biggest hurdle but also the one that every team needs to prepare for.
So last year we were at Pit International Raceway, it was about 1.2 miles long and it was a lot of tighter with a lot of the vehicles. This year we're going to Circuit of the Americas in Austin, Texas, which is the premier American F1 track and so this track is built for racing, for high performance vehicles. It's 3.4 miles long and so it's almost three times as big as it was last year. There's one monstrous hill that every team knows about when they go to this track that they try and overcome and we know for a fact that our vehicle will make it up that hill and we'll have no problems at all. But realistically, it's just looking at the track, looking at the weather, looking at how our car performs, knowing the strategy of the other teams and making sure that we can take that into account with our strategy and racing.
It is about winning. Everybody wants to win, obviously. You wouldn't compete in something if you didn't care a little bit about winning. But for me and I think for the team, especially for Appalachian State University, it's much more important to keep this going and keep the technology advancing. And so to get everybody to have that experience and understand the impact that this has, especially in the community and those around us and amongst other teams even, is really important. And for them to carry that into the future and the design of the future cars and keep building these things and keep advancing the technology, and keep proving to the public that this is the future of transportation, I think that's what's much more important for the team. And that's the way I look at it.
Last year was a lot of unknowns. We didn't know how the car was gonna perform, we didn't know how the team was gonna perform. This year, we feel much more confident. We have a lot of preparation under our belt. We've put in thousands of hours this summer between all of us. We're ready to race. We're ready to really bring it home and make sure we make Appalachian proud.
[Circuit of the Americas (COTA), Austin, TX]
[Day 1 of scrutineering]
Narrator: Before the cars line up and the green flag drops, each team and their vehicle must undergo a litany of inspections and qualifications called scrutineering. Formula Sun Grand Prix staff have the teams test their vehicles in everything from dynamics and stability to electronics efficiency and safety measures, ensuring that each car is capable of competing on the track.
Dan Blakeley: As of right now, the plan is to have telemetry here, have pit right in front of our garage. Since we're the furthest team back, it's actually like one of the perfect places to be.
Find shade, go in the garage, take a radio with you, wait to be called, stuff like that. But you should not be sitting in the sun unless you absolutely have to.
Alright, anybody got anything else? Let's get after it.
Narrator: Wasting no team, Team Sunergy hops right in, completing several of the tests in the first half day of scrutineering, vying to complete their checklist before any other team because, at the Formula Sun Grand Prix, the order in which the teams complete scrutineering determines where they line up at the beginning of the race on day one.
[Day 2 of scrutineering]
Narrator: The next morning finds Team Sunergy back on the testing grounds early, trying to get in the inspections behind them and Apperion onto the track.
Dan Blakeley: So, it is official, we turned in the scrutineering sheets. Not only are we done with scrutineering, but we definitely have pole position starting the race.
Narrator: Even with the coveted pole position and the huge hurdle of scrutineering behind them, the team now has precious extra time to check and recheck Apperion's settings, reevaluate their race strategy as well as contemplate and troubleshoot any unforeseen obstacles.
Jake Barnes, Electrical Director / Pit Boss: So right now, we made some changes and calibrations to the accelerator, so we're trying to get the drivers used to the sensitivity of the accelerator as well as coasting and regen. We wanna test them out before we get on the track tomorrow. We finished first in scrutineering, so we're on track to start out the race in the lead position. We're feeling very confident compared to last year, going in, and we just wanna double check every nut, bolt, and make sure that everything's good to go for tomorrow.
Narrator: The final day before the race also affords each of the teams an opportunity to tour the track and to finalize any last minute driver strategies.
Cristian Gulisano, Assistant Electrical Director / Driver: So this morning we got to go about the track, did a few laps and really see kind of like, feel what we're gonna be doing the next few days. As part of our driver preparation, we wanted to get a feel for how the track may be and so we used some video games. One in particular called Forza Motorsports, which we play on the Xbox and luckily Circuit of the Americas is one of the featured racetracks on Forza. It's a driver simulation video game so it's very good physics on the game, and very realistic maps and stuff like that, and so we were able to use the video game to kind of test out where we can coast, how much we may need a break, we're able to replicate that as close as possible, and so that's definitely helped us get a really good visualization as to what to expect. But it's really something else once you're on the track and the first hill, it's pretty deceiving until you start going up it, but it's pretty cool.
[Day 1 of racing]
Dan Blakeley: It's game time. Time to get in the zone. Stick to our game plan, make sure we run our race, not somebody else's. And we'll do great. App State on three, ready? One, two, three. App State.
Narrator: The race starts with Sam Biagioli driving the first leg for Team Sunergy, staying at the helm for five hours. During that time, a problem with the car's accelerator strands Apperion on the side of the track and the pit crew responds. Unable to perform what is needed right then and there, Team Sunergy has to be towed back to the garage, losing valuable time and laps.
Sam Biagioli, Assistant Electrical Director / Driver: The main thing with driving the solar car is about conserving energy and maximizing your distance traveled with the energy that you do consume. So you always have to be keeping in mind how do I conserve my momentum through this turn or down this hill or up this hill? And just try and drive the most consistently and effectively. So when the car broke down, I initially noticed it when I was exiting turn one and the accelerator was locked and engaged. So it was accelerating down the hill when I was not wanting it to. And what happened was just the potentiometer that we have just slid with the pedal and just needed to be reset as well. So it was a little disappointing to have to pull off the track and have to tow the rest of that lap, but I do believe we can make up for lost time.
Narrator: The team pits for a quick driver change, putting Duvey Rudow behind the wheel.
The rest of the day is incident free, and Duvey is able to gain momentum and laps, putting Team Sunergy in third place at the end of day one.
[Day 2 of racing]
Narrator: Day two of racing starts strong for Team Sunergy, with driver Lindsay Rudisill gaining laps and pushing the team into an early lead. But again, an issue with the accelerator forces the team off the track and back into the garage.
Lucas Tax, Electrical Team / Pit Crew: So the potentiometer that we replaced last night, the shaft was a bit too short, so the pedal slipped off the potentiometer and so we needed to drill a bit of a hole into it to get it some grip and then we super glued it to keep it together, so hopefully it'll just stay, the whole mechanism will stay together from now on.
Narrator: After another quick response from the pit and mechanics teams, Lindsay is back on the track and in 5th place. It's really easy to lose yourself in the action on the track at the Formula Sun Grand Prix. At face value, it may just seem like any other race, but anyone who has ever competed in this brain sport will tell you there's much more to it than simply racing for a trophy.
Dr. Brian Raichle, Team Sunergy Advisor: What we're doing here is important at all levels. I mean the team is really tackling an important problem, transportation consumes an awful lot of energy and it's gonna be a long process before we can wean ourselves off of fossil fuel based transportation, so we need to do a lot of work. We're coming up with solutions that we'll see on the road maybe in a decade or certainly in our lifetimes, but we have to start working on these problems now and racing's a great way to get people excited about working on the problems.
This provides a great opportunity for the students. They can really take on leadership roles, develop technical expertise, learn how to work as a team, learn to support each other, love each other. The team talks about it every day. Work hard, be professional, but have fun, and whatever happens, happens. It's all about being prepared and being in the position to be successful. It's really really great for them.
Gail Lueck, Event Director, Formula Sun Grand Prix: There's a lot of student design competitions out there. There's robotics competitions, there's steel bridge, concrete canoe. A lot of those competitions are housed sort of within one engineering department. For the Formula Sun Grand Prix, it's really about providing that additional learning opportunity and really keeping up with a multi-disciplined sport of its not just about the engineering or designing ability, car even, it's about all of the fundraising, and marketing, and logistics. So it's more than just sitting at the university in a lab, working on a project, they actually have to design and build the car and then they have to come run it. They have to prove that it works, it's not just a theoretical type thing. So that's what I would say would really set the Formula Sun Grand Prix apart from some of the other design competitions you see out there.
The solar car racing community in general tends to be a community that really supports sportsmanship and teamwork. And so a lot of the learning also becomes the teams sharing knowledge with each other and helping bring other teams along.
Jim Dunham, Team Advisor, Illinois State University: Even teams that are competing for a trophy, if one team loses their motor controller, the team that might be one lap ahead will lend them the controller at risk of losing their position to that team. When one team qualifies, their students usually will walk around and offer to help all the other teams that are struggling. Even the inspectors, they're strict on the rules, they're tough, but at the same time they will give a lot of suggestions, and they will bend over backwards, just do everything they can to help the teams qualify. So the supportive environment is great.
Gail Lueck: Every single one of these 18 teams that are here, wants to see every other team get through and pass scrutineering and get out on the track. Even if it means that they only get to complete one lap tomorrow, they're still getting education that goes far beyond what they learn in a textbook, or solving a very structured problem in the classroom setting.
Narrator: Lindsay is able to get Team Sunergy back into second place before she hands the wheel over to Cristian Gulisano for the final leg of the day. The pit team has to move quickly, also changing tires in this pit stop and every second spent in the pit is a second lost on the track.
Voice: All right, can somebody pull the block?
Voice: I can pull the block. One, two, three. Up!
Kali Smith, Operations Lead / Pit Crew: The teams right now in the day are doing about six minute laps. So that means that if our car comes off we have exactly six minutes to fix everything that we need to if we wanna keep our position. So the fact that we came off this last time and we had a two minute change kept us right in second place and that's exactly what we need right now when we're trying to gain back every bit as possible.
It's really stressful. It's a lot more stressful than I thought it was gonna be. I thought, we practiced and everything will go great and we are just so prepared, and while we are prepared and we did practice, things just go wrong that you don't expect. So it's very stressful. I also didn't realize how fun it would be. Especially being around all these other teams and seeing how they trained, how their team operates and what works for them. And so ...it's just a fantastic group of people and a fantastic project.
Voice: Go, go go! Let's go!
Narrator: The checkered flag drops on day two and Team Sunergy is able to hold on to the second place spot. But their day is far from over. Teams are allowed to charge their batteries for several hours at the end of each day before the batteries are impounded by Formula Sun officials. The energy you've stored at the end of one day is what you have going into the next. But after a test is run on their car, Team Sunergy's vehicle suffers a critical system failure in one of its charging components. Time and sunshine are running out as the team weighs their options. But even their troubleshooting would be cut short.
An incoming thunderstorm sends every team scrambling for cover into the garages, securing gear and fragile electronics from the high winds and rain. The storm finally passes, allowing teams back out to soak up the last rays of the day. However, App State is left in the garage for the rest of the night, trying to fix the task at hand.
[Day 3 of racing]
Narrator: The final day of racing has arrived. And despite losing over an hour of charging time the night before, Apperion is ready to go back onto the track. The amazing spirit of sportsmanship of the Formula Sun community shone through once more. This time in the form of Principia College lending Team Sunergy a much-needed part, eliminating last night's system failure.
Steve Shedd, Team Advisor, Principia College: We're not here to win. We're not here to win the race, we're not here to come in first place. We're an educational institution, we're here for the students to learn. And they learn a lot of valuable lessons. So much of college you go to class by yourself, you go back to your room, you study by yourself, you take tests by yourself. The day you graduate, you go to work for a company and you're supposed to be a member of a team. Well being on solar car you learn how to be a good team member. How do you be a good follower? How are you a good leader? How do you trust others? How do you communicate? Lots of good lifelong skills that they learn that put them in good stead for the rest of their life, for sure. And the camaraderie here, we've always been big on that, helping other teams, getting help from other teams, for sure. Yeah it's a great, it's a great way to do it, for sure. We love it.
Narrator: With Lindsay Rudisill behind the wheel, Apperion makes an early jump to lead the pack. But soon, reports are coming in from other teams that App State is failing to honk their horn, a safety precaution required when passing another car. As it turns out, Apperion's horn is malfunctioning, and must be replaced. Team Sunergy's spare horn has already been lent to Georgia Tech, who was currently on the track. A new horn will be needed to get back out onto the track and back into contention.
Voice: Horn! Anybody have a horn?
Voice: We have a horn!
Narrator: Again, sportsmanship comes through in the clutch, and the University of Texas lends Appalachian a spare horn.
Tyler Coffey, Head Driver Operations Inspector, Formula Sun Grand Prix: That's one of the things we really like about the culture of this event, is it is a competition, but it's a competition that we want sorted out on the track and you can only pit the cars against each other if they make it out there. Even if a team breaks down, everyone's still willing to help them get them back out on the track, because everyone wants to prove that their car is the best, and you can't do that if everybody else's cars are sitting in the pit.
And a lot of these teams, decent number of the teams are still relatively new so they remember back to when they were the new team and showed up with a car that wasn't finished, it was missing key systems, things weren't working. And other teams stepped in with expertise and tools and materials to get them on the track, and it's all a pay it back or even pay it forward, sometime you're gonna have a critical part failure that you didn't have a spare of and someone else will just say, "Oh hey here we've got one of those. It's our last spare, but you're already down to needing it, so here, take it." You see a lot of that around here, and it's great.
Narrator: Appalachian stays in the top three for the remainder of the day, running a neck and neck race with the University of California Berkeley, a team who has run a nearly perfect three day race. UC Berkeley eventually takes the checkered flag, finishing 10 laps ahead of second place finisher Appalachian State. Team Sunergy is thrilled yet again to be on the podium, and that their team, their car, and their race strategy held together for the duration.
[Team Sunergy Garage, Boone, NC]
[February 2018]
Dan Blakeley: Coming out of a race like the Formula Sun Grand Prix and placing second, you would think that our job is done and we're finished. That's not the case for our team. The second we got back, we picked up our pencils and paper, we started looking into the next race, the next competitions. What are we designing? What are we gonna be doing? This'll be the first car that we've designed and built from the ground up. This has our heart and soul into it. We're going into a new class, it's called the cruiser class, where it's multi-occupant, so you have more than just the driver and the car. For our car it'll be a two seater, so it'll have the driver and a passenger, and it'll have all the same creature comforts as a standard automobile. It'll have a trunk, cup holders, the doors will open in a standard way, we'll have audio and video entertainment system inside the car, standard gauges and dials, turn signals. It's gonna have the look and feel of a true automobile, a true car.
What I think is unique about our team is we come from Appalachian State University, a non-traditional, and a non-engineering school. Our students aren't sitting in classrooms learning about suspension design, about mechanical design, material science that you would typically pick up at an engineering school. Instead, our students are focusing on sustainability, and what it means to the greater community and how important it is to really look at sustainable transportation as a holistic approach, not just how are we building these cars and racing them and how well are we gonna compete? This is sustainability at its purest form, and it's important to look at an entire system and look at what is the sustainable approach from the ground up. To really show that you can build a vehicle that not only runs on sunshine, but one that people can walk up to and say, "Wow one day, I wanna drive this vehicle." And so I'm really hoping that we kind of paint the picture of what the future will hold for everybody.
[Team Sunergy and its new cruiser class car will compete in the 2018 Formula Sun Grand Prix in Hastings, Nebraska.]
[Upon qualifying, the team will go on to participate in the American Solar Challenge: A road race covering 1,700 miles from Nebraska to Oregon.]
[They will travel a route many curious trailblazers before them have traveled...]
[...The Oregon Trail.]
An Appalachian team seeks to change the future of transportation with a solar race car
Aug. 17, 2016
About Team Sunergy
Appalachian State University's internationally recognized Team Sunergy is an interdisciplinary team with a passion for sustainable transportation — and the ingenuity, innovation and drive to create it. Its premier solar car, Apperion, gained national attention with top-three finishes in the 2016 and 2017 Formula Sun Grand Prix (FSGP), an international collegiate endurance competition that sets the standards for and tests the limits of solar vehicle technology. In 2018, the team's second, Cruiser Class car, ROSE (Racing on Solar Energy), placed third in the FSGP competition and tied for second place in the American Solar Challenge — an international solar vehicle distance road race held biennially by the Innovators Educational Foundation. In FSGP 2021, Team Sunergy captured second place in its class, advancing to the ASC and winning first place for multiple-occupant vehicles. Learn more at https://sunergy.appstate.edu.
About Appalachian State University
As the premier public undergraduate institution in the Southeast, Appalachian State University prepares students to lead purposeful lives as global citizens who understand and engage their responsibilities in creating a sustainable future for all. The Appalachian Experience promotes a spirit of inclusion that brings people together in inspiring ways to acquire and create knowledge, to grow holistically, to act with passion and determination, and to embrace diversity and difference. Located in the Blue Ridge Mountains, Appalachian is one of 17 campuses in the University of North Carolina System. Appalachian enrolls nearly 21,000 students, has a low student-to-faculty ratio and offers more than 150 undergraduate and graduate majors.
What do you think?
Share your feedback on this story.