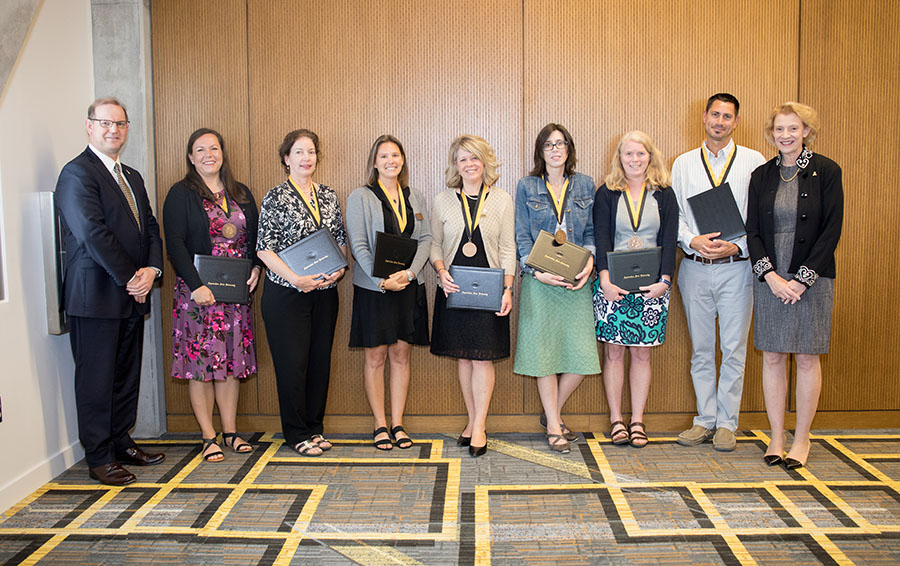 Posted Aug. 30, 2017 at 1:58 p.m.
BOONE, N.C.—Seven faculty and four staff members at Appalachian State University were honored for excellence at the Fall Semester Faculty and Staff Meeting on Aug. 25 in Plemmons Student Union.
Provost and Executive Vice Chancellor Darrell Kruger recognized the recipients of the teaching awards.
"The commitment to teaching has always been the heart and soul of Appalachian's mission," he said, "and has, over the years, served as the foundation of its overall success."
Faculty Excellence Awards
This year's winners of faculty excellence awards were Dr. Vicky Klima, professor in the Department of Mathematical Sciences; Dr. Leslie Bradbury, professor in the Department of Curriculum and Instruction; Dr. J. Scott Townsend, professor in the Department of Recreation Management and Physical Education; Dr. Saskia van de Gevel, associate professor in the Department of Geography and Planning; and Dr. Marie Hoepfl, professor in the Department of Sustainable Technology and the Built Environment.
Dr. Tracy Smith, a professor in the Department of Curriculum and Instruction in the Reich College of Education received the Board of Governors Award for Excellence in Teaching. Recipients of this award must be tenured faculty members who have taught for at least seven years at Appalachian, were teaching in the academic year they were selected and demonstrate a commitment to teaching over a sustained time period. A cash award of $12,500 is given to the winner along with a citation.
An award of $1,500 is given to the first runner-up for the Board of Governors Award. This year's winner was Dr. Cynthia Liutkus-Pierce, a professor in the Department of Geological and Environmental Sciences.
In addition to the Board of Governors awards, each University of North Carolina campus receives an additional annual allocation for teaching excellence awards of $1,000 each, chosen by a selection committee. The winners must teach at the baccalaureate lower division.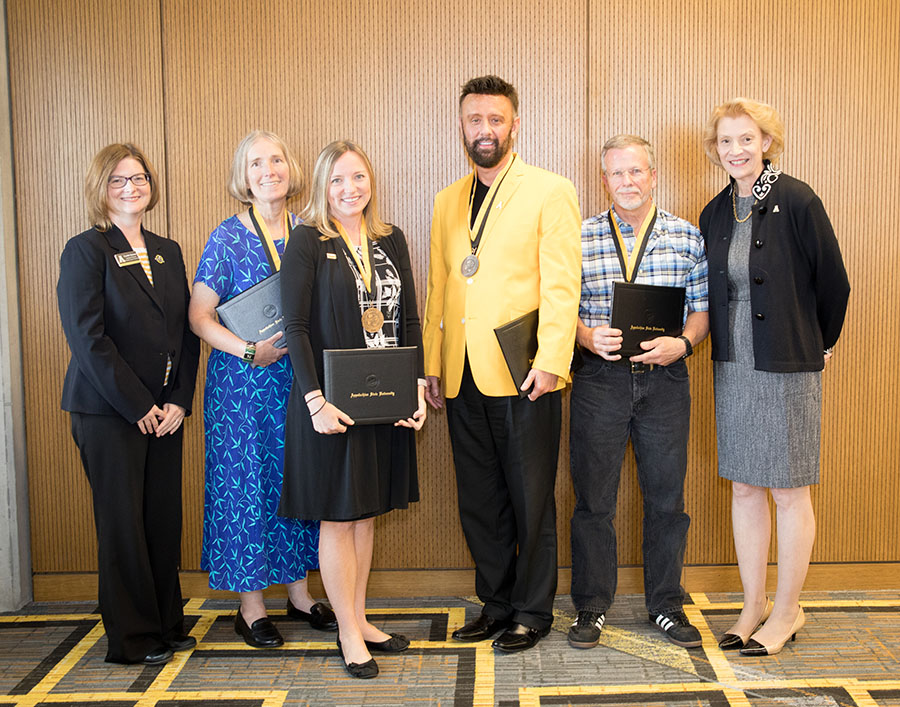 Staff Excellence Awards
The Office of Human Resources recognized four recipients of the 2017 Appalachian Staff Excellence Awards. The awards are given annually in recognition of exemplary service, commitment, collegiality and leadership to the university community.
James Burniston, Daniel Bryan, Haley Childers and Mary Beth McKee were recognized by Director of Human Resources Mark Bachmeier at the Fall 2017 opening meeting for faculty and staff.
"Each year, Appalachian State University honors members of its staff who have contributed outstanding service to the university and to the state of North Carolina," Bachmeier said. "These awards reaffirm for us the exceptional quality of people who make up our campus community, people who model our organizational values, support one another and support the academic mission of our university through excellence."
Bryan is an employee relations consultant for the Office of Human Resources. He has been with Appalachian since 1995. Bryan was praised for serving many employees university wide, on a daily basis, always with the goal of reaching the best possible outcome for everyone concerned. One nominator praised Bryan's willingness to go above and beyond to help when serious illness struck:"I suspect there are many, many employees who have reaped the benefits of Daniel's attention, compassion and dedication to assisting the Appalachian employee."
Burniston is the office associate in the Department of English, and has been with Appalachian for four years. He serves as the public face of the department.
"His genuine warmth and lightheartedness are matched by his competence and professionalism, and he sets a positive tone each day," one nominator said. "As countless students pass through the building each day, Jim is always there earlier than expected, making sure all of the classrooms are unlocked and heated/cooled and with a smile on his face."
Haley Childers is the communications director for the Walker College of Business. She joined the university in 2006. Haley creates and distributes communications and publications for the college, including electronic and print publications, serves as marketing liaison to University Communications and provides oversight of event management for the Walker College.
"She has created an organized process for gathering information from within the college and disseminating the information to external constituents," one nominator said.
McKee has worked as an instructional technology consultant in the Learning Technology Services area since coming to Appalachian 15 years ago. In her current position within the Center for Academic Excellence, she consults with faculty members who wish to integrate technology into their teaching. As a co-chair of the Academic and Research Services Technology Portfolio Committee, she has also taken a lead role in piloting the online evaluation of courses.
Nominators praised McKee for her diligence in bringing new ideas and technologies to campus. "Under her mentorship faculty members have successfully designed and built two graduate online courses for the new Master of Health Administration and revised and enhanced many undergraduate courses," one nominator said.
About Appalachian State University
As the premier public undergraduate institution in the Southeast, Appalachian State University prepares students to lead purposeful lives. App State is one of 17 campuses in the University of North Carolina System, with a national reputation for innovative teaching and opening access to a high-quality, affordable education for all. The university enrolls more than 21,000 students, has a low student-to-faculty ratio and offers more than 150 undergraduate and 80 graduate majors at its Boone and Hickory campuses and through App State Online. Learn more at https://www.appstate.edu.
What do you think?
Share your feedback on this story.