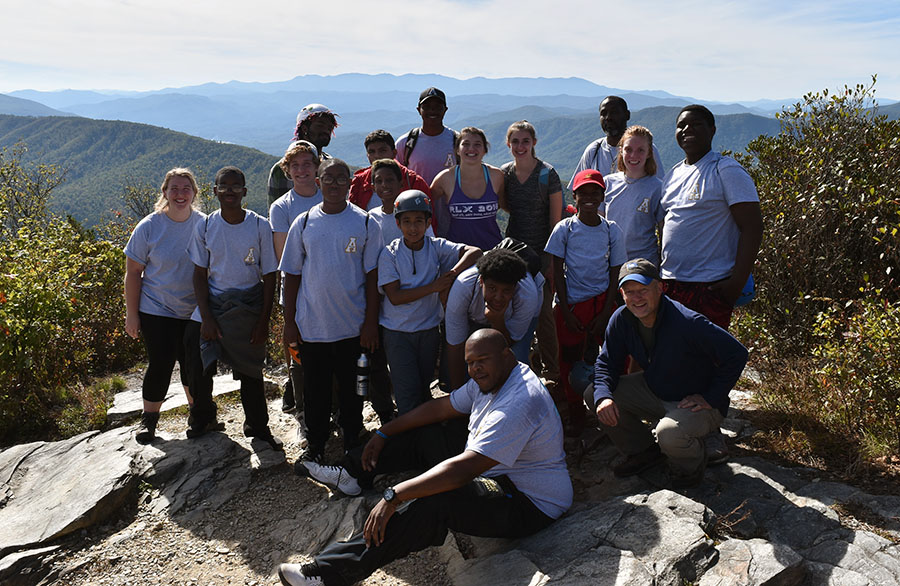 Posted Nov. 1, 2017 at 4:11 p.m.
BOONE, N.C.—The Wilson Scholars at Appalachian State University hosted eight Charlotte middle schoolers in Boone on Saturday, Sept. 30, and Sunday, Oct. 1, for the annual City to Mountains Student Exchange — two days of outdoor leadership activities, mentorship from college students and fun exploring Appalachian's campus.
Upwards of 12 hours were spent in rental minivans with eight wonderfully rowdy Charlotte middle schoolers playing games involving spotting cows and graveyards on the roadsides, 121 questions and rap battles.
The City to Mountains Student Exchange was started in 2015 by current seniors Sarah Aldridge, from Concord, and Juliet Irving, from Batesburg, South Carolina, when they were sophomore Wilson Scholars at Appalachian.
The Wilson Scholarship is Appalachian's premier scholarship program and embodies a rich blend of academic excellence, leadership and service. Its students represent a variety of majors and disciplines — from business and science, to the arts and humanities. Wilson Scholars are chosen based on their academic achievements, as well as their service and leadership in their communities and schools. The program attracts outstanding students, instills in them a commitment to change the world and provides the resources for students to think creatively, strategically and collaboratively.
"Not only do we believe is it important for students to interact with the environment starting from a young age, but that the leadership skills, confidence and community that comes with immersing oneself in nature is extremely necessary for middle schoolers. Because the students are at such an impressionable age, this positive interaction has the potential to change a child's life," Aldridge said.
After their arrival in Boone, the middle school students were given a campus tour by sophomore Wilson Scholars and Appalachian Student Ambassadors Vicky Anderson and Javon Nathaniel, followed by lunch at Roess Dining Hall with Appalachian's chief diversity officer, Dr. Willie C. Fleming.
The Student-Athlete Advisory Committee offered the students a chance to explore "The Rock," Appalachian's own Kidd Brewer Stadium, with Appalachian State football players before a meet and greet with the Appalachian State men's basketball team. Several of the student participants expressed a passion for athletics, and the opportunity to scrimmage on the football field and to be lifted up by a friendly basketball player to make a slam dunk on the court were unforgettable experiences.
The students spent the night at Appalachian's Broadstone facility in Valle Crucis before embarking on a day hike to Table Rock Mountain on Sunday morning. The hike was designed to challenge the mind and body, and to help all participants realize that they are capable of more than they believe and to build perseverance, encouragement and determination.
William Burgess, director of Development and Mentorship for Today's Youth (DM4TY), a newly established, Charlotte-based mentoring program for middle schoolers, praised the program for showing Charlotte students that there is "so much more out there for them in a positive way." DM4TY was this year's community partner for the outdoor leadership and college access programs.
For more information about Appalachian State University's Wilson Scholars program and a firsthand account of the 2017 City to Mountains Student Exchange, visit: https://wilsonscholars.appstate.edu.
About Appalachian State University
As the premier public undergraduate institution in the state of North Carolina, Appalachian State University prepares students to lead purposeful lives as global citizens who understand and engage their responsibilities in creating a sustainable future for all. The Appalachian Experience promotes a spirit of inclusion that brings people together in inspiring ways to acquire and create knowledge, to grow holistically, to act with passion and determination, and to embrace diversity and difference. Located in the Blue Ridge Mountains, Appalachian is one of 17 campuses in the University of North Carolina System. Appalachian enrolls more than 20,000 students, has a low student-to-faculty ratio and offers more than 150 undergraduate and graduate majors.
What do you think?
Share your feedback on this story.