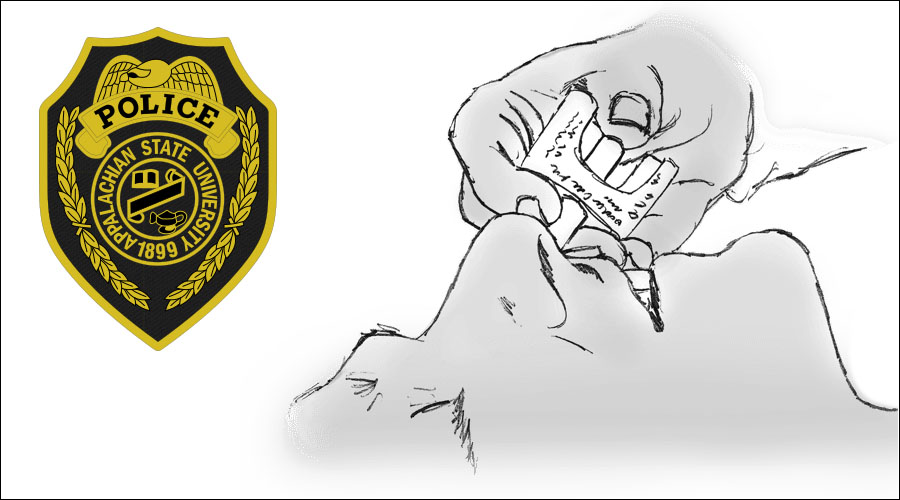 Posted Dec. 6, 2017 at 3:29 p.m.
BOONE, N.C.—Even though Appalachian State University has no significant problem with opioid overdoses, its University Police Department stands ready to help were such emergencies to occur. Members of the Appalachian police, with the support of Project Lazarus, were recently trained in the use of Narcan — an emergency medication used to treat opioid overdoses.
If officers meet persons they believe are suffering from an opioid overdose, they may administer the drug during the critical moments before EMS arrives at the scene. Narcan comes in the form of a nasal spray, which causes no harm or adverse reactions to the body. Narcan simply blocks the opioid from the opioid receptors in the brain. The only side effects are associated with withdrawal from the opioid. Doses will be kept in all police officers' patrol vehicles as they respond to medical-related calls.
According to Andy Stephenson, director of public safety and chief of police at Appalachian, campus police "have not seen a significant rate of opioid-related medical emergencies." Still, he continues, "we think it's imperative that our officers have the tools and training necessary to respond effectively to any incident we may encounter. Appalachian police officers respond to all medical incidents occurring on campus, and they are normally the first emergency responders to arrive. Having Narcan as an available option for officers has the potential to save lives."
Stephenson also expressed his appreciation for the donation of Narcan to the police department by Fred Wells Brason II. Brason is president of Project Lazarus, which is a drug overdose prevention program serving Western North Carolina. According to the organization's website, "Project Lazarus is a nonprofit organization that provides training and technical assistance to communities and clinicians addressing prescription medication issues. Using experience, data and compassion, we empower communities and individuals to prevent overdoses and opioid poisonings, establish effective substance use and disease of addiction treatment and support, and meet the needs of those living with pain."
Project Lazarus also recently donated a prescription dropbox — which is located in the lobby of Appalachian's police department — for all unwanted medications to be disposed of safely and properly.
About Appalachian State University
As the premier public undergraduate institution in the state of North Carolina, Appalachian State University prepares students to lead purposeful lives as global citizens who understand and engage their responsibilities in creating a sustainable future for all. The Appalachian Experience promotes a spirit of inclusion that brings people together in inspiring ways to acquire and create knowledge, to grow holistically, to act with passion and determination, and to embrace diversity and difference. Located in the Blue Ridge Mountains, Appalachian is one of 17 campuses in the University of North Carolina System. Appalachian enrolls more than 19,000 students, has a low student-to-faculty ratio and offers more than 150 undergraduate and graduate majors.
What do you think?
Share your feedback on this story.