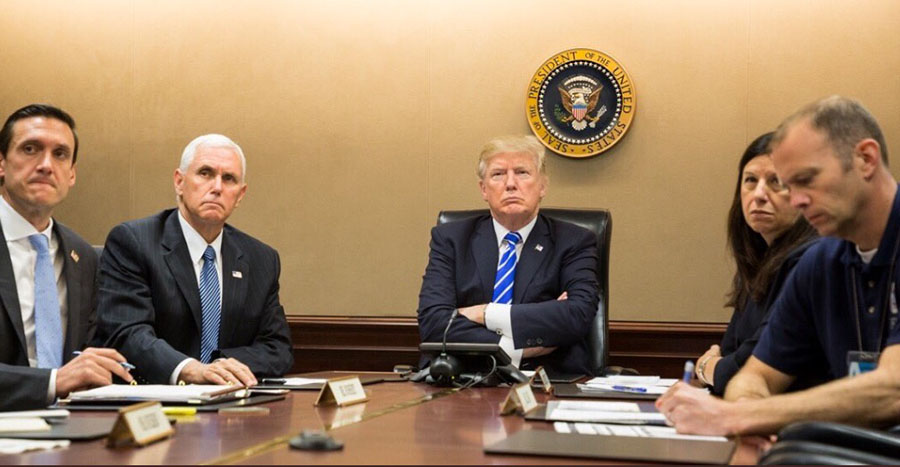 Posted Dec. 15, 2017 at 3:46 p.m.
Editor's note: This story was originally published in 2017. Brock Long served as FEMA Administrator from June 2017-March 2019.
Appalachian State University alumnus William Brockmann "Brock" Long '97 '99, a native of Newton, North Carolina, serves as the administrator for the Federal Emergency Management Agency (FEMA).
He was appointed to the position by President Donald Trump on April 28, 2017, and assumed the role less than two months later, on June 20, 2017, after the U.S. Senate voted overwhelmingly — 95-4 — in his favor.
Long's impressive track record includes serving as the former director of Alabama's Emergency Management Agency (AEMA) from 2008 to 2011, as well as a FEMA Hurricane Program Manager for Region IV and a FEMA Hurricane and Evacuation Liaison Team Leader. Prior to his role with AEMA, he was the statewide school safety coordinator for Georgia's Emergency Management and Homeland Security Agency. He is the former executive vice president of Hagerty Consulting, an emergency management consulting firm that offers clients preparedness for and recovery from disasters.
Collectively, Long has more than 16 years of experience in homeland security, specializing in strategic emergency operations planning, evacuation, recovery management, school and university safety, and business continuity.
The alumnus transitioned directly into graduate school at Appalachian after receiving his Bachelor of Science in criminal justice. He is also a graduate of the Executive Leader Program offered by the Naval Postgraduate School's Center for Homeland Defense and Security.
He credits his two years within Appalachian's Master of Public Administration program as having helped prepare him for the emergency management challenges he faces in his current role, and reflected positively on the "humble nature of faculty and staff" of Appalachian's Department of Government and Justice Studies.
"The faculty and staff are awesome about helping both undergraduate and graduate students. They really have their (students') best interests in mind and want to see them succeed," he said.
Long commented that "Appalachian's reputation has grown tremendously," and that "the university reaches many locations across the world," claiming he "constantly runs into Appalachian grads in every area of management."
"There are many more App State grads working within FEMA than the university probably realizes," he said.
He also stressed the importance of networking and building relationships, especially within the government arena, and said that Appalachian — with its strong "footprint," or reach, within the local and regional sectors of government — offers such opportunities for students.
While he attended Appalachian, Long helped raise funds for the Opposing Abuse with Service, Information and Shelter (OASIS) in Boone, a nonprofit organization that serves survivors of domestic and sexual abuse in North Carolina's Watauga and Avery counties. Working with such a nonprofit, he said, and being exposed to other nonprofits in the region, such as Samaritan's Purse, further inspired within him the desire to help others — an aspiration he has achieved on the local, regional, state and national levels.
As the administrator of FEMA, Long is the principal advisor to the president, as well as the acting secretary of homeland security, and is responsible for the preparation for, protection against, response to and recovery from all-hazards incidents. He said "FEMA's mission is huge and complex, but that the work FEMA does is incredibly important. It's amazing to work with individuals across all levels of government."
According to Long, FEMA has 19,000 employees nationwide who are currently working simultaneously on 31 disasters in the U.S. After the devastating effects of hurricanes Harvey, Maria and Irma during the 2017 hurricane season, he said approximately 5 million individuals signed up to receive assistance from FEMA.
Long, who expressed he is honored to work with the agency, said "the recovery efforts are an awesome thing to see." He also highlighted lesser-known ways FEMA, which is part of the U.S. Department of Homeland Security, aids and protects the nation's citizens — through its Continuity of Government and Individual Assistance programs. The first program focuses on how the government would function if incapacitated, while the second provides immediate funds directly to disaster survivors.
When not tasked with emergency management, Long visits the High Country regularly, and has made several return trips to Appalachian to speak to both student and alumni groups. His family, which includes his wife, Mandi Long, and sons Jonah and Isaac, resides in Hickory, North Carolina, and frequently visit Long in Washington, D.C.
He said he "misses the area," and advises Appalachian students to "enjoy their time at Appalachian State University, and in Boone."
What do you think?
Share your feedback on this story.
About the Department of Government and Justice Studies
Appalachian State University's Department of Government and Justice Studies offers undergraduate programs in political science and criminal justice, and graduate programs in political science and public administration. Housed in the College of Arts and Sciences, the department has over 600 undergraduate majors and more than 70 graduate students. Learn more at https://gjs.appstate.edu.
About the College of Arts and Sciences
The College of Arts and Sciences (CAS) at Appalachian State University is home to 17 academic departments, two centers and one residential college. These units span the humanities and the social, mathematical and natural sciences. CAS aims to develop a distinctive identity built upon our university's strengths, traditions and unique location. The college's values lie not only in service to the university and local community, but through inspiring, training, educating and sustaining the development of its students as global citizens. More than 6,400 student majors are enrolled in the college. As the college is also largely responsible for implementing App State's general education curriculum, it is heavily involved in the education of all students at the university, including those pursuing majors in other colleges. Learn more at https://cas.appstate.edu.
About graduate education at App State
Appalachian State University's Williams School of Graduate Studies helps individuals reach the next level in their career advancement and preparedness. The school offers 80 graduate degree and certificate programs — both in person and online — in a range of disciplines, including doctoral programs in education (Ed.D.) and psychology (Psy.D.). The graduate school enrolls nearly 2,000 students. Learn more at https://graduate.appstate.edu.
About Appalachian State University
As the premier public undergraduate institution in the Southeast, Appalachian State University prepares students to lead purposeful lives. App State is one of 17 campuses in the University of North Carolina System, with a national reputation for innovative teaching and opening access to a high-quality, affordable education for all. The university enrolls more than 21,000 students, has a low student-to-faculty ratio and offers more than 150 undergraduate and 80 graduate majors at its Boone and Hickory campuses and through App State Online. Learn more at https://www.appstate.edu.