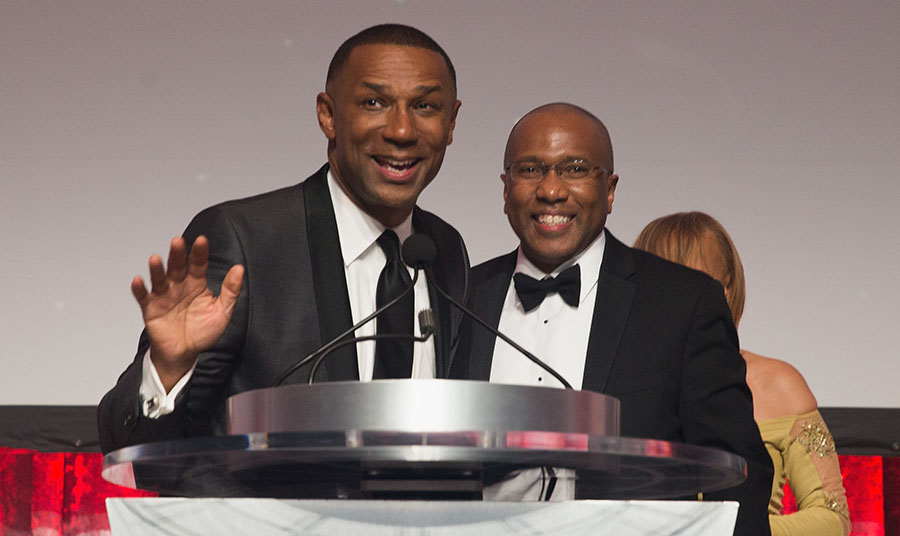 Posted Dec. 15, 2017 at 3:15 p.m.
BOONE, N.C.—While a student at Appalachian State University, Dr. Harry Lee Williams '86 '88 '95 saw the power of community, and he used what he learned to chart a career in higher education.
Williams, a native of Greenville, North Carolina, and president of Delaware State University (DSU), was named president and CEO of the Thurgood Marshall College Fund (TMCF) during the organization's 30th Anniversary Awards Gala held Oct. 23 in Washington, D.C. Williams was also presented TMCF's Educational Leadership Award when the announcement of his presidency was made.
TMCF is made up of 47 historically black colleges and universities (HBCUs) and predominantly black institutions representing almost 300,000 students. As head of TMCF, Williams is charged with building new strategic partnerships to secure money for scholarships, enhancing the organization's capacity, expanding HBCU research initiatives and stimulating innovation programming.
"What really inspired me at Appalachian was that it's a community that prides itself on a family environment," Williams said. "We're all connected. Building those relationships and bonds taught me the value of working with people from all over."
Williams will begin his position with TMCF in February 2018. He began his career at DSU in 2007, when he was appointed provost and vice president of academic affairs, and has been president of the university since 2010. He is the first president of the TMCF to be appointed as a sitting president of a HBCU.
When Williams was appointed president of DSU, he said he was allowed to invite one person to come to his inauguration and speak for him. Williams invited Dr. Harvey Durham, who served as provost at Appalachian from 1989-2003 and interim chancellor from 2003-2004. Williams' first job in academia was working as an admissions counselor at Appalachian.
"From him I learned that you never allow the position to define you," Williams said of Durham. "You always look at people as human beings. You treat them with respect, dignity and honor. That will take you a long way in life."
Williams is credited with growing enrollment at DSU by 22 percent while building a research capacity of nearly $30 million in grants that included a cutting-edge Optical Science Center for Applied Research and the university's first patents.
Williams said that Appalachian is a school that prides itself on working with students from all backgrounds. He was the first in his family to go to college, and he knew that the odds of finishing school were against him. He credits Student Support Services and the federally funded TRiO programs with giving him the support he needed to finish college in four years.
"Being in a place like Boone created the right environment for me," he said, "and they had the tools that allowed me to pursue excellence beyond my imagination."
As the future leader of the Thurgood Marshall College Fund, Williams said he'll seek to strengthen the efforts in place at HBCUs to support first-generation students.
"When you're in the education business, you're in the helping business. You're in the business of changing lives," he said. "I'm very fortunate to have moved through higher education at many levels. HBCUs have evolved into premier education enterprises. Using the skills I've developed through my life's journey, I can help now students at a national level."
What do you think?
Share your feedback on this story.
About graduate education at App State
Appalachian State University's Williams School of Graduate Studies helps individuals reach the next level in their career advancement and preparedness. The school offers 80 graduate degree and certificate programs — both in person and online — in a range of disciplines, including doctoral programs in education (Ed.D.) and psychology (Psy.D.). The graduate school enrolls nearly 2,000 students. Learn more at https://graduate.appstate.edu.
About Appalachian State University
As the premier public undergraduate institution in the Southeast, Appalachian State University prepares students to lead purposeful lives. App State is one of 17 campuses in the University of North Carolina System, with a national reputation for innovative teaching and opening access to a high-quality, affordable education for all. The university enrolls more than 21,000 students, has a low student-to-faculty ratio and offers more than 150 undergraduate and 80 graduate majors at its Boone and Hickory campuses and through App State Online. Learn more at https://www.appstate.edu.