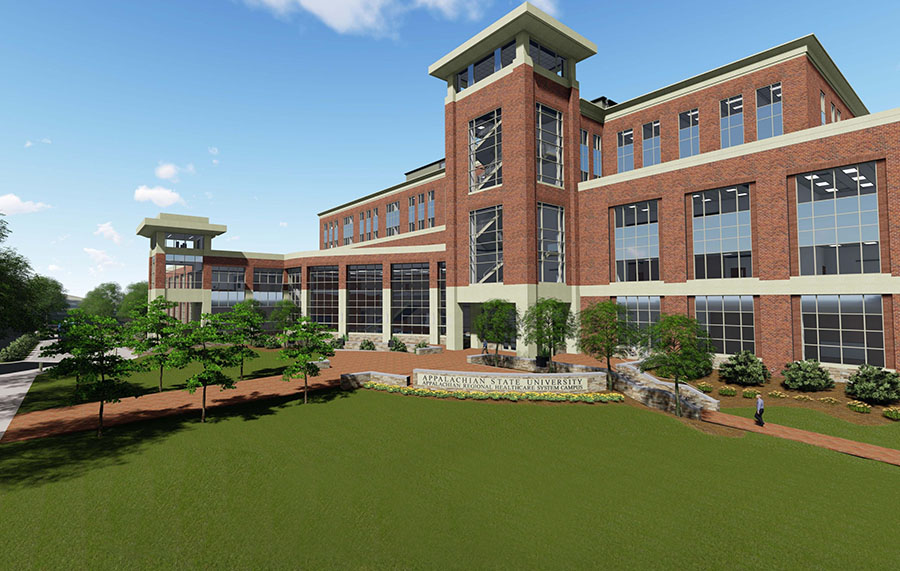 Posted Jan. 16, 2018 at 5:03 p.m.
BOONE, N.C. — Appalachian State University has received a $5 million grant from The Leon Levine Foundation of Charlotte. In recognition of their generosity, Appalachian's Board of Trustees in December approved naming the university's newest facility — currently under construction — the Leon Levine Hall of Health Sciences. The building will house Appalachian's Beaver College of Health Sciences (BCHS).
Referencing the state's growing health care needs, Chancellor Sheri Everts emphasized the importance the facility will play in increasing the health care workforce. "Health education is a longstanding priority for Appalachian. This new facility will expand our opportunities for education and outreach, and over the course of their careers as health professionals, our graduates will have immeasurable impact on the lives of others. Leon Levine's investment in our students will elevate the future of health care in our state," she said.
Nearly 3,500 students are enrolled in the BCHS, which offers 10 undergraduate degree programs and six graduate degree programs. Courses of study are organized into six departments: Communication Sciences and Disorders; Health and Exercise Science; Nursing; Nutrition and Health Care Management; Recreation Management and Physical Education; and Social Work.
Dr. Marie Huff, dean of the BCHS, said the new building was designed to promote and enhance learning opportunities for students, faculty and community members. "Moving five of our six departments into one building enables us to leverage the new collaborative learning spaces, enhanced research laboratories and a developing interprofessional clinic to empower students from different disciplines to learn and practice together," she said. "Our intent is to foster a collaborative, patient-centered practice model resulting in better health care services for future patients and their families."
Located at the intersection of Deerfield Road and State Farm Road, the 203,000-square-foot building will open for the fall 2018 semester on a 9.2-acre site donated by Appalachian Regional Healthcare System. The project is designed by architects LS3P Associates Ltd., and Rodgers Builders Inc. is the lead contractor.
Appalachian's first major building located off the main campus, this structure was planned to be an integral part of the community. Its location will provide easy access and parking for community members, who will be drawn to lectures, community meetings and health fairs, as well as the college's interprofessional clinic.
Leon Levine is the founder of Family Dollar Stores Inc. and has built The Leon Levine Foundation into one of the country's largest philanthropic organizations. Health care is one of the foundation's key areas of support. According to the foundation's website, Levine "wants to ensure that as many people have access to care as possible so that individuals can lead productive lives and spend more time with their loved ones."
Levine acknowledged Appalachian's long-standing history of transforming lives through education. "Appalachian is an admired university committed to empowering its students. My wife, Sandra, and I are proud to support Appalachian's growing college of health sciences and, most importantly, the promising students committed to caring for the health needs of others."
The new building was partially financed by the Connect NC Bond package and is slated to be the first UNC System building funded by that bond package to be completed.
About The Leon Levine Foundation
Started by Leon Levine, the creator of the first Family Dollar Store in Charlotte, North Carolina in 1980, The Leon Levine Foundation's mission is to improve the human condition by creating permanent, measurable and life-changing impact throughout the Carolinas. The organization invests in nonprofits with strong leadership, a successful track record and a focus on sustainability in the areas of healthcare, education, Jewish values and human services. For more information, please visit http://www.leonlevinefoundation.org
About the Beaver College of Health Sciences
Appalachian State University's Beaver College of Health Sciences (BCHS), opened in 2010, is transforming the health and quality of life for the communities it serves through interprofessional collaboration and innovation in teaching, scholarship, service and clinical outreach. BCHS offers nine undergraduate degree programs and seven graduate degree programs, which are organized into six departments: Nursing, Nutrition and Health Care Management, Public Health and Exercise Science, Recreation Management and Physical Education, Rehabilitation Sciences, and Social Work. The college's academic programs are located in the Holmes Convocation Center on App State's main campus and the Leon Levine Hall of Health Sciences, a state-of-the-art, 203,000-square-foot facility that is the cornerstone of the Wellness District. In addition, the college supports the Blue Cross NC Institute for Health and Human Services and has collaborative partnerships with the Wake Forest School of Medicine's Physician Assistant Program, UNC Health Appalachian and numerous other health agencies. Learn more at https://healthsciences.appstate.edu.
About Appalachian State University
As the premier public undergraduate institution in the Southeast, Appalachian State University prepares students to lead purposeful lives. App State is one of 17 campuses in the University of North Carolina System, with a national reputation for innovative teaching and opening access to a high-quality, affordable education for all. The university enrolls more than 21,000 students, has a low student-to-faculty ratio and offers more than 150 undergraduate and 80 graduate majors at its Boone and Hickory campuses and through App State Online. Learn more at https://www.appstate.edu.
What do you think?
Share your feedback on this story.