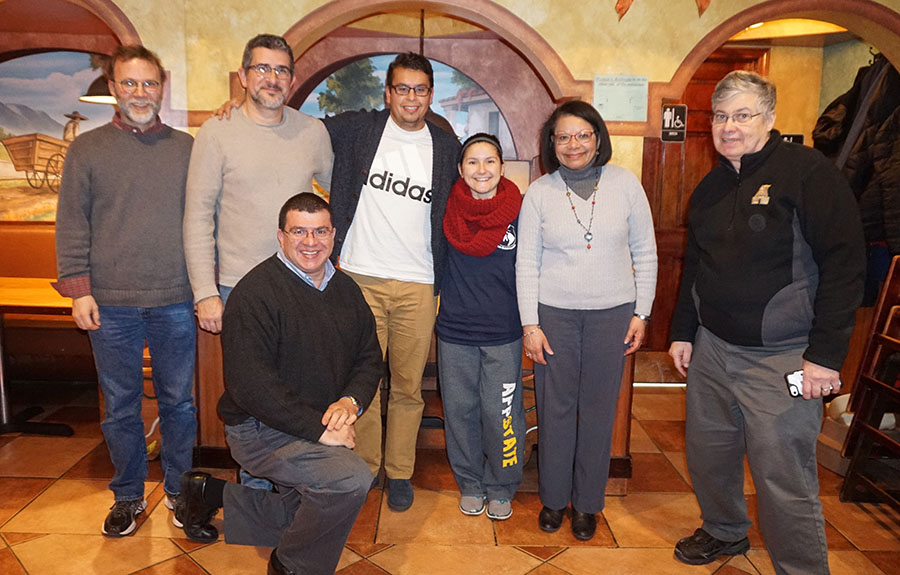 Posted Jan. 22, 2018 at 1:43 p.m.
BOONE, N.C. — Appalachian@s Hispanic/Latino Faculty and Staff Association has received official recognition as an employee organization of Appalachian State University and welcomes new members and participants in its activities.
The organization is dedicated to issues of importance to the Hispanic/Latino community on campus and in the local and state communities, while providing a networking opportunity for colleagues.
"Hispanics and Latinos are the fastest growing population in the state and on our campus, and as professionals at Appalachian, we wanted to offer our service and support for students and educate others on what it means to be Hispanic," said Marco Fonseca, academic coordinator for Appalachian's Upward Bound program, who serves as the group's president.
"Our presence can show students and others they can achieve what we've achieved and more," said Fonseca, who earned a bachelor's degree from Appalachian in 2011 as well as a master's degree in 2015.
Appalachian@s Hispanic/Latino Faculty and Staff Association received formal recognition in the fall semester of 2017. However, its members have been active leaders in events related to the Hispanic/Latino community for many years, including hosting the 4th Annual UNC Hispanic/Latino Forum on Appalachian's campus in 2015, which included a public address by veteran broadcast journalist Ray Suarez.
The organization joins existing faculty/staff groups such as the Black Faculty and Staff Association, Faculty/Staff Christian Fellowship, Women's Club and Still Point contemplative collaborative.
The mission of the Appalachian@s Hispanic/Latino Faculty and Staff Association includes:
Promoting a sense of community.
Addressing quality of life issues.
Developing leadership skills.
Supporting mastery of the Spanish and Portuguese languages.
Encouraging effective teaching practices.
Serving as translators in the community.
Supporting research by and related to the Hispanic/Latino community.
The organization plans to collaborate with the Hispanic Student Association and local community groups serving the Hispanic/Latino population.
Chief Diversity Officer Willie C. Fleming said the affinity group's presence will assist in Appalachian's efforts to recruit and retain underrepresented students, faculty and staff.
"I am excited about this outstanding group of educators organizing in such a manner that will make Appalachian a more inclusively excellent campus," he said.
Fleming added that research shows a positive relationship between the visibility of ethnic role models and the educational success of students of that ethnicity. "In addition to Latino/Hispanic students having access to role models and mentors, our general population has the opportunity to witness inclusive excellence from these highly respected leaders who will increase culturally diverse learning opportunities for the campus community," he said.
Founding members of Appalachian@s Hispanic/Latino Faculty and Staff Association are Dr. John Craft, professor, Department of Art; Dr. Claudia Cartaya-Marin, chair, Department of Chemistry; Dr. Garner Dewey, associate dean, College of Fine and Applied Arts; Dr. René Harder Horst, professor, Department of History; Dr. Rwany Sibaja, assistant professor, Department of History; Marco Fonseca, academic coordinator, College Access Partnerships; and Aneisy Cardó, assistant director, Office of Admissions.
For more information about Appalachian@s Hispanic/Latino Faculty and Staff Association, visit https://appalachianos.appstate.edu or contact Marco Fonseca at fonsecarodriguezma@appstate.edu
Related link
About Appalachian State University
As the premier public undergraduate institution in the state of North Carolina, Appalachian State University prepares students to lead purposeful lives as global citizens who understand and engage their responsibilities in creating a sustainable future for all. The Appalachian Experience promotes a spirit of inclusion that brings people together in inspiring ways to acquire and create knowledge, to grow holistically, to act with passion and determination, and to embrace diversity and difference. Located in the Blue Ridge Mountains, Appalachian is one of 17 campuses in the University of North Carolina System. Appalachian enrolls more than 19,000 students, has a low student-to-faculty ratio and offers more than 150 undergraduate and graduate majors.
What do you think?
Share your feedback on this story.