Posted March 1, 2018 at 9:30 a.m.
Chief Diversity Officer Dr. Willie C. Fleming has a goal of "inclusive excellence" at Appalachian State University.
"This means all should have access to the excellence this university offers," Fleming said. "Every person deserves equitable and fair treatment, a chance and an opportunity to obtain whatever is 'excellent' and available to others in our community."
The term further suggests "that the words inclusive and excellence are synonymous," he said. "As we increase the number of underrepresented faculty, staff and students, we are simultaneously increasing our excellence."
In his leadership role, Fleming provides the vision, leadership, coordination and strategic planning for improving Appalachian's campus diversity and inclusion so that everyone — all students, staff and faculty — are valued, supported and respected.
Assessing levels of value, support and respect
Fleming's work focuses on more than numbers. It focuses on expanding what many see as a welcoming Appalachian environment into a culture that better fosters social justice and equity.
"We continue to study campus climate to assess how we value, respect and support members of our underrepresented groups, as well as the general campus community," Fleming said.
"Our goal mirrors the intent of the Association of American Colleges and Universities — that a high-quality, practical liberal education should be the standard of excellence for all students. The AAC&U says that making excellence inclusive requires that we uncover inequities in student success, identify effective educational practices and build such practices organically for sustained institutional change," he said.
"If we are to be an inclusive campus, it is critical that all members of our university community have equal access to the benefits that foster a socially just and equitable culture," Fleming said.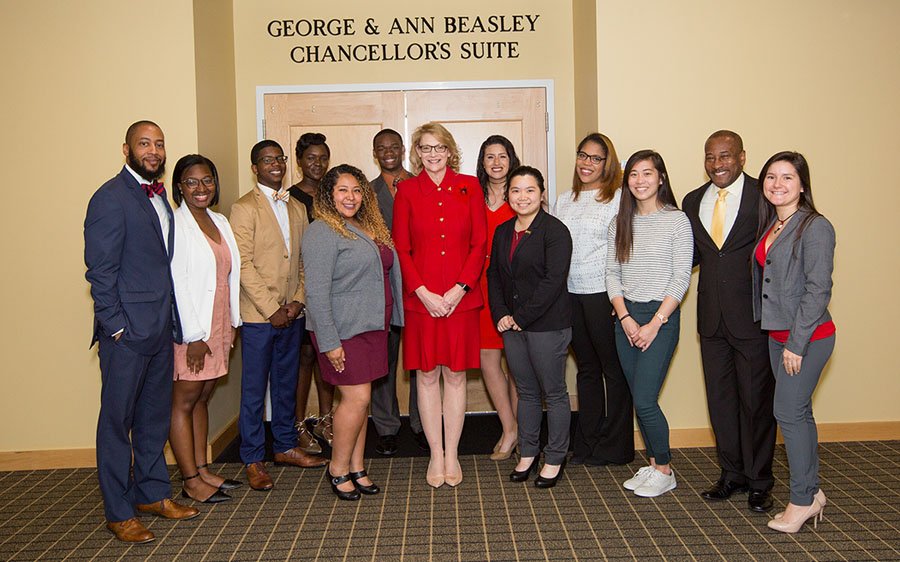 Beyond recruitment and retention
In his first 18 months on campus, Fleming has worked on meeting and/or continuing the work of the 14 diversity initiatives identified by the 2013 Chancellor's Commission on Diversity, as well as these additional programs:
Chancellor's Student Advisory Board for Diversity Recruitment.
Faculty Fellows Program.
Partnerships with historically black colleges and universities.
Fleming Scholars and Mentors program.
Inclusion Infusion Project, including a three-day Summer Diversity Inclusion Institute in 2017 for faculty, staff and administrators that is being repeated in 2018.
Collaboration with Inclusive Excellence Director Dr. Brandy Bryson, with Appalachian's Center for Academic Excellence — a new faculty-driven initiative to support faculty in creating inclusive curricula and classroom dynamics.
Updating Appalachian's diversity statement.
Collaboration with Inclusive Excellence Director Dr. Brandy Bryson, with the Center for Academic Excellence, and Danielle Carter, director of multicultural student development, in bringing to campus Dr. Damon A. Williams, a recognized expert in strategic diversity leadership, as part of Williams' 2018 Inclusive Excellence Tour.
Fleming said he was encouraged by campus participation in spring 2017's Inclusion Infusion Project, which was funded through a grant from the University of North Carolina General Administration. A total of 1,895 students and 328 faculty, staff and administrators took an inclusion needs survey, and 95 faculty, staff, administrators and students participated in focus groups. Their input helped shape programming in the Summer Diversity Inclusion Institute that explored bias, micro- and macroaggression and encouraged inclusion practices, he said.
'Equity-minded practitioners'
As a licensed professional counselor and former professor of counseling, Fleming brings compassion to his work.
"We all have some 'junk in our trunk,'" he said with a smile, acknowledging that everyone has biases, judgments and preconceived notions. Fleming often quotes author Howard Ross, who said the question isn't whether people have bias, but rather what their biases are.
"We bring our whole self to our interactions, including the aspects that are unconscious," he said. "Implicit bias is most lethal, because individuals aren't aware of the denigrating character defects they carry into situations and interactions. However, too often unconscious bias, unchecked, will manifest as microaggressions, microinvalidations, microinsults and microassaults."
What are microaggressions?
The good news is, research shows diversity education can modify those automatic biases, Fleming said.
"My hope, which drives my work with bias education, is to result in people being aware of the denigrating effects biased behavior can have on others who are already experiencing less privilege. It is my belief that most people do not want to contribute to the stress and hostility of people who are already marginalized," he said.
"The AAC&U reminds us that diversity, inclusion and equity are the core principles in promoting an inclusively excellent learning community," Fleming said. Referencing AAC&U's tenants, he continued, "To become 'equity-minded practitioners,' we have to be willing to engage in the necessary, and sometimes difficult, conversations and decision-making that can lead to transformational change for student learning and achievement. That can happen, when we become courageous."
About Diversity and Inclusion at Appalachian
Appalachian State University is committed to developing and allocating resources to the fundamental task of creating a diverse campus culture. We value diversity as the expression of human similarities and differences, as well as the importance of a living and learning environment conducive to knowledge, respect, acceptance, understanding and global awareness. Learn more at http://diversity.appstate.edu.
About Appalachian State University
As the premier public undergraduate institution in the Southeast, Appalachian State University prepares students to lead purposeful lives as global citizens who understand and engage their responsibilities in creating a sustainable future for all. The Appalachian Experience promotes a spirit of inclusion that brings people together in inspiring ways to acquire and create knowledge, to grow holistically, to act with passion and determination, and to embrace diversity and difference. Located in the Blue Ridge Mountains, Appalachian is one of 17 campuses in the University of North Carolina System. Appalachian enrolls nearly 21,000 students, has a low student-to-faculty ratio and offers more than 150 undergraduate and graduate majors.
What do you think?
Share your feedback on this story.