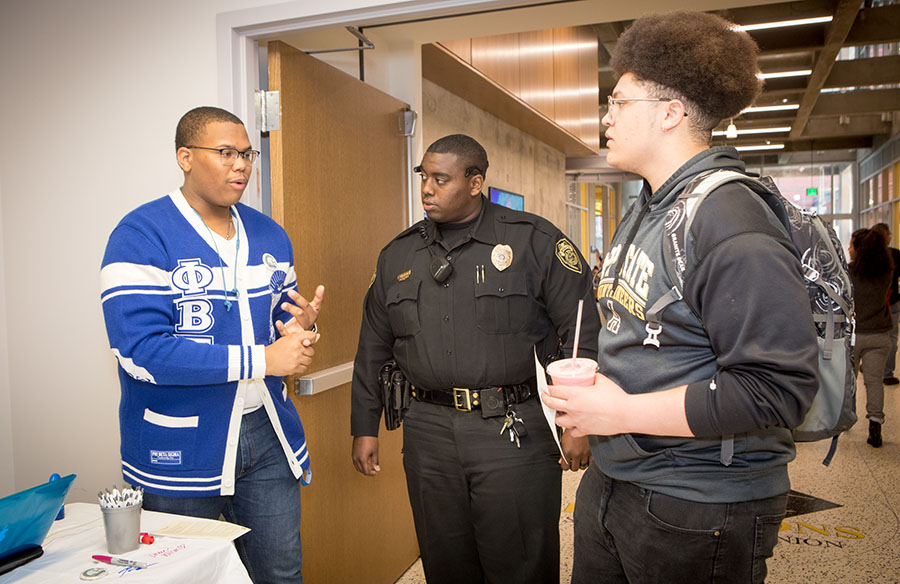 Posted March 29, 2018 at 4:40 p.m.
BOONE, N.C. — Appalachian State University's Department of Public Safety will soon facilitate the implementation of keycard access for all campus buildings, the placing of additional cameras in key areas and the installation of door locks inside every classroom on campus.
Additionally, said Director of Public Safety and Chief of Police Andy Stephenson, police officers will begin the practice of joining students, faculty and staff for lunch in Roess Dining Hall every Tuesday and Friday beginning April 6, to seek input on matters of campus safety and security, answer questions and to build relationships with a broader range of Appalachian Community members.
"Our policing philosophy is one of proactive community engagement, collaboration and customer service," Stephenson said.
Some cameras have already been purchased, Stephenson said, and will be installed on Sanford Mall, in parking lots and other areas as soon as weather allows. Stephenson said student leaders have indicated additional locations could be identified during the Student Government Association's annual safety walk, during which students and administrators walk areas of campus together after dark, determining areas that need additional lighting or other measures to heighten safety.
Door locks will be implemented during the spring and summer months, and will be fully installed throughout campus by the beginning of the fall 2018 semester. The keycard access project will begin once the door locks have been installed.
Stephenson noted he also wants university police officers to purposefully seek out input and ideas from as many students as possible about matters of campus safety. "Appalachian students are interested in engaging with important decisions taking place on our campus," Stephenson said. "It's great to be able to work on a campus where students care and really want to be an active part of making our campus safer for everyone."
Through a program Stephenson has dubbed "Cop Connect," students, faculty and staff will have the opportunity to share their thoughts about campus safety with university police officers through twice-weekly informal listening sessions. Beginning April 6, "Cop Connect" listening sessions will take place every Tuesday and Friday from 11:30 a.m.-1 p.m. in the upper level of Roess Dining Hall.
In addition to ideas about improving safety, Stephenson hopes to hear ideas related to ways in which the Appalachian State University Police Department can enhance their service to the members of the Appalachian Community. "We strive to be a leader in innovative public safety ideas and strategies," he said.
About the Appalachian State University Police
Appalachian State University's Police Department consists of state-certified police officers, security officers and civilian employees who work in partnership with the community to prevent crime, solve problems and improve the quality of life on campus. Police officers and security officers conduct bicycle, foot and vehicle patrols on campus 24 hours per day throughout the year. The department philosophy is one of proactive community engagement, collaboration and customer service. Appalachian's Police Department is within the Department of Public Safety, which encourages all members of campus to utilize the planning and preparedness tools at https://emergency.appstate.edu.
About Appalachian State University
Appalachian State University, in North Carolina's Blue Ridge Mountains, prepares students to lead purposeful lives as global citizens who understand and engage their responsibilities in creating a sustainable future for all. The transformational Appalachian experience promotes a spirit of inclusion that brings people together in inspiring ways to acquire and create knowledge, to grow holistically, to act with passion and determination, and embrace diversity and difference. As one of 17 campuses in the University of North Carolina System, Appalachian enrolls about 19,000 students, has a low student-to-faculty ratio and offers more than 150 undergraduate and graduate majors.