Posted April 12, 2018 at 2:02 p.m.
BOONE, N.C. — Lavender and tea tree oils may be causing breast growth in young boys.
J. Tyler Ramsey '16, an Appalachian State University chemistry major now working at the National Institute of Environmental Health Sciences (NIEHS) — part of the National Institutes of Health, gained worldwide news media attention recently for his research showing this possible link.
Ramsey is a postbaccalaureate Intramural Research Training Award (IRTA) fellow at NIEHS. He was lead researcher for "Steroid Receptor Hormonal Actions of Lavender and Tea Tree Oil Components," which was presented March 19 at ENDO 2018, the Endocrine Society's 100th annual meeting in Chicago.
Key chemicals in the common plant-derived oils act as endocrine disruptors, interfering with hormones and their actions in the body, according to a news release from the Endocrine Society.
The study was chosen from 3,000 submitted abstracts and was among 38 selected for a printed research summary for the news media. It became one of just 14 studies selected for presentation at a news conference.
"It's been a life-changing experience," said Ramsey, who is originally from Cramerton. He spoke about his Appalachian Experience and how it prepared him for what he's doing now:
Tell us more about your role at the National Institute of Environmental Health Sciences.

I work in the Reproductive and Developmental Biology laboratory of Dr. Kenneth Korach. My day-to-day work varies. I design and conduct experiments, lead lab meetings, give seminars and write up manuscripts. I've seen all aspects of research, which has been very educational.

What aspects of your Appalachian education best prepared you for this opportunity?

I did three years of research with Dr. Jennifer Cecile in the Department of Chemistry and was in the Honors College, which really challenged me because of the 40-page honors thesis I had to write. I appreciated the huge mentorship I received from Dr. Leslie Jones, who was the director of the Honors College at that time. Undergraduate research is very difficult, but it also teaches you well. Having to write my honors thesis was helpful in preparing me for the research manuscripts I write now.

The Honors College seminars helped me, too, and I selected seminars that weren't science-based: leadership, and narratives in the caring professions. I entered the Honors College as an internal applicant once I was on campus, and I feel the seminars I selected helped me with networking and how to work on teams — there's a lot of this in the professional world — and also how to build empathy.

Describe your experiences in the Department of Chemistry.

I got a lot of individual attention. The classes were small, and I knew my professors by name and they were mentors to me. That really helped the learning environment. The classes were very difficult. As personable as the faculty are, that doesn't affect the grade! I got a really good education there as a result. I also did a minor in biology, and I enjoyed those classes as well.

What are your long-term career plans?

I plan to finish my two-year appointment this June at the NIEHS and then go to medical school for oncology. I've been accepted to multiple medical schools and plan to matriculate into the Edward Via College of Osteopathic Medicine this July.

What else would you like to say about Appalachian?

I really enjoyed my time there! Besides my work in the chemistry department, I was active with the Ski Team, the INTAPP student organization, the Health Professions Club and was a tutor. I also studied abroad in South Africa with the Department of Biology alongside Dr. Nathan Mowa.

Appalachian was not my first choice, but I'm so glad I ended up there. Once I became a student, I knew it was the place for me.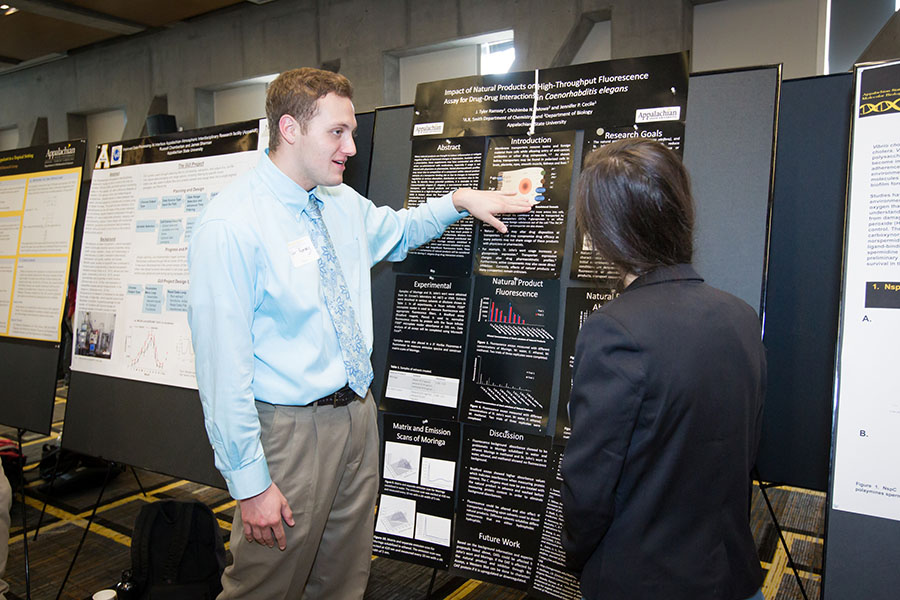 Appalachian tracks where its graduates go, notes high success rate
About the College of Arts and Sciences
The College of Arts and Sciences (CAS) at Appalachian State University is home to 17 academic departments, two centers and one residential college. These units span the humanities and the social, mathematical and natural sciences. CAS aims to develop a distinctive identity built upon our university's strengths, traditions and unique location. The college's values lie not only in service to the university and local community, but through inspiring, training, educating and sustaining the development of its students as global citizens. More than 6,400 student majors are enrolled in the college. As the college is also largely responsible for implementing App State's general education curriculum, it is heavily involved in the education of all students at the university, including those pursuing majors in other colleges. Learn more at https://cas.appstate.edu.
About the Honors College
More than 500 students are enrolled in Appalachian State University's Honors College, which serves a diverse group of high-achieving, high-potential, highly motivated students from all majors. The Honors College helps students develop independent and creative thinking and high-level research skills; promotes interdisciplinary inquiry; and nurtures cultured and caring exchanges of ideas. The college's enhanced academic experience prepares students for success in graduate or professional school and for leadership roles in their lives, communities and careers. Learn more at https://honors.appstate.edu.
About Appalachian State University
As the premier public undergraduate institution in the Southeast, Appalachian State University prepares students to lead purposeful lives. App State is one of 17 campuses in the University of North Carolina System, with a national reputation for innovative teaching and opening access to a high-quality, affordable education for all. The university enrolls more than 21,000 students, has a low student-to-faculty ratio and offers more than 150 undergraduate and 80 graduate majors at its Boone and Hickory campuses and through App State Online. Learn more at https://www.appstate.edu.
What do you think?
Share your feedback on this story.