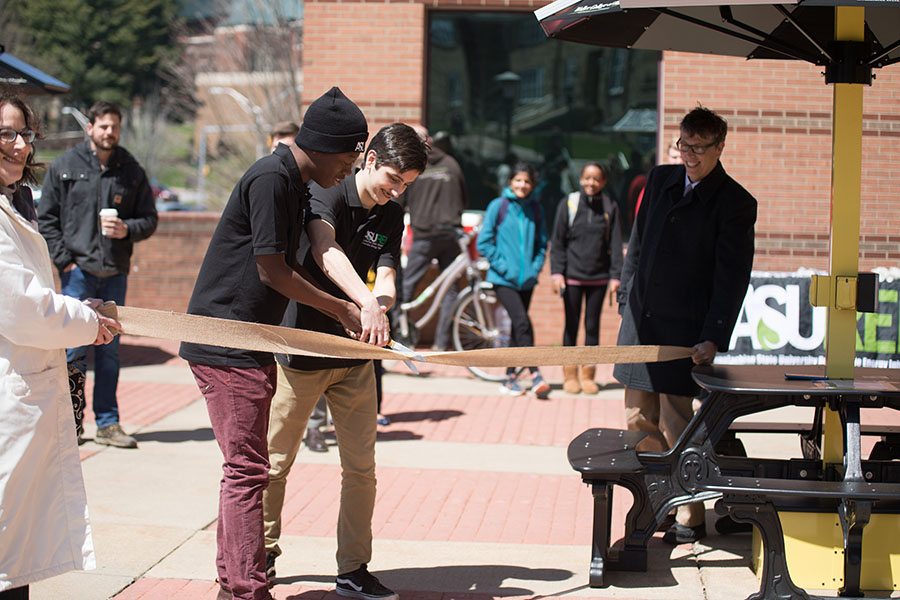 Posted April 17, 2018 at 4:36 p.m.
BOONE, N.C. — Around 40 people gathered on the first-floor patio of Kenneth E. Peacock Hall at Appalachian State University today for a ribbon-cutting at the solar charging picnic tables. The bystanders were treated to fruit, juice, as well as smoothies made using bicycle-powered blenders.
The ceremony was scheduled to coincide with Earth Month celebrations on campus. The three solar-powered, smart picnic tables were installed in February. The tables feature charging stations — including wireless charging, USB ports and regular outlets.
Walker College of Business Dean Heather Hulburt Norris praised Appalachian students for supporting the Appalachian Renewable Energy Initiative (REI) — a student-led, student-funded organization that installs renewable energy and energy efficiency projects on campus — and REI members for initiating projects like the charging stations. She said the Walker College of Business advocates sustainable business practices as part of its core curriculum.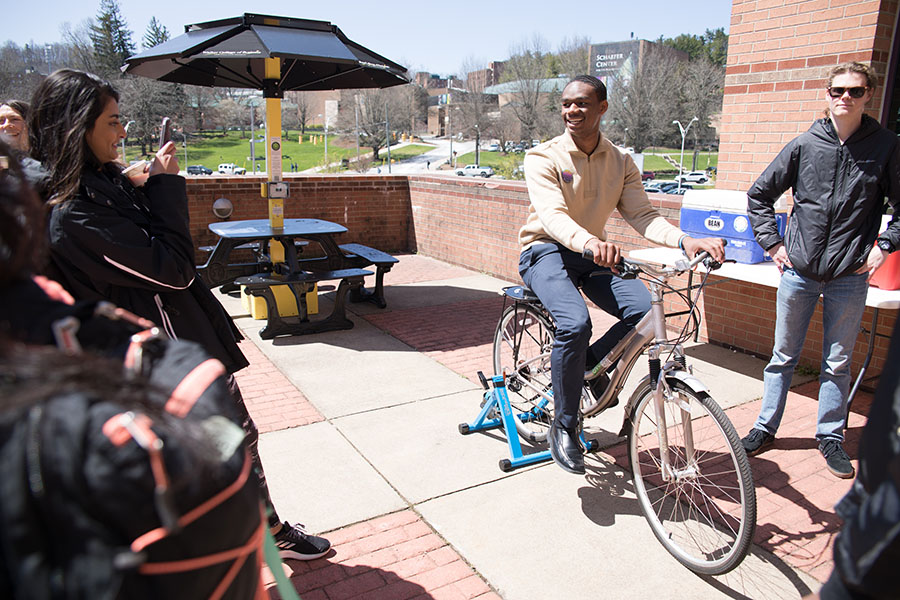 Paul Matney, a senior business management major at Appalachian and student chair of the REI, encouraged students to get involved with the REI, reminding them tonight is the last opportunity to apply to be a member.
Dr. Lee Ball, Appalachian's chief sustainability officer, said he was thankful for the sunny, albeit blustery and cold day, and said he hoped to have more charging stations located across campus in the future. He encouraged the Appalachian Community to let the university's Office of Sustainability know of locations that might be suitable.
After the remarks, REI members Matney, of Wilmington, and Tomiwa Olufolabi, a senior from Durham, cut a ribbon held by Norris and Ball. Olufolabi is a building sciences major with a concentration in sustainable building systems and a minor in marketing.
Two of the solar charging picnic tables were purchased by Appalachian's Office of Sustainability and one was a gift from the REI.
About the Appalachian State University Renewable Energy Initiative
The Appalachian State University Renewable Energy Initiative (REI) is a student-led, student-funded organization that seeks to install renewable energy and energy efficiency projects on campus. Projects can be proposed by any member of Appalachian and are carried out by the REI committee with the help of faculty and staff advisors. Since its inception in 2005, the REI has funded over 20 renewable energy and energy efficiency projects, including the Broyhill Wind Turbine, which, until recently, was the largest wind turbine in North Carolina. The REI works closely with Appalachian's Office of Sustainability. Learn more at https://rei.appstate.edu.
About Sustainability at Appalachian
Appalachian State University's leadership in sustainability is known nationally. The university's holistic, three-branched approach considers sustainability economically, environmentally and equitably in relationship to the planet's co-inhabitants. The university is an active steward of the state's interconnected financial, cultural and natural resources and challenges students and others think critically and creatively about sustainability and what it means from the smallest individual action to the most broad-based applications. The university offers both undergraduate and graduate academic degree programs that focus on sustainability. In addition, 100 percent of Appalachian's academic departments offer at least one sustainability course or course that includes sustainability, and all students graduate from programs that have adopted at least one sustainability learning outcome. Learn more at https://appstate.edu/sustainability.
About the Walker College of Business
The Walker College of Business at Appalachian State University delivers transformational educational experiences that prepare and inspire students to be ethical, innovative and engaged business leaders who positively impact our community, both locally and globally. The college places emphasis on international experiences, sustainable business practices, entrepreneurial programs and real-world applications with industry. Enrolling approximately 3,000 undergraduates in 10 majors and 175 graduate students in three master's programs, the Walker College is accredited by AACSB International – the premier global accrediting body for schools of business. Learn more at https://business.appstate.edu.
About Appalachian State University
As the premier public undergraduate institution in the Southeast, Appalachian State University prepares students to lead purposeful lives as global citizens who understand and engage their responsibilities in creating a sustainable future for all. The Appalachian Experience promotes a spirit of inclusion that brings people together in inspiring ways to acquire and create knowledge, to grow holistically, to act with passion and determination, and to embrace diversity and difference. Located in the Blue Ridge Mountains, Appalachian is one of 17 campuses in the University of North Carolina System. Appalachian enrolls nearly 21,000 students, has a low student-to-faculty ratio and offers more than 150 undergraduate and graduate majors.
What do you think?
Share your feedback on this story.