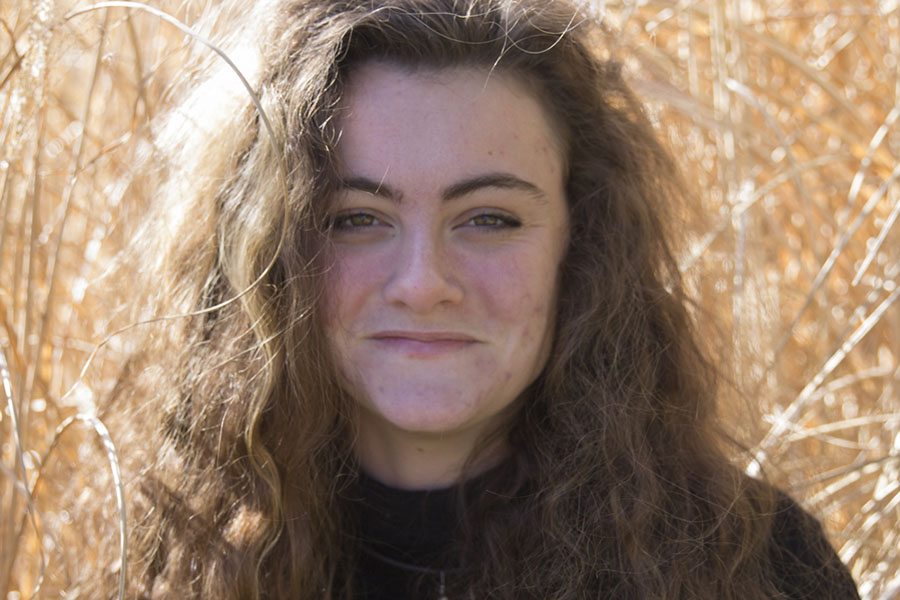 Posted April 30, 2018 at 4:22 p.m.
BOONE, N.C. — Rosemary Pierce-Messick '17 credits the diverse experiences she had at Appalachian State University for preparing her to work as a business development associate for Three Wheels United, a financial technology company aimed at establishing a pollution- and poverty-reducing urban transport system in Bangalore, India. Messick, from Greensboro, is a 2017 graduate of Appalachian's Psychology (BS) - Business degree program.
Three Wheels United uses technology to finance eco-friendly auto rickshaws and integrate the vehicles within the established public transport system in India, with the goal of having a long-term impact on pollution and poverty reduction. In working to improve the urban transport system, the company provides asset ownership and income generation for some of the most marginalized groups in India.
Messick works on projects in many areas — from finance and fundraising, to the nongovernmental organization side of the company. She is also running a project aimed at onboarding more female drivers with the goal of providing financial independence for lower-class women and a safer commuting option for female passengers.
"I love working directly with drivers, especially the females who have great insight around being an empowered and independent woman in an extremely patriarchal society," Messick said. "These women hold their ground in a male-dominated occupation."
A path to fit her skills
When Messick came to Appalachian, she didn't know what her next steps would be. What she did know was that Appalachian would provide her the opportunity and support necessary to move forward in a direction that fit her passions and skills.
The university's focus on sustainability and corporate responsibility was important to her, she said, and she believes Appalachian "has a strong community both on and off campus that allows students to flourish in any department."
Messick credits the faculty of Appalachian's Dr. Wiley F. Smith Department of Psychology for allowing each student to "learn, in depth, a multitude of topics in psychology while also being able to find a personal area of interest."
She said, in her experience, "The faculty will go out of their way to work with you if you express interest and put in effort."
Messick took a diverse approach to learning: her degree is in psychology, her research was in behavioral neuroscience and she concentrated in business. "Appalachian allowed me to have a robust experience that prepared me to adapt and learn quickly in many areas of focus," Messick said. "Because of this, I have been able to quickly become part of Three Wheels United's various activities involving community development and training, finance, urban transportation and urban technology."
The value of study abroad
For Messick, studying abroad through Appalachian's Office of International Education and Development also enabled her to find her place — in more than one way.
"Not only did I find this job opportunity by studying abroad in Bangalore, India, but I also became comfortable with myself and my ability to adapt to new cultures and places," Messick explained. "As a result, I learned I can and should work in developing countries."
Without the study abroad experience, Messick said she would not be where she is today — both personally and professionally. Her goal is to bring about social and environmental change through social entrepreneurship, and in India, Messick came to understand the important role of corporations and for-profit enterprises in sustainability, especially in developing countries. This is why, she said, she is so excited to be a part of Three Wheels United.
Messick commented on what Appalachian can provide to future students: "I believe that anyone who wants to have a diverse college experience that fosters a liberal understanding and global awareness should attend the university," she said. "With or without a predetermined degree or career track, you can find a place — or rather, many places — in the immense and effective community and network of Appalachian."
Appalachian tracks where its graduates go, notes high success rate
About the Dr. Wiley F. Smith Department of Psychology
Appalachian State University's Dr. Wiley F. Smith Department of Psychology serves more than 1,400 undergraduate majors seeking the Bachelor of Arts or Bachelor of Science degree in psychology, as well as 90 graduate students across four graduate programs: experimental psychology (MA), industrial-organizational psychology and human resource management (MA), school psychology (MA/SSP) and clinical psychology (PsyD). Learn more at https://psych.appstate.edu.
About the College of Arts and Sciences
The College of Arts and Sciences (CAS) at Appalachian State University is home to 17 academic departments, two centers and one residential college. These units span the humanities and the social, mathematical and natural sciences. CAS aims to develop a distinctive identity built upon our university's strengths, traditions and unique location. The college's values lie not only in service to the university and local community, but through inspiring, training, educating and sustaining the development of its students as global citizens. More than 6,400 student majors are enrolled in the college. As the college is also largely responsible for implementing App State's general education curriculum, it is heavily involved in the education of all students at the university, including those pursuing majors in other colleges. Learn more at https://cas.appstate.edu.
About Appalachian State University
As the premier public undergraduate institution in the Southeast, Appalachian State University prepares students to lead purposeful lives. App State is one of 17 campuses in the University of North Carolina System, with a national reputation for innovative teaching and opening access to a high-quality, affordable education for all. The university enrolls more than 21,000 students, has a low student-to-faculty ratio and offers more than 150 undergraduate and 80 graduate majors at its Boone and Hickory campuses and through App State Online. Learn more at https://www.appstate.edu.
What do you think?
Share your feedback on this story.