Posted May 14, 2018 at 5:04 p.m.
BOONE, N.C. — Six commencement ceremonies were held at Appalachian State University over two days, Friday, May 11, and Saturday, May 12. Chancellor Sheri Everts began the ceremonies warmly by telling graduates, "Congratulations on your accomplishments and this achievement. I personally find great hope for our community, state, nation and world in the promise you take forward into a future made all the brighter because of you."
A total of 3,229 undergraduate students and 369 graduate students received degrees.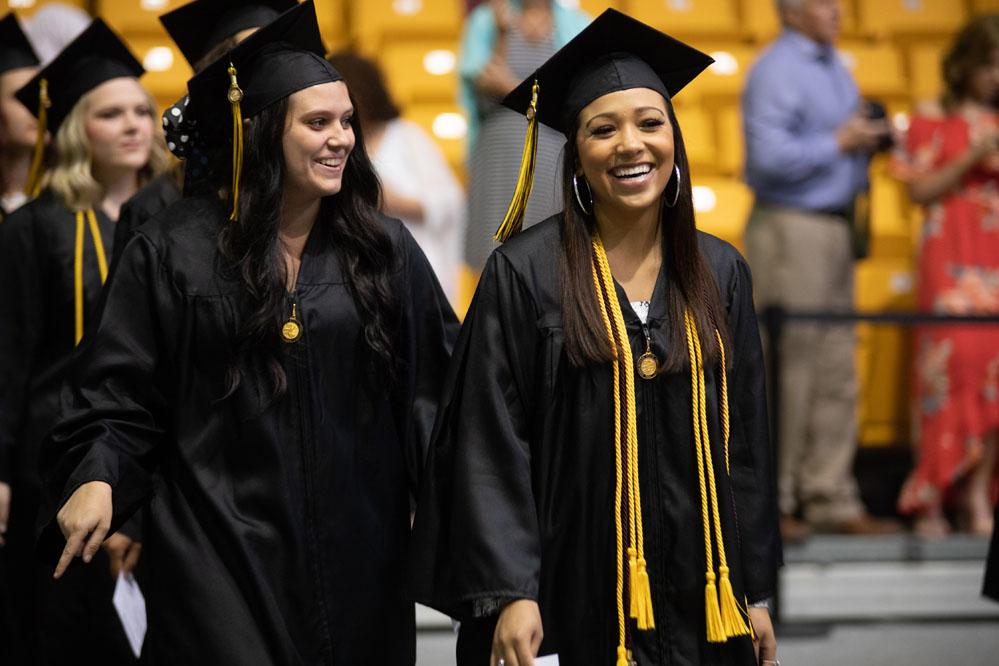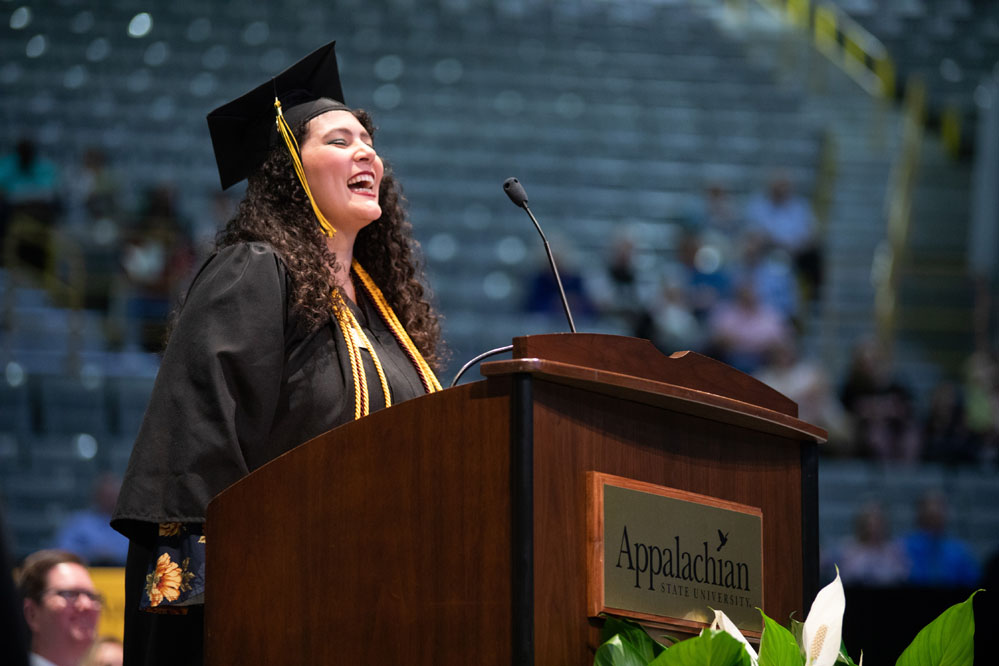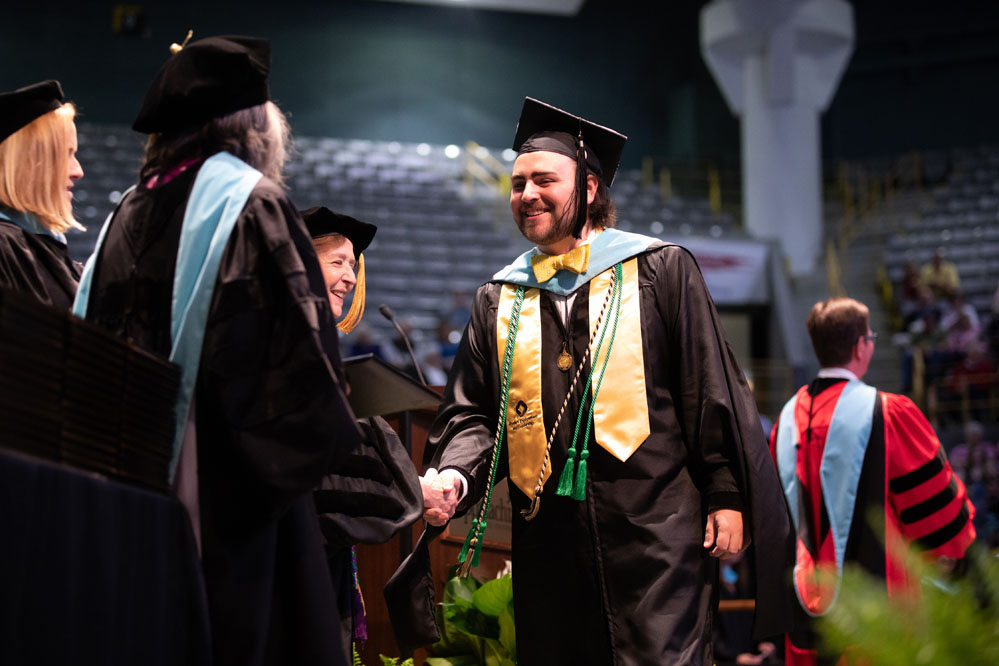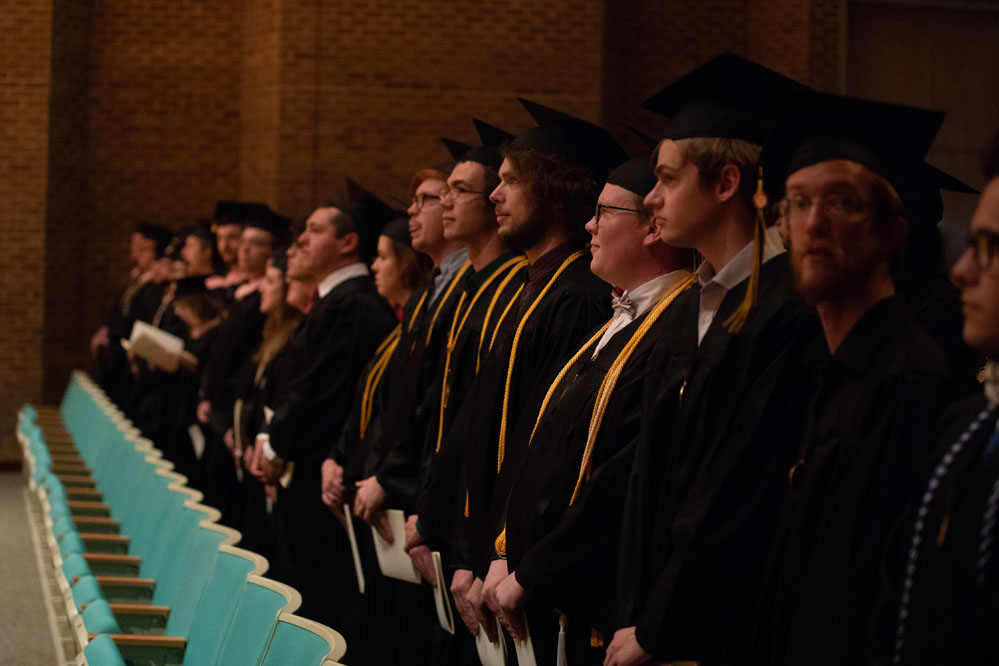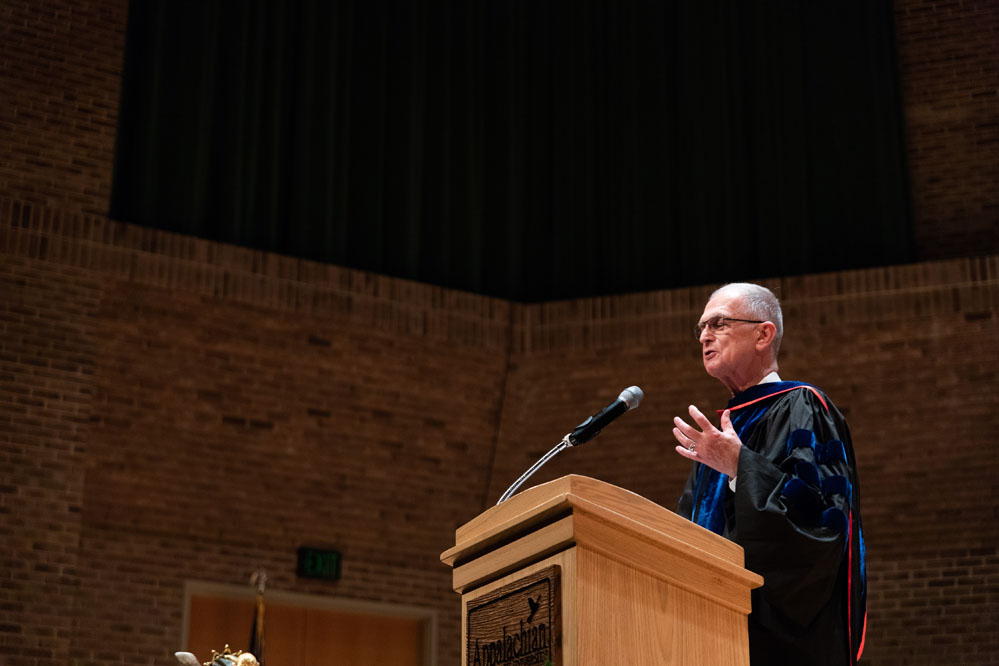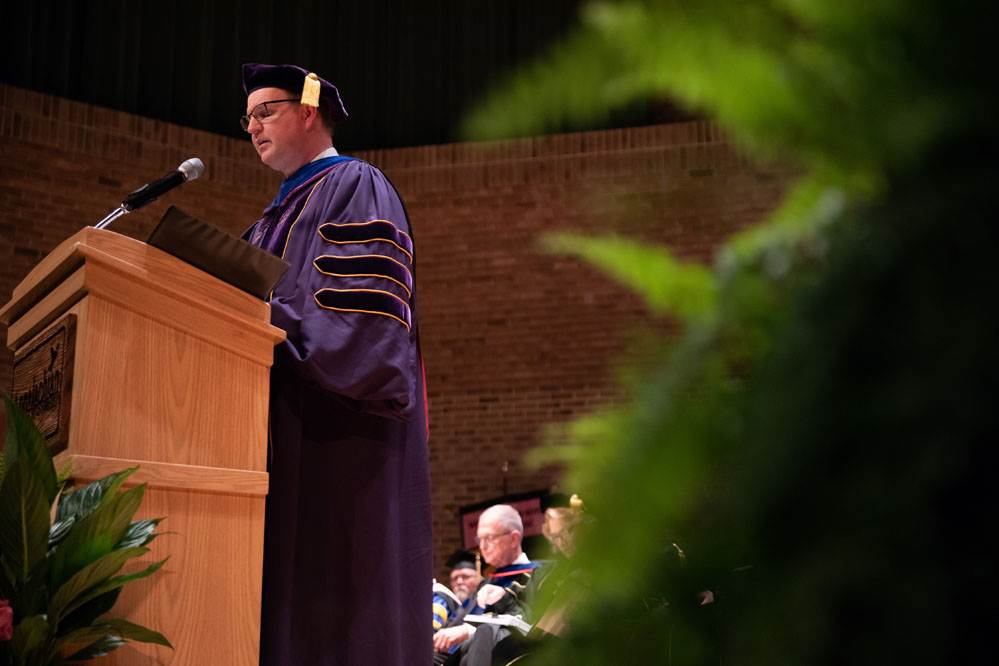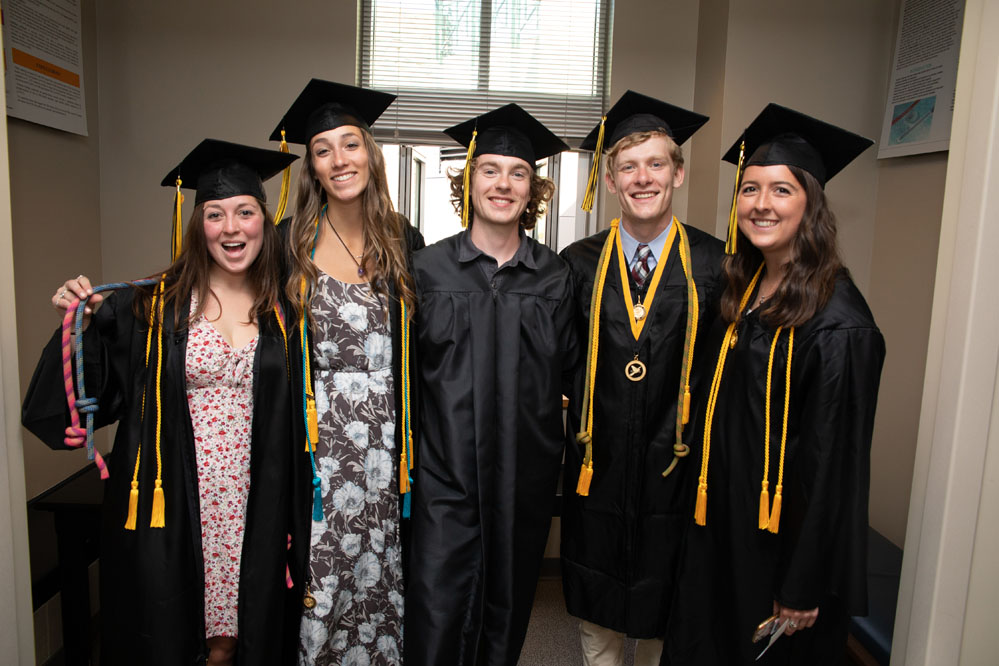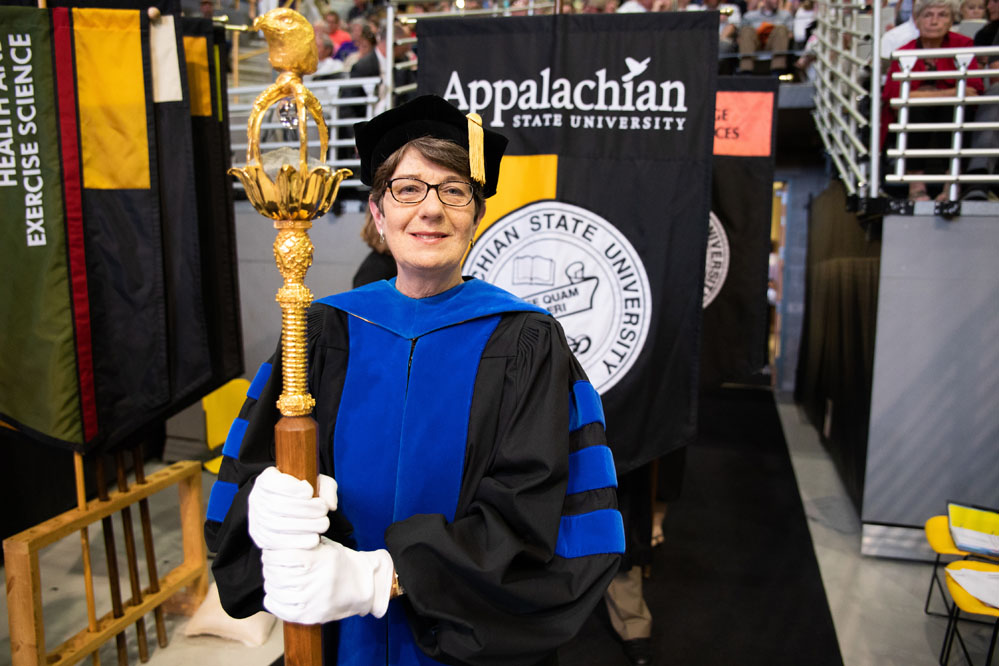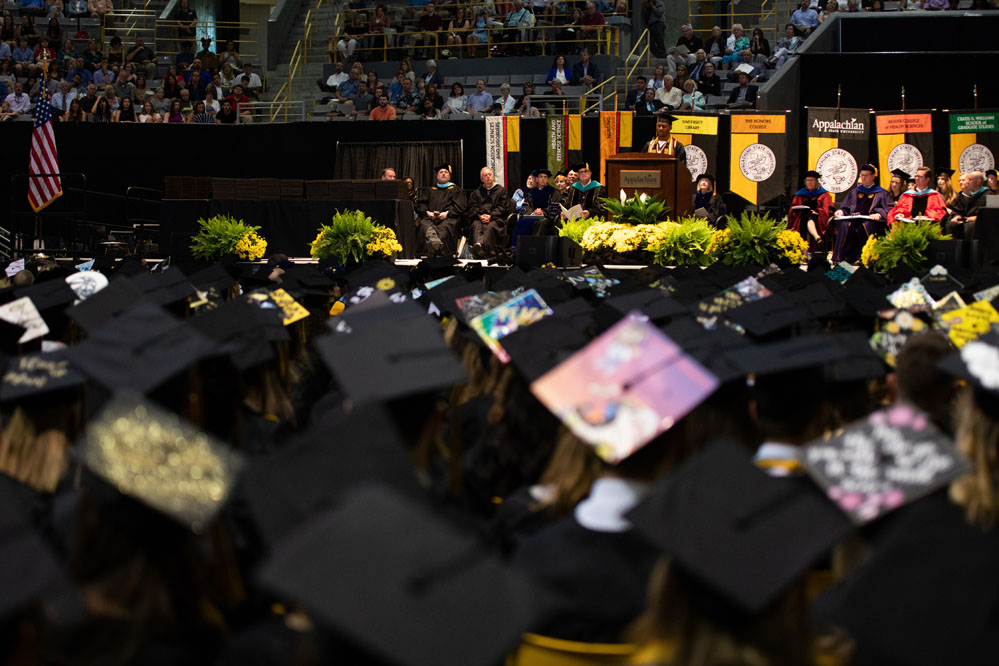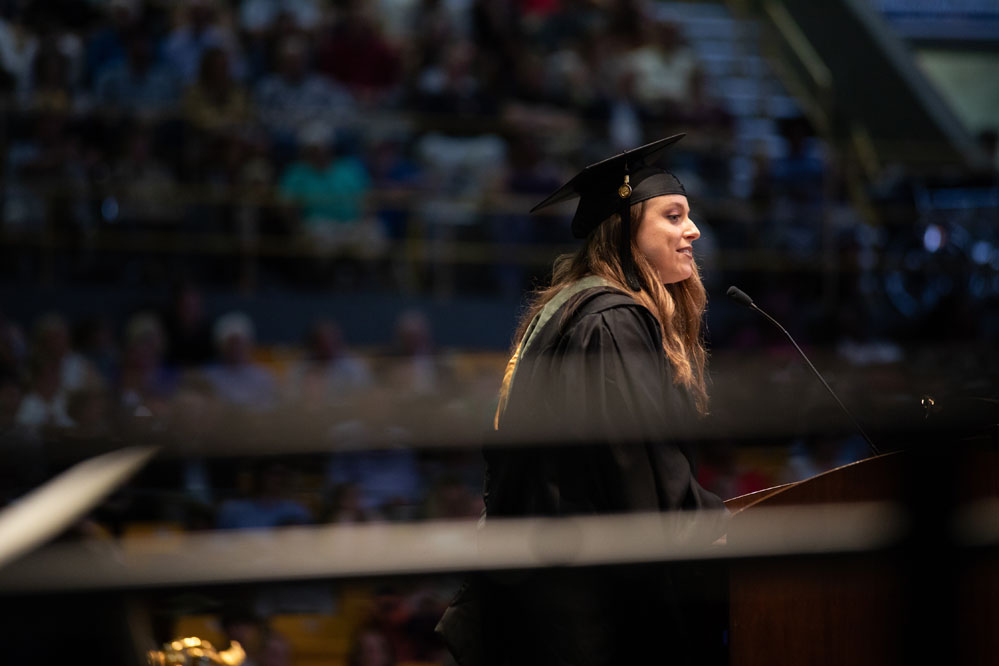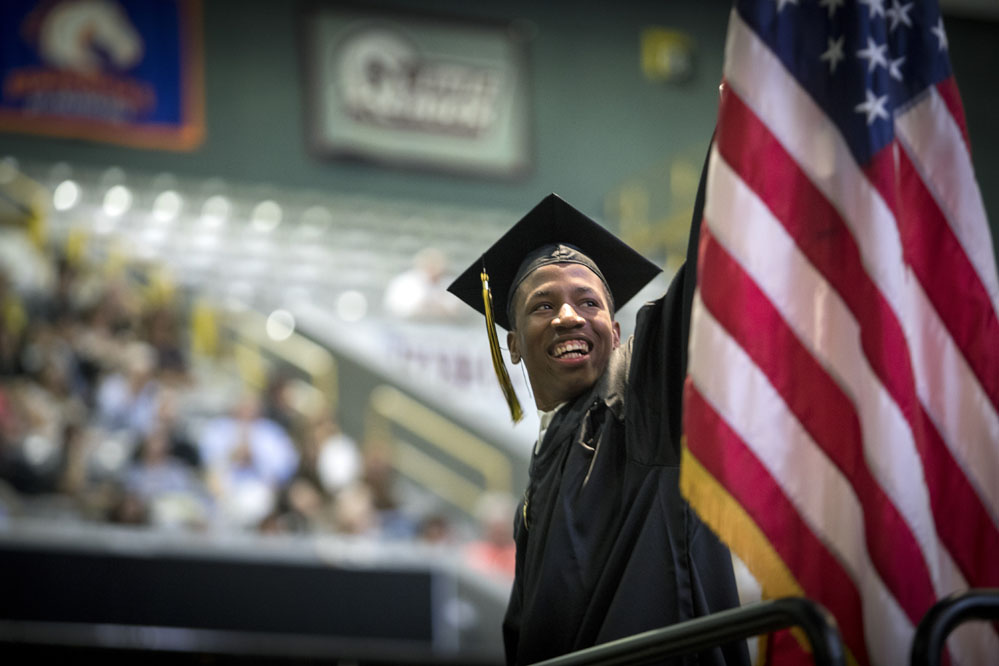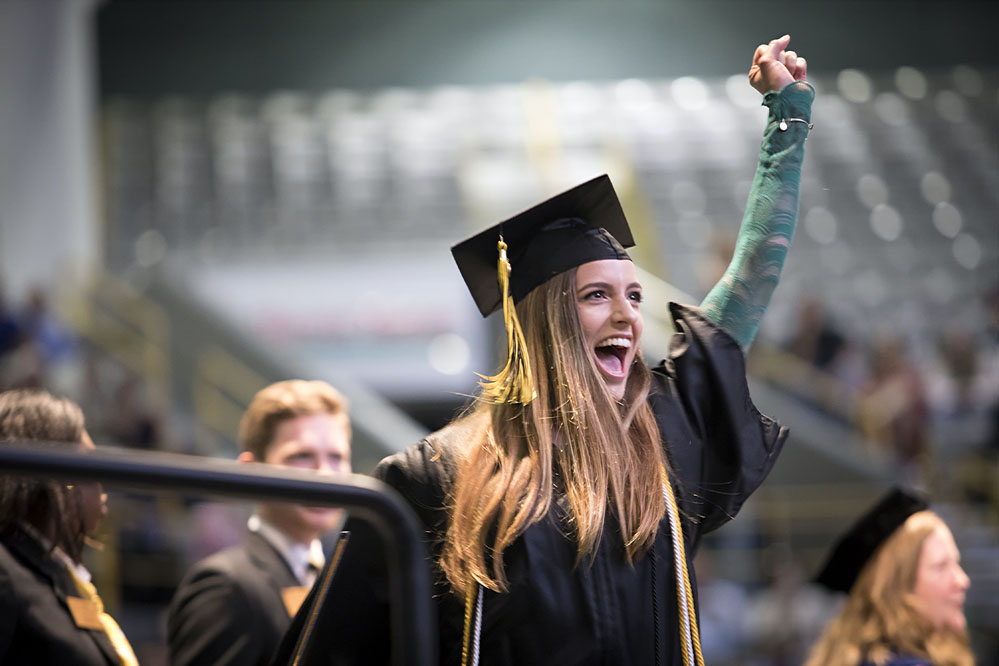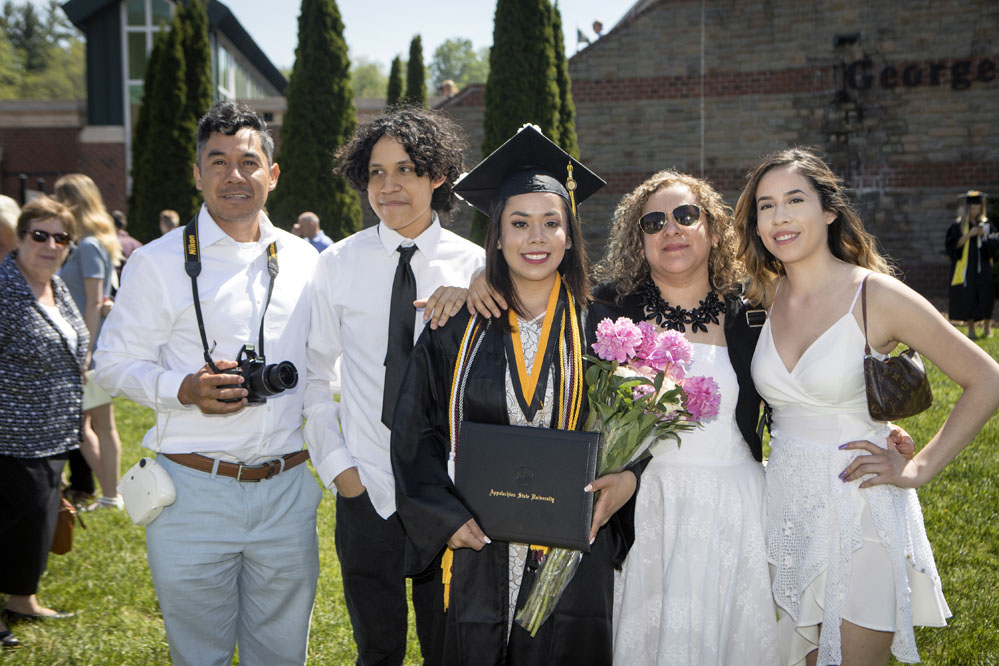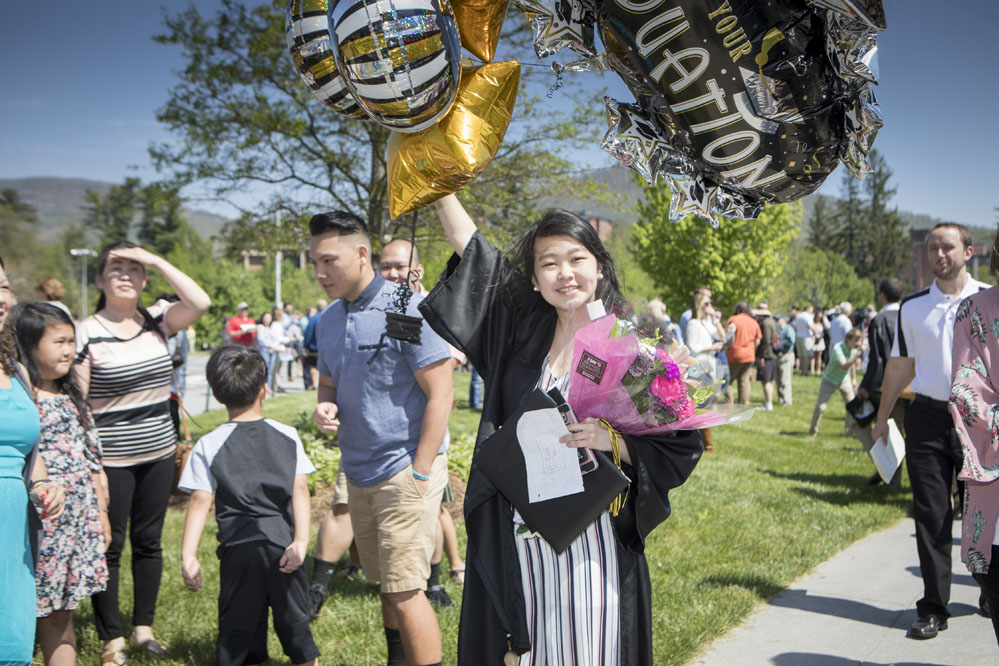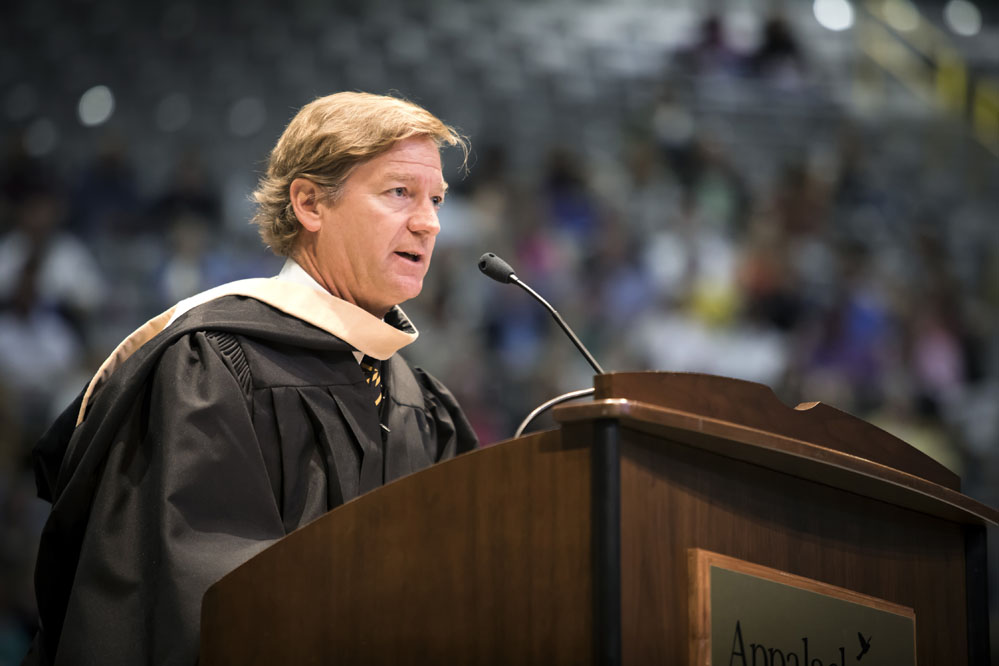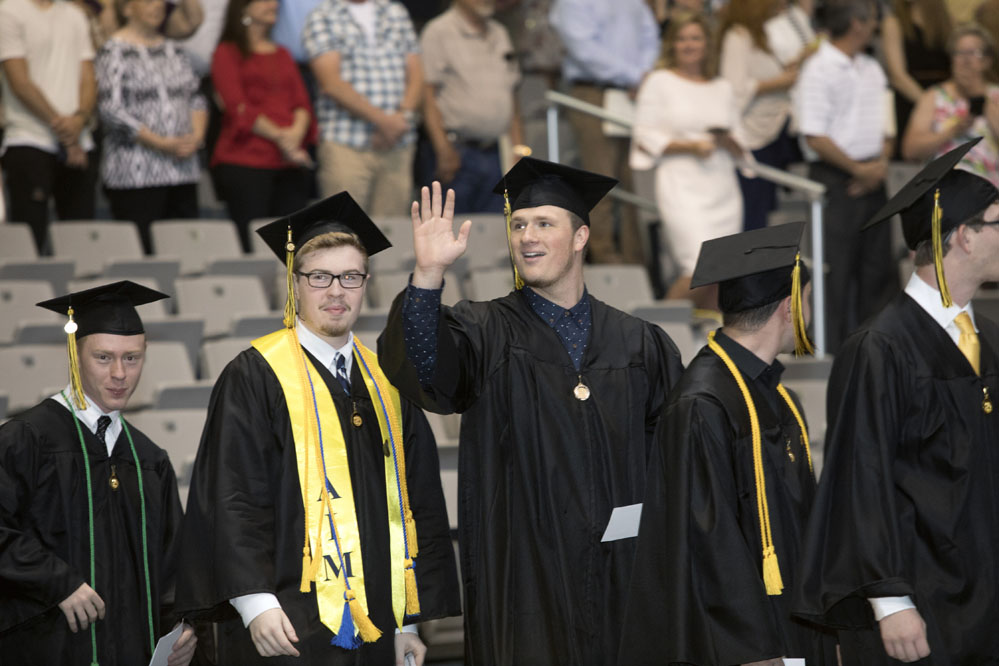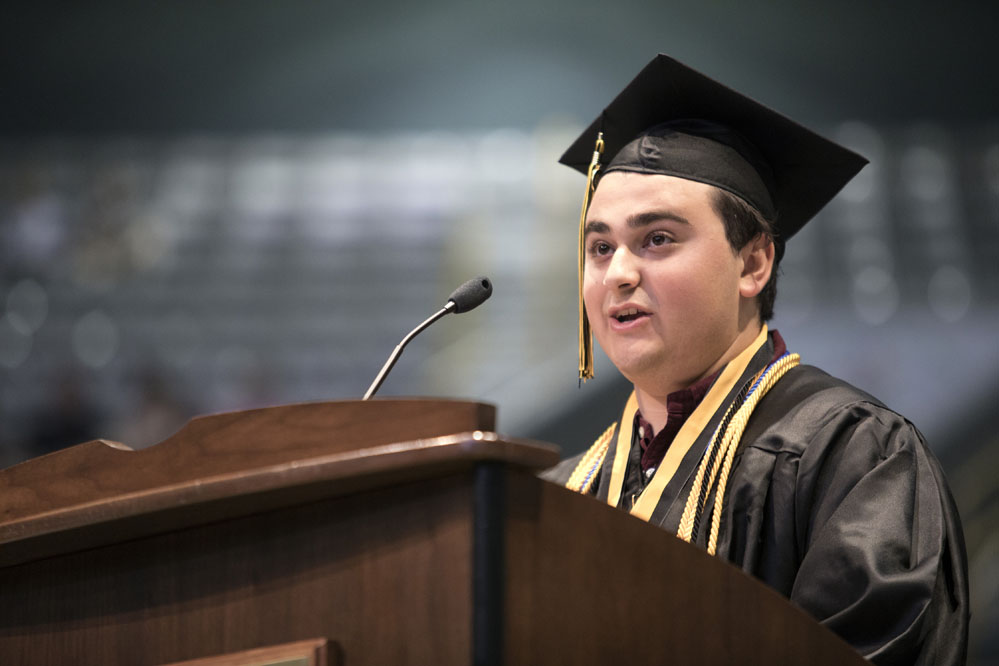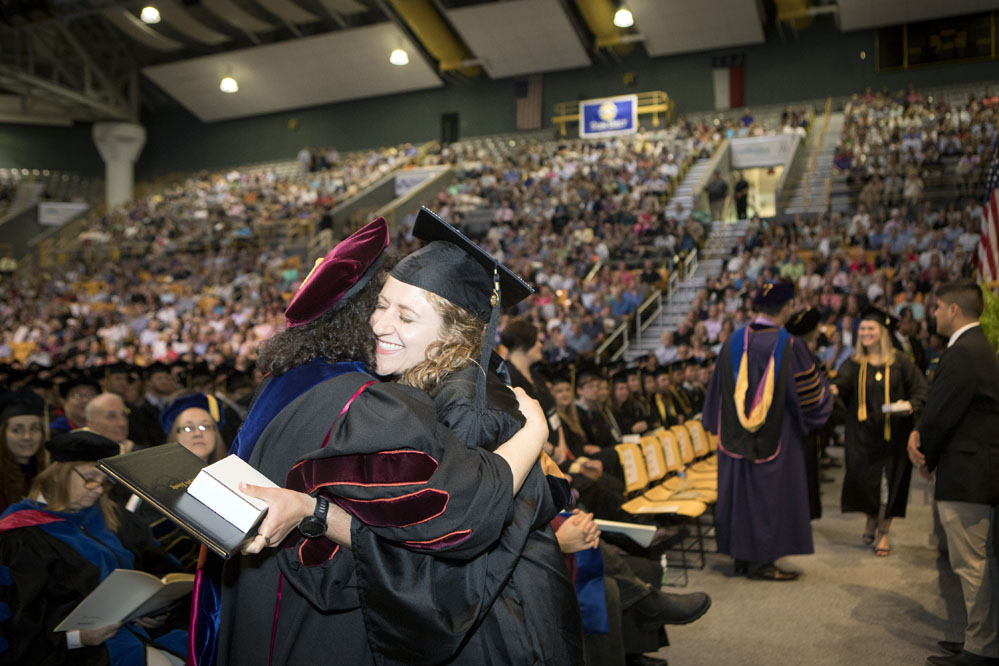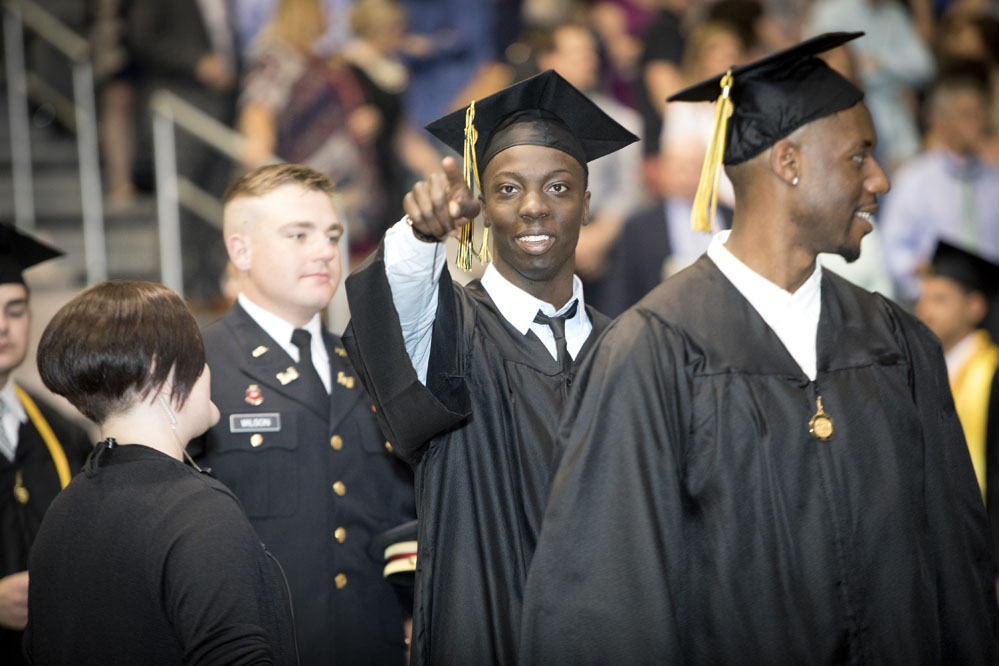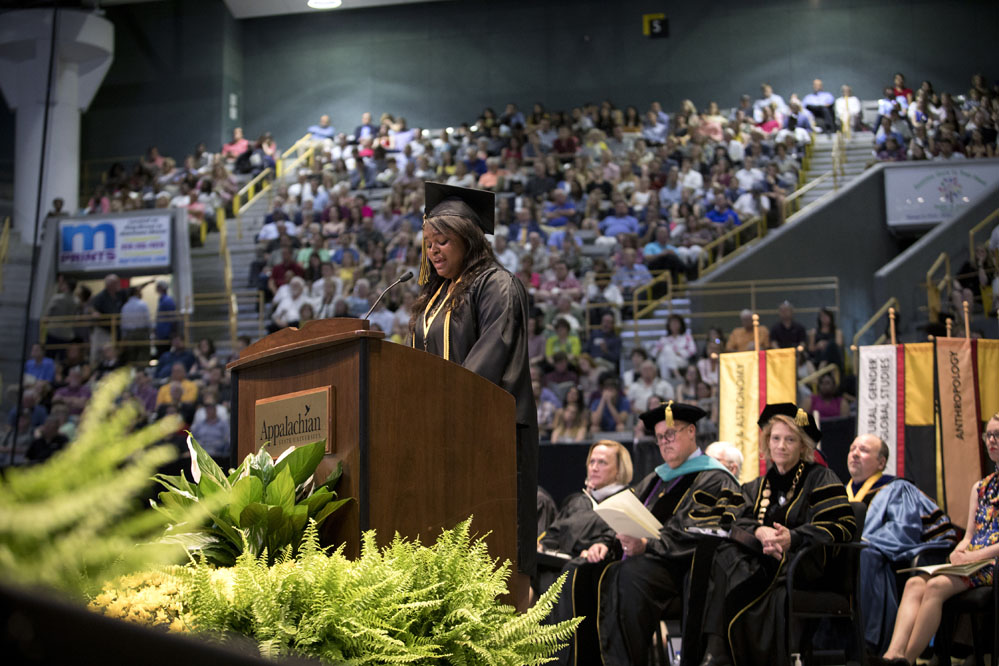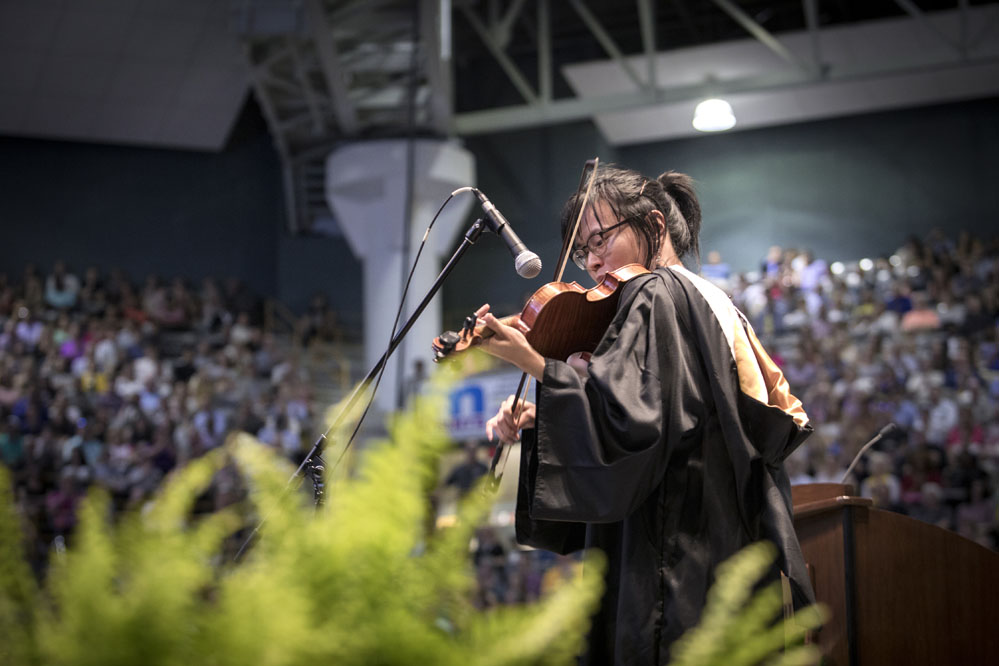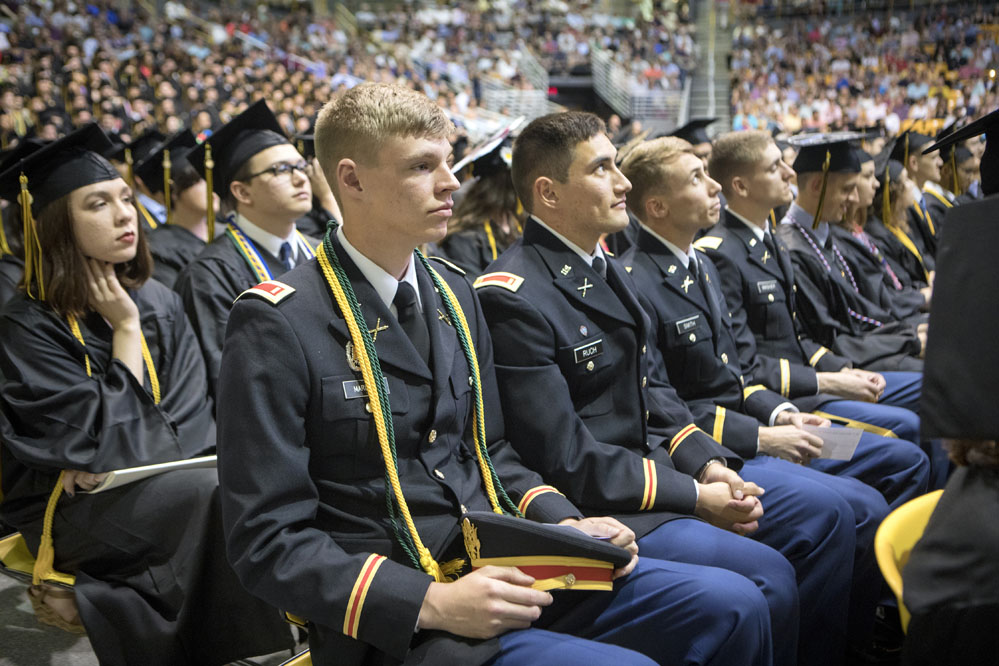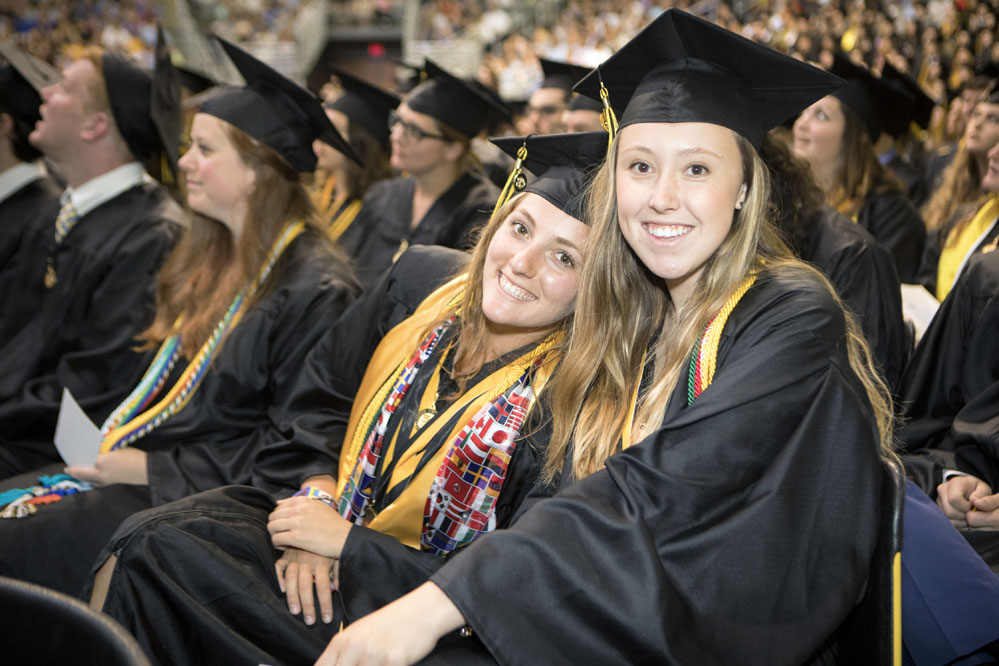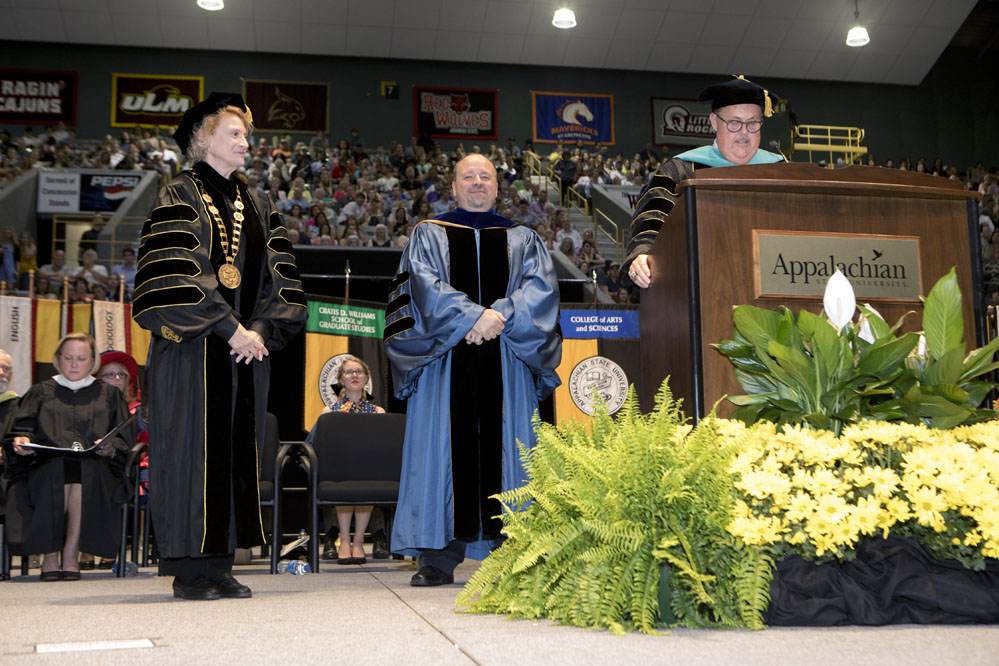 Reich College of Education
Friday's events began with the Reich College of Education commencement ceremony, which featured two student speakers: Tanairi Tirado from Camden, New Jersey, who earned a Bachelor of Science degree in child development: birth – kindergarten; and Nathan Weigl, who graduated with a dual Doctorate of Education/Master of Business Administration degree.
Speaking of her major, Tirado said, "This field truly inspires me; it is my dream to be part of building a foundation of learning, in which students develop and strive. I dream of instilling the endless sense of exploration and wonder that fuels their motivation to be educated."
Tirado hopes to impact children's lives and be a source of support, encouragement and advocacy in the private and public sectors of education. She plans to stay in Boone after graduation to teach and influence the community, especially in education and working with families. She hopes to pursue a graduate degree as well.
Weigl talked about the success already achieved by his fellow graduates with the help of others, and their future professional success through making a difference for others.
"You have found your way, no doubt with the help of others, who have challenged, engaged and informed you … Most importantly, however, expect that you will find yourself in a position to make a lasting and meaningful difference in the lives of others — every single day," he said.
Weigl resides in Boone with his wife and two young children. While studying at Appalachian, Weigl worked as an intern and research fellow with the National Council for Community and Education Partnerships. After graduation, he plans to continue serving as senior lecturer in the Department of Mathematical Sciences at Appalachian.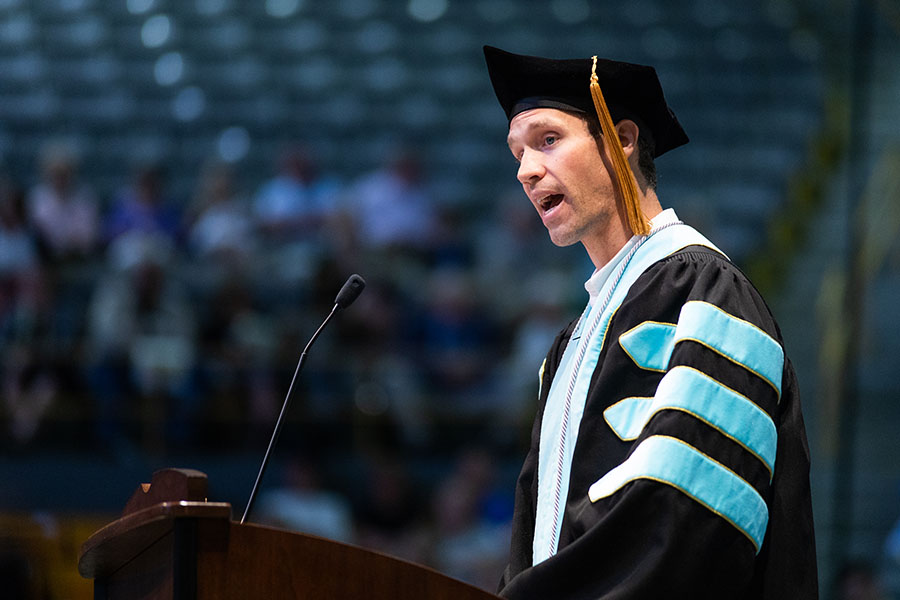 Hayes School of Music
Professor Emeritus Dr. Frederick Tims, who spent his last 15 years of teaching as chair of music therapy at Michigan State University and who received a lifetime achievement award from the American Music Therapy Association, was the featured speaker at the commencement ceremony for the Hayes School of Music.
Tims offered his congratulations to the new graduates and said to them, "This is your day and a good day when you may wish to reflect on the experiences and growth you have had here and what that has meant to you." Tims also congratulated the faculty "for all their interest and good work" for the students.
Tims talked about the many changes and moves that he had made in his career, and he related this to the graduates by encouraging them to find their own path and to do what they love as a profession.
He used a quote from Steve Jobs to reinforce his point. In his commencement address at Stanford in 2005, Jobs had said, "Your work is going to fill a large part of your life, and the only way to be truly satisfied is to do what you believe is great work. And the only way to do great work is to love what you do. If you haven't found it yet, keep looking. Don't settle."
Tims ended his speech with these words: "Life is one of improvisation; lead a good life and leave the world a better place than you found it."
Beaver College of Health Sciences
Friday's festivities concluded with commencement exercises for the Beaver College of Health Sciences. Two students were featured as speakers.
Al-Amin Bidemi Aminu was born in Lagos, Nigeria, and moved to America when he was 5 years old. He told fellow graduates, "It's not going to be easy, and our plans may not go as expected, but we have been equipped through our specific disciplines with the tools to nurture, influence, build, teach, innovate and restore. In serving others we have the power to meet people where they are and understand the basic nature of human interaction."
Aminu received a Bachelor of Science degree in exercise science with a minor in chemistry.
Madelyn Elliott, from Greensboro, received a Master of Science degree in speech-language pathology. She called on her fellow graduates to never discount those small, consistent victories that over a lifetime can make a difference, and she encouraged her fellow graduates to run the race of life that awaits them "with conviction, kindness and joy."
Elliott, who was a Lovill Fellowship Recipient during 2016 – 2018, also completed her undergraduate degree in communication sciences and disorders at Appalachian in 2016.
College of Fine and Applied Arts
Commencement ceremonies on Saturday began with the College of Fine and Applied Arts, and the formula of one undergraduate speaker and one graduate student speaker was again observed.
Elaine "Lainey" Everly identified two significant strategies to deal with the challenges in life that await her fellow graduates. First, she encouraged students to be lifelong learners, who "are constantly asking, listening and wondering." Second, she encouraged graduates to "never outgrow your imagination." She continued, "Let your imagination empower you to create the change that you wish to see in the world," and "remember that our imaginations are our greatest ally in the face of uncertainty, of adversity, and of conformity."
Everly is from Black Mountain and received a Bachelor of Fine Arts degree in studio art and a Bachelor of Science degree in sustainable development. After graduation, she will be interning with a metalsmith in Asheville and plans to apply to graduate school for architecture.
Daniel Blakeley '15 told his fellow graduates in the College of Fine and Applied Arts, "There is something my time here at Appalachian has taught me: take your opportunities; they are likely only going to be offered to you once in a lifetime, and sometimes the path of least resistance is not the best path to follow — you must blaze your own trail." Encouraging his audience, Blakely said, "There is no such thing as failure, only an opportunity to learn. Without failure there is no measure for improvement." Finally, he said, "be great, become the leaders in your community and your workplace. Make Appalachian State proud."
Blakeley is from Olympia, Washington, and received a Master of Science degree in appropriate technology and a Master of Science degree in engineering physics. After graduation, Blakeley will take a position as practitioner-in-residence within Appalachian's Department of Sustainable Technology and the Built Environment.
Walker College of Business
Commencement ceremonies took place for the Walker College of Business on Saturday afternoon. Two students brought their memories, gratitude and encouragement for the future to the podium.
First to speak was Cole Maita, from Weaverville, who graduated summa cum laude with a Bachelor of Science in business administration degree with a major in marketing and minor in advanced entrepreneurship. He shared three lessons that he had learned at Appalachian.
"The first lesson," Maita said, "is about failure." He continued, "Failure is not something to be avoided, but rather, a test of your character. Let us not be afraid to fail." The second lesson Maita offered was "to not hold rigidly to the plans you've made for your life," and finally he encouraged his fellow graduates to express gratitude to those who supported them, such as family, friends and faculty.
Next to speak was Isaac Church '15, from Granite Falls, who graduated with a Master of Science degree in accounting and a Master of Business Administration degree concentrating in applied business analytics. He received the MBA Top Student Award for academic and extracurricular excellence.
He told the audience, "The people I have met at Appalachian, and specifically at the Walker College of Business, have truly transformed my time here. I can't begin to list the professors who have impacted me both academically and personally. My programs of study have helped me develop into a confident international traveler, a competent business leader and to grow as an individual."
After graduation, he plans to pursue a career in accounting, focusing in analytics and security.
College of Arts and Sciences
The final ceremony of spring commencement celebrated the graduates from Appalachian's College of Arts and Sciences. The featured speaker for this occasion was Lacy Martin from King in Stokes County, who graduated with a Bachelor of Science degree in English, secondary education.
She began with a story of struggle and overcoming hardship. She offered encouragement to her fellow graduates, who have, and who will again, she said, struggle and overcome challenges, which will in the end make them better persons. She encouraged her peers with these words, "We just need to remember, that the good things only come when we are able to get up, dust off, and set foot again. It is in the never giving up that the hard times provide meaning that we can later lean on."
She concluded, "Remember that when the struggles of life get in the way of its potential achievements, it's time to rise and climb. No mountain is too high if you believe in yourself and your ability to complete your personal journey."
To resounding applause, Shohei Tsutsumi from Osaka, Japan, who graduated with a Master of Arts degree in Appalachian studies, performed an old-time music selection on the fiddle. A video presentation featuring Tsutsumi preceded the performance. In the video, Tsutsumi proudly said, "I would like to say thanks to my family in Japan, my professors, my fellow students and my musician friends here. Their support made me a stronger person, and I will forever be grateful. Thank you, Appalachian State."
Before coming to Appalachian, Tsutsumi earned a master's degree in American studies at Doshisha University in Kyoto, Japan, with a thesis on underrepresented black contemporary old-time musicians. Tsutsumi also received the Anne and Alex Bernhardt Endowed Scholarship in Appalachian Music through the Appalachian studies program in 2017 and 2018 for studies on local music traditions, and won several prizes at old-time music contests. Tsutsumi has performed for various events, including the Appalachian Teaching Project Meeting in Washington, D.C., in 2017.
About Appalachian State University
As the premier public undergraduate institution in the Southeast, Appalachian State University prepares students to lead purposeful lives as global citizens who understand and engage their responsibilities in creating a sustainable future for all. The Appalachian Experience promotes a spirit of inclusion that brings people together in inspiring ways to acquire and create knowledge, to grow holistically, to act with passion and determination, and to embrace diversity and difference. Located in the Blue Ridge Mountains, Appalachian is one of 17 campuses in the University of North Carolina System. Appalachian enrolls nearly 21,000 students, has a low student-to-faculty ratio and offers more than 150 undergraduate and graduate majors.
What do you think?
Share your feedback on this story.