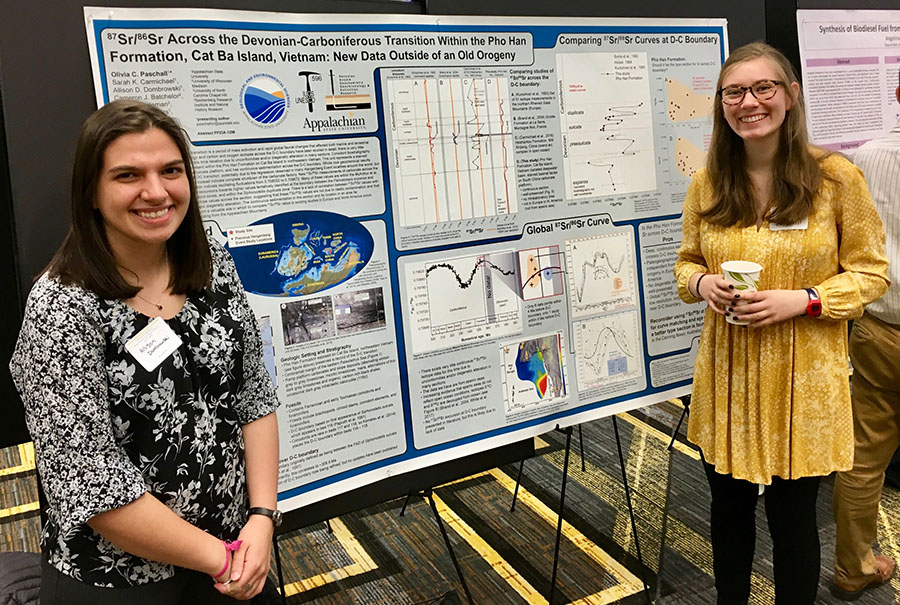 Olivia Paschall and Allison Dombrowski
Geology majors, Department of Geological and Environmental Sciences
Grand Rapids, Michigan, and Raleigh, North Carolina
Explorers Club student grants
The Explorers Club
Posted May 17, 2018 at 11:38 a.m.
BOONE, N.C. — Olivia Paschall and Allison Dombrowski — two Appalachian State University geology majors — will "rock out" this summer in Mongolia, conducting geologic work as part of a combined National Geographic and Explorers Club Flag Expedition in July and August 2018.
Paschall, a senior from Grand Rapids, Michigan, and Dombrowski, a sophomore from Raleigh, have received students grants from The Explorers Club to work on the project, which is called "Looking for mass extinctions in all the 'wrong' places: the Late Devonian of Mongolia."
The Explorers Club is deeply committed to supporting the fieldwork of serious researchers and, as part of its public service commitment, offers exploration grants. The goal of these grants is to foster a new generation of explorers dedicated to the advancement of the scientific knowledge of our world. The Explorers Club considers research proposals in a wide array of disciplines, including, but not limited to, climate change, geoscience, marine science, anthropology/archeology and conservation science.
Paschall and Dombrowski received $2,750 and $2,500, respectively, from The Explorers Club to go on the expedition as part of a 22-person interdisciplinary, international research team known as DAGGER (Devonian Anoxia, Geochemistry, Geochronology and Extinction Research), which is led by Dr. Sarah Carmichael and Dr. Johnny Waters in Appalachian's Department of Geological and Environmental Sciences.
Both students are members of the DAGGER team, which focuses on the systematics of mass extinctions in the Late Devonian period or roughly 360 million years ago. The Late Devonian is one of the "Big Five" mass extinctions, but unlike the other major mass extinctions, the cause of it is still unknown.
Dombrowski's research characterizes the mineralogy and strontium isotope signatures of sediments from southeast and central Asia from the Middle and Late Devonian period, and she will collect additional Mongolian sediments for analysis this summer as part of her funded fieldwork. She also works in the laboratory of Dr. Drew Coleman at the University of North Carolina at Chapel Hill during her summer breaks to conduct strontium isotope analyses.
Through her research, Paschall is determining the severity of anoxia — the absence of oxygen — in sediments from Vietnam on the south China platform at the Devonian-Carboniferous boundary. She will also map the complex structures of Late Devonian nearshore sediments and lava flows in Mongolia to see if they can be dated, which is accomplished by studying the decay rate of radioactive elements within the samples.
Paschall and Dombrowski will be responsible for mapping and sampling the rocks in a remote Mongolian field site for future geochemical analysis. Together, their research helps the DAGGER team determine the extent, scope and cause of Devonian extinction and the rebound of life in its aftermath.
About the Explorers Club
The Explorers Club is an international, multidisciplinary professional society dedicated to the advancement of field research and the ideal that it is vital to preserve the instinct to explore. Since its inception in 1904, the club has served as a meeting point and unifying force for explorers and scientists worldwide. Learn more at http://grants.explorers.org.
About the Department of Geological and Environmental Sciences
Located in Western North Carolina, Appalachian State University provides the perfect setting to study geological and environmental sciences. The Department of Geological and Environmental Sciences provides students with a solid foundation on which to prepare for graduate school or build successful careers as scientists, consultants and secondary education teachers. The department offers six degree options in geology and two degree options in environmental science. Learn more at https://earth.appstate.edu.
About the College of Arts and Sciences
The College of Arts and Sciences (CAS) at Appalachian State University is home to 17 academic departments, two centers and one residential college. These units span the humanities and the social, mathematical and natural sciences. CAS aims to develop a distinctive identity built upon our university's strengths, traditions and unique location. The college's values lie not only in service to the university and local community, but through inspiring, training, educating and sustaining the development of its students as global citizens. More than 6,400 student majors are enrolled in the college. As the college is also largely responsible for implementing App State's general education curriculum, it is heavily involved in the education of all students at the university, including those pursuing majors in other colleges. Learn more at https://cas.appstate.edu.
About Appalachian State University
As the premier public undergraduate institution in the Southeast, Appalachian State University prepares students to lead purposeful lives as global citizens who understand and engage their responsibilities in creating a sustainable future for all. The Appalachian Experience promotes a spirit of inclusion that brings people together in inspiring ways to acquire and create knowledge, to grow holistically, to act with passion and determination, and to embrace diversity and difference. Located in the Blue Ridge Mountains, Appalachian is one of 17 campuses in the University of North Carolina System. Appalachian enrolls nearly 21,000 students, has a low student-to-faculty ratio and offers more than 150 undergraduate and graduate majors.
What do you think?
Share your feedback on this story.