Drs. Star Brown and John Robinson
Doctoral Program in Educational Leadership, Reich College of Education
Morganton and Newton, North Carolina
2017-18 Alice Phoebe Naylor Outstanding Dissertation Award
Appalachian State University
Posted May 18, 2018 at 2:44 p.m.
BOONE, N.C. — Drs. Star Brown '96 '97 '01 '17 and John Robinson '00 '07 '10 '18 have been named the 2017-18 joint recipients of Appalachian State University's Alice Phoebe Naylor Outstanding Dissertation Award for their dissertations titled "Doing, Undoing, and Redoing Collegiate Athletics: Conceptual Tales of Marginality and Mattering" and "A Postmodern Analysis of the Practice of Using Value-Added Measures to Determent Teachers Effectiveness," respectively.
Brown and Robinson were presented the award during the annual Spring Symposium of Appalachian State University's Doctoral Program in Educational Leadership, which is housed in Appalachian's Reich College of Education. The event also included a panel discussion with former recipients, presentations from current doctoral students and recent program graduates, and faculty research presentations.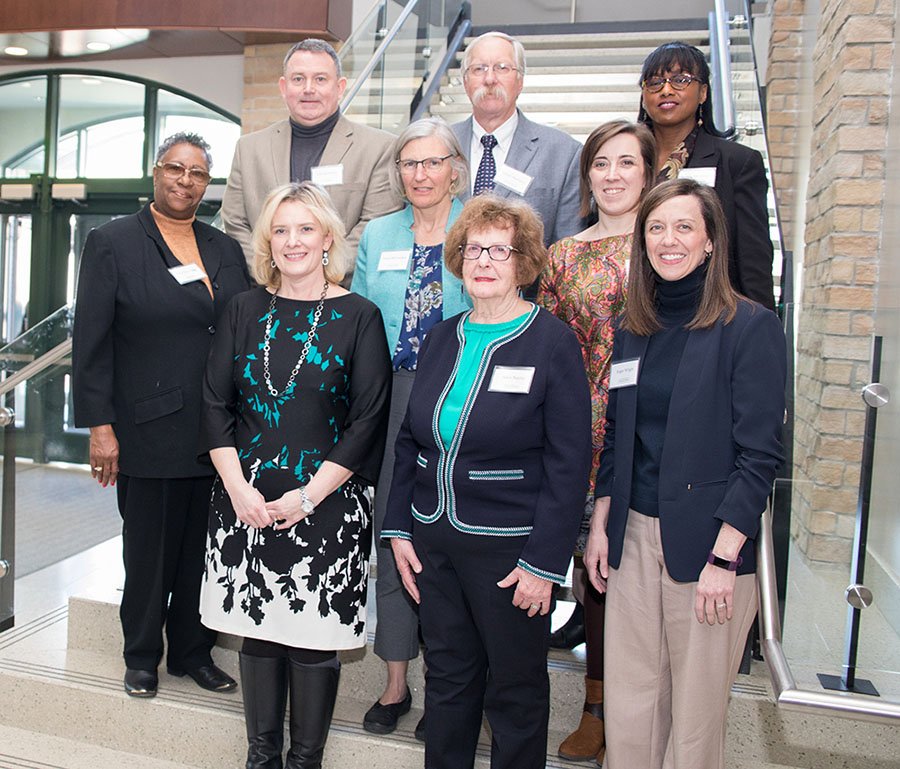 The award, which is selected by a faculty committee, is presented annually to a doctoral program student for best dissertation. Former winners and their dissertation titles:
Angela Wright (2009): "Ordered chaos: the implication of childbearing and the underrepresentation of women in educational leadership positions."
Susan McCracken (2010): "A program evaluation of North Carolina's Statewide Gaining Early Awareness and Readiness for Undergraduate Programs (GEAR UP)."
Todd Clifford Martin (2011): "Cognitive and Non-Cognitive College Readiness in Participants in Three Concurrent Enrollment Programs at a North Carolina Community College."
Danielle Madrazo (2012): "The effect of technology infusion on at-risk high school students' motivation to learn."
Wayne Matthews (2013): "Spirituality as a component of transformational leadership among selected North Carolina Community College presidents."
Cama J. Duke (2014): "Integrative Learning within Tutoring in Higher Education: Contexts for Connections."
Amie Snow (2015): "A comparative evaluation of instructional levels determined by the text reading and comprehension assessment and an informal reading inventory."
Fran Bates Oates (2016): "Women in the Mirror: Seeing ourselves anew — a narrative inquiry and autoethnographic exploration of the HBCU relational in institutional impact on the social justice disposition of white female education graduates."
Leslie McKesson (2017): "Determined to rise: A conceptual and counter-narrative analysis of the higher education attainment experiences of three African American men."
This year marked the 10th anniversary of the Naylor Award, and former recipients participated in the symposium as part of a panel that provided them with an opportunity to reflect on their role as leaders, as well as question whether they are doing enough for their communities. Professor Emerita Dr. Alice Naylor, for whom the award is named, and Dr. Jim Killacky, former director of the doctoral program, moderated the panel.
The panel members:
Dr. Angela Wright, senior director of Wake County Public Schools' Office of Grants and Strategic Advancement.
Dr. Susan McCracken, director of career development at Appalachian.
Dr. Danielle Madrazo, associate professor and director of teacher education at North Carolina Wesleyan College.
Dr. Wayne Matthews, director of operations at Surry Community College.
Dr. Amie Snow, instructional facilitator at Ibraham Elementary School in Winston-Salem.
Dr. Fran Bates Oates, director of field and clinical experiences at Winston-Salem State University.
Dr. Leslie McKesson, dean of business, public services and academic support at Western Piedmont Community College.
In their remarks, the panel members praised Appalachian for the quality education they received, calling their time at the university one of great discovery and growth through the rich interdisciplinary opportunities offered to them.
During the discussion, moderators and symposium participants queried panel members about their current work and leadership roles, as well as publications, awards and grant-funded projects.
In addition, panel members acknowledged and addressed challenges in education, including increasing school resegregation, funding-related concerns, school accountability, teacher shortages due to lower enrollment rates in teacher education programs and legislative actions, and they shared their desire to do more to lead and support other education leaders. They asked and challenged participants to consider:
How can educational leaders make their scholarly work more digestible to the public?
What is the meaning of leadership roles in a democracy?
How can educators unpack words like "social justice" to understand how to effectively teach all students?
How can the education community keep diverse voices at the table?
Several panel members noted they find themselves in positions to lead and teach others to be leaders in their fields. One panel member added, "We are a bridge between our communities and the knowledge we gained in the doctoral program; it's up to us to make that happen."
About the Doctoral Program in Educational Leadership
The Reich College of Education is home to Appalachian State University's Doctor of Education degree in educational leadership. Graduates hold leadership roles in K-12 public education, community colleges and educational agencies across North Carolina and beyond. Through core leadership and research courses, students learn to apply theory to practice to make educational systems more effective, more equitable and more sustainable. Through professionally oriented concentrations, students gain advanced knowledge in their disciplinary specialization and prepare themselves to assume higher levels of organizational leadership. Learn more at https://edl.appstate.edu.
About the Reich College of Education
Appalachian State University offers one of the largest undergraduate teacher preparation programs in North Carolina, graduating about 500 teachers a year. The Reich College of Education enrolls more than 2,000 students in its bachelor's, master's, education specialist and doctoral degree programs. With so many teacher education graduates working in the state, there is at least one RCOE graduate teaching in every county in North Carolina. Learn more at https://rcoe.appstate.edu.
About Appalachian State University
As the premier public undergraduate institution in the Southeast, Appalachian State University prepares students to lead purposeful lives. App State is one of 17 campuses in the University of North Carolina System, with a national reputation for innovative teaching and opening access to a high-quality, affordable education for all. The university enrolls more than 21,000 students, has a low student-to-faculty ratio and offers more than 150 undergraduate and 80 graduate majors at its Boone and Hickory campuses and through App State Online. Learn more at https://www.appstate.edu.
What do you think?
Share your feedback on this story.