Posted June 1, 2018 at 12:42 p.m.
BOONE, N.C. — For the fifth consecutive year, an Appalachian State University student has brought home honors in the annual SOURCE Awards competition, which is hosted by power management company Eaton.
Rising senior and interior design major Ally Mangini, of Charlotte, was recognized with an honorable mention for her restaurant design titled "A Cultural 'Twist' on Turkish Cuisine" at LIGHTFAIR International, the world's largest annual architectural and commercial lighting trade show and conference, which was held May 6–10, in Chicago, Illinois. She received a $500 prize, a crystal trophy and an opportunity to attend a complementary class at The SOURCE, Eaton's state-of-the-art lighting educational center located in Peachtree City, Georgia.
The annual competition, which began in 1977, challenges students from across the country to utilize Eaton lighting fixtures and controls products to create innovative interior and exterior designs, blending aesthetics, sustainability and functionality.
Kraig Kasler, president of Eaton's Lighting Division, said, "The future of lighting depends on the next generation of designers. Our awards program is designed to give students the opportunity to apply their creative thinking and education to achieve real-world experience."
Mangini said "Twist" is a Turkish restaurant inspired by the calligraphic writing of the region.
"The design of my restaurant is a reflection of 'pathways' deriving from various cultural aspects of Turkey," she shared. "When viewing calligraphic arts and texts, one's eyes follow the continuous curved lines and patterns, like a pathway. Arched forms used within traditional Turkish architecture are incorporated into the (restaurant) layout as well, to fluently guide one through the space."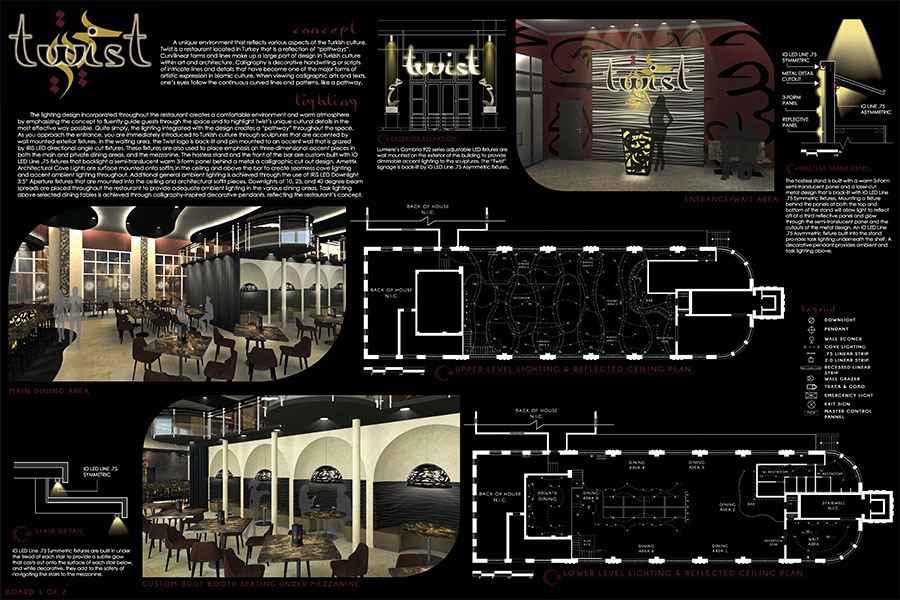 Mangini knew she wanted to study interior design in Appalachian's Department of Applied Design after touring the department as an incoming freshman.
"Student projects were placed throughout the studios, and I was really impressed with all of the work," she recalled. "I liked the size of the program — it's a smaller group, but that gives us the opportunity to build closer relationships with one another and our professors."
Jeanne Mercer-Ballard, associate professor in Appalachian's Department of Applied Design, mentored Mangini as she developed "Twist" as part of Mercer-Ballard's design studio in fall 2017. According to Mangini, she learned everything she now knows about restaurant and lighting design from Mercer-Ballard.
"Jeanne always went out of her way to be there for me whenever I was in need of any guidance or assistance," Mangini said. "I'm extremely thankful I have a professor who was so invested in teaching me and helping me learn and grow as a designer this school year."
Each year, Mercer-Ballard said she encourages her students to enter the SOURCE competition. She believes it provides an opportunity for learning at a professional level.
"The students who choose to enter their projects in the competition work several additional hours to polish their drawings, details and documentation in a professional manner, and we have been complimented by top lighting designers at the event for our winning presentations," she said. "Ally was very driven to take her project to the level to win an award, and I am thrilled that the judges recognized her effort."
Mangini said that winning the award has inspired her as a design student and motivated her to reach for higher goals. After completing an internship at Lawler Design Studio in Charlotte this summer, she will return to Appalachian in August.
"I'm extremely excited to see what my senior year has in store and to start a career in the field that I'm so passionate about after graduation."
Eaton - The Lighting ReSOURCE
May 31, 2018
For more than 40 years, the SOURCE Awards have recognized the best and brightest in lighting design.
About the Department of Applied Design
One of seven departments housed in the College of Fine and Applied Arts, the Department Applied Design at Appalachian State University fosters excellence in design education, design research and professional placement. The department balances theoretical and pragmatic approaches while exploring an awareness of impact through design decisions on the global community. Faculty focus on a holistic approach to creative problem-solving by integrating sustainability and ethical responsibility in teaching and practice. The department offers bachelor's degrees in apparel design and merchandising, industrial design and interior design. Learn more at https://design.appstate.edu.
About the College of Fine and Applied Arts
Appalachian State University's College of Fine and Applied Arts is a dynamic and innovative group of seven academic departments, bringing together a variety of perspectives, experiences and real-world education to provide unique opportunities for student success. The college has more than 3,000 undergraduate and graduate majors. Its departments are Applied Design, Art, Communication, Military Science and Leadership, Sustainable Development, Sustainable Technology and the Built Environment, and Theatre and Dance. Learn more at https://faa.appstate.edu.
About Appalachian State University
Appalachian State University, in North Carolina's Blue Ridge Mountains, prepares students to lead purposeful lives as global citizens who understand and engage their responsibilities in creating a sustainable future for all. The transformational Appalachian experience promotes a spirit of inclusion that brings people together in inspiring ways to acquire and create knowledge, to grow holistically, to act with passion and determination, and embrace diversity and difference. As one of 17 campuses in the University of North Carolina System, Appalachian enrolls more than 19,000 students, has a low student-to-faculty ratio and offers more than 150 undergraduate and graduate majors.