Posted June 7, 2018 at 2:31 p.m.
BOONE, N.C. — The 21st Annual Celebration of Student Research and Creative Endeavors hosted by the Office of Student Research at Appalachian State University was held April 19, with over 176 abstracts submitted for the event. Students had the opportunity to submit their poster to a competition that is reviewed by an interdisciplinary panel of Appalachian faculty members.
A total of 176 posters were presented at the event, and the top 10 undergraduate and 10 graduate posters were then selected to be presented in front of a panel of judges. Of those submissions, the top three finalists in each group received awards.
The top three winners in the undergraduate student category were Carmen Montero '18, of Alpharetta, Georgia, who graduated in May with a Bachelor of Science in biology; Morgan Baker, a senior geology and recreation management double major from Palmyra, Virginia; and Jacob Dorsett, a senior geology major from Monroe.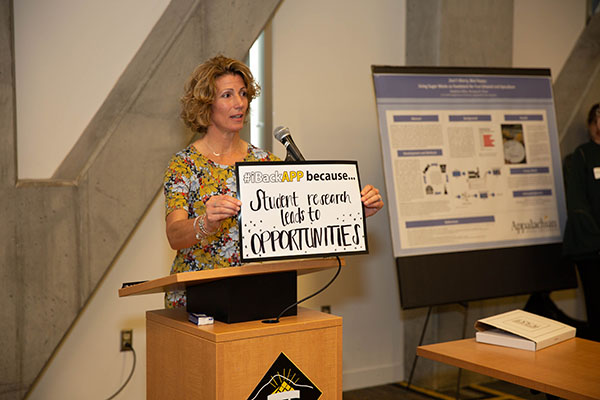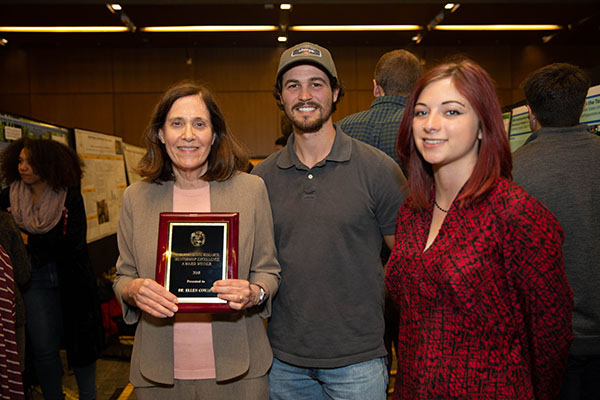 In the graduate student category, students Adam Willits, of Apex, Heather Guy, who is from the United Kingdom, and Lauren Anderson, of Lowell, were the top three winners. Both Guy and Anderson are in Appalachian's Master of Arts in geography program, and Willits is pursuing a Master of Science in biology.
Students representing a variety of majors in Appalachian's College of Arts and Sciences — including those offered by the Department of Biology, the Department of Geography and Planning and the Department of Geological and Environmental Sciences — presented 119 of the 176 total posters.
Dr. Neva J. Specht, dean of Appalachian's College of Arts and Sciences, said, "It's so impressive to see the number of students involved in undergraduate and graduate research from the college, but more importantly, the quality. It's great that these collaborative efforts from our students with their faculty mentors can be recognized publicly through the Student Research and Creative Endeavors celebration."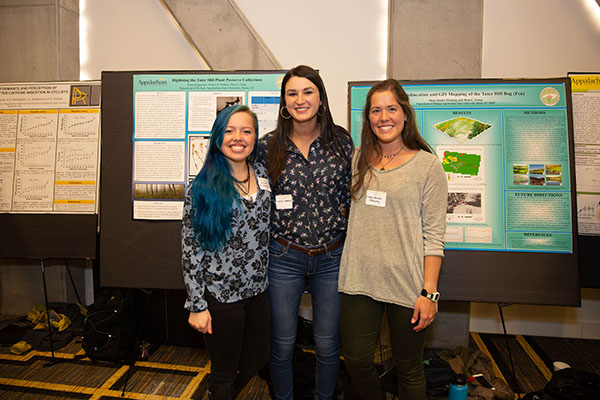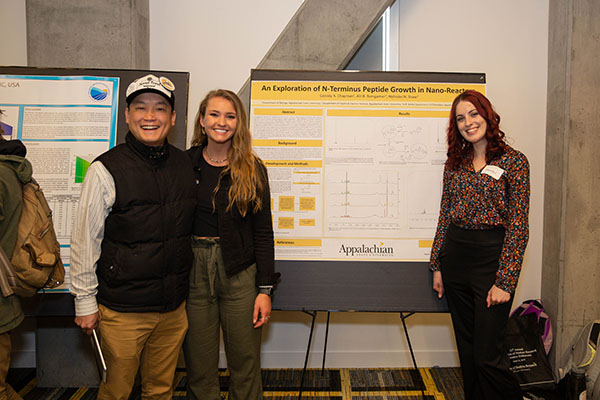 About student research at Appalachian
Appalachian State University encourages faculty-mentored student research, which provides students with the opportunity to work side by side with faculty on meaningful research or creative endeavors. These projects often result in presentations, performances or exhibitions at regional, national and international conferences and events. Students who engage in research are able to apply knowledge from the classroom into real-world experiences and learn how to problem-solve, effectively communicate and analyze complex issues. Appalachian's Office of Student Research (OSR) was established in 2005 to expand the opportunities necessary for undergraduate and graduate students to engage in research and creative activities at Appalachian. Learn more at https://osr.appstate.edu.
About Appalachian State University
As the premier public undergraduate institution in the Southeast, Appalachian State University prepares students to lead purposeful lives as global citizens who understand and engage their responsibilities in creating a sustainable future for all. The Appalachian Experience promotes a spirit of inclusion that brings people together in inspiring ways to acquire and create knowledge, to grow holistically, to act with passion and determination, and to embrace diversity and difference. Located in the Blue Ridge Mountains, Appalachian is one of 17 campuses in the University of North Carolina System. Appalachian enrolls nearly 21,000 students, has a low student-to-faculty ratio and offers more than 150 undergraduate and graduate majors.
What do you think?
Share your feedback on this story.