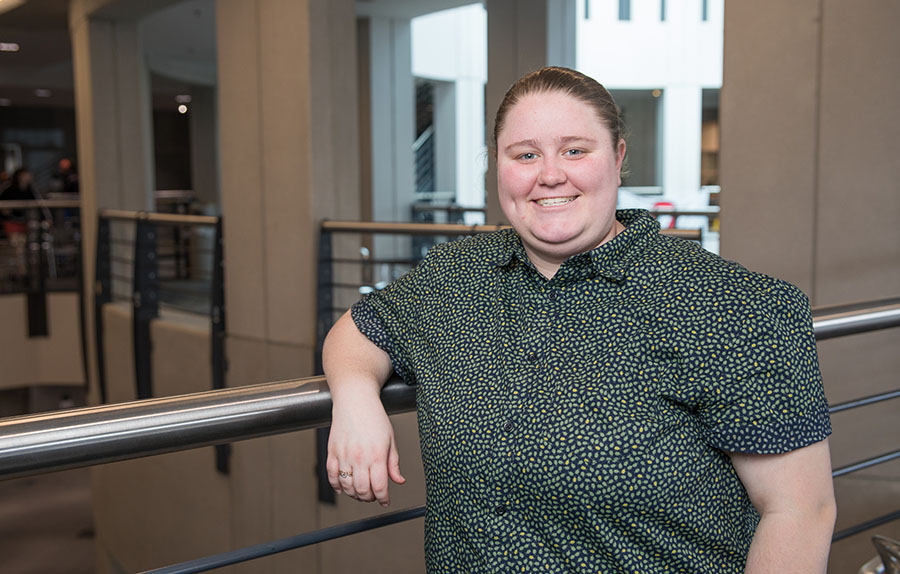 Posted June 8, 2018 at 9:38 a.m.
BOONE, N.C. — On the heels of her graduation in May, Appalachian State University alumna Kiley Coster has a clear vision of where she wants to be and is taking the steps to get there. Coster, from Raleigh, plans to earn her master's degree at the University of Tennessee in pursuit of a career in student affairs focusing on leadership development.
Coster said she hopes to use her career to influence student affairs as a whole and ensure that future students will always have the opportunity for transformational college experiences, similar to the opportunities she had while at Appalachian.
"I figured it out through a balance of my academic course load with my undergraduate involvement in other clubs and organizations around campus," said Coster, a public relations major who triple minored in nonprofit management, leadership studies and Appalachian studies.
"Being able to see how those things intertwine over my four years here has really set me up for what I want to do," she said.
Coster knew early in her time at Appalachian she wanted to explore opportunities around service, which she did by joining the university's Club Council her freshman year. Club Council is the advisory board for the more than 400 clubs and organizations on Appalachian's campus. Before graduating, Coster served as council president.
"This has been a pivotal piece of involvement I've had while being at Appalachian," she said. "Where I've found my ability to serve in the leadership role as president is to be able to see long-term success for students, fulfill their passions and give them something to work towards. I'm a different person because of those things, and I've been able to give that back to people this entire time I've been at Appalachian."
In choosing public relations in the Department of Communication, Coster said she hoped the major would help develop her skills in building relationships. While she might not enter the public relations field immediately, she said, it's been a good path because communications is broad, not "something so specific that I had to do what I got my degree in."
Coster found the most beneficial experiences in the program outside of the classroom — in internships and extracurricular involvement on campus — and applying what she learned from these experiences in her coursework.
As part of a partnership between Appalachian and the Town of Boone, Coster worked alongside other students to develop a sustainability campaign to help make Boone a sustainable town by 2050. Here she was able to create graphics and write — work that coincided with classroom assignments.
"The communications department has a really good way of making sure their program is really piecing you together and setting you up for success, so you know that you are actually getting the skills you need to graduate and get a job," Coster said.
She said at Appalachian and in Boone, "You get community without sacrificing the culture and access to amenities you get living in a bigger place." Being from Raleigh, Coster said the difference is "you have access to the things you need, but they come from local places or smaller shops, giving you that sense of community."
"I think Boone does a really good job integrating with the campus, and, because of that, you have the opportunity here to leave with so much experience just from doing your coursework," Coster added.
She said one key to success in college is being involved and taking advantage of opportunities placed in front of you. Coster said she would tell any student coming to Appalachian, "Getting involved is what will make your college experience yours."
"(At Appalachian) there is truly a culture of care and a culture of wanting to make you better," she said. "I don't think I would be pursuing a master's degree if it wasn't for the people I've interacted with at this university who have not only showed me that path but have also encouraged me to do it."
The college student personnel graduate program at the University of Tennessee is a two-year, practitioner-oriented master's degree designed to prepare administrators for university units such as admissions, student activities and leadership development, career services, alumni relations and other areas. Coster will also complete an assistantship with the university's Center for Student Engagement as the graduate assistant for clubs and organizations' educational initiatives.
Appalachian tracks where its graduates go, notes high success rate
About the Department of Communication
One of seven departments housed in the College of Fine and Applied Arts, the Department of Communication at Appalachian State University focuses on preparing students to succeed in the varied fields within the communication industry. The department offers five majors – advertising, communication studies, electronic media/broadcasting, journalism and public relations – and a minor in communication studies. Graduates work in a wide range of positions in media, corporate, agency, government and nonprofit organizations. Learn more at https://communication.appstate.edu.
About the College of Fine and Applied Arts
Appalachian State University's College of Fine and Applied Arts is a dynamic and innovative group of seven academic departments, bringing together a variety of perspectives, experiences and real-world education to provide unique opportunities for student success. The college has more than 3,000 undergraduate and graduate majors. Its departments are Applied Design, Art, Communication, Military Science and Leadership, Sustainable Development, Sustainable Technology and the Built Environment, and Theatre and Dance. Learn more at https://faa.appstate.edu.
About Appalachian State University
As the premier public undergraduate institution in the Southeast, Appalachian State University prepares students to lead purposeful lives as global citizens who understand and engage their responsibilities in creating a sustainable future for all. The Appalachian Experience promotes a spirit of inclusion that brings people together in inspiring ways to acquire and create knowledge, to grow holistically, to act with passion and determination, and to embrace diversity and difference. Located in the Blue Ridge Mountains, Appalachian is one of 17 campuses in the University of North Carolina System. Appalachian enrolls nearly 21,000 students, has a low student-to-faculty ratio and offers more than 150 undergraduate and graduate majors.
What do you think?
Share your feedback on this story.