Posted July 9, 2018 at 11:15 a.m.
BOONE, N.C. — Students in Appalachian State University's Department of Sustainable Technology and the Built Environment are spending five weeks this summer embracing a new building trend. The class of 12 has been contracted by a local client to build a tiny house that will become part of a community housing adults with disabilities.
The brainchild of Chris Schoonover, a lecturer in the Department of Sustainable Technology and the Built Environment, the tiny house project was an instant draw for students. After hosting a packed information session, he selected just 12 to participate in the five-week course.
"The tiny house movement — the idea of people focusing on lifestyle over possessions — had an instant draw for me," Schoonover said. "Starting out, we didn't have a client, so I spent months calling tiny house communities and talking to people who might be interested."
Schoonover eventually connected with LIFE Village, a new initiative of Kids with Autism Making Progress in Nature (KAMPN), which offers a free camp in Deep Gap every summer for autistic children and their families. Realizing the need to expand programming for adults with autism and other disorders, KAMPN's goal is to a build a year-round residential community in Boone for adults with disabilities. LIFE, which stands for Living Innovations for the Exceptional, is currently in the planning phase.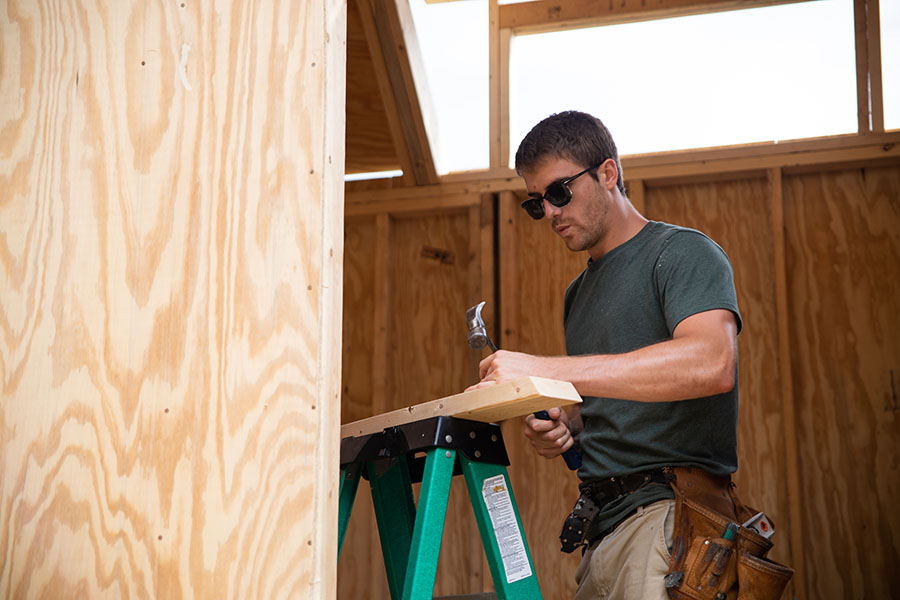 "When Chris called to offer the tiny house in January, we jumped at the chance," shared Candace Lang, development director for LIFE Village. "It can be challenging to get grant funding for start-ups like LIFE Village, and the tiny home will help bring attention to the cause."
LIFE Village will eventually include a main hall surrounded by tiny homes for individuals who are able to live more independently and ranch-style homes for adults who need round-the-clock care. The property will also include a community garden and a greenhouse to encourage involvement from the town of Boone and the High Country. The first tiny house built by students will initially be used as a home office, and once land is secured for the development, it will be used as a residential option.
"Tiny homes are ideal for individuals with special needs," Lang shared. "They're environmentally friendly, affordable and easy for many of our adults with disabilities to maintain on their own. They also provide a level of privacy and customization not available in a group home setting."
Brooke Trice, a senior building sciences major from Charlotte, is one of the students working on the house. She appreciates the autonomy that Schoonover and co-instructor Ray Sinclair, a senior lecturer in the Department of Sustainable Technology and the Built Environment, have provided for students in the course.
"We are given so much freedom on this project, it is really up to us to come together as a team and share our knowledge with each other in order to complete the tiny house with the least amount of help from our professors," she said. "We all have different strengths and we all teach each other a great deal."
Schoonover is pleased to offer this unique opportunity to his students, and knows the knowledge and skills his students develop will serve them well in the working world.
"In our program, we teach all of the components that make up a finished structure, but we have to do it in a piecemeal fashion," he said. "A project like this allows us to offer an experience where students can see how all of the framing, mechanical and electrical components tie together in a completely finished building."
Trice, who will graduate in August and start a job as a field engineer with Turner Construction, is grateful for the opportunity. In her mind, working on a project of this scope with a team will help her most in terms of career preparation.
"Communication is by far the most important skill we are learning," she said. "No matter how big or small the project, it takes a team with solid communication skills to complete a high-quality project under budget and on time."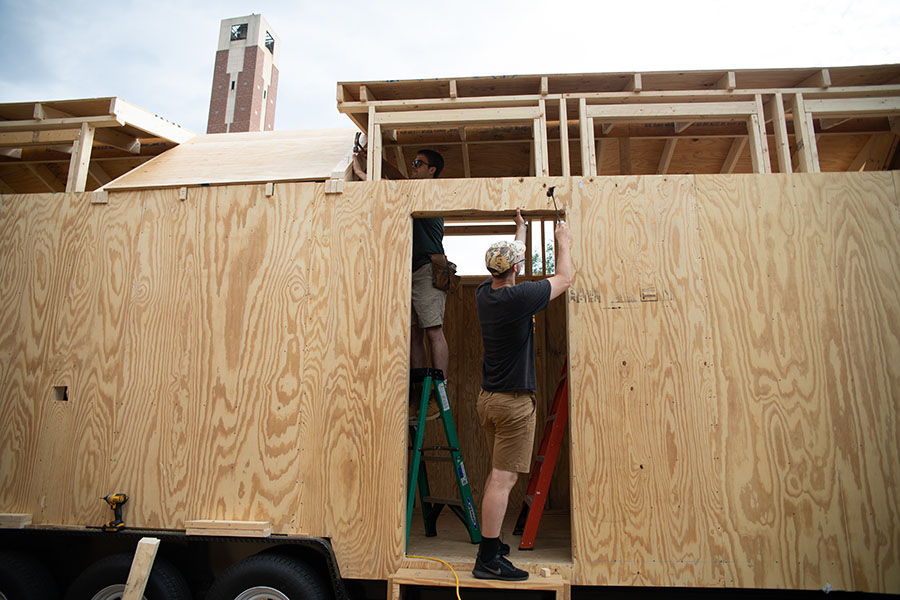 About the Department of Sustainable Technology and the Built Environment
One of seven departments housed in the College of Fine and Applied Arts, the Department of Sustainable Technology and the Built Environment at Appalachian State University features an integrated array of programs spanning the fields of sustainable design and technology. Its mission is to foster a strong and vibrant culture of inquiry, discovery and innovation that integrates theory with application, problem seeking with problem-solving, local issues with global perspectives and technological progress with environmental stewardship. It offers bachelor's degrees in sustainable technology and building science, and a master's degree in technology. Learn more at https://stbe.appstate.edu.
About the College of Fine and Applied Arts
Appalachian State University's College of Fine and Applied Arts is a dynamic and innovative group of seven academic departments, bringing together a variety of perspectives, experiences and real-world education to provide unique opportunities for student success. The college has more than 3,000 undergraduate and graduate majors. Its departments are Applied Design, Art, Communication, Military Science and Leadership, Sustainable Development, Sustainable Technology and the Built Environment, and Theatre and Dance. Learn more at https://faa.appstate.edu.
About Appalachian State University
As the premier public undergraduate institution in the Southeast, Appalachian State University prepares students to lead purposeful lives as global citizens who understand and engage their responsibilities in creating a sustainable future for all. The Appalachian Experience promotes a spirit of inclusion that brings people together in inspiring ways to acquire and create knowledge, to grow holistically, to act with passion and determination, and to embrace diversity and difference. Located in the Blue Ridge Mountains, Appalachian is one of 17 campuses in the University of North Carolina System. Appalachian enrolls nearly 21,000 students, has a low student-to-faculty ratio and offers more than 150 undergraduate and graduate majors.
What do you think?
Share your feedback on this story.