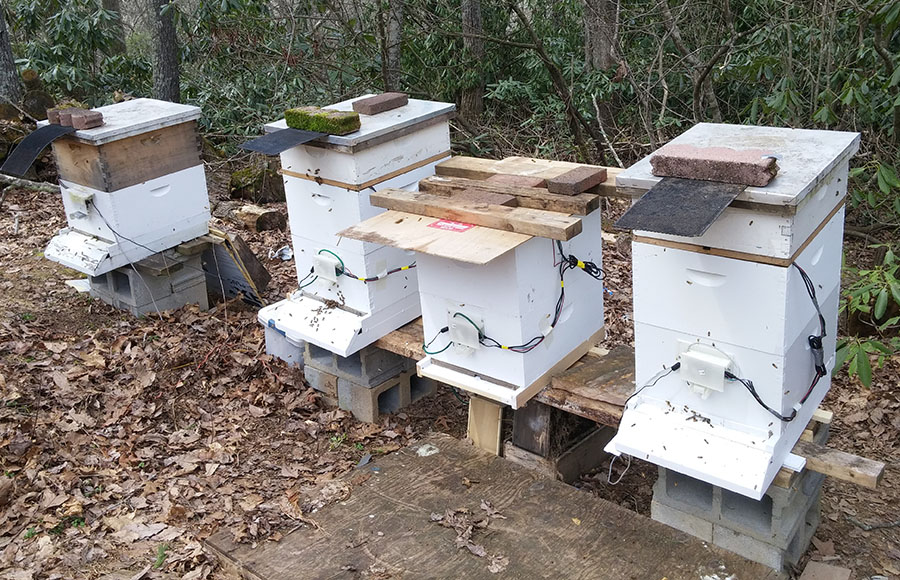 The local community is invited to view and submit observations
Posted July 17, 2018 at 4:22 p.m.
BOONE, N.C. — Over the past five years, a team of students and faculty members in the College of Arts and Sciences' Department of Computer Science at Appalachian State University has been abuzz, working to create a honeybee monitoring system called Beemon — an abbreviation for "bee monitoring." The system started with the goal of being a low-cost way to record video at the entrance of a honeybee hive.
Access to the videos from Beemon is free and available to the public, and the Beemon project team invites the surrounding communities to utilize these videos for educational purposes.
Viewers can record their observations — including observations on pollen (color and amount), traffic in and out of the hive, fanning (bees grouped outside beating their wings), cleaning, fighting, drone appearance (big bees almost twice as large as worker bees), insect or animal appearances, dead or deformed bees, etc. — in the space provided.
These observations will contribute to the creation of a machine learning engine that will help researchers learn more about honeybees, according to Dr. Rahman Tashakkori, Lowe's Distinguished Professor of Computer Science at Appalachian and chair of the Department of Computer Science.
The local community is invited to view and submit observations
The Beemon project began in 2013 in the department's Visual and Image Processing (VIP) Lab to identify the causes and signs of colony collapse disorder (CCD). The system, which is designed to help beekeepers monitor their hives and researchers learn more about honeybees, is now operational and is being used to monitor several honeybee hives in the local Boone community.
"The Beemon system allows us to obtain audio and video recordings as well as humidity and temperature data from the hives. These data would provide us an opportunity to learn more about the bees and by studying their behavior to determine whether they are facing an adversity," Tashakkori said.
According to Tashakkori, beekeepers have faced significant losses to the population of their honeybees in recent years due to the CCD phenomenon. He said several reasons have been identified as the main causes of CCD, including the invasive varroa mite, the acute paralysis virus, the gut parasite known as nosema, pesticide poisoning, stress caused by management practices, changes to the habitat, inadequate forage/poor nutrition and poor genetics.
"Researchers are studying CCD, attempting to determine its cause and to determine how its effects can be mitigated," he said.
The project has also grown to include a number of analytics utilities that allow researchers to automatically count bee arrivals and departures at the honeybee hives, identify individual bees for analysis and recognize oddities in audio files. With this information, Tashakkori said researchers hope to help beekeepers identify and predict the collapse of their honeybee colonies.
The monitoring tool was made possible by the efforts of several computer science students and funding from the Lowe's Distinguished Professor research fund, as well as support from the Department of Computer Science and the College of Arts and Sciences.
"One of the greatest outcomes and byproducts of this project is student engagement. There have been many undergraduate and graduate students at different levels involved in the development of the Beemon system and the analysis tools," Tashakkori said.
He said the project involves several fields of computer science, such as database, software design and development, embedded systems, image processing, signal processing, web design and programming, machine learning, operating system and networking.
"The experience our students have gained working on this project is simply priceless," he added.
Students involved with the Beemon project:
Ahmad Ghadiri
Michael Crawford
Nathan Hernandez
David Kale
Ahmad Gordon
Alek Ratzloff
Scott Shuffler
Chris Smith
Gurney Buchanan
Jonathan Brotherton
Real-time videos of the Beemon system are also available on the Department of Computer Sciences' livestream channel, and a collection of videos from the past three years is stored under the archive section.
For more information about the Beemon project, contact Tashakkori at tashakkorir@appstate.edu.
Appalachian student and faculty researchers seek to recover declining honeybee population
July 13, 2017
About the Department of Computer Science
Appalachian's Department of Computer Science provides a rigorous, high-quality education that prepares students for the computing industry or graduate education. It offers a Bachelor of Science degree in computer science, which is accredited by the Computing Accreditation Commission of ABET, and a Master of Science degree in computer science. Learn more at https://compsci.appstate.edu.
About the College of Arts and Sciences
The College of Arts and Sciences (CAS) at Appalachian State University is home to 17 academic departments, two centers and one residential college. These units span the humanities and the social, mathematical and natural sciences. CAS aims to develop a distinctive identity built upon our university's strengths, traditions and unique location. The college's values lie not only in service to the university and local community, but through inspiring, training, educating and sustaining the development of its students as global citizens. More than 6,400 student majors are enrolled in the college. As the college is also largely responsible for implementing App State's general education curriculum, it is heavily involved in the education of all students at the university, including those pursuing majors in other colleges. Learn more at https://cas.appstate.edu.
About Appalachian State University
As the premier public undergraduate institution in the Southeast, Appalachian State University prepares students to lead purposeful lives. App State is one of 17 campuses in the University of North Carolina System, with a national reputation for innovative teaching and opening access to a high-quality, affordable education for all. The university enrolls more than 21,000 students, has a low student-to-faculty ratio and offers more than 150 undergraduate and 80 graduate majors at its Boone and Hickory campuses and through App State Online. Learn more at https://www.appstate.edu.
What do you think?
Share your feedback on this story.